FROM A TO ZINKIE: Opening Day, a fresh start for everyone
By Fred Zinkie
March 29th, 2018 1:06am
[NOTE: We at BaseballHQ.com are thrilled to welcome Fred Zinkie into our fold for the 2018 season. In his years at MLB.com, Fred has been a prolific writer and behind-the-scenes manager of much of that site's fantasy content. More than that, Fred has been a very successful competitor and a frequent winner top-3 finisher in LABR and Tout Wars industry competitions, including a combined 4 championships in the past seven seasons. He is an astute observer of the fantasy baseball landscape, and brings that experience and track record with him to BaseballHQ.com. Fred will be contributing as part of our PT TOMORROW and DAILY MATCHUPS rotations, and will also have his own FROM A TO ZINKIE column in this space each Wednesday. We figured it only made sense for Fred's 2018 BaseballHQ.com debut to occur on Opening Day. Join us in welcoming Fred to BaseballHQ.com! — Brent Hershey and Ray Murphy, co-GMs, BaseballHQ.com]
First off, I would like to thank Brent Hershey and Ray Murphy for adding me to the BaseballHQ.com staff for the 2018 season. I have been a great fan of this company for many years, and I have a row of Baseball Forecasters on my bookshelf to prove it. Many of you will know me from my seven years with MLB.com. While I enjoyed every minute of that job, I am excited to take on the new challenge of writing for this subscriber-based audience. To be honest, this is an audience that is second to none in the world of fantasy baseball. With few casual owners on the BaseballHQ.com subscription list, I know that I have to bring my A-game every time I have the privilege of providing information to this group.
Some within the industry call me "Trader Fred" for my propensity to wheel and deal throughout the season. But the truth is that trading constitutes a small part of my fantasy game. Like most successful owners, I am obsessed with finding little bits of value at every opportunity. From maximizing my draft-day haul to signing the right two-start pitchers each week to making a flurry of deals that each make my club incrementally better, I am constantly grinding away to maximize my squad's production.
With that grind in mind, here are the macro-level and micro-level details that I will attract my attention on this 2018 Opening Day.
---
Get the 2018 season started off on the right foot! Access articles like these and our diverse range of tools with a subscription to BaseballHQ.com. Winning. Fantasy Baseball. Insight.
---
Macro-level focus
1. Lineups: While some lineups are crystal clear by the end of spring training, others will warrant close attention during the initial days of the season. First, the focus is on which players have earned a spot in the Opening Day lineup, especially for teams that are facing right-handed starters. Second, the lineup order is a major factor for the players who are not the club's top sluggers. While stud power hitters usually occupy a spot near the heart of the order, players who are contact hitters or speedsters tend to bat at the top or bottom, a difference which makes a major impact on their ability to compile counting stats.
2. Bullpen usage: The obvious points of focus here are the teams that arrive at Opening Day without a secure closer. But even teams with secure stoppers warrant attention as they start to show the priority order among their setup corps. Owners who wish to roster speculative save sources, those in deep leagues who wish to handcuff their closers and owners who participate in leagues that value holds should be ready to pounce on relievers who are tabbed for high-leverage roles in the opener.
3. Bench usage: Some starting hitters regularly make it to the ninth inning and others do not. Wise owners should keep an eye on how managers work with players who have notable splits. For example, a southpaw slugger who heads to the showers as soon as a lefty reliever comes into the game is likely set for a season of partial contests, thereby limiting his ability to accumulate counting stats.
4. The Returnees: While Opening Day overreactions should be avoided with most players, stud starting pitchers who are coming off injury-plagued seasons will be a point of focus during the openers. Those hurlers need to show their trademark velocity while also using their regular pitch mix and having some success.
5. Fast starts for those on the bubble: Some players have more job security than others. And those who concluded spring training with a tenuous starting gig will be under pressure to have immediate success.
Micro-level focus
While the big-picture tips are great, let's look at some specific situations that will be on my radar.
1. Lineups: How will Bryan Price set the top of the Reds' lineup? How will Aaron Boone order his star sluggers for his managerial debut? Which players will grab the key spots in a versatile Dodgers lineup? Which players will start for the Phillies, and how will they be ordered against Julio Teheran (RHP, ATL)? Which White Sox players will get the chance to bat adjacent to star slugger Jose Abreu (1B, CHW)? Will manager Andy Green give promising slugger Hunter Renfroe (OF, SD) (career .676 OPS vs. right-handers) a chance to start against Chase Anderson (RHP, MIL)?
2. Bullpen usage: In which direction will Angels skipper Mike Scioscia initially tease fantasy owners this year? If the Cardinals can get to Noah Syndergaard (RHP, NYM), whom will Mike Matheny tab to close out a narrow win? Which White Sox reliever will get the first chance to anchor their unsettled bullpen? Whom will pitch the eighth inning in front of injury-prone closer Brandon Morrow (RHP, CHC)?
3. Bench usage: Will Lucas Duda (1B, KC) (career .659 OPS vs. lefties) leave the game once confronted with a southpaw reliever? Could an injury-impacted D-backs outfield give David Peralta (OF, ARI) (.711 OPS vs. lefties in 2017) opportunities to stay in the game against southpaw relievers?
4. The Returnees: How will Syndergaard fare against a deep Cardinals lineup? Can Garrett Richards (RHP, LAA) thrive against a mediocre A's lineup at their pitcher-friendly home park? After being plagued by injuries throughout 2017 and spring training, can Felix Hernandez (RHP, SEA) enjoy a successful Opening Day start against a tough Indians lineup?
5. Players on the bubble: Which members of the Reds' outfield logjam (Adam Duvall, Jesse Winker, Scott Schebler) will get off to a great start? Can Derek Fisher (OF, HOU) start out hot and secure the left field job? Can Eric Thames (1B, MIL) or Domingo Santana (OF, MIL) push manager Craig Counsell to keep Ryan Braun (OF, MIL) mostly at first base or in the outfield? Will Ian Happ (OF, CHC) hit well enough to ensure his name stays on the lineup card? Will Matt Kemp (OF, LA) make enough noise with his bat to distract manager Dave Roberts from noticing his subpar defensive work?
So many questions, and the answers start today. Let's play ball!
For more information about the terms used in this article, see our Glossary Primer.
Free Weekly eNewsletter
The industry's #1 analytical weekly e-mail newsletter is ABSOLUTELY FREE!
More Information
Shopping Cart
Listen to Baseball HQ's weekly audio programs.
Subscribe today!
Learn More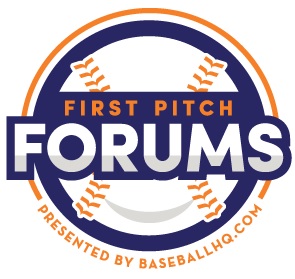 2019 Spring Tour:
Virtual Program
Part 1 & 2 videos
Part 3: 3/21 8:30p ET