THE WEEK AHEAD: Hitter Matchups, June 17-23
By Ryan Bloomfield

@RyanBHQ
June 16th, 2019 6:00am
Our Hitter Matchup Tool is a team-level look at the week ahead... from a hitter's perspective. It combines daily matchup ratings from the 8-day view of our Starting Pitcher Matchup Tool with Park Factors to give general guidance when planning your weekly lineups.
NOTE: Start/sit decisions and weekly FAAB pickups should be limited to the last few spots on your active roster. Skills trump everything else, so don't sit one of your studs for a fringe hitter just because of a better matchup.
Definitions for the Hitter Matchup Tool are below:
Opponents: Opposing teams and home/away for the week, in chronological order.
Games: Total number of games played for the upcoming week.
Rating: Average SP matchup rating for all starters against each team for the upcoming week.

NOTE: Cells are shaded red if the average matchup rating is greater than +0.50. They're shaded green if less than zero. Remember: the lower the matchup rating for hitters, the better.
Left/Right Splits
Games vs. LHP/RHP: Total games played against left/right-handed starting pitchers (LHP/RHP) for the upcoming week.
Rating vs. LHP/RHP: Average SP matchup rating for LHP/RHP against each team for the upcoming week.

NOTE: For LHP/RHP matchup ratings, cells are shaded red if the total matchup score (Games * Rating) is greater than +1.50. They're shaded green if less than -1.50.
Park Factors
LHB/RHB HR: The average HR Park Factor for left (or right)-handed hitters for the upcoming week.

For example, if LA right-handed hitters have three games at Coors Field (which boosts RHB HR by +22%) and three at home (-7%), their RHB HR average is +8%. The higher the percentage, the better.
***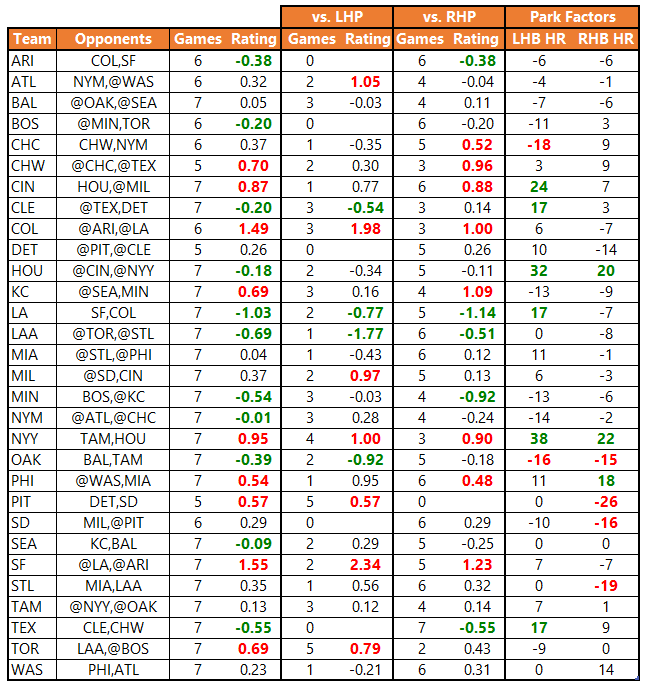 (Click here to download the above table as an Excel file.)
Several things to consider when constructing your weekly lineups, some of which include:
The Pittsburgh Pirates get just five games this week; all of them are against left-handed pitching. We recommended Colin Moran in this space last week due to PIT's RHP-heavy slate, but he joins fellow lefties Adam Frazier and Gregory Polanco as hitters who are in for a tougher test this week. Their right-handed bats don't get much of a break either, as PNC Park limits RHB HR by -26%.
Two other teams with just a handful of games on the schedule: the Chicago White Sox and Detroit Tigers. CHW gets a particularly tough draw with a +0.70 matchup rating against them. With 23 other teams getting a full seven games this week, it's a wise move to bench your fringe White Sox and Tigers for other hitters that have a couple more games.
Another lefty-heavy tilt belongs to the New York Yankees, who will power up with the likely returns of Giancarlo Stanton and Aaron Judge; not to mention AL HR leader Edwin Encarnacion. NYY faces four LHP this week, which is bad news for Brett Gardner (.677 career OPS vL), who will likely be on the outside looking in for playing time anyway. It'll be bombs away with all seven games at home this week (+38% LHB HR, +22% RHB HR).
As if the Houston Astros needed any more help, their bats head to Great American Ballpark and Yankee Stadium for seven games this week, which nets them some of the best away park factors you can find. A juicy -0.17 matchup rating this week means the runs should come in bunches for a lineup with a 120 wRC+ this year; second-best in the majors behind MIN.
The Los Angeles Angels and Dodgers get the most hitter-friendly matchup scores this week with marks of -0.69 and -1.03, respectively. LAA goes up against the likes of Edwin Jackson, Clayton Richard, Aaron Sanchez, and Dakota Hudson. It's a RHP-heavy tilt for them as well, which bodes well for Kole Calhoun, Tommy La Stella, and even Justin Bour, who homered in each of his first two games back from Triple-A this week.
Sure, the San Francisco Giants escape Oracle Park for a full seven games, but they face an LA pitching gauntlet that includes Clayton Kershaw, Walker Buehler, Rich Hill, and Kenta Maeda; all of whom have 2.00+ matchup ratings against SF. Things get slightly easier at ARI over the weekend, but this is still a brutal draw.
What a difference a week makes. After a run-scoring bonanza at Coors Field last week, the Colorado Rockies hit the road for a pair of series at ARI and LA. Their +1.49 matchup rating reflects games against Zack Greinke, Robbie Ray, Hyun-Jin Ryu, Maeda, and Kershaw. You're still starting guys like Nolan Arenado, Charlie Blackmon, and Trevor Story, but other COL hitters might be in for a rough week.
***
Our long-term plan is to automate this report so it's available for you any time of the week. As the tool is still in its infancy, we welcome your feedback on how you'll use it, what you might like to see added, etc. We heard plenty of great ideas in its initial unveiling, please leave any others in the comments below.
For more information about the terms used in this article, see our Glossary Primer.
Shopping Cart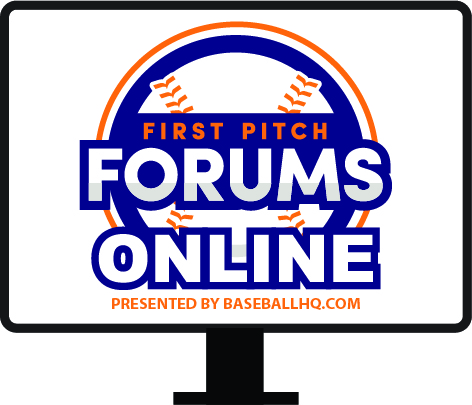 Our virtual First Pitch Forum returns!
Three online-only events: March 5, 11, 17
Join us live, or watch when you want
Just $19!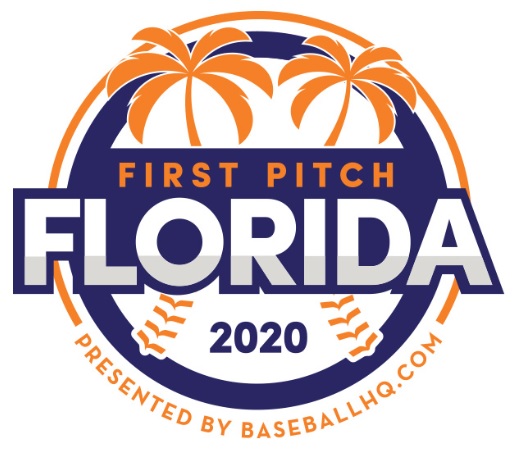 Inaugural Event!
February 28-March 1, 2020
St. Petersburg, FL
A few seats still left!