WATCHLIST: Turning up the heat with these summer options
By Alec Dopp

@AlecJDopp
June 14th, 2019 12:04am
The WatchList offers a weekly quick-hit look at position players and pitchers with potential to impact fantasy rosters throughout the 2019 regular season, whether that be due to injury or outstanding performance. The WatchList aims to illuminate prospects who are not regularly featured in "top prospect" columns, but rather, those prospects who are on the fringe of the HQ100 or lower. Call-ups are often difficult to predict, but these are players to keep in mind if your league rules allow minor-league pickups.
*All statistics current through June 12, 2019*
Hitters
Matt Thaiss (1B/3B, LAA)
MLBA19 Prospect Grade: 8D
5x5 Impact Category: AVG
While the Angels' infield depth chart has been hamstrung by injuries to both SS Andrelton Simmons and 3B Zack Cozart, the club has been blessed with the breakout of Tommy La Stella (139 OPS+) and the impressive debut of former WatchList dude David Fletcher (115). Still, LAA will take all the help it can get offensively in a competitive AL West, and Thaiss could be the man to provide another jolt to the lineup. After clubbing 16 HR and hitting .280 across 125 games in the upper minors last year, the 24-year-old former first-round pick owns a .251/.360/.421 slash with 9 HR and a 34% x/h% in 60 games this spring in his first full-time taste of the PCL. Most would say Thaiss hasn't quite lived up to the expectations allotted to him as arguably the best college bat from the 2016 amateur draft (he hit .380 in 59 games as a junior at Virginia among other notable accomplishments), but he still brings skills to the table. His best chance for impact is AVG, as he makes above-average contact from the left side and shows a marked ability to use the whole field with a predominantly LD/GB batted-ball profile. He will be arguably a better asset in OBP formats, as he has shored up his approach in 2019 (40 BB/49 K), and his walk rate across 1,000+ PA in the upper minors is a healthy 11.2%. Thaiss lacks loft in his swing for impact power, but he should be a source of around 15-20 HR annually and could grow into more with his solid ct% foundation. The pressure will be there to produce as a corner INF bat, but he could have above-average AVG/OBP value as soon as this year.
Kean Wong (UTIL, TAM)
MLBA19 Prospect Grade: 6B
5x5 Impact Category: AVG
Led by high-profile names such as Wander Franco and Brendan McKay, among many others, Tampa Bay's farm system was bestowed with an "A" rating in the 2019 MLBA and is now undoubtedly considered one of the best (and deepest) in the majors. As a result, Wong is one slightly undervalued bat who doesn't get a whole lot of "street cred", but one who could wind up producing for fantasy owners over the next few months. A fourth-round pick back in 2013, Wong chalked up a respectable .282/.345/.406 line with 9 HR and 7 SB over 116 games in his first full go-around in Triple-A last year, and has carried momentum early into 2019, and he now owns the best AVG among International League hitters (.351) along with a Top 10 mark in OBP (.415) and a career-high 32% x/h%. Overall, Wong has the feel and look of a future utility man, as he can play passable defense at just about every position. Much like utility men before him, this profile lacks an elite tool, but he does do an assortment of things relatively well. His best chance for impact is in AVG, as he makes above-average contact (82% in 2019; league average is 75%) from the left side and his slap line-drive approach allows him to work the whole field with regularity. He will also have a chance to make modest impact in SB, as he combines average speed and athleticism with the good instincts required to get creative on the bases once in a while. Wong has also traditionally mashed RHP (.998 OPS vR in 2019; .782 vL), which will make him a decent play on most nights. There won't be much HR value here, but you can plug him into your roster almost anywhere and get potentially above-average AVG returns with some speed.
Willi Castro (2B/SS, DET)
MLBA19 Prospect Grade: 8C
5x5 Impact Category: SB
The Tigers have done a good job hitting on their high picks in the amateur draft in recent years, so much so that it could move up their competitive timeline in an AL Central that looks weaker than in recent years. They've also done a solid job corralling talent through the trade market, which is how Castro was acquired from the Indians in the Leonys Martin trade at the trade deadline last summer. At 22 years old and as the youngest hitter at the Triple-A level, Castro has turned in by all accounts a career year in 2019, slashing .318/.396/.471 in 57 games along with 4 HR and 9 SB in that span. There may not be a true carrying tool here by which Castro will generate the bulk of his value, but the good news is he brings a handful of skills to the table and shows ability to man a premium position at shortstop. Arguably, his best chance for impact this year could be with his legs, as Castro grades out as an above-average runner with good athleticism, which has helped him steal at least 16 bases each of the past four seasons in the minors (70% success rate as a pro). As such, double-digit SB should be attainable ROS. Additionally, there should be at least solid AVG upside here right from the get-go, as Castro makes slightly above-average contact as a switch-hitter (he's a bit more polished as a LHH) and utilizes a heavy GB/LD approach to maintain a traditionally higher than average h% during his pro career. Castro is more of a gap-type power hitter right now and will likely max out at 8-10 HR annually, and he's a bit aggressive at the plate. That being said, he could be 2B/SS eligible and give your roster decent value in AVG and SB in the next few weeks.
Pitchers
Conner Menez (LHP, SF)
MLBA19 Prospect Grade: N/A
L5 PQS (AA/AAA): 3 4 4 2 3
With Johnny Cueto on the IL and Giants SPs producing the second-highest staff ERA (5.22) in the NL this year, the club has had no other choice but to indoctrinate some of its high-profile prospects into the rotation to eat innings, though largely to no avail (Shaun Anderson has a 4.18 ERA in 5 GS; Tyler Beede a 8.50 ERA in 4 GS). As such, someone like Menez could see PT at the back end of the rotation in the next few weeks and provide value to fantasy owners with his skill set. A 14th-round pick back in 2016, Menez scooted up three levels (A+/AA/AAA) last season and wound up producing a Top 10 Dom (10.69) among upper-minors pitchers with at least 70 IP, and rather remarkably allowed just 1 HR in 84 IP between AA/AAA. His 2019 campaign has been quite impressive, holding true to a 2.78 ERA, 0.95 WHIP, and 11.0 Dom/2.9 Ctl mix across his first 12 starts, and recently getting a bump from AA to AAA. From the left side, Menez operates out of a low 3/4 slot and can sit anywhere from 91-94 mph with a fastball that plays average to slightly above-average most nights, and he'll flash an above-average slider in the low-80s that produces a sizable portion of his strikeouts. His change-up is still a work in progress, and it projects to be a fringe-average offering at the next level. Menez's strikeout rate is supported by a healthy SwK% of around 13-15%, so the Dom potential is very intriguing here, though it's tempered by a mostly fly ball profile and below-average command, which signals some PQS-DIS risk moving forward. That said, this has been a steady arm all season and with Dom potential, he's worth monitoring in 15-team formats.
Brendan McKay (LHP, TAM)
MLBA19 Prospect Grade: 9C
L5 PQS (AA/AAA): 4 4 3 3 2
McKay (#43 on the 2019 HQ100) is undoubtedly the highest-profile name to appear in the WatchList column this year, and while we obviously try to steer clear of those types of guys, sometimes we just can't help but talk about a prospect. While McKay continues to pursue the two-way pitcher/hitter full time role, it has become evident that his fantasy value will be driven from the mound moving forward, as he has been one of the most dominant pitchers in the upper minors in 2019. Promoted to AAA late last month, McKay has gone 5-0 with a 1.43 ERA, 0.79 WHIP and owns the best K-BB% (30.1%) among qualified pitchers in AA/AAA this season. There's a 99.99% chance that the former fourth overall amateur pick is already owned in dynasty formats just purely based around the hype and pedigree coming out of college, so the purpose of this blurb is mostly to inform owners in redraft leagues that this arm is worth stashing as soon as possible. The strikeouts are fully backed by lofty swing-and-miss ability, including a 17% SwK in AA this year and 12% in 3 GS in the International League. He has also demonstrated an ability to pound the strike zone at an above-average rate, and with his advanced command, has allowed opponents to hit just .173/.222/.254 in 212 PA against him. McKay boasts three above-average pitches with a fastball at 91-95 mph, a plus curveball, and he limits hard contact with a quality short slider/cutter in the high-80s along with a solid change-up. Given that the back end of the Rays rotation has been injury-prone, McKay could be up very soon and could hit the ground running.
Junior Fernandez (RHP, STL)
MLBA19 Prospect Grade: 8E
L5 PQS (A+/AA): N/A
There aren't too many pure relievers in the minors right now that provide jaw-dropping ability both with their raw production and stuff, but Fernandez appears to have checkmarks in both boxes thus far in 2019. The 22-year-old righty has split PT in both High-A and AA this spring, and holds true to a 1.82 ERA, 1.15 WHIP and 11.2 Dom across 34.2 IP. Of his 23 bullpen appearances, 15 have come in "game ending" situations, and he's collected eight saves while allowing more than two earned runs to cross home in an appearance only once, back on June 4. Fernandez sustained a biceps injury in 2017 and spent time on the DL again in 2018, which presumably contributed to an otherwise lackluster Dom of 5.8-7.0 in that span. Now presumably at full health, he has kicked things up a notch and owns a gaudy 20.2% SwK in the AA Texas League, which fully supports what could be some serious Dom returns once he reaches the majors. Fernandez brings some risk to the table given that he has been injured in the past and he has never possessed consistently average command or control (4.4 Ctl in 2019; 3.9 as a pro), but he makes up for it with one of the highest ground ball rates in AA (51%; league average is 43%) and the fact that he has yet to allow a HR in 2019 (0.3 HR/9 across 363 pro innings, as well). Fernandez pumps serious gas out of traditional 3/4 arm slot, touching 100 mph regularly and sitting 94-98 mph, often with wicked arm-side movement. Feel for his SL has not always been there, but it shows sharp late break required for whiffs and his change-up will also flash plus action and velocity separation from the heater. Of course, it's not often we see a jump from A+ to the majors in one year, but Fernandez is a high-upside type relief arm worth monitoring a little bit later in the season.
For more information about the terms used in this article, see our Glossary Primer.
Shopping Cart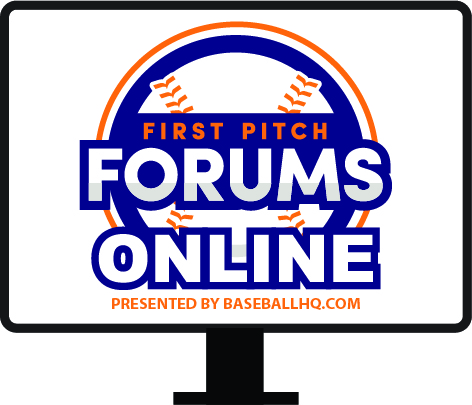 Our virtual First Pitch Forum returns!
Three online-only events: March 5, 11, 17
Join us live, or watch when you want
Just $19!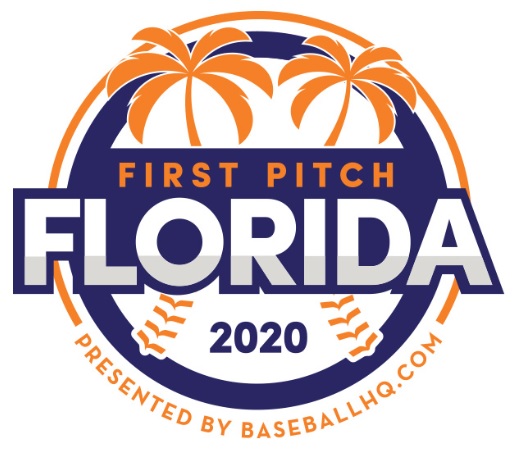 Inaugural Event!
February 28-March 1, 2020
St. Petersburg, FL
A few seats still left!