WATCHLIST: Sizzling spring options, Part 2
By Alec Dopp

@AlecJDopp
May 24th, 2019 12:03am
The WatchList offers a weekly quick-hit look at position players and pitchers with potential to impact fantasy rosters throughout the 2019 regular season, whether that be due to injury or outstanding performance. The WatchList aims to illuminate prospects who are not regularly featured in "top prospect" columns, but rather, those prospects who are on the fringe of the HQ100 or lower. Callups are often difficult to predict, but these are players to keep in mind if your league rules allow minor-league pickups.
*All statistics current through May 23, 2019*
Hitters
Josh Naylor (1B/OF, SDP)
MLBA19 Prospect Grade: 7B
5x5 Impact Category: AVG
One of the most crucial (though possibly overlooked) aspects of prospect evaluation is the "age versus level" approach. From a fantasy perspective, we want to look for prospects who are both A) significantly younger than the league-average age for that level of the minors, and B) still maintain above-average or elite production. Naylor, 22, has been one such bat who meets both criteria in 2019, as he is nearly five years younger than the average PCL hitter and has swung a particularly hot bat. Through nearly 200 PA, Naylor owns a slash line of .295/.366/.509 with 8 HR and an above-average 41% x/h%, a slight improvement from the .297/.383/.447 slash and 27% x/h% he posted in the Double-A Texas League last season. Primarily a first baseman in the low minors, the Padres are attempting to transition Naylor to a corner outfield spot, and he'll likely need time to adjust before getting a promotion to the majors. It would still be wise to keep tabs on Naylor, however, as he brings both AVG and HR skills to the table. The 22-year-old owns an elite ct% of 85% in Triple-A this season, and owns above-average marks in line drive rate (24%) and Eye (0.87). He also hits LH/RH splits equally well and could be only a minor swing tweak away from truly tapping into his power. The Padres are deep in the OF right now, but Naylor is worth stashing in deeper or NL-only leagues. [Ed.—Naylor was promoted to the majors late Thursday evening.]
Myles Straw (SS/OF, HOU)
MLBA19 Prospect Grade: 5A
5x5 Impact Category: SB
The Astros are stacked in the outfield right now, and with Kyle Tucker and Yordan Alvarez now pushing for PT in the PCL, something's likely to "give" in the next few weeks with respect to their depth chart. But there's another name fantasy owners should familiarize themselves with, as he brings impact potential to at least a couple 5x5 categories and could have multi-position versatility: Straw. The 24-year-old was one of the most electrifying talents in the upper minors last season, slashing .291/.381/.353 with 70 SB (89% success rate) across 131 games. This spring has offered a similar narrative for the former 12th-round draft pick, owning a slightly better .311/.386/.383 line with 15 SB in 40 games with Round Rock. Straw's best chance for fantasy impact will obviously be with his legs. He is at least a plus-plus runner with good instincts, and he has an elite first step required for racking up SB. An added bonus here is potentially quality BA returns. His game is predicated mostly on high volume contact from the right side of the plate; over the last two years, his ct% has hovered around 88-89% (league average is 75%). He's likely going to max out at single-digit HR totals given his heavy ground ball/low line drive batted ball profile, but he shows an ability to play any OF spot, as well as SS, and that should help him find an opportunity for PT—even if it isn't with the Astros.
Josh Ockimey (1B/DH, BOS)
MLBA19 Prospect Grade: 7C
5x5 Impact Category: HR
Now that we've satisfied your needs for AVG and SB, let's talk about a guy with a completely different skill set: Ockimey. After struggling in his first taste of AAA last season, the 23-year-old first baseman has bounced back and transformed into one of the best hitters in the International League, slashing .231/.393/.613 with 12 HR and 25 RBI in his first 37 games with Pawtucket this spring. Ockimey's calling card as a prospect has always been his power, and he supplies plenty of it. He has plus raw power from the left side that plays especially well to his pull-side, and he has consistently posted above-average fly ball rates (40% and above) in the upper minors. Like many sluggers before him, the issue has been consistent contact. Ockimey maintained a 35%/11% strikeout-to-walk rate mix during his stay in AAA last season, with a well-below-league-average ct% of 66%. This season, though, he's managed to improve both categories to 20%/27%, with a ct% of 70% that's almost league average. The biggest caveat to Ockimey's profile would probably be his massive platoon splits, as he hits right-handers almost exclusively (1.226 OPS vR; .442 vL), which will likely limit his opportunities with Boston's deep roster moving forward. But this projects to be a viable deep-league HR/OBP option against RH pitching if you have a spot on your bench to stash him.
Pitchers
Keegan Akin (LHP, BAL)
MLBA19 Prospect Grade: 7B
L5 PQS (AAA): 2 2 1 5 4
At the bottom of the AL East standings by way of one of the most unproductive starting rotations in recent memory, the Orioles are in a position where they could start dipping into the upper minors for reinforcements in the near future. Akin is an arm that could be in position to collect meaningful innings among his counterparts, as he has been one of the better starters in the International League this spring. Through eight starts, he is 2-1 with a 3.60 ERA, 1.23 WHIP, and owns a Dom/Ctl mix of 10.1/3.6 across 40 innings. The "good" with this profile is that Akin knows how to miss bats, as his 14.6% SwK rate in 2019 (up from 12% in 2018, notably) is the best among qualified AAA starters who have yet to make an MLB debut. The "bad" is that his stuff has a natural proclivity for fly ball contact and he is both walking batters (9.5% bb%) and throwing strikes at only a league-average rate for AAA; both of which figure to only get worse as he moves up. From the left side, Akin's fastball is plus and will sit around 91-94 mph and top out at 96 mph from time to time, and he mixes in a 2-seam fastball with solid arm-side run. A low-80s slider is solid-average and has two-plane movement, and his change-up projects to be a plus offering around 80-81 mph with above-average fade and feel for the pitch. Ultimately, the ceiling here isn't sky-high, but the SwK uptick, Dom history, and a clean injury history suggest he is also fairly low risk and worth taking a flier in deeper formats.
Lewis Thorpe (LHP, MIN)
MLBA19 Prospect Grade: 7B
L5 PQS (AAA): 4 4 0 4 3
The Twins have a handful of arms in the upper minors that could make an impact soon, even if their Top 10 rotation doesn't necessarily require assistance right now. The arm that might have the best chance to hit the ground running when they do? Try Thorpe. On the heels of a 2018 campaign in which he went 8-7 and posted a 3.54 ERA and 1.24 WHIP across 129 IP in the upper minors, the 23-year-old Australian left-hander is 3-2 with a 6.70 ERA and 1.37 WHIP in his first 41 IP in AAA this spring. Yikes! Turns out, when we peek under the hood, there actually are some skills here. Owner of a career 10.8 Dom over five pro seasons, Thorpe possesses a 11.4 Dom/2.6 Ctl split in those innings to go with well-above-average SwK (14.2%) and strike% (67%) marks that support the production. A lot of Thorpe's poor baseline production can be attributed to both an atrocious strand rate of 53% and batted ball misfortune (34.3% H%), and that's why his 3.88 xFIP is actually fourth-best among qualified AAA arms this season and better days should be in his future. Thorpe's stuff isn't loud, but he commands everything well with a low-effort delivery. His fastball sits 90-94 mph and he blends in a plus curveball and change-up for the majority of his whiffs. He has a bit of a fly ball lean and has struggled with gopheritis (1.5 HR/9) in 2019, but with solid underlying skills, this is a name to watch.
Bryse Wilson (RHP, ATL)
MLBA19 Prospect Grade: 8B
L5 PQS (AAA): 3 0 1 5 4
The youth movement in Atlanta is officially in full swing, and with one of the deepest farm systems in baseball, more youngsters will be flooding the major league roster in the near future. Wilson could be one of the next names called up for depth in the starting rotation, as he as been quite productive in the International League this spring. After making the big league roster out of spring camp, the righty is 2-3 with a 4.34 ERA (4.19 xFIP), 1.16 WHIP, and sports a quality 8.1 Dom/1.6 Clt across 45.2 IP with Gwinett. From a fantasy perspective, without a dominant plus-plus offering, Wilson fits the mold of more of a 'high floor' than 'high ceiling' arm in most formats, but he brings some skills to the table. His fastball will sit 93-96 mph and will jump on hitters quickly, with quality extension toward the plate, and he fills up the strike zone often (66% strike rate; 2.4 Ctl as a pro) and shows ability to command the pitch both vertically and horizontally. Wilson's slider is his go-to secondary pitch, possessing often wicked two-plane movement in the mid-80s required for swings and misses. His change-up projects to be at least average and he has some feel for it. Overall, this is an arm that could have three above-average offerings at peak maturity with at least average Dom upside, good ratios, and perhaps most impressively, youth. He's the youngest qualified starter in AAA.
For more information about the terms used in this article, see our Glossary Primer.
Shopping Cart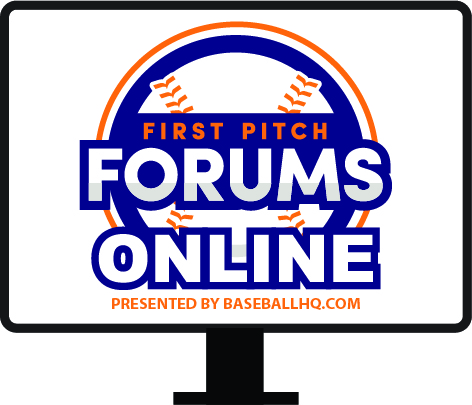 Our virtual First Pitch Forum returns!
Three online-only events: March 5, 11, 17
Join us live, or watch when you want
Just $19!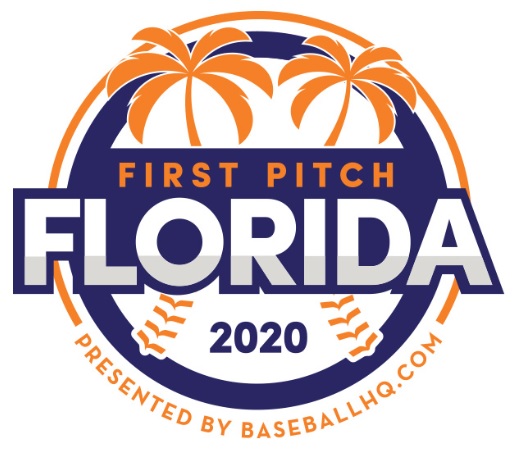 Inaugural Event!
February 28-March 1, 2020
St. Petersburg, FL
A few seats still left!