WATCHLIST: Daza-ling fringe prospects with fantasy upside
By Alec Dopp

@AlecJDopp
May 10th, 2019 1:03am
The WatchList offers a weekly quick-hit look at position players and pitchers with potential to impact fantasy rosters throughout the 2019 regular season, whether that be due to injury or outstanding performance. The WatchList aims to illuminate prospects who are not regularly featured in "top prospect" columns, but rather, those prospects who are on the fringe of the HQ100 or lower. Callups are often difficult to predict, but these are players to keep in mind if your league rules allow minor-league pickups.
*All statistics current through Tuesday, May 7, 2019*
Hitters
Oscar Mercado (OF, CLE)
MLBA19 Prospect Grade: 8C
5x5 Impact Category: SB
A second-round draft pick back in 2013, Mercado was acquired by the Indians at the trade deadline last season on the heels of a 100-game stint in the PCL in which he slashed .285/.351/.408 with 8 HR and 31 SB. Despite being added to Cleveland's 40-man roster, the 23-year-old did not receive a cup of coffee with the big league staff in September, in part because he scuffled in the less hitter-friendly environment known as the International League (.252/.342/.320 in 32 G). Now 24, Mercado has turned the page rather quickly. The Tampa native owns a slash line of .284/.392/.461 (23% above league-average) with a 45% x/h% and 13 SB in 26 games. The most promising aspect of Mercado's game for fantasy purposes is his speed. He is a plus runner with a lean, athletic build, which has helped him stockpile 209 SB over his seven pro seasons. He has received high marks for his defensive acumen in center field, as well, which will help him accrue PT in Cleveland's outfield should an opportunity arise. In addition to the SB upside here, Mercado projects to maintain average to slightly above-average marks in AVG and OBP, owning a ct% marks of 77-80% in the upper minors along with an above-average line-drive rate and walk rate of 15.2%. This is the type of bat to stash in 15-team or AL-only formats, as he could have multi-category impact once he's promoted.
Yonathan Daza (OF, COL)
MLBA19 Prospect Grade: 6B
5x5 Impact Category: AVG
Fantasy owners got a small sample of Daza at the major league level last month, back when the Rockies promoted the 25-year-old to replace OF David Dahl, who spent a few days on the IL due to a minor core tweak. The short sample didn't do a whole lot to inspire confidence in Daza's abilities, as he ended up going 0-for-11 with four strikeouts and one walk over the course of three games with the big league club. There's reason to believe he will (and should) get another crack at the majors at some point soon, however. Since being sent back down to the PCL, Daza has hit .427 with 16 XBH and a 6/7 BB:K ratio in 17 games, bringing his current slash line to .398/.437/.667 with 3 HR and 5 SB in just over 100 PA in Triple-A. A combination of age and injury (he missed a chunk of time in 2018 with a hamstring injury) has Daza off the radars of a lot of owners right now, but he brings some legitimate skills to the table. He possesses advanced bat-to-ball skills from the right side (86% ct% in 2019; fifth-highest among AAA bats) and he utilizes the whole field at the plate, which has helped him maintain a career .313 AVG over nine pro seasons. He is a good athlete and will be a source for SB, and a cannon arm and solid OF defense will help his cause for PT. There is not much power or patience in this profile, but if you need AVG and SB in a deep format, this is your dude.
Seth Brown (1B/OF, OAK)
MLBA19 Prospect Grade: N/A
5x5 Impact Category: HR
With Matt Olson just returning from and Mark Canha on the IL, and Kendrys Morales not hitting exceptionally well as the team's everyday first baseman (.209/.318/.275, 1 HR in 29 games), the Athletics may be in a position to dip into the minors for first base depth in the near future. If they do, Brown could be the first in line for a promotion, which could put deep-league fantasy owners in position to profit in a tight FAAB situtation. The former 19th-round pick from 2015 owns one of the best slash lines in the minors to this point, .309/.355/.673 (35% above league-average) through 27 games in the PCL, along with 9 HR and a stellar x/h% of 56%. Brown has a track record for big-time raw power, owning a career 38% x/h% over five pro seasons, including one in which he hit 30 HR in the High-A CAL back in 2017. The underlying skills appear to match the production, as Brown's 45.6% fly-ball rate in 2019 is one of the highest marks among qualified Triple-A hitters, and his 30.5% h% is comparable to his marks across the rest of the minors, so we know that his hot start isn't completely reduced to playing in the hitter-friendly PCL. On the flip side, Brown employs a fairly aggressive approach and owns a walk rate almost half that of the average PCL batter, so he may be a bit of an OBP burden. But his splits are traditionally balanced vL/R and he has shaved a touch off his strikeout rate in 2019, which means there could be AVG/HR value hidden in this profile.
Pitchers
Devin Smeltzer (LHP, MIN)
MLBA19 Prospect Grade: N/A
L5 PQS (AA/AAA): 5 2 5 3 4
The Twins have reigned supreme among their AL Central counterparts to this juncture of the season thanks to a 3.56 ERA from their starters (third-best among AL rotations). However, they've accomplished as much with a relatively young and healthy staff that has outperformed their expected run prevention (4.38 xFIP; roughly average for AL staffs). At some point it would appear likely that MIN will need to dip into its minor league pool for rotation help, at which point Smeltzer would be a top candidate for promotion—and he could stick around for a while. The 23-year-old lefty is 3-1 with a sterling 0.49 ERA and 0.68 WHIP across 37 IP between AA/AAA this season, including a solid 25.0% K-BB% ratio. Smeltzer's calling card as a prospect is his above-average-to-plus control and command, which have allowed him to both limit walks (1.9 Ctl as a pro) and keep the ball in the park (0.9 HR/9) at a comfortably above-average rate. He also has a track record for whiffs, possessing a 9.1 Dom as a pro and demonstrating average-to-slightly-above-average SwK% ability in the upper minors. Smeltzer works from a low 3/4 slot and thrives off an extreme crossfire delivery and major head-whack to create deception to the plate. He'll sit 87-91 mph with a fringe fastball, but has quality feel for a curveball and change-up. This isn't a high-ceiling arm, but it comes with low risk, good ratios, and projects to be a solid streaming option in deeper formats.
Alex Faedo (RHP, DET)
MLBA19 Prospect Grade: 8D
L5 PQS (AA): 4 3 2 5 3
On Monday, I posted a tweet about four arms in the upper-minors who ranked comfortably above-average in three important peripheral statistics (K-BB%, GB%, Strike%) to this point in the season. One name who only narrowly missed the cut was Faedo, who upon further inspection has still been arguably the best pitcher at the Double-A level in 2019. The 23-year-old is 2-1 with a 3.10 ERA and 0.89 WHIP in his first five starts in the Eastern League, and holds true to a 9.9 Dom and 1.2 Ctl in that span. This spring has thus far been a step in the right direction for Faedo, whose prospect stock withstood a semi-major hit last summer after he posted a 4.95 ERA and 8.9 Dom/3.3 Ctl mix in his first taste of the upper minors with a backwards step in fastball velocity. Faedo's early resurgence has appeared to be the product of more whiffs (16% SwK in 2019; 13% in 2018), more strikes (68% in 2019; 66% in 2018), and a noted increase in ground balls (35% GB% in 2019; 26% in 2018). One of the biggest risks in this profile is the overall lack of true plus pitch, as Faedo now sits 89-92 mph with a fringe-average fastball that can catch too much of the plate at times, leading to consistent hard contact against him. His slider is his go-to offering, and it will flash plus horizontal action at times, though hit wasn't the dominant pitch it was in the SEC. The statistical rebound in AA this year should keep your attention moving forward, as Faedo has #4/5 SP upside in 15-team formats if everything breaks right.
Logan Allen (LHP, SD)
MLBA19 Prospect Grade: 8B
L5 PQS (AAA): 1 3 0 3 3
The Padres rotation is comprised of several home-grown prospects that are already making an impact (Lucchesi, Lauer, Paddack, etc) in the majors, and Allen could very likely end up being the next man up. The 21-year-old entered 2019 just inside the HQ100 at #97 overall after a stellar 2018 campaign in the upper minors, during which he went 14-6 and posted a 2.54 ERA, 1.08 WHIP, and 9.1 Dom. Allen's spring hasn't been quite as impressive on the surface thus far in the hitter-friendly PCL, as he owns a 5.16 ERA and 1.52 WHIP across his first seven outings, but the skills for impact are readily apparent when we peak under the hood. Most importantly, he continues to demonstrate an ability to miss bats, boasting a career-best 10.3 Dom that is supported enough by a solid-average 10% SwK. Control and command have been Allen's areas for improvement since turning pro back in 2015, and this year that has come back to bite him somewhat, as he holds true to a 3.9 Ctl that is validated by a 62% strike rate that is right around league-average for Triple-A starters this year. But while the profile comes with some risk with command, a lot of Allen's struggles can be attributed to him being on the wrong end of a 61.9% strand rate and 34.2% h% that are sure to self-correct in the near future. Stuff-wise, Allen still sits 91-94 mph with his fastball and blends in flashes of a plus fading change-up for the majority of his whiffs. Command of his breaking ball will determine how quickly he adjusts to the next level, but this is a young arm worth stashing in 15-team leagues for above-average Dom returns.
For more information about the terms used in this article, see our Glossary Primer.
Shopping Cart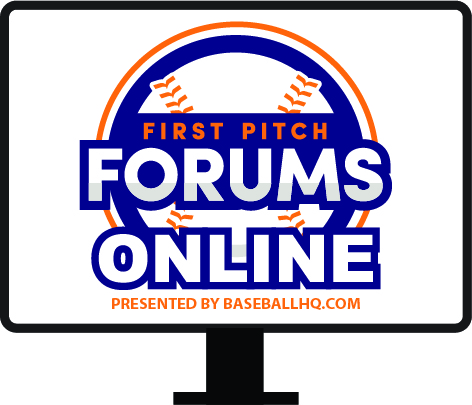 Our virtual First Pitch Forum returns!
Three online-only events: March 5, 11, 17
Join us live, or watch when you want
Just $19!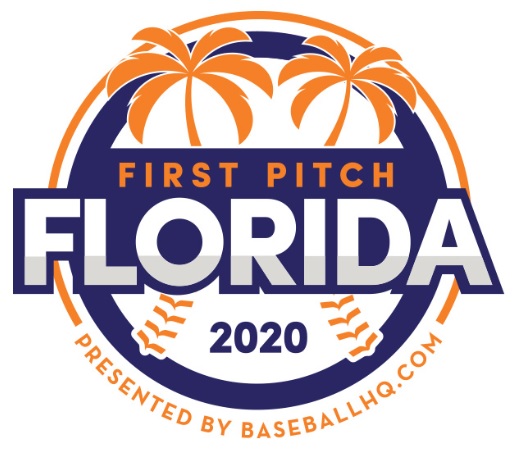 Inaugural Event!
February 28-March 1, 2020
St. Petersburg, FL
A few seats still left!