WATCHLIST: Davis, Padlo, others with late-season upside
By Alec Dopp
August 9th, 2019 12:04am
The WatchList offers a weekly quick-hit look at position players and pitchers with potential to impact fantasy rosters throughout the 2019 regular season, whether that be due to injury or outstanding performance. The WatchList aims to illuminate prospects who are not regularly featured in "top prospect" columns, but rather, those prospects who are on the fringe of the HQ100 or lower. Call-ups are often difficult to predict, but these are players to keep in mind if your league rules allow minor-league pickups.
*All statistics current through August 8, 2019* | 2019 WatchList Production Tracker
Hitters
Jaylin Davis (OF, SF)
MLBA19 Prospect Grade: 6B
5x5 Impact Category: HR
Farhan Zaidi and the rest of the Giants front office elected to make a few lower-level trades at the deadline rather than the blockbuster one (ahem, Madison Bumgarner) many had anticipated, and Davis was one of the bats acquired from the Twins in exchange for reliever Sam Dyson last week. While certainly not considered a top-caliber prospect, the Appalacian State product warrants some attention in NL-only formats from now through the end of the season, as he is a bat who could legitimately make some impact right away. After starting 2019 in the Double-A Southern League and moving his way up to AAA mid-June, Davis now boasts one of the best statistical lines in the minors this season, slashing .308/.401/.587 with 27 HR and a 44% x/h% across 103 games. His first handful of games in the hitter-friendly PCL haven't been too shabby, either (.571 AVG, 2 HR, 9 RBI, 3:3 BB/K in 4 G), and one has to figure that the Giants could look to promote him to one of their corner OF spots as a spark plug heading into a competitive stretch run toward the second wild card spot. Davis is not a pure slugging right-handed hitter, as his ground ball rate in AAA this season was actually above average, but his plus raw power plays efficiently to all fields and he is slashing .630/.630/2.407 when he lifts the ball in the air in 2019, according to Minor Graphs, which means the ball goes places when he makes ideal contact. Davis is a good athlete with sneaky speed and could be a 5+ SB candidate by the end of the season, too, and while you'll have to stomach some AVG downside (his ct% is consistently fringy), his value could be enhanced in OBP formats given his penchant for walking at a solid clip (12.2% bb% in 2019). Overall, this is a fringe corner OF profile with plus raw, some speed, and iffy ct%. There's not a ton of risk here, but NL-only or 15-team format owners should be the only bidders.
---
There's more where this came from to help you win your fantasy league in 2019. Take the title home with a subscription to BaseballHQ.com.
---
Kevin Padlo (1B/3B, TAM)
MLBA19 Prospect Grade: N/A
5x5 Impact Category: HR
It's difficult, if not impossible, to pull up an article about the Rays minor league system sans reference to Wander Franco or Brendan McKay these days, and that's for good reason. The system has quickly become the best in the AL, with both top-end impact talent and depth for sustainability. A name who wasn't even mentioned in the 2019 Minor League Baseball Analyst, Padlo is a bat who falls into the latter category who could make some impact by season's end. Following a down campaign in the pitcher-friendly Florida State League in 2018 (.671 OPS in 155 G) that certainly effected his prospect status, Padlo has appeared reinvigorated in the upper minors in 2019, owning a combined slash line of .268/.388/.562 with 18 HR and an eye-opening 60% x/h% (his career average is right around 48-50%) across 300-plus PA. Padlo's power is arguably his most intriguing fantasy asset, as he possesses above-average raw power that has manifested in fly ball rates generally north of 45% as a professional. The former fifth-round amateur draft pick loves to get the ball out on his front foot and to his pull-side, and one will note that his HR spray chart leans almost exclusively to the left side of the diamond. Complementing the intriguing power is pitch selectivity and patience, and solid plate discipline ratios. His 17.5% bb% across 277 plate trips in AA earlier this season was highest among his counterparts with at least 250 PA at that level, and that is a skill he has maintained throughout his pro career (14.2% bb% for his career), along with a 0.58 Eye that is comfortably above average. The downside in the profile is that Padlo's overall contact rates are fringe-average and his feel for hitting remains slightly questionable, as his swing can elongate as he looks to pull the baseball quite frequently. He previously racked up 35 SB in his second pro campaign, but has since bulked up and lacks speed for much impact. This is an AL-only format type bat worth monitoring for HR/OBP value.
Pavin Smith (1B/OF, ARI)
MLBA19 Prospect Grade: 7B
5x5 Impact Category: AVG
Drafted seventh overall just two summers ago, Smith was considered one of the top pure hitting prospects from the collegiate ranks coming out of the University of Virginia, where over three seasons, he slashed a combined .326/.403/.515 with an astounding 100:75 BB/K total in 186 games. He chalked up a quality short-season debut in the Northwest League after signing with Arizona (.816 OPS in 51 G) that summer, but his prospect stock took a major hit last season after a so-so showing in the Arizona Fall League and a disappointing full-season campaign in the notoriously hitter-friendly CAL. As such, now might be an ideal time to buy low in both dynasty and redraft leagues, because Smith's numbers have ticked up and he still possesses enough attributes to make some impact with the bat at the next level. This season, Smith has been a Top 10 hitter in the AA Southern League with a 132 wRC+, just behind Christian Pache, slashing .276/.353/.443 with 9 HR across 101 games (including a .991 OPS since the start of July). In three pro seasons, Smith's x/h% has ticked up each year (along with incremental increases in his fly ball rate) and he still maintains some of the best contact skills in the minors, including a career ct% of 86% and an Eye of 0.93. Smith's compact left-handed swing allows him to distribute the ball to all fields regularly, and despite a less-than-ideal volume of line drives, he should have the skills for a .275-.280 AVG with above-average OBP value. If his power continues to progress, and with the ball jumping the way it has in AAA/MLB this year, Smith could be a 20 HR candidate consistently. The prevailing problem with the profile is that he is limited to either first base or right field long term, which will place some pressure on the bat to produce right away. His advanced plate discipline and contact ability gives him a solid foundation with which to work moving forward.
Pitchers
Trey Supak (RHP, MIL)
MLBA19 Prospect Grade: 8D
L5 PQS (AA/AAA): 5 5 4 2 5
The state of Milwaukee's rotation is about as rough as it can get right now, with four pitchers who were at one time linchpins in the rotation currently on the IL (Nelson, Davies, Chacin, Woodruff). Given that the club is still well within striking distance of both the division lead and the second wild card spot, the club could call upon an arm like Supak for help in the interim. The former second-round pick has performed like one of the more well-rounded arms in the upper minors this season, going 12-4 with a 2.28 ERA, 0.89 WHIP, and quality Dom/Ctl mix of 7.0/1.8 across 22 starts after being promoted to the PCL late last month. The Brewers have given Supak a mid-season promotion in each of his four seasons in the organization, and now that he is officially on the 40-man roster, a call-up to the big-league roster could be imminent for the recently turned 23-year-old. Overall, Supak has the look of a future innings eater at the back end of a rotation, with solid ratios but potentially limited upside. His fastball has ticked up in recent years, now sitting 91-93 mph, and he shows above-average command of the pitch. His change-up and shorter, cutter-like slider project to be above-average offerings, and his 74-77 mph curveball will be another useable offering for him at the next level. Supak will have a chance to produce fringe-average Dom returns (7.0-7.5) at the next level largely in that his arsenal does not have a plus-plus offering, although he has shown ability to miss bats at a solid clip (12.5% SwK since 2018; league aveage is about 11%) to go along with an ability to pound the strike zone and an increase in his ground ball rate in recent years. This is a name to watch in the next few weeks for a couple of spot starts, and owners in NL-only or 15-team formats in desperate need of pitching depth would be the ideal fit here. Owners in 10/12 team mixed formats may want to hold off until Supak demonstrates slightly more Dom ability.
Harol Gonzalez (RHP, NYM)
MLBA19 Prospect Grade: N/A
L5 PQS (AA/AAA): 4 2 3 3 4
The Mets pulled off one of the biggest shocks of trade season last week when they pulled the trigger and got Marcus Stroman from TOR, fortifying a starting rotation that projects to be arguably a top-five unit moving forward. Purely looking at New York's depth chart, though, the farm system lacks big-league-ready arms in the upper minors who could fill in and produce should an injury arise, aside from Gonzalez. The 24-year-old Dominican righty was recently promoted to Triple-A Syracuse on account of the fact that he was quite productive in AA earlier this season, going 6-4 with a 3.14 ERA, 1.09 WHIP and solid 8.2 Dom/2.1 Ctl mix across upwards of 100 innings. Both the strikeouts have increased and walks decreased compared to his extended time in the Eastern League last season, and while his arsenal isn't particularly high-ceiling, Gonzalez has the look of a back-end SP in the near future with his combination of his stuff and underlying skills. Slightly undersized at 6-0, Gonzalez will operate around 91-93 mph and touch 94 mph with his fastball, and he demonstrates an ability to fill the strike zone at an above-average clip. He will also blend in a cut fastball and curveball for the majority of his weak-contact balls in play, and the latter has some ability to miss bats in two-strike counts, though the action of the curveball lacks bite and can get loopy at times. His change-up will flash above-average fade and drop from his 3/4 arm slot, too, giving him four pitches around league average with which to work. The lack of a true plus-plus offering is what holds the profile back from being intriguing in fantasy formats, but Gonzalez shows ability to miss bats (12.7% SwK in AA earlier this season) and keeps the ball on the ground well enough (46% GB%), and that's what we like to see in a fringe prospect. Perhaps this is a name to watch for earlier next season, but the Mets could give him a cup of coffee next month when rosters expand.
Ian Anderson (RHP, ATL)
MLBA19 Prospect Grade: 9C
L5 PQS (AA/AAA): 4 5 4 2 2
With Dallas Keuchel in the mix and now Mike Foltynewicz back after an extended respite in Triple-A, the Braves starting rotation looks like it could be in place now through the end of the regular season if all goes according to schedule. In the event that Folty reverts back to his early-season self (2-5, 6.37 ERA in 11 GS before being demoted), however, Anderson could be on his way to the big leagues in time for a pennant chase as the team's No. 5 SP option. Dynasty owners are no stranger to Anderson, the No. 3 overall pick in the 2016 draft, though owners in redraft leagues might want to start taking notice before he's snatched up. The 21-year-old righty just made his first start at AAA after an impressive stint in the AA Southern League, going 7-5 with a 2.68 ERA, 1.16 WHIP, and the highest Dom (12.0) and K-BB% (31.7%) among upper-minors starters who've logged at least 100 innings this season. At full maturity, Anderson has the potential to be a #1/2 SP option in fantasy formats, and he could make some noise and provide value in 10-team mixed leagues from now through the end of the regular season. His plus fastball will touch 97 mph and sit around 92-95 with late sinking action, his curveball has taken major steps forward over the last two seasons, now flexing the bat-missing 12/6 action required for whiffs, and he also throws a deceptive mid-80s change-up that also projects to be above average. Anderson is still adding muscle to his lean frame as well as learning to fill the zone at a more manageable rate, so potential for above-average Ctl remains likely early in his pro career. On the flip side, he has maintained a SwK% around 13-14% as a pro, which is comfortably above average, and he could add a tick of velocity as he adds strength.
For more information about the terms used in this article, see our Glossary Primer.
Free Weekly eNewsletter
The industry's #1 analytical weekly e-mail newsletter is ABSOLUTELY FREE!
More Information
Shopping Cart
SAVE THE DATE!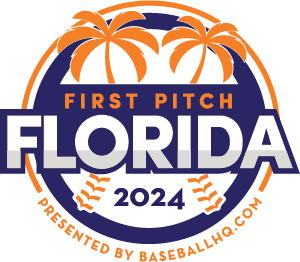 March 1-3, 2024

Clearwater, FL