SPECULATOR: Opening Weekend
By Ryan Bloomfield

@RyanBHQ
April 3rd, 2019 1:05am
Like most of us, I was fired up for this past weekend. After spending most of the first two days of baseball season at the day job, I'd finally get the chance to sit down, watch some baseball, and check in on some targets we've been touting in this space throughout draft season. Then the fateful words came down from Mrs. Speculator herself:
I think we should refinish the deck this weekend.
Fully knowing that "we" was code for "me", and "I think" meant "you should", multi-tasking would now be a must. Frequent breaks from pressure-washing (Saturday) and deck staining (Sunday) were needed, but I got enough screen time to enjoy the opening weekend and get some peeks at our preseason Speculator favorites. We all know not to overreact to a weekend's worth of games, but through a purely speculative lens, there were plenty of takeaways.
***
Washington Nationals (Strasburg) vs. New York Mets (Syndergaard) | Saturday, 1pm ET
One of our non-first-round picks to possibly earn first-round value in 2019, Stephen Strasburg (RHP, WAS) struck out eight in his six-inning debut vs. NYM. Strasburg's late-season velocity fade was a concern this offseason (95.3 mph before a July neck injury; 93.5 after), and he averaged just 93.1 mph with 29 four-seamers on Saturday. Strasburg can still be fine if the mid-90s heat doesn't return—he missed plenty of bats last August and September (13% SwK)—but more importantly, he looked healthy and the secondaries were fine on Saturday. Strasburg got eight called + swinging-strikes with his curveball and eight whiffs on a change-up that's arguably one of the best pitches in the game: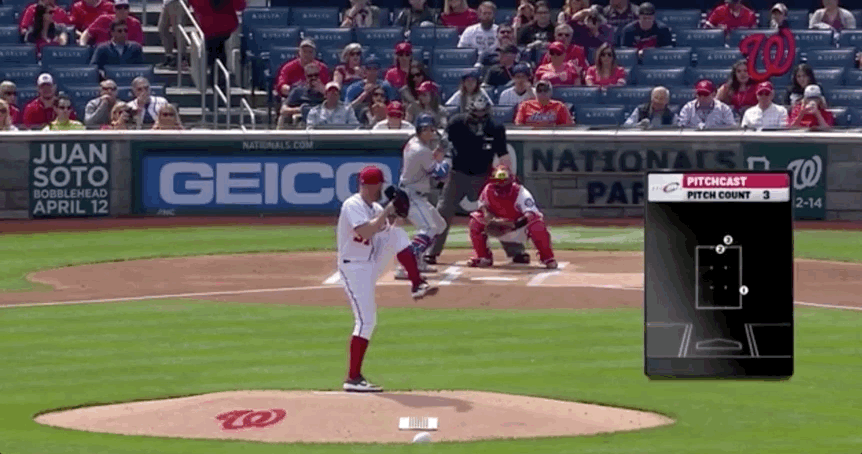 Batting orders can be fickle, but Brian Dozier (2B, WAS) gets the short end of the early-season stick so far. One of our recency bias rebound targets from March, Dozier hit seventh (in front of the eighth-hitting pitcher) in both weekend games, which caps his short-term SB upside.
Dozier's loss could be Victor Robles's (OF, WAS) gain. Even though Robles was hitting ninth, WAS seems to be moving the pitcher spot up to give him more leash on the basepaths. Though Robles didn't steal a base this weekend, he (along with Garrett Hampson) caught our attention this spring with full green lights. For Robles, it looks like that should continue into the regular season.
Cleveland Indians (Bauer) vs. Minnesota Twins (Odorizzi) | Saturday, 2pm ET
A somewhat unexpected pitcher's duel in this one. Trevor Bauer (RHP, CLE) was recently covered in a Facts/Flukes column by our own Brandon Kruse, where it was mentioned that Bauer, a constant "tinkerer", was working on an improved change-up this offseason. Sure enough, Bauer went to it 25 times on Saturday, getting five whiffs on a pitch that looked pretty sharp in real time: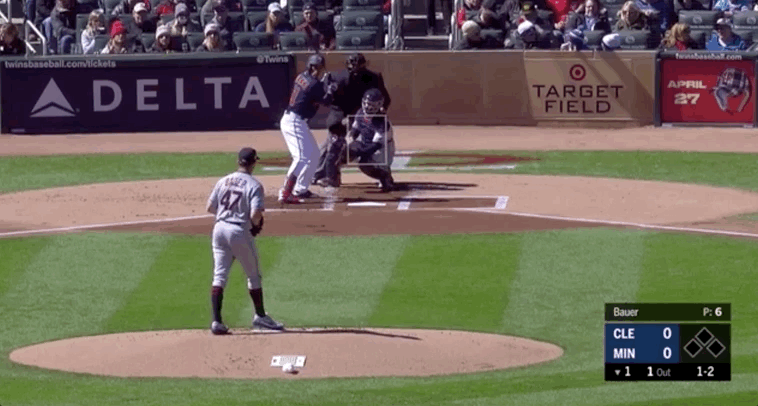 Bauer gave up just one hit and one walk with nine strikeouts in his debut. His eagerness to adapt and stay one step ahead only helps his cause for the "UP: Cy Young" tagged on him in the 2019 Baseball Forecaster.
We said this pitcher duel was somewhat unexpected, and that's because Jake Odorizzi (RHP, MIN) struck out 11 in his six-inning debut. He leaned heavily on his fastball, throwing it 61 out of 92 pitches with 15 whiffs, but got just one swing-and-miss from all of his secondary pitches combined. Odorizzi, an extreme flyball pitcher, benefitted from a frigid Minnesota day with the wind blowing in. The new fastball-heavy pitch mix is at least worth tracking, but with two straight years of 4.00+ xERAs, it's more likely this was a one-game fluke.
Arizona Diamondbacks (Godley) vs. Los Angeles Dodgers (Maeda) | Saturday, 9pm ET
The nightcap featured a check-in on Kenta Maeda (RHP, LA), our speculative choice for National League ERA leader. Maeda promptly gave up a lead-off home run to... Jarrod Dyson, the first of three on the night (all solo). Maeda otherwise looked good in a PQS-4 effort. His change-up was a force last year (26% SwK; 15% usage), and Maeda went to it often on Saturday, throwing it 38 times (!) with nine whiffs. Also of note: manager Dave Roberts let Maeda go into the 7th inning (100+ pitches) before the game got out of hand. The knock on Maeda has been lack of volume, but with an injury-riddled LA rotation, Maeda might have enough leash to make a run at 2016's IP total (176).
Speaking of this game getting out of hand, we had two position players on the mound by the end of the night, as Russell Martin squared off against John Murphy. Murphy didn't allow a run in his first inning of work, but was rightfully torched for seven runs in the next frame. Time to turn this one off...
Cleveland Indians (Carrasco) vs. Minnesota Twins (Pineda) | Sunday, 1pm ET
The draw here was to see how Michael Pineda (RHP, MIN) looked in his first start since July 2017. Pineda caught our eye this spring and has made frequent appearances in Stephen Nickrand's Starting Pitcher Buyers Guide thanks to a three-year stretch of 130+ BPVs from 2015-17. Pineda didn't recapture his pre-injury velocity in his 2019 debut—his 22 fastballs averaged just 90.4 mph—but his 5/1 K/BB in just four innings of work (40 pitches) was an encouraging start. Pineda's 2019 outlook should only improve as he works deeper into games.
Willians Astudillo (C, MIN) got the start behind the dish in this one and looked impressive with the bat, as our speculative pick to win the AL batting title had two hard-hit doubles off Carlos Carrasco. Astudillo's other-worldly contact skills were on full display this spring—he didn't register a single strikeout in 51 at-bats—and it looks like he'll be a regular part of MIN's catcher rotation with multiple paths (C, 3B) to playing time this year.
A final note on CLE's offense: it was awful all weekend, so maybe take the Odorizzi and Pineda performances with a grain of salt. The entire lineup mustered just a .133/.218/.189 slash line with 1 HR and a 56% ct% through Sunday's games. Small sample and cold weather, sure, but without Francisco Lindor or any major offseason additions, this looks like the type of lineup you could be streaming against all year.
Chicago White Sox (Giolito) vs. Kansas City Royals (Lopez) | Sunday, 2pm ET
We tabbed Lucas Giolito (RHP, CHW) as a long-shot candidate to be this year's Blake Snell thanks to his late-season velocity bump and improving change-up/slider combo in 2018. Both trends continued on Sunday, as Giolito struck out eight, walked one, and pitched six scoreless before giving up a pair of runs in the seventh. His fastball velocity was up over 93 mph and even touched 95 a couple of times, while the change-up and slider produced eight whiffs on 30 pitches (27% SwK) in a PQS-5 outing. KC's lineup isn't that great, but neither is rest of the AL Central's, so this was an encouraging start for Giolito, who's looking like a viable post-hype breakout target.
A trio of KC speedsters (Whit Merrifield, Adalberto Mondesi, Billy Hamilton) got plenty of attention this draft season as SB game-changers, but don't forget about Chris Owings (OF, KC) as a speculative play. Owings stole 21 bases in 2016 and started at 2B and 3B this weekend, even picking up a steal on Saturday. Owings owns some decent skills from 2016-17, so there's profit looming—potentially at multiple positions—if he takes advantage of the early-season audition.
We'll return next week with some snap judgments on the hitting side. Until then, I think I'll go enjoy that new deck!
RIP my water bill (and my back), but this weekend's deck transformation was a success. pic.twitter.com/AzRSsYcVBN

— Ryan Bloomfield (@RyanBHQ) April 1, 2019
The Speculator is not designed to make definitive assertions about the future; rather, it is designed solely to open reader's eyes to possibilities they may not have previously entertained, and in doing so, provide a different perspective on the future. Many of the possibilities will be of the "out on a limb" variety. All are founded on SOME element of fact. But none should be considered any more than 20% percentage plays.
For more information about the terms used in this article, see our Glossary Primer.
Shopping Cart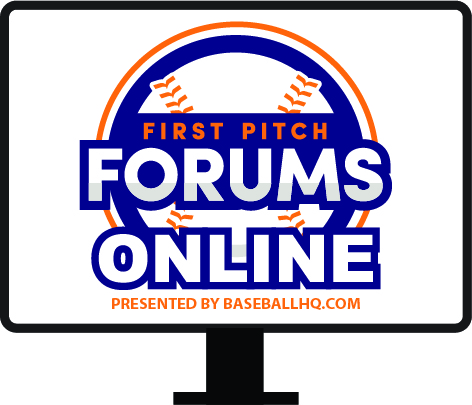 Our virtual First Pitch Forum returns!
Three online-only events: March 5, 11, 17
Join us live, or watch when you want
Just $19!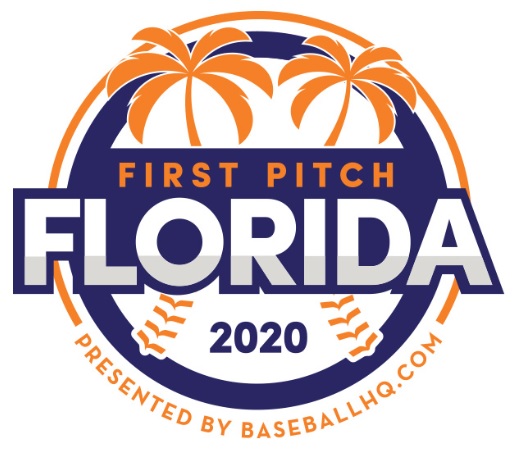 Inaugural Event!
February 28-March 1, 2020
St. Petersburg, FL
A few seats still left!