SPECULATOR: A #BloomBoards barrage
By Ryan Bloomfield

@RyanBHQ
June 16th, 2021 12:04am
For those of you who follow me on Twitter—or even if you've glanced through the BHQ Staff Twitter list on the right rail of our site—you've probably been bombarded by my #BloomBoards in recent years. And if you haven't been, you're about to be!
The quick skinny on #BloomBoards for those unacquainted: they're basically just lists of players that meet certain skills filters or criteria that I think are important. Recent examples include: 1) hitters with excellent strikeout/barrel rate combinations, 2) pitchers with a high whiff rate on their fastball and a plus secondary pitch, and 3) pitchers with one bad start and what their ERA would've been without it.
An ideal board has some names you'd expect to see (validation!) and others you wouldn't; it's that latter group that we're more interested in here. Because it's Twitter, I don't have the bandwidth to go into greater detail—it's more just to start a conversation with others—but in this space, I can go more in-depth on which guys pique my interest and why.
So this week I'll whip up five different boards, show the players that meet the criteria (stats through Sunday's games), and give my thoughts on the more interesting names that bubble up. And if I don't mention a player that shows up who you're interested in, bring 'em up in the comments.
***
Board 1. Likely power surgers
Above-average raw power skills (xPX > 100, Barrel% > 8.1%)
Below-average results (HR/F < 13.4%)
Track record of better power (2018-20 HR/F > 2021 HR/F)
Sorted by highest xPX to lowest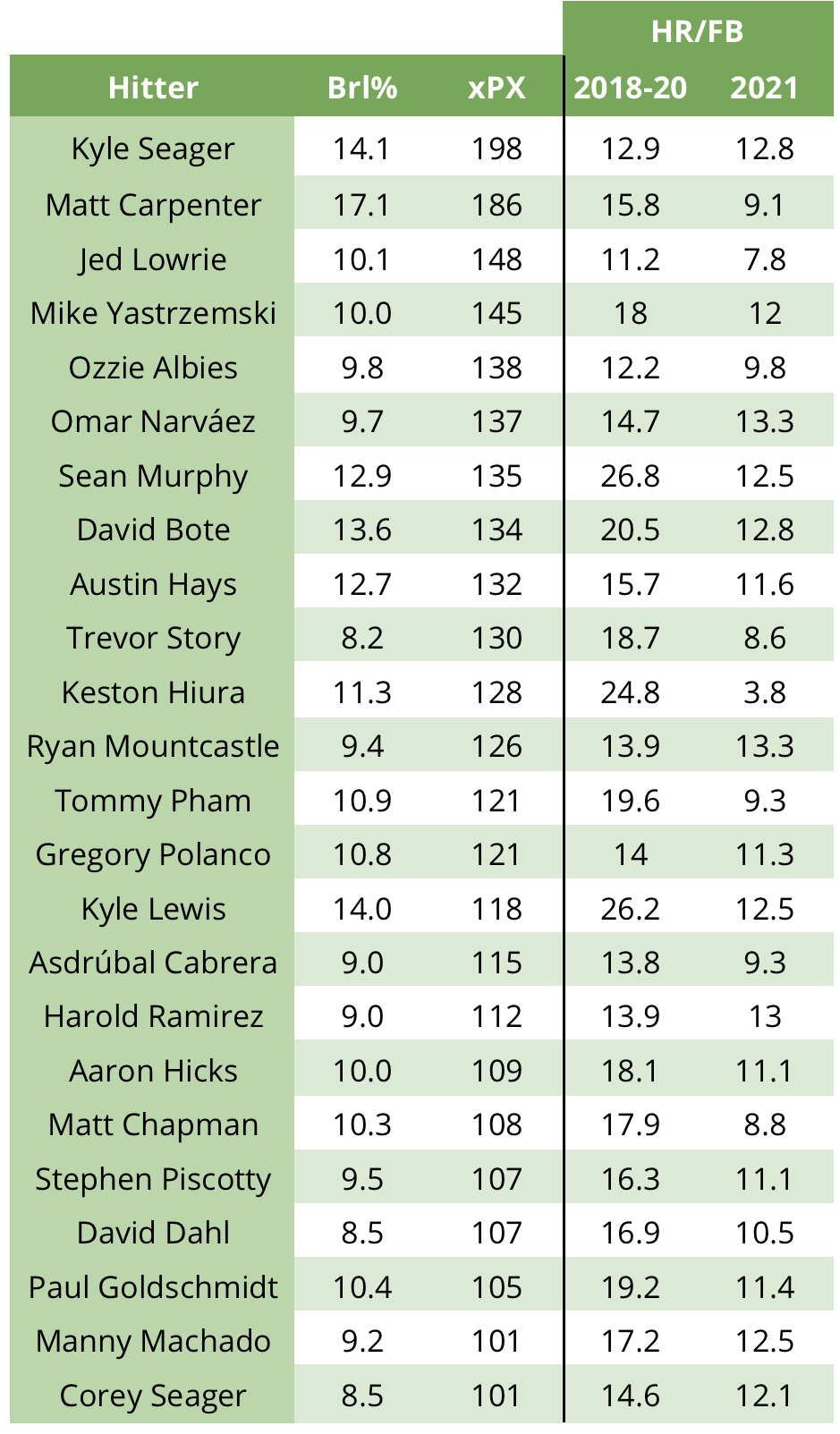 Sean Murphy (C, OAK) is hitting the cover off the ball; the results just haven't been there. Murphy has one of the higher barrel rates on this list (12.9%), his xPX is just fine, and he comes with a track record of better power (27% HR/F from 2019-20). There's some swing-and-miss to Murphy's bat so he won't be a BA asset, but in the cesspool of talent that is most two-catcher leagues, his pending power surge should have plenty of value.
Another OAK hitter high on this list is Jed Lowrie (2B, OAK) despite his pedestrian .248 BA with 5 HR, but the skills point to a potential explosion this summer. Lowrie is one of just three hitters with an elite 145+ xPX and a single-digit HR/F (Hampson, Carpenter). The Salem, OR native is ripe for a HR binge as long as he can stay on the field.
Tommy Pham (OF, SD) is near the top of the SB leaderboard with 11 bags so far, but his production in other categories (namely a .237 BA, 5 HR, 21 RBI) has been subpar. Better days should be ahead—Pham's usually-strong HR/F has been cut in half this year, but the raw power skills (121 xPX, 10.9% Brl%) are as strong as they've ever been. Positive regression usually happens in cases like this, so look for plenty of five-category goodness from Pham this summer.
There's a ton of uncertainty around Trevor Story (SS, COL) right now—is he going to be traded, is his elbow ok, etc., but one thing we're pretty sure of is that the power is still there. Story has just 5 HR so far, but his 130 xPX is just a tick below career norms, and he's hit 12 balls over 385 feet this year. We'd love to see Story finish the season with COL and take advantage of those Denver summer months, but if you're looking for a buy-low power target, talk up the lack of (surface-level) power and potential Coors exit to snatch him at a discount.
Board 2. Likely power faders
Track record of worse power (2018-20 HR/F < 2021 HR/F)
Below-average raw power skills (xPX < 100, Barrel% < 8.1%)
Above-average results (HR/F > 13.4%)
Sorted by lowest xPX to highest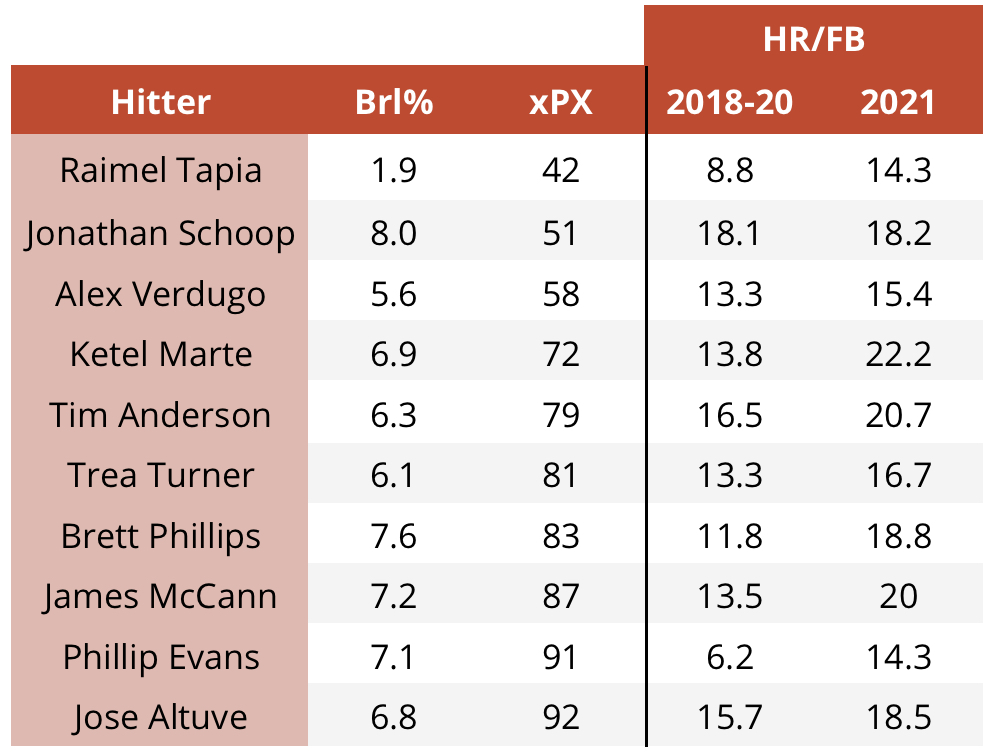 Raimel Tapia (OF, COL) is the obvious call for a power fade here. There's been no hard contact to speak of with fewer barrels (4) than home runs (5), he has a measly 42 xPX, and there's not much of a power track record to fall back on. Tapia's skill set is still valuable—he makes plenty of contact and he's adept on the basepaths—just but don't plan for much (if any) power production in the second half.
We'd like to believe that this is a finally-healthy, 2019 redux version of Ketel Marte (2B, ARI)... but the raw skills are throwing cold water on that theory. Marte is out front of his HR skis given the track record (career 13.8% HR/F; 22.2% in 2021), and it comes with little support from our own xPX or Statcast's barrel rate. Marte also hasn't attempted a stolen base this year—perhaps his April hamstring injury or previous back issues are playing a role there. He looks like a legit .300 hitter, but it might not come with many counting stats.
Board 3. An advanced repertoire
Three or more pitches with:

An excellent swinging-strike rate (>14% SwK)
More than 100 pitches thrown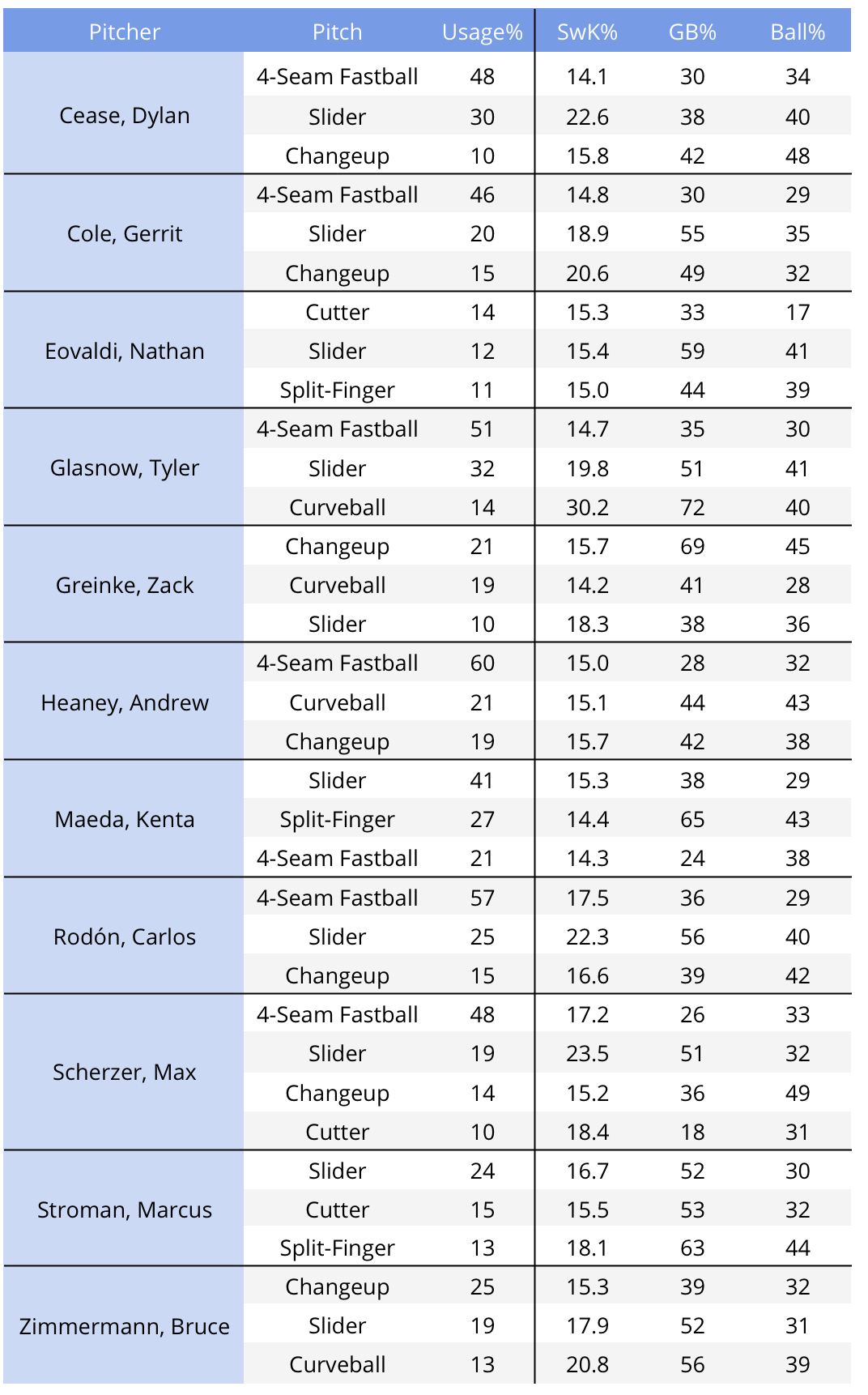 Oh hey, there's Nate Eovaldi (RHP, BOS). If you know, you know.
The real stunner here is Bruce Zimmermann (RHP, BAL), who gets plenty of whiffs with his change-up, slider, and curveball. THIS is the type of find we want #BloomBoards to uncover. A cursory glance at Zimmermann's skills (4.83 ERA/4.53 xERA, 13% K-BB%) aren't all that exciting, but that's mostly due to a mediocre fastball that he throws over 40% of the time. The division is brutal and Zimmermann earned just a "6B" prospect rating upon his April call-up, but the possibility of a pitch mix tweak—throwing his trio of plus secondaries more often—makes him a fine speculative play.
Marcus Stroman (RHP, NYM) has always been known as a low-K, low-BB, high-GB% pitcher, and while that seems to be the case again this year, things are changing beneath the hood. Stroman's throwing a new split-change that now gives him three secondary pitches that miss bats with ease, driving his career-high 12.4% SwK%. There's a considerable gap between Stroman's 2.32 ERA and 3.47 xERA, but the upcoming luck regression might be neutralized by an uptick in Ks. Keep riding him.
Andrew Heaney (LHP, LAA) is another interesting name here, particularly since one of his three pitches is his four-seam fastball, a pitch that typically doesn't generate as many whiffs. We already gave Heaney a revised "UP:" side projection in this space; consider this just another piece of supporting evidence.
Board 4. The ingredients of an ace
Miss bats (>11% SwK)
Throw strikes (<36% Ball%)
Keep the ball on the ground (>47% GB%)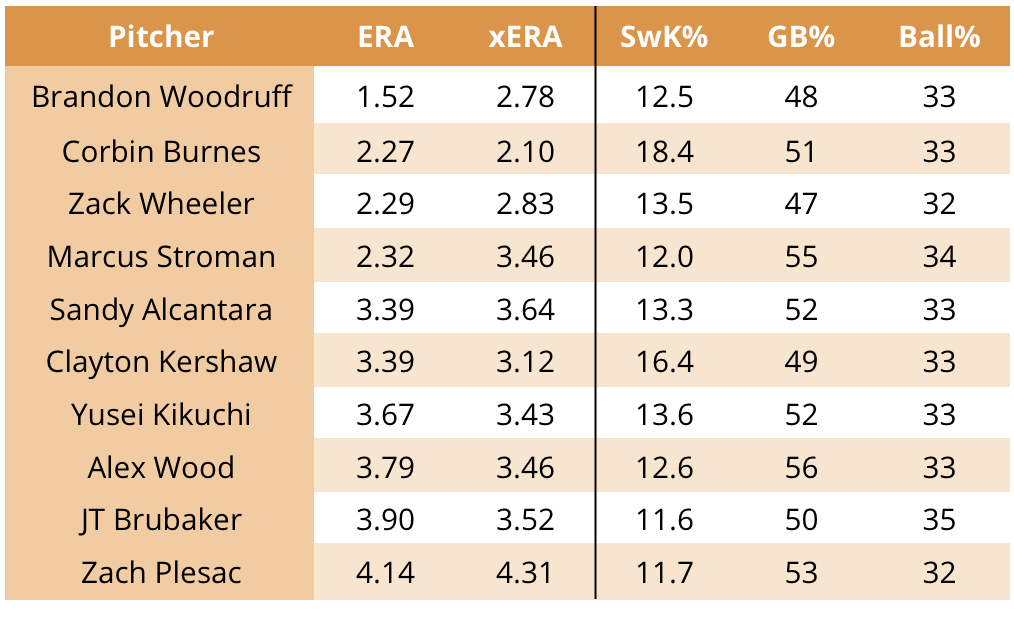 Any leaderboard that starts with Woodruff, Burnes, and Wheeler means we're on the right track. Since we're sorting this one by ERA, our speculative eyes immediately jump to the bottom half.
J.T. Brubaker (RHP, PIT) jumps off the page given his near-4.00 ERA on top of a stable foundation of missed bats, strikes, and ground balls. He probably won't get much run support and we'd like to see the whiffs translate to a few more Ks, but the ingredients are here for Brubaker to cook up a sneaky-good second half.
A new cutter had us speculating on big things from Yusei Kikuchi (LHP, SEA) this year, and while the results have been so-so, there's plenty of good going on beneath the hood. Kikuchi blows away our baseline filters here—he's the only starter in baseball with a 13.5% SwK, 50% GB%, and 33% Ball%. He's using said cutter just as much as he did in 2020 while also building upon last year's velocity gains (92.5 mph in 2019, 95.0 in 2020, 95.5 in 2021). Brighter days are ahead once Kikuchi's brutal 24% HR/F falls back to earth.
Board 5. Year-over-year improvement
Three-point gain in contact rate (2020 ct% vs. 2021 ct%)
20-point gain in raw power (2020 xPX vs. 2021 xPX)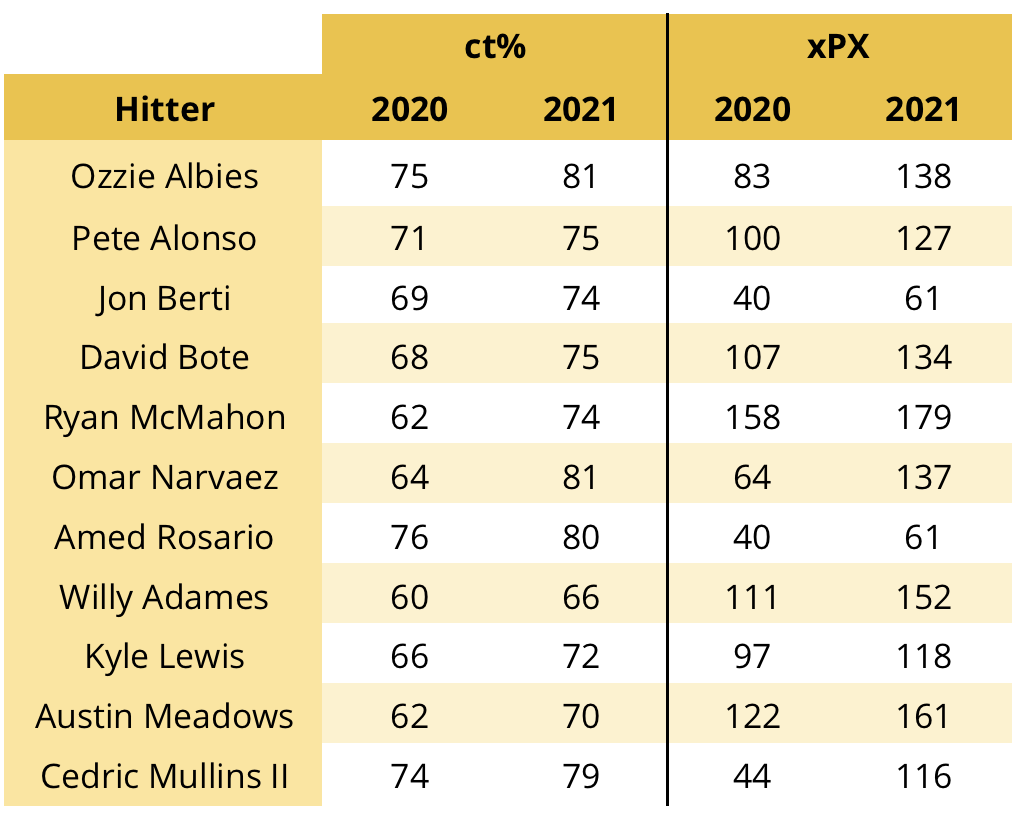 A couple more interesting names to round out our boards...
How about Cedric Mullins (OF, BAL)!? The man with a 300+ ADP is one of just four hitters with 9 HR and 10 SB through Sunday's games (Acuña, Tatis, T. Turner). He's doing it by striking out less, walking more, and hitting for a ton of raw power. Mullins gave up switch-hitting this offseason, allowing him to focus solely on being a left-handed hitter, and while a 38% h% has inflated Mullins's .321 BA (.271 xBA), there's enough tangible change to expect counting stats galore from him atop BAL's lineup.
Though some early-career struggles haven't really been his fault—COL is notorious for playing games with their young talent—Ryan McMahon (2B/3B, COL) is playing every day and living up to the hype. His contact rate is up 12 points and it hasn't come at the expense of his power, as McMahon has 15 HR with a career-high 179 xPX. This is an age-26 breakout in the making; the skills growth compared to last year say McMahon isn't slowing down any time soon, particularly as the weather in Coors Field heats up.
The Speculator is not designed to make definitive assertions about the future; rather, it is designed solely to open readers' eyes to possibilities they may not have previously entertained, and in doing so, provide a different perspective on the future. Many of the possibilities will be of the "out on a limb" variety. All are founded on SOME element of fact. But none should be considered any more than 20% percentage plays.
For more information about the terms used in this article, see our Glossary Primer.
Free Weekly eNewsletter
The industry's #1 analytical weekly e-mail newsletter is ABSOLUTELY FREE!
More Information
Shopping Cart
SAVE THE DATE!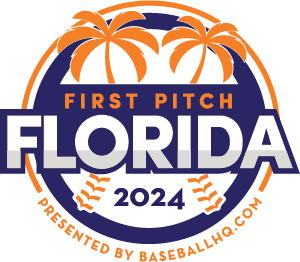 March 1-3, 2024

Clearwater, FL