ROTISSERIE: Vlad Jr. primed to produce in the majors
By Steve Gardner
May 2nd, 2019 1:03am
This article appeared in the May 1st issue of Sports Weekly.
The most exciting thing about Vladimir Guerrero Jr.'s major league debut with the Toronto Blue Jays wasn't the fly ball to deep left field that nearly became his first major league homer. We know the son of the Hall of Famer has power… and we know home runs are flying out of the park this season at a record pace. (More on that later.)
What was most exciting was Guerrero's at-bat in the bottom of the ninth inning of a tied game against the Oakland Athletics. Protecting the plate with two strikes, he lashed a fastball just off the outside corner down the first-base line for a leadoff double.
Vlad Jr.'s ability to control the strike zone—at age 20, no less—is what makes his potential so intriguing. And what makes him so different from his free-swinging father. Over four seasons in the minor leagues, Guerrero Jr. walked 150 times and struck out only 139 times. For someone with his hit tool, that's a lethal combination.
"He was very patient. He just had an advanced approach," recalled Baltimore Orioles outfielder Dwight Smith Jr., who played with Guerrero last season on the Blue Jays' Class AAA team in Buffalo, New York. "It was awesome to watch. I knew once I got on base he was going to drive me in. I could be on first, he was going to hit a homer or a double. It was unbelievable."
Guerrero's numbers in the minors were eye-popping, including a .381/.437/.636 slash line last season. He was hitting .367 with three homers (one that went completely out of the stadium) in eight games at Buffalo when he was finally promoted. So what can fantasy owners expect now that Vlad Jr. has finally reached the majors?
At the beginning of spring training, I had him as my No. 37 player overall—ahead of Cody Bellinger, Whit Merrifield and Rhys Hoskins, among others. However, an oblique injury plus the obligatory time the Blue Jays were going to give him in the minor leagues to start the season cooled my expectations. I regrettably ended up dropping Guerrero another 50 spots in my final rankings.
That feels like a pretty big mistake now. Looking at the current crop of third basemen, there aren't many I'd take over him. Nolan Arenado, Javier Baez and Alex Bregman still rank higher. Anthony Rendon, too, if his elbow injury doesn't turn out to be a major one. But give me a choice between Guerrero and Jose Ramirez or Kris Bryant right now, and it's going to require a lot of thought. All of a sudden, his original ranking at No. 37 doesn't look too far off.
We only need to turn the clock back one year to see the kind of impact another ultra-talented rookie made. Despite spending the first month of the 2018 season in the minors, Ronald Acuna Jr. still ended up as the No. 49 overall player in fantasy. Although Vlad Jr. doesn't steal bases, he could certainly match (or even surpass) the .293 average, 26 home runs, 64 RBI, and 78 runs Acuna posted in his Rookie of the Year season—with the upside of possibly winning the AL batting title.
One thing to watch with Guerrero is where he slots in the Blue Jays' batting order. In his first three games, he hit fifth two times against right-handed starters, and hit fourth against a lefty. That's a pretty good run-producing spot, except No. 3 hitter Randal Grichuk (.296 on-base percentage) and No. 4 Rowdy Tellez (.305) haven't been the best table-setters this season. In his first 13 plate appearances, eight of them came with the bases empty. A move into the No. 3 spot—behind Justin Smoak and his .390 OBP—would give Guerrero more opportunities to do some damage.
Kiebooom goes the dynamite
Guerrero wasn't the only prized rookie to make his MLB debut last week. The Washington Nationals called up Carter Kieboom, 21, to fill the void at shortstop and he immediately lived up to his last name. The same day Guerrero arrived, Kieboom cracked a solo homer for his first big-league hit. He followed it up two days later with another solo shot.
For all of the great numbers Guerrero was putting up in the minor leagues before he was promoted, Kieboom's were even better. At Class AAA Fresno, California, he was hitting .379/.506/.636 with three homers and 18 RBI in 18 games. Of course, that was in the hitter-friendly Pacific Coast League and not chilly Buffalo, but the point remains.
(One important thing to point out as we look at minor league stats, this is the first season Class AAA teams have played with the same baseball used in the major leagues. The resulting jump in home runs gives credence to the theory. Through April 28, Class AAA teams had hit 894 homers in 684 games, an average of 1.31 per game. Last season using the minor league ball, teams averaged 0.87 homers per game.)
In my industry leagues where he was available, Kieboom cost between 20% to 45% of teams' season-long free agent budgets. That's a significant outlay for someone who could end up back in the minors when Trea Turner returns from a broken finger in another month or so. But that's what two homers in three games will do to a rookie's value. He could also shift to second base if he continues to hit. Remember, the Nationals didn't really expect 19-year-old Juan Soto to be more than a stopgap injury replacement last year.
Two weeks ago, I wrote about how home runs are being hit this season like never before—an average of 1.30 homers per game—as hard-hit rates and exit velocities are also setting records. To be fair, the sample size was relatively small. After all, Cody Bellinger was on pace to hit .424 with 86 homers and 210 RBI.
But two weeks later, the power surge has shown no signs of slowing down. The weather has gotten a little warmer and MLB teams are now averaging 1.33 home runs per game. As for Bellinger, he's on pace to hit .427, but with only 76 homers and 194 RBI.
"Nothing's a coincidence," Chicago White Sox pitcher Carlos Rodon said last week, two days before giving up three home runs and eight earned runs in three innings to the Detroit Tigers. "You want more offense, and I get that, but it's hard not to see when you look at the numbers from year to year. It's concrete evidence in front of our face."
Even the best pitchers haven't been safe. Aaron Nola (5.58 ERA), Corey Kluber (5.81), Carlos Carrasco (5.86), Chris Sale (6.30), and Noah Syndergaard (6.35) have been shelled in the early going. There's not much fantasy owners can do besides limit exposure to lower-tier starters, fill in gaps with high-skill relievers, and pray those aces come around.
For more information about the terms used in this article, see our Glossary Primer.
Shopping Cart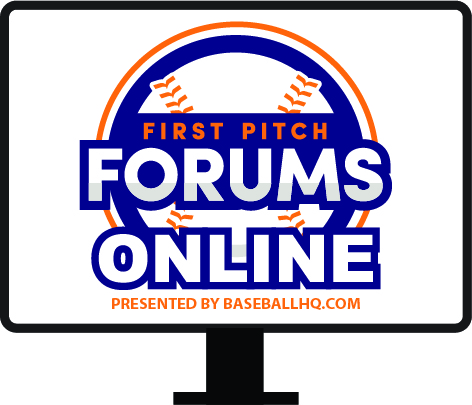 Our virtual First Pitch Forum returns!
Three online-only events: March 5, 11, 17
Join us live, or watch when you want
Just $19!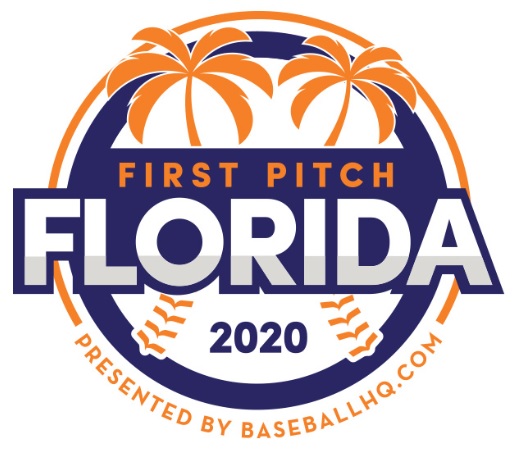 Inaugural Event!
February 28-March 1, 2020
St. Petersburg, FL
A few seats still left!