ROTISSERIE: Redemption in AL Tout Wars?
By Ryan Bloomfield

@RyanBHQ
March 23rd, 2021 12:03am
It's always fun and easy to celebrate your success, but to publicly admit failure? A lot tougher, more embarrassing, but also vastly more important.
My first foray into AL Tout Wars last year was a dumpster fire. I finished dead last with just 42.5 points; a total so bad that I've been docked $180 in FAAB this year (out of $1,000). I'm just happy they let me come back! Before we get into my attempt at redemption in Saturday's AL Tout Wars draft, a quick retrospective from my debut:
I mustered just three points in ERA and WHIP… combined. Losing Eduardo Rodriguez (who went for just $9 this year, a great buy from Jeff Erickson) and James Paxton didn't help, but I compounded the error by FAABing fringe starters who did more harm than good.
Not enough plate appearances. Injuries and COVID-19 absences were my excuses here, but it's a reminder that playing time is king, particularly when the replacement level is so bad (AL Tout Wars is a 12-team league) and regular playing time is rarely available in FAAB.
Saves (or lack thereof). I never recovered from Hansel Robles's early implosion, whiffing on several speculative closer targets in FAAB and winding up with just two saves all year.
---
There's more where this came from. Click here to purchase a Draft Prep subscription plan, which gives you complete access to BaseballHQ.com's insights through April 30, 2021.
---
With those lessons learned in mind, here's how I planned to respond during Saturday's festivities:
1) Apply the *yle Hendric*s Plan to my staff. Still reeling from last year's ERA/WHIP debacle, I wanted to focus on ratio-stabilizing pitchers under the $20 threshold (this league traditionally has a 70/30% hitter/pitcher split). It helped that there was a nice pocket of arms in that $11-$19 range, which I flagged (BOLD ALL-CAPS) in RotoLab ahead of time: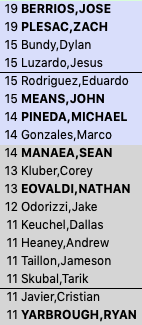 I'd pair this group with a top closer—from my view, there are only 5-6 solid full-time closers in the AL right now—and then backfill the rest of my staff with speculative relievers in lieu of fringy back-end starters.
2) Spread the risk on offense. Playing time is everything in a league this deep. My plan was to not go much over $30 on a single player so I can avoid dollar days on part-timers who play 3-4 times per week.
3) Avoid the catcher cesspool. The murkiest part of the AL-only pool is at catcher. We have to roster 24 of them, so I wanted to avoid zeros here and go with two full-time backstops that actually contribute in 4-5 categories.
***
Here's how things turned out, with a redux on my team, plus other buys that I liked to follow:

Player              Position  MM CODE   RL$  TW$
=================   ========  ========  ===  ===
Yasmani Grandal         C/1B  3125 AAB  $18  $20
Christian Vázquez          C  2245 BCD  $14  $11
Hunter Dozier          1B/OF  3425 BBF  $15  $13
Nate Lowe                 1B  4235 ADB  $15  $ 9
Marwin González  3B/2B/1B/OF  2133 ABB  $ 4  $ 1
Jonathan Schoop           2B  3135 ABB  $11  $ 9
Elvis Andrus              SS  1345 CCC  $13  $ 7
Xander Bogaerts           SS  4355 AAC  $29  $33
Eddie Rosario             OF  3255 AAA  $26  $24
Byron Buxton              OF  4525 DDD  $21  $18
JaCoby Jones              OF  4425 DDC  $12  $ 5
Oscar Mercado             OF  1413 ACF  $ 5  $ 5
Franmil Reyes             UT  4025 ABA  $19  $17
Dexter Fowler             UT  2213 CCC  $ 8  $ 1

Kenta Maeda               SP  4403 CAC  $26  $25
Ryan Pressly              RP  5530 DCA  $18  $21
Michael Pineda            SP  2203 FCA  $14  $10
Sean Manaea               SP  2103 FBF  $14  $11
Nathan Eovaldi            SP  2303 FBC  $13  $11
Spencer Turnbull          SP  1203 CBA  $ 3  $ 3
Ian Kennedy               SP  2310 FCD  $-2  $ 3
Scott Barlow              SP  3410 ACF  $ 1  $ 2
Matt Shoemaker            SP  1201 FDA  $ 6  $ 1
*RL$ = ROTOLAB VALUE
*TW$ = TOUT WARS PURCHASE PRICE


Catchers: I achieved the goal, but paid the most of any manager in doing so. Yasmani Grandal (C, CHW) is easily my top AL catcher in an OBP format, but my combined $31 spent on Grandal and Christian Vázquez (C, BOS) would come back to haunt me at other positions. There were several other full-time catchers that went for cheap that I would've preferred over Vazquez (see below). Note to self: deflate my catcher values next year.
Favorite catcher buys: Danny Jansen ($6; Mike Podhorzer), Kurt Suzuki ($3; Rob Leibowitz), Jason Castro ($4; Jason Collette), Pedro Severino ($4; Jeff Erickson).
Corner Infield: I'm willing to give Hunter Dozier (3B, KC) a COVID-related mulligan for 2020; thought he was a nice buy at $13 given 1B/OF and soon-to-be 3B eligibility. My third base/corner combo is where I could've used that extra catcher cash, though. Nate Lowe (1B, TEX) hopefully starts at 1B for TEX, but he's struggling this spring and might just lose the gig to Ronald Guzman. Marwin González (1B, BOS) was a nice $1 swiss-army knife (eligible at 1B/2B/3B/OF), though without another 3B on my team to start the season, I won't be able to take full advantage Dozier qualifies.
Favorite CI buys: Josh Donaldson ($19; Doug Dennis), Ji-Man Choi ($4; Larry Schechter), Rowdy Tellez ($10; Patrick Davitt).
Middle Infield: In great shape here. I broke my $30 rule with Xander Bogaerts (SS, BOS), but he's a worthy anchor with those early-spring shoulder concerns seemingly behind him. Elvis Andrus (SS, OAK) and Jonathan Schoop (2B, DET) are the quintessential cheap AL-only buys that I love. They're boring and don't have a high ceiling anymore, but they'll play every day and are good bets to outperform their $7 and $9 salaries, respectively.
Favorite MI buys: Tim Anderson ($26; Glenn Colton), Andrelton Simmons ($7, Erickson); Niko Goodrum ($10; Schechter), César Hernández ($12; Collette).
Outfield: This is the first time I've ever rostered Byron Buxton (OF, MIN)—which I'll admit is scary in an OBP league—but I felt his $18 tag was worth chasing that power/speed ceiling. As the cover boy of our 2021 All-Value Team, it was a foregone conclusion that Eddie Rosario (OF, CLE) would go to an HQer (Doug Dennis and Patrick Davitt are also in this draft), while JaCoby Jones (OF, DET) and his 4425 Mayberry line was a "YES!" moment at $5. My one regret here is taking a stab that Oscar Mercado (OF, CLE) would win the CF job in CLE. [Narrator: He did not.] Mercado was optioned to the team's alternate site on Sunday. Already in a playing time rut...
Favorite OF buys: Kevin Kiermaier ($3; Erickson), David Dahl ($5; Mike Gianella), Randal Grichuk ($9; Schechter), Alex Verdugo ($18; Dennis).
Starting Pitchers: Things mostly went according to plan here, as I snagged Michael Pineda (RHP, MIN), Sean Manaea (LHP, OAK), and Nathan Eovaldi (RHP, BOS) as my SP 2-4. I didn't plan on rostering Kenta Maeda (RHP, MIN) as an ace, but when the bidding stopped at $25 I was happy with it. The Maeda purchase threw my hitter/pitcher split off a bit, but I'm a firm believer that his pitch mix changes should help stave off some regression from 2020's career year. Spencer Turnbull (RHP, DET) and Matt Shoemaker (RHP, MIN) were speculative buys at a combined $4 that could pay off... or not.
Favorite SP buys: Lucas Giolito ($29; Chris Liss), Eduardo Rodríguez ($9; Erickson), Griffin Canning ($7; Colton), Dallas Keuchel ($7; Gianella), Zach Plesac ($19; Schechter), James Paxton ($9; Schechter), Chris Archer ($1; Dennis).
Relievers: The room paid up for those elite closers, and I joined in with Ryan Pressly (RHP, HOU) as one of three stoppers to go for $21 (Aroldis Chapman, Raisel Iglesias) behind a $23 Liam Hendricks. I backed Pressly up with a pair of speculative save targets in Ian Kennedy (RHP, TEX) (Texas hasn't yet committed to José LeClerc as their closer) and Scott Barlow (RHP, KC) (who really trusts Greg Holland anyway?). I handcuffed Pressly with Enoli Paredes (RHP, HOU) in the reserve draft just in case.
Favorite RP buys: Kirby Yates + Rafael Montero ($31 total; Doug Dennis), Trevor Rosenthal ($17; Howard Bender).
Can't wait to see how this all pans out. After all, there's nowhere to go but up, right?
For more information about the terms used in this article, see our Glossary Primer.
Free Weekly eNewsletter
The industry's #1 analytical weekly e-mail newsletter is ABSOLUTELY FREE!
More Information
Shopping Cart
SAVE THE DATE!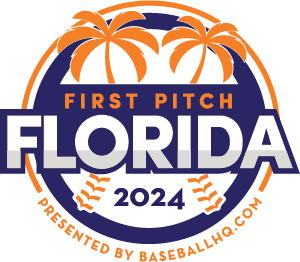 March 1-3, 2024

Clearwater, FL