ROTISSERIE: HQ-WONK—Where am I? (Learning the room)
By Brant Chesser

@BrantChesser
February 27th, 2019 1:03am
HQ-WONK is a 15-team mixed keeper league with a 23-round auction and a 17-round reserve draft. (Rosters can be found here if you're interested in the results.) Owners may keep players rostered at the auction for $5/year more than their salary, and they can keep reserve-round picks at a cheaper contract ($3/year increase). Since this is a first-year auction, not having any history to judge owners' tendencies adds more difficulty to creating an auction plan. With so many unknowns in mind, I mapped out three different strategies for the HQ-WONK league:
1. Strong Offense Plus Santana Plan: If I dedicate $195 towards hitting and $35-40 for an ace, that would leave $3-4 for each remaining pitcher. The plan would allow for at least three $35-40 bats and three hitters between $15-20 before moving to cheaper options. Ace targets for the plan are Scherzer, deGrom, and Cole.
2. Spread the Risk/Stronger Pitching Staff: If other owners choose to load up on offense, I can shift money toward pitching. Assuming that other owners will aim for a 70/30 H/P split, I can target a 62/38 H/P or go even more aggressive with pitching. While I can only roster one $30 hitter, I could add two $21-25 hitters and three $10-19 hitters. Adding an elite ace to the plan will probably be too expensive, but I can add several #1a options to the list for under $30. Rostering two-three pitchers between $20-29 would provide a strong foundation for a staff, and I can target three other pitchers between $11-19. Doing so would allow three more pitchers under $10.
3. Future Stars/Minor Leaguers: In a keeper format, one could target mostly minor leaguers if the prices are right. This will take more patience, as nominating Top 10 prospects early will drain the budget. If I can wait, I could try to roster a few $10-19 prospects for 2019 and beyond, such as Fernando Tatis, Jr., Luis Urias, Kyle Tucker, Brent Honeywell, Jesus Luzardo, and Chris Paddack. Unfortunately, the 1,000 IP minimum may prevent this plan from happening, and other owners may have the same plan in a first-year league.
How These Strategies Played Out
Within the first twenty players in the auction, the chances of a strong offense or a minor-league approach were shot down quickly. When the bidding for Mike Trout stopped at $62, I had to adjust my auction values quickly. Mookie Betts left the board at $60, and Trea Turner and Jose Ramirez both crossed the $50 barrier.
I was beyond sticker shock. "Where am I?" I thought to myself. "How many owners will continue to inflate the prices of hitters?"
My plans were quickly dwindling, as my attempt at rostering a $40 hitter seemed laughable. I kept bidding on bats until the $40 threshold, but I wasn't getting close. The minor-league future stars weren't cheap either, as Vladimir Guerrero, Jr. ($36), Eloy Jimenez ($25), and Fernando Tatis, Jr. ($22) were beyond the $10-19 range that I coveted for the future-stars approach.
Hitters weren't the only inflated prices during the first hour, as two out of my three ace targets for the Santana Plan went for more than $40. Brian Slack rostered Max Scherzer ($49) and Jacob deGrom ($44) during the span, which left me with a spread-the-risk-on-offense approach and allocating more auction dollars towards pitching. Without even knowing about Brian Slack's advice to "embrace the imbalance," my team would follow a similar path.
After Alex Bregman ($50), Christian Yelich ($49), and J.D. Martinez ($45) went in the next twenty bids, I kept losing my chance for an "elite" bat. I quickly shifted my focus to Paul Goldschmidt or Freddie Freeman. As Dave Adler said, "When in Rome..."; HQ-WONK owners were spending more on offense. With offensive value decreasing, I knew I had to spend heavy on one bat. When Goldschmidt's name appeared up for bid, I rostered him for $41. Maybe I should have waited on Freddie Freeman, who went for $35, but I at least I had one elite bat on the roster.
While part of me wanted to pay up for hitters like the rest of the league, I remained patient and waited for prices to drop. When Jack Flaherty was up for bid, I entered the bidding for my first pitcher. Even with some inflation, I added Flaherty at $21. As I knew I didn't want Flaherty as my 1a, I added Trevor Bauer ($27) and Walker Buehler ($29), both in the "Stars" category on the Universal Draft Guide, to the fold. With three pitchers on the roster, it was time to spread the risk on offense.
With an UP: 40 HR, Michael Conforto at $20 seemed reasonable after the $40+ price tags earlier in the auction. Yasiel Puig went for $24 to Brad Kullman, and now I realize that I should've pushed the bidding to $25, which was my price ceiling for rostering any remaining bats. Adding Miguel Andujar ($19), Nick Castellanos ($14), and Scooter Gennett ($10) followed the spread-the-risk plan while filling three offensive spots.
As prices declined, I turned my attention back to pitching to turn it into a strength. Knowing that I didn't want to pay for an elite closer in a Holds+SV league, I focused on starting pitching. Adding Mike Clevinger ($16) and Luis Castillo ($10) provided more IP and strikeouts, and Kyle Hendricks ($7) should help with ratios.
During the last ten rounds, I had the hammer, which allowed me to roster most of my starters for $3-5. While there were plenty of values, I realize that I should have turned my attention to minor league prospects that I could've rostered for $2. Spending $2 on Chris Paddack and Corbin Burnes probably would have added more future value to my team. Instead, I gobbled up 2019 value. Being able to add Robinson Cano for $4 as a MI and Andrelton Simmons ($2) at SS could work out well for 2019. With current HQ projections, Corey Dickerson ($5), Hunter Renfroe ($3), and Kevin Pillar ($4) are decent values, as they are projected to provide 62 HR and 25 SB in 2019.
When Wil Myers went for $6 to Bob Berger, I realized that I should've said $7 for a CI. After missing out on Myers, I ended up rostering Asdrubal Cabrera at CI for $5. I wanted Myers for his speed, so I turned my attention to any young players with speed. Garrett Hampson's 152 Spd was a target, and his $4 price tag could provide a valuable keeper if playing time breaks his way.
With Zack Wheeler still on the board, I nominated him for $5 and added him to the roster. Instead of adding Alex Wood ($2) for rotation help, I should've turned my attention to minor-league pitchers late in the auction. There was plenty of saves and holds value at the end of the auction, as Kirby Yates ($4) and Jose Castillo ($2) can provide 50 HLD+SV for my roster. In the reserve round draft, I will also target middle relievers to fill in the gaps in the bullpen.
Lessons
Like anyone going into an auction in a first-year league, I learned plenty of lessons.
If I wanted to get an elite bat early, I needed to pay anywhere between $45-62. Missing out on several elite bats that were targets (Bregman, Bellinger, and Yelich) could hurt my roster in 2019. In 2020, I will adjust my auction values to more closely represent HQ-WONK inflation. Like any auction, I had to get to know the room.
While some minor-league players went for $20+, there was plenty of value at the end of the auction. I should have saved some of my auction dollars that I spend on veterans for dart throws at future stars.
Maybe I should have stuck with the Stars and Scrubs/Santana plan, as the teams that went with Stars and Scrubs approaches found plenty of $1 value (see Luis Urias, Jorge Polanco, Collin McHugh, and Corbin Burnes)
Having the hammer was a benefit, but I should have used it more to "get my guys" late in the auction. Instead of being value-focused, I should have been player-focused.
Moving $10 from pitching to offense might have provided some stronger late-round bats.
Projected Results/In-Season Plan
From the two sets of projected standings in RotoLab, I will need more speed and HLD+SV. Patrick Davitt's projection has my team in second place after the initial auction, while Kris Olson's projection has my team in fourth. Even after ending with a 52/48 H/P split, my team found enough offense to be in the Top 5 overall. Despite the optimistic projections, I will need to make the appropriate in-season moves to compete for a title. Like Brian Slack's advice, embracing the imbalance will allow my team to trade pitching for offense in 2019 if it needs a boost.
For more information about the terms used in this article, see our Glossary Primer.
Shopping Cart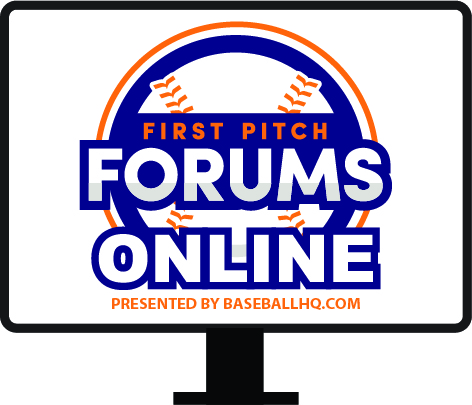 Our virtual First Pitch Forum returns!
Three online-only events: March 5, 11, 17
Join us live, or watch when you want
Just $19!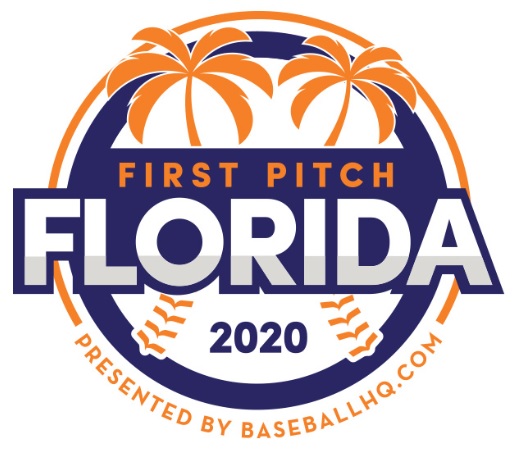 Inaugural Event!
February 28-March 1, 2020
St. Petersburg, FL
A few seats still left!