RESEARCH: Anticipating first-time SP breakouts
By Stephen Nickrand

@StephenNickrand
January 16th, 2015 12:05am
One of the keys to building a winning pitching staff is to have breakout performers in your starting rotation.
BaseballHQ.com's Starting Pitcher Buyers Guide routinely helps you to identify pitchers with breakout potential. Today, we'll look back at the profiles of all starting pitchers who have broken out in the last five years to identify the traits that fueled their newfound success.
From 2010 to 2014, a total of 107 starting pitchers increased their 5x5 value by at least $10 from one year to the next (minimum $10 5x5 value in year two). This total has not been influenced by a large number of breakouts in one or two seasons; there have consistently been 20-25 starting pitchers per season that accomplish this feat.
Nearly half of those notional breakouts came from pitchers who had already broken out earlier in their career. Perhaps they battled injuries in one year, only to return to pitch at a high level the following season. Or maybe they just had a bad season and re-grouped the following year.
Here, our goal here will be to identify a profile for first-time starting pitcher breakouts that you can apply in your search for 2015 breakout targets.
Over the last five seasons, a total of 59 starting pitchers increased their 5x5 value by $10 from the previous season (year one) and posted a >=$10 5x5 value for the first time in their career (year two). Here is the complete list:

The average age of these first-time breakouts is 25.4 years of age.
The average 5x5 value of first-time breakouts in the season prior to their breakout is $0.
The average 5x5 value of first-time breakouts in the season of their breakout is $18.
Let's look at the stats and skills posted by starting pitchers the season before (year one) and the season of (year two) their breakout: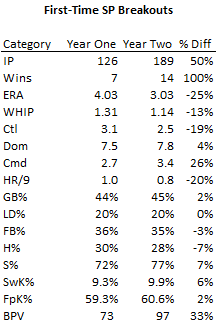 It is intuitive that a large jump in 5x5 value would occur partially as a result of a pitcher throwing more innings and therefore seeing his counting stats—like strikeouts and wins—increase significantly.
What's remarkable is the huge improvement in ERA and WHIP that can be seen during the year that a SP breaks out for the first time. On average, these pitchers go from posting a near 4.00 ERA, 1.30 WHIP to producing near-elite surface stats.
This is driven at least in part by skill, as shown by an average BPV increase of 33% from year one to year two. That BPV increase is driven by improved command, mostly as a result of a 19% improvement in the pitcher's Control (BB/9) rate.
Pitchers also tend to receive significant help from their hit (H%) and strand (S%) rates during the year of their breakout. Both marks tend to be normalized in the year prior to the breakout (30% H%, 72% S%), but they become significantly more favorable to them during the breakout (28% H%, 77% S%). So not only do breakout pitchers see a bump in playing time and an improvement in skill, they simply have better luck, too.
Starting Pitcher Aging
We recently looked at starting pitching aging curves for indicators like swinging strike rate (SwK%) and first-pitch strike rate (FpK%), which confirmed that swinging strikes and strikeouts decline with age and revealing that pitchers seem to throw more first-pitch strikes as they gain experience.
Here is a complete look at the stats and skills posted by ALL starting pitchers by age from 2010 to 2014 (not just the breakout sample):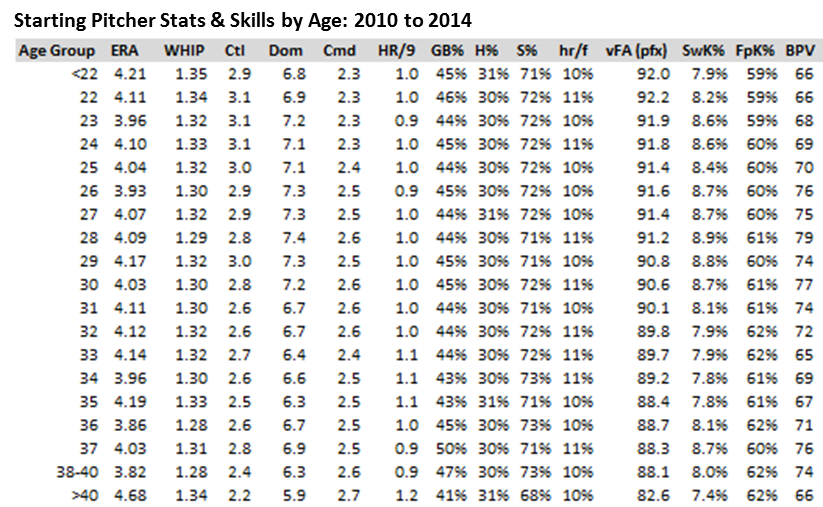 Notice that the biggest positive difference in overall skill between any two adjacent age groups is that between age 25 and 26, which is supported by the findings from the aging study and consistent with our finding that first-time SP breakouts happen at an average age of 25.4 years.
2015 First-Time Breakout Targets
As shown above, first-time breakouts typically are extremely significant ($0 5x5 in season prior to breakout, $18 5x5 in season of breakout). When they happen, they can be driven by playing time, skill (most notably control), or luck, or any combination of the three. Knowing that so many starting pitchers break out in a meaningful way each year, let's take a closer look at some age 25-26 SP who may be ready to post first-time breakout (>$10 5x5) seasons in 2015.
AMERICAN LEAGUE
Shane Greene (RHP, DET) displayed an intriguing combination of strikeouts and groundballs with NYY in 2014: 9.3 Dom, 3.3 Ctl, 50% GB%, 105 BPV. A 34% H% and 13% hr/f kept those skills hidden.
Roenis Elias (LHP, SEA) showed flashes of his upside in 2014. He posted a 90+ BPV in two separate months. He also had a 50%+ GB% in three different months and a 9.0+ Dom in two months. With electric swing-and-miss stuff, he could emerge quickly with improved stamina.
Kyle Gibson (RHP, MIN) put up some miserable skills (51 BPV) with MIN in 2014. That said, he posted a 10%+ SwK% in three separate months. With a consistent 50%+ GB% and flashes of impactful raw stuff, Gibson could take a big leap in 2015 if he can find a strikeout pitch against lefties (3.5 Dom vs. LH, 7.3 Dom vs. RH).
James Paxton (LHP, SEA) was stymied by a balky shoulder in 2014, but when healthy, he oozed talent: three swing-and-miss pitches, mid-90s velocity, groundball tilt. If healthy, he's an intriguing breakout target.
Drew Pomeranz (LHP, OAK) is another talented young pitcher who showed signs of translating his elite talent into results in 2014. If given an extended look in the OAK rotation, he could take a big step forward in 2015.
Chase Whitley (RHP, NYY) was much better in 2014 with NYY than his stats (5.23 ERA, 1.48 WHIP) indicated. His base skills were quite good: 7.1 Dom, 2.1 Ctl, 45% GB%, 94 BPV.
NATIONAL LEAGUE
Chase Anderson (RHP, ARI) quietly was one of the NL's most skilled SP late in 2014. Check out his skills in the 2H: 9.2 Dom, 3.4 Ctl, 41% GB%, 93 BPV. He also posted a 105 BPV in September alone.
Mike Bolsinger (RHP, LA) posted some sneakily strong skills with ARI in 2014: 8.3 Dom, 2.9 Ctl, 52% GB%, 100 BPV. His horrible ERA and WHIP were the result of a fluky 37% H% and 16% hr/f.
Rubby De La Rosa (RHP, ARI) was electric early on with BOS in 2014 before fading late. With mid-90s heat and a wipeout changeup, he has the goods to become an impact pitcher. He's another young arm that needs a tweak against lefties (1.7 Cmd). He already is effective against same-sided batters (2.8 Cmd).
Taylor Jordan (RHP, WAS) entered the 2014 season as a premium breakout target. It never happened, primarily due to a balky elbow that required bone chips to be removed from it after the season. When Jordan's healthy, he has strong swing-and-miss stuff as well as a steep groundball tilt. If healthy, he'll be an intriguing breakout target again.
Jimmy Nelson (RHP, MIL) was really good with MIL in the second half of 2014: 7.2 Dom, 2.3 Ctl, 49% GB%, 96 BPV. A 36% H% and 63% S% conspired to give him an ugly 5.37 ERA and 1.46 WHIP over that period.
Wily Peralta (RHP, MIL) still has not produced the kind of breakout season his talent suggests he's got in him. But in 2014, he finally made significant gains against lefties: 7.3 Dom, 2.5 Ctl, 3.0 Cmd. A crazy 35% H% and 15% hr/f against them caused those skill gains to remain hidden.
Dan Straily (RHP, CHC) will be a forgotten man in many drafts. CHC gave him only 13 IP of work after acquiring him in a deal with OAK in mid-2014. Straily's slider and changeup are both swing-and-miss pitches, and he even managed a strong 10% SwK% on his two-seam fastball. Finding the plate against lefties is the missing piece; he had an ugly 1.5 Cmd against them compared to a strong 2.9 Cmd vs. RH bats.
You won't find most of these pitchers listed high on your opponents' draft boards. But it is exactly pitchers like these that are going to be the key to someone's championship in 2015. Maybe yours?
For more information about the terms used in this article, see our Glossary Primer.
Shopping Cart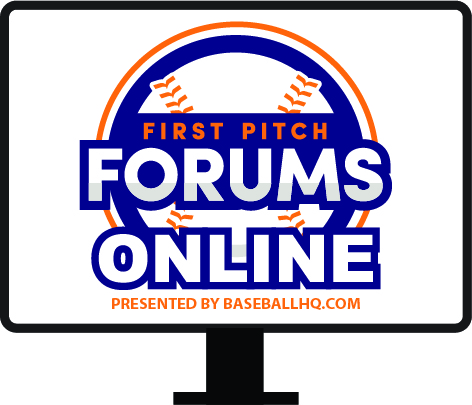 Our virtual First Pitch Forum returns!
Three online-only events: March 5, 11, 17
Join us live, or watch when you want
Just $19!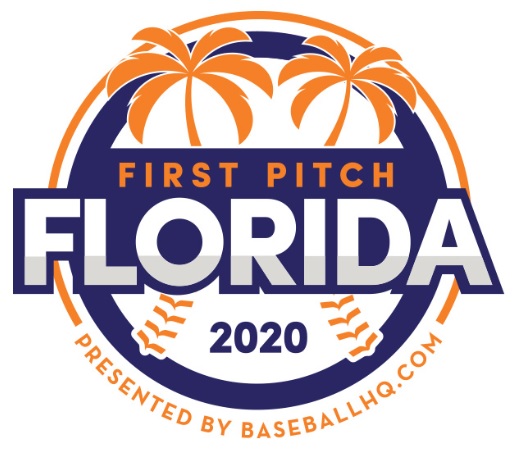 Inaugural Event!
February 28-March 1, 2020
St. Petersburg, FL
A few seats still left!