RESEARCH: 5 reasons why our Research team is due for a 2015 break out
By Ed DeCaria

@Edecaria
December 11th, 2014 12:06am
"Knowing yourself is the beginning of all wisdom." -Aristotle
Over the last 10 years, BaseballHQ.com has published well over 300 original "Research and Analysis" essays, in which we have explored a wide and ever-expanding range of topics related to fantasy baseball. The impact of this research can be seen nearly everywhere on the site—in our player projections, our Buyers Guides, our scouting reports, our strategy and gaming advice, our subscriber tools ... really, everywhere.
As the new director of the Research & Analysis department (and former contributor from 2009-2011) I've spent the last month or so trying to figure out how we can possibly make BaseballHQ.com research even better. Knowing that so much of the value that BHQ provides to subscribers stems from our research engine, I thought it appropriate to "research the research" in an attempt to identify upside opportunities. To this end, I re-read all 95 research essays published during the 2012, 2013, and 2014 seasons, and tagged them in lots of interesting and novel ways. When I stepped back, several themes emerged—both positive behaviors that would make sense to push even more, and some gaps that would be great to close.
Here are five reasons why I think the BaseballHQ.com research team is ready to break out in 2015:
1) We will better balance research topics across all aspects of fantasy play.
Traditional rotisserie scoring is a pretty even split between hitting and pitching. Other formats add defense, tease out baserunning, better delineate between starters and relievers, and other variants, but typically the drivers of fantasy success involve knowing which hitters are going to do what with the bat, and which pitchers are going to do what with the ball.
From 2012-2014, our research has tilted very heavily toward pitching. Here is a breakdown of the topics that we have covered: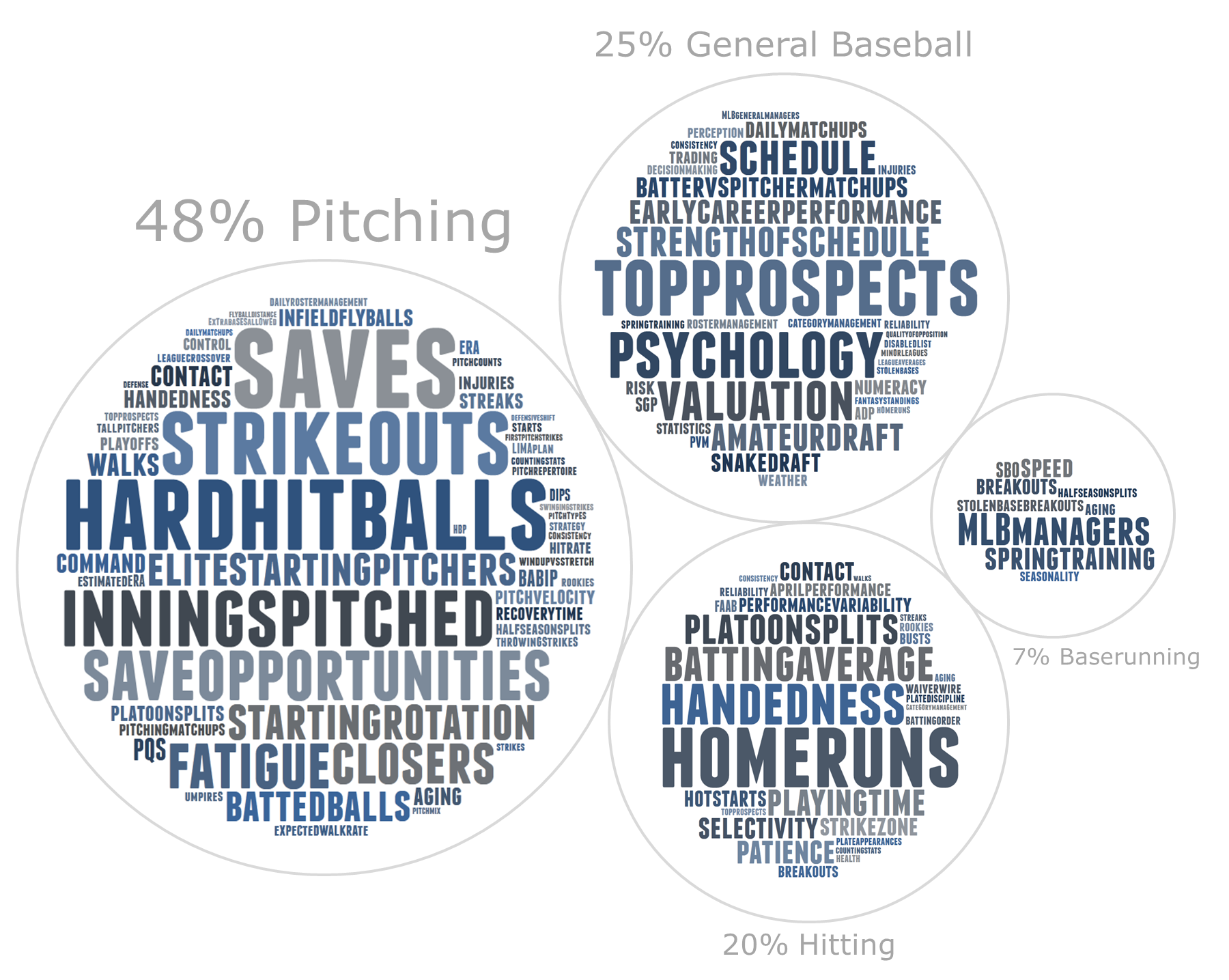 Some of this is due to the emergence of new pitching data sources that have opened up more avenues for analysis. However, when we reach the point that we've only researched three hitting topics over the course of an entire year (as was the case in 2014), we know it's time for a rebalancing to ensure that hitting gets its due.
In terms of specific topics to research, as you can see from the chart, we will continue to explore the fantasy baseball world from every angle imaginable.
2) We will align our research to the part of the season when it is most useful to help you win.
Generally-speaking, the research calendar has always been front-loaded toward the off season and draft season, then ramping down as the season progresses: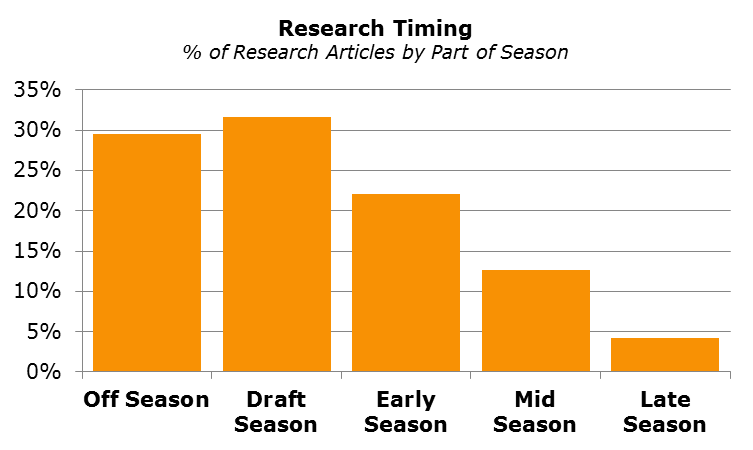 This makes sense, as most of our research is geared toward helping subscribers better understand, project, and value player performance to win their auctions/drafts. However, we also often research topics that are most useful to subscribers during the season.
In an ideal world, our research would shake out roughly as follows:
Off season (October-December): Concept exploration / metric development
Draft season (January-March): Player projection and draft preparation
Early season (April-May): Performance validation
Mid season (June-July): Roster management
Late season (August-September): Category management
As it turns out, we've done a pretty good job of aligning topics to the part of the season when they are most useful: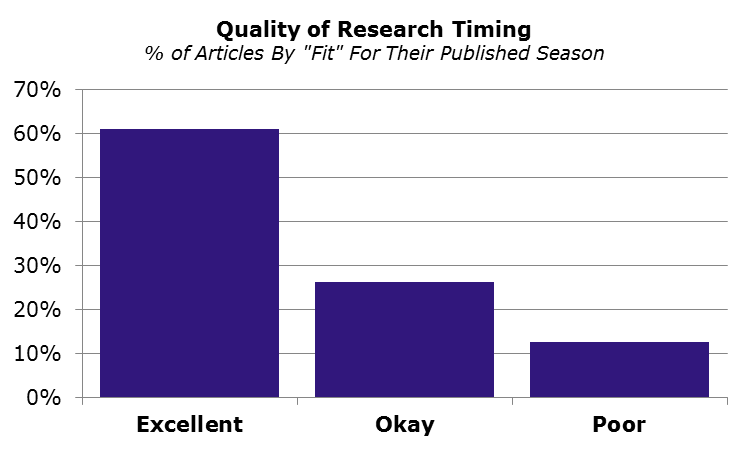 We'll try to align our research topics to your decisions even more closely in 2015 and beyond.
3) We will help you determine the fantasy impact of sabermetric research you may be reading elsewhere.
So much great work is done within the sabermetric community, but most of that work is focused on understanding and impacting "real baseball." We can use this work as a jumping off point to drive insights that are applicable to fantasy play as well.
We've done a decent job of this over the last few years, but should do even more: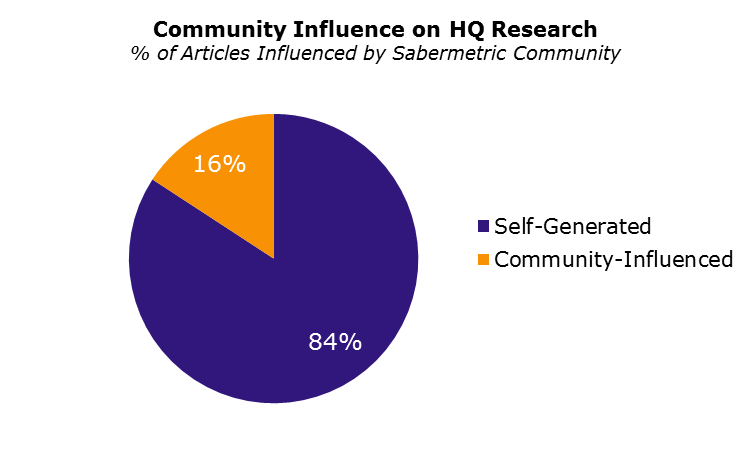 Look for more from Baseball HQ on fantasy applications of hot sabermetric topics like major league equivalencies, aging, bullpen usage, pitch mix, and more.
4) We will make it easier for you to understand and interpret the research that we provide.
Two words: More charts!
Historically, this has not been a strong suit among our researchers:

% of articles that use charts to illustrate findings
Usage |  # |   %
================
Yes   | 17 | 18%
No    | 78 | 82%

See how disappointing that is? Let's try this instead: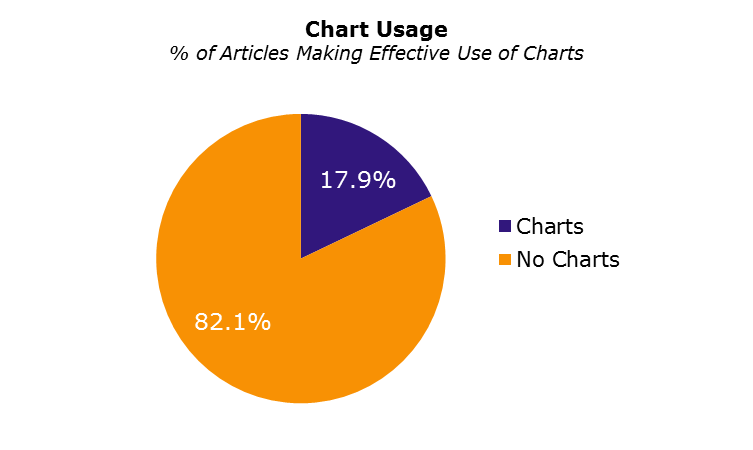 Ahhh, much better. Charts help make complex information digestible (and simple information pretty), and by their nature force us as writers to distill our message down to 1-2 key points. That's not to say you'll never see another data table from us again, but when we really want to make a point, we'll make it in color.
5) We will go the extra mile to apply our research to the current pool of players, teams, etc.
In re-reading all 95 articles published from 2012-2014, without question the most frequently recurring reader comment could be paraphrased as "Great info, but could you tell me what it means I should do right now?"
Those commenters might be onto something: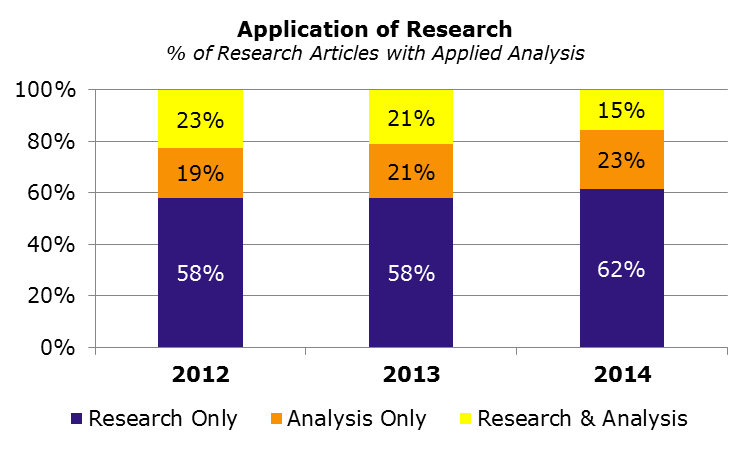 Consistently, about 60% of our articles could be characterized as pure research, where we explore a topic and then make general conclusions about their impact. Another 20% of articles are the opposite—not so much new research at all, but rather the application of existing research on this year's player pool. And the final 20% of articles are what may be the sweet spot for what we do—discovering something new about our game AND applying the research to help you understand what it means in the context of current players and teams.
BaseballHQ.com has long taken the position that we will present you with relevant data and insights and teach you to make your own decisions. That won't change. But going forward we will try to take the extra step to conclude our research articles with player lists and player-specific takeaways when it makes sense to do so.
These are the five reasons why I think 2015 will be a winning year for the Baseball HQ research team, and for our readers. We start our new journey next week.
What do you think? Do these sound like changes you would like to see? All comments welcome below or in the forums.
Unlock all of our insights on your way to a fantasy title! See what our season-long coverage offers and then subscribe to BaseballHQ.com.
For more information about the terms used in this article, see our Glossary Primer.
Shopping Cart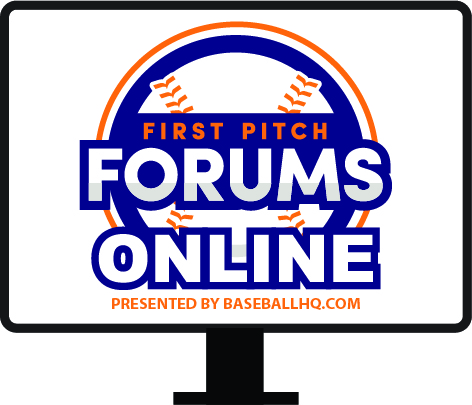 Our virtual First Pitch Forum returns!
Three online-only events: March 5, 11, 17
Join us live, or watch when you want
Just $19!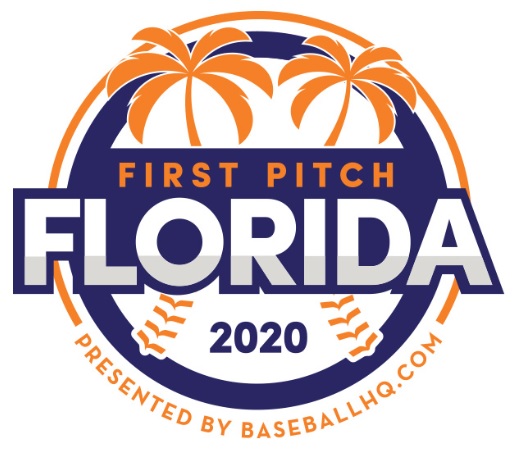 Inaugural Event!
February 28-March 1, 2020
St. Petersburg, FL
A few seats still left!