PT TOMORROW: NL West—Rookies to the rescue in the Bay
By Brian Slack

@That_glg20
April 13th, 2018 12:06am
After an injury-riddled 2017 in which the team lost 98 games, the Giants were probably hoping for a better fate than to be forced to call upon back-to-back starters making their MLB debuts. But after an ankle injury landed Johnny Cueto (RHP, SF) on the DL, and with Jeff Samardzija (RHP, SF) needing one more week before he returns to the rotation, that was exactly the case—as Tyler Beede (RHP, SF) and Andrew Suarez (LHP, SF) each stepped into the rotation for their first MLB starts earlier this week.
Beede, profiled in a recent Call-Ups column, offers some intriguing upside but as of yet seems to be struggling to find the right pitch mix. The 24-year-old first-rounder from Vanderbilt was a little wobbly in his debut, with 5 walks and a hit batter, but he's shown decent control (3.3 Ctl in roughly 400 minor-league innings), and does a good job keeping the ball on the ground (51% GB% at Triple-A last year). He was cited as having #3 starter upside in the Minor League Baseball Analyst, and will be in a good position to get looks throughout the season if he can refine his pitch mix and improve his efficiency.
Andrew Suarez, on the other hand, is the team's #6 prospect, and survives on advanced pitch sequencing and a groundball lean (49% last year in Triple-A). Across 88.7 innings last year in the PCL, Suarez had a 3.55 ERA with an 8.2 Dom and 3.2 Cmd. He struggled in Cactus League play (11 ER in 14 IP), but went 5.3 IP in his first MLB game against the Diamondbacks, allowing 4 ER with 7/0 K/BB.
The aforementioned Samardzija and Cueto should be back soon, and ace Madison Bumgarner (LHP, SF) is still out until at least late-May. But Ty Blach (LHP, SF), Derek Holland (LHP, SF) and Chris Stratton (RHP, SF) are far from sure things, making Beede and Suarez speculative options to monitor in the season's early going.
---
Get the 2018 season started off on the right foot! Access articles like these and our diverse range of tools with a subscription to BaseballHQ.com. Winning. Fantasy Baseball. Insight.
---
The Diamondbacks have come out of the gate strong, winning 9 of their first 12 games while opening up an early lead in the division. They've done so without much pop, however, as their combined 10 HR rank them near the bottom (T-22nd) in that category. But the lineup should be more potent in the coming weeks, as Steven Souza (OF, ARI) is slowly working his way back from a pectoral strain, while Jake Lamb (3B, ARI) is making fairly quick recovery from a sprained AC shoulder joint.
To provide some thump from the bench in the meantime, the team recently recalled Christian Walker (1B, ARI), who last year won the PCL MVP award after hitting .309, 32 HR, 114 RBI and 5 SB in 514 at-bats. Profiled here, the 27-year-old slugger changed his swing path prior to the 2017 season and saw a significant jump in his contact rate (from 72.6% to 79.8%), walk rate (from 7.2% to 10.3%) as well as a drop in strikeouts (25% to 17.6%). He seemed to carry that forward with a strong spring training, in which he went 13-for-43 (.302 BA) with 3 HR and 12/6 K/BB.
The team has said they intend to use Walker only as a pinch-hitter or to occasionally spell Paul Goldschmidt (1B, ARI), but despite his defensive shortcomings, he's had some Triple-A experience in the outfield. Though it's unlikely he'll see time in the OF, a close eye on the situation could bear fruit if he indeed begins to draw starts there.
Outfielder Wil Myers (1B/OF, SD) has been sidelined since April 2 with nerve irritation in his right elbow/forearm. The injury was detailed here, where Matthew Cederholm noted that while it could be a relatively minor injury (from overuse, requiring merely rest), it may be something more serious (bone spur, etc.) if the pain doesn't subside with time. Myers did hit off a tee yesterday (April 12) and reported feeling good afterwards, so a return to the lineup sometime next week sounds like a possibility at this point.
Myers' absence, along with Manuel Margot's (OF, SD) trip to the DL with bruised ribs, opens the door for Franchy Cordero (OF, SD), discussed in this space a few weeks ago, as manager Andy Green has been vocal about the left-handed bat and athleticism Cordero brings to the table. Moreover, Green seemed to suggest that Cordero could see more than just the strong side of a platoon.
Cordero was having a good spring (12-for-35, 2 HR, 13/7 K/BB) but suffered a groin strain late in March that ultimately removed him from consideration for the Opening Day roster. Cordero possesses an enticing power-speed combination—as evidenced by his 17 HR and 15 SB performance across 390 AB last year in Triple-A—and won the Dominican Winter League MVP this past December. In his rehab to begin the year, Cordero had 7 hits (1 HR) and a stolen base in his first 17 at-bats. Cordero's presence on the roster could eventually put pressure on Hunter Renfroe (OF, SD), who had 6 hits in his first 35 AB (.171 BA) while posting a 10/3 K/BB ratio.
The playing-time situation at third base also seems to be in a state of flux, as right-handed Christian Villanueva (3B, SD) has gotten a look at the position after a breakout 3-HR performance on April 3—logging starts in 6 straight games last week (3 in AL park), and two more in four games so far this week. Villanueva began turning heads last September when he hit 4 HR in 37 AB during his late-season audition, which came on the heels of a .296/.369/.528 line with 20 HR in 398 Triple-A at-bats. With Chase Headley (1B/3B, SD) in the last year of his contract, the team would seem to have some incentive to build up Headley's trade value, but he hasn't exactly gotten off to a scorching start, with only 1 hit and 10/2 K/BB in 20 at-bats.
Third baseman Justin Turner (3B, LA) noted earlier this week that he's still feeling tenderness in his wrist, but the hope is that he may be able to pick up a bat sometime next week. Once he does, he will need to ramp up activity before going on a rehab assignment, but a mid-May return date still seems within reach.
In his absence, Logan Forsythe (2B/3B, LA) will continue to fill the void. Forsythe has gotten the starting nod in 8 of the team's first 11 games, struggling to some degree (7 hits in 40 at-bats) in the process. The 31-year-old is making better contact (85%) and harder contact (121 HctX) in the small-sample early going, and should be able to provide decent value in the short term, with a cloudier outlook once he moves back to 2B and has to contend with the other options at that position.
The other option at 3B has been Kyle Farmer (C, LA), who's drawn the start on the 3 occasions when Forsythe either sat or played elsewhere. Farmer is a former SS and played various infield positions in the minors. Offensively, Farmer's numbers are not overwhelming, with just 3 hits in 12 at-bats (and one game-winning RBI), but he hit .317 with 10 HR across two levels in the minors last year, and went 13-for-39 (.333) with 3 HR in Cactus League play this spring.
All-Star outfielder Charlie Blackmon (OF, COL), after hitting 4 HR in the team's first 4 games, has had a few bumps and bruises of late, with a sore back sidelining him for a game last weekend before missing the past few games with a tight quad. Blackmon should be back to his stat-sheet-stuffing ways before long, but it's worth looking at the options behind him.
In his absence, Mike Tauchman (OF, COL) has gotten three starts in center field. Tauchman is less heralded than the other Rockies prospects, but he nonetheless earned a spot on the Opening Day roster after a nice spring (20-for-60 with 1 HR and 3 SB) and a .331/.386/.555 line in Triple-A last year. Tauchman acknowledged a change in his plate approach last year, but it's also worth noting that prior to that, the 27-year-old had managed only a combined 8 HR over roughly 1400 at-bats, casting doubt on just how much he can provide in that department. He's really struggled to start the season (0-for-14 with 8 strikeouts), but he typically gets on base and plays good defense, making him valuable from a real-world standpoint.
Meanwhile, Raimel Tapia (OF, COL) is off to a blistering start in Triple-A, with 4 HR, 13 RBI and 1 SB in his first 8 games, which is more or less a continuation of the dominance he showed in the minors last year—where he posted a .369/.397/.529 line with 12 SB in 263 at-bats.
David Dahl (OF, COL), after essentially missing all of 2017, made an impression this spring, leading the team in HR (5) and RBI (18). He was off to a good start (4-for-9 with 4 RBI and 1 SB) in his first two games, but unfortunately a stomach virus landed him on the minor-league (7-day) DL on April 10. Given his explosive upside, it's hard to imagine him not getting the call before long if he continues raking in the minors.
For more information about the terms used in this article, see our Glossary Primer.
Free Weekly eNewsletter
The industry's #1 analytical weekly e-mail newsletter is ABSOLUTELY FREE!
More Information
Shopping Cart
Listen to Baseball HQ's weekly audio programs.
Subscribe today!
Learn More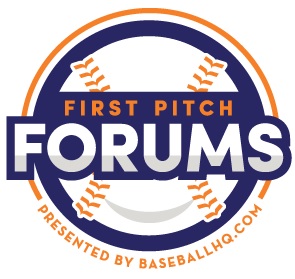 2019 Spring Tour:
Virtual Program
Part 1 & 2 videos
Part 3: 3/21 8:30p ET