PT TOMORROW: AL West—Some 2H adversity
By Jock Thompson

@JOCKatHQ
August 9th, 2018 1:06am
Following an almost injury-free 1H (seriously; check the team transactions), the club is getting stung, both on the field and the mound. Now rehabbing at Double-A, Carlos Correa (SS, HOU) looks ready (2-for-4 Monday, August 6) to return from a five-week DL stint (back) by the end of this week, if not sooner, but Jose Altuve (knee) remains at least another week away. In the meantime, George Springer will also be out for until at least the second half of next week after spraining his thumb on August 5. And on the pitching side, a strained right forearm will keep Lance McCullers (RHP, HOU) out until sometime in September, and perhaps push him into a bullpen role for the remainder of the season, as well as the playoffs.
On the position side, Marwin Gonzalez (SS/OF, HOU) has suddenly turned red-hot in August (8-for-23, four HR) following a dismal first four months (.707 OPS year-to-date). His positional versatility will keep him in the lineup somewhere every day, at least until the team heals up. But the player who has really improved his immediate outlook is Tony Kemp (OF, HOU), a non-factor on Opening Day but whose small-ball skills have translated to a .288 BA, .381 OBP, and 8 SB through 156 AB since his May promotion. It would take an abrupt h%-and-BA turnaround to keep Kemp from getting at least semi-regular AB down the stretch. Even with Kyle Tucker still looming at AAA-Fresno, Kemp and Gonzalez look like the primary left-field contenders for the balance of the season
The opportunity provided by the sudden rotation opening is less clear. Collin McHugh (RHP, HOU) tossed over 600 IP of sub-4 ERA between 2014 and 2017 before being pushed into the bullpen by the likes of Justin Verlander and Gerritt Cole, making him a primary candidate. But McHugh has excelled in long relief (69/13 K/BB, 1.01 ERA through 53 IP), and the Astros may not want to stretch him out and fix what ain't broke this close to the post-season. Fellow bullpen arm Brad Peacock (RHP, HOU) is in a similar position—70/12 K/BB, 2.96 ERA through 49 IP—after excelling in the rotation last year. The Astros need a fifth starter just twice in August before roster expansion in September, suggesting that they also could opt to utilize their significant depth, spread the IP workload around, and essentially turn these into bullpen games through the end of the season. Vigilance.
Now coming down the stretch, a team now occupying the #2 AL wild card spot has newly-acquired Mike Fiers, Edwin Jackson, and Brett Anderson (LHP, OAK) occupying its last three rotation spots. Anderson has been on an upswing through five starts in the 2H, allowing just nine runs in 27 IP while generating a 1.6 Ctl his usual 50+% GB%. But he's outpitched a 4.43 xERA during this period, and his ever-present susceptibility to injury is legendary. Both Fiers and Jackson have also outpitched their 4+ xERAs by well over a run year-to-date—and rotation leaders Sean Manaea and Trevor Cahill have seen their fair share of DL time as well. This rotation snapshot likely won't last.
The MLB-ready rotation depth has been sapped by injuries. Neither Daniel Triggs nor Chris Bassitt have thrown for more than a month (Triggs since mid-May) at any level, and won't now be depended upon down the stretch. Kendall Graveman (RHP, OAK) and Daniel Gossett (RHP, OAK) have ended their seasons with TJS. But Daniel Mengden (RHP, OAK) has posted a 4.03 ERA, 23/5 K/BB over 29 IP at Triple-A in July (on the heels of a 4.47/4.68 ERA/xERA, 5.5 Dom in 91 IP at OAK). SwK-challenged Chris Bassitt (RHP, OAK) has also pitched well at AAA-Nashville recently. Both will be back in September.
We've previously noted the potential of a 2018 of Jesus Luzardo call-up in this space. But the MLB-experienced target here is Frankie Montas (RHP, OAK), now back in Triple-A after posting a 3.78/4.74 ERA/xERA over 58 IP (10 starts). Montas still owns premium velocity, developing secondaries, and posted a 3.0 Ctl in his longest MLB stint to date—but also sub-par swing-and-miss and too few GBs. Still, Montas's SwK jumped from 8% in June to 12% in July (over his final 4 starts) heading for Nashville, and he's whiffed more than a batter per inning in the minors. Consider also a demotion that was primarily an effort to limit his innings, after Montas had missed most of 2016 with injuries. He's still adjusting, has the stuff, and might pick up some good innings either out of the rotation or in long relief.
On the position player side, obviously the biggest pending issue is Robinson Cano's (2B, SEA) return to SEA on August 14. And on the "where will Cano play" front, the latest wrinkle has Cano taking reps at both 3B and 1B in an effort to make him "ready for anything", as per GM Jerry DiPoto. Particularly now with plus CF glove Cameron Maybin in tow, SEA wants to move primo 2B defender Dee Gordon back to his original position to help shore up what has been a porous defense all season long. Cano projects to get looks all over the infield (other than SS) and some DH time for his AB.
DiPoto's July comments indicated that Ryon Healy would lose at least a few AB upon Cano's return, primarily based on a problematic .237 BA and 4% bb%. But Healy also owns 21 HR (through 359 AB), a 77% ct%, and a sub-par h% that should reverse at least a tad at some point—particularly a 23% h% vs. the lefties he's owned historically until now. And a check of Kyle Seager's (3B, SEA) year-to-date performance—19 HR, .231 BA through 424 AB—explains why Cano is also getting some third base work. Simply put, Seager's 6% bb% and 78% ct% are down from recent seasons, leaving his overall line even a tad worse than Healy's.
The unexpected (usually in the form of DL stints and roster expansion) impacts late-season playing time projections more often than not. The Mariners' ongoing calculus will also be affected by short-term performances, and how long they remain in the post-season hunt. But for now, fantasy owners can't count on any of these three names being in the lineup every day down the stretch.
The Rangers weren't able to unclog their player glut before the trade deadline, though names like Adrian Beltre and Shin-soo Choo will assuredly be placed on waivers now in August. And in fact at least over the short-term, Willie Calhoun's promotion (in place of injured Nomar Mazara) has officially added to the everyday lineup crowd for now. Through it all, Jurickson Profar (2B/SS/3B, TEX) continues to get near-everyday playing time all over the field. He's now started six of the last seven games through August 8—and even following Mazara's projected return (near the end of August) and September roster expansion, he projects to be in the lineup far more often than not.
For starters, Profar is producing, even surging since the beginning of the 2H, as noted by an .891 OPS through 94 AB, backed up by outstanding plate skills. Profar's versatility—he's played at least five games everywhere in the infield, as well as little outfield—also comes in handy late in the season as injuries factor in and/or teammates just need a night off. But just as important now is the Rangers' need to let Profar show them and other clubs what he can do. He could remain in Arlington as an everyday super utility in 2019. And though middle-infielders Elvis Andrus and Rougned Odor are signed to long-term deals and Profar doesn't fit neatly into a prototypical corner infield profile, Andrus also has an opt-out clause in his current contract. Add in a serious MLB-ready pitching shortfall, and Profar is either a key piece of TEX's future or a very marketable asset that needs to be on display now. Barring an injury, Profar's fantasy owners shouldn't be too concerned about his August/September AB.
With Tyler Skaggs now on the DL, an injury-wracked rotation in an organization lacking MLB-ready depth seemingly has a dismal outlook through season-end. Matt Shoemaker (RHP, LAA) threw a bullpen session earlier this week, for the first time since his forearm nerve surgery in late May. He has no projected timetable, though he seemingly has a shot at returning to eat some innings. But for now, the current IP shortfall is likely to spill over a mediocre collection of relievers, resulting in a rise in bullpen games, particularly with September roster expansion. The Angels will likely use these final weeks to audit pitching options for 2019, suggesting accelerated 25-man and 40-man roster turnover.
Among names that might have some upside beyond 2018, ex-reliever Felix Pena (RHP, LAA) owns intriguing peripherals (8.5 Dom, 12% SwK, 60% FpK, 46%) through 38 IP. But like so many live arms, Pena still struggles with walks (4.0 Ctl), getting through opposing lineups more than once—and a 4.97/4.36 ERA/xERA suggests that he won't help you now. Reliever Taylor Cole (RHP, LAA) has shined in his MLB long relief work, allowing just three runs in his first 16 IP while showing strong metrics that include a 9.2 Dom, 17% SwK, 3.2 Cmd, and 52% GB%—and hinting at a move back into a starting role. But Cole's K's have only jumped since becoming a reliever in 2017, and LAA may not want to tinker with his newfound success. Even with all the rotation vacancies and opportunities, there's seemingly little to look forward to here for the remainder of the season.
For more information about the terms used in this article, see our Glossary Primer.
Free Weekly eNewsletter
The industry's #1 analytical weekly e-mail newsletter is ABSOLUTELY FREE!
More Information
Shopping Cart
Listen to Baseball HQ's weekly audio programs.
Subscribe today!
Learn More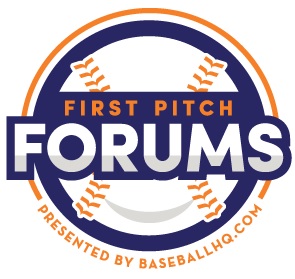 2019 Spring Tour:
Virtual Program
Videos, notes, surveys here