PT TOMORROW: AL West—Looking towards 2020
By Jock Thompson

@JOCKatHQ
May 30th, 2019 12:06am
Now winners of just 11 of their last 41 games and looking like the rebuilder/reloader we projected in March, injuries and poor pitching will accelerate SEA's 2020 auditions. While Edwin Encarnacion and Jay Bruce remain the names GM Jerry DiPoto is most motivated to move, that list may have expanded to include Dee Gordon (2B/OF, SEA) and perhaps Ryon Healy (1B/3B, SEA), both currently on the IL. At the very least, both their playing time outlooks seem precarious, and not just for health reasons.
Top-shelf speed is the only thing keeping Gordon's BA above water and his OBP above .300, and chronically soft contact leaves elite base-running as his only plus skill. The approximately $22M he's owed from now through 2020 will make him difficult to move. But while Gordon replacement Shed Long (2B, SEA) hasn't yet distinguished himself (5-for-his-first-27), his peripherals (13% bb%, 74% ct%, 94 HctX) don't yet point to a rookie being hopelessly overmatched. A bat-first 2B fully seven years younger than Gordon, Long is the heir apparent to 2B or a utility role—and he could earn extended 2019 opportunities to jump-start that future. We won't be shocked if Gordon isn't rushed back and/or sees more 2019 downtime, given his 2018 2H fade.
Despite legitimate power, Healy is also turning out to be a fungible 20+ HR/low-BA/right-handed hitting commodity, particularly given mediocre defense and his arb-eligible status entering 2020. Yet Healy's glove may be the one obvious skill advantage he has over Dan Vogelbach (DH, SEA), whose 1.066 OPS vR (through 122 AB) makes him the clear winner in a battle of the DHs. Vogelbach's May BA fade (.200 BA through 75 AB) leaves him with plenty to prove over the remainder of the season—and the fact that he has only made eight appearances at 1B this year speaks volumes. Obviously Encarnacion and Bruce can be run out to 1B in Healy's absence, but the club currently has no clear 2020 option beyond Healy or Bruce, who is signed through 2021. Stay tuned.
Just three starts after his head-turning debut (5 1/3 IP, one run, 9/1 K/BB) vs. TEX, Corbin Martin (RHP, HOU) may no longer have much wiggle room, particularly given all the recent HOU injury news. Martin has yet to pitch more than four innings again since, coughing up 8 runs, 5 HR and 8 BB over 11 IP. His effort to date has been in place of Collin McHugh (RHP, HOU), now on the IL with "elbow discomfort" after posting a 6.04 ERA (45 IP) fueled by a drop in Ks and rise in HRs. And now unfortunately per manager A.J. Hinch, McHugh is going to need more down time after playing catch recently and not noticing any improvement. Currently there's no ETA for McHugh's return.
If Martin is unable to rebound, the club still has enough pitching depth to weather this storm, though the solutions may not be obvious. Forrest Whitley (RHP, HOU)—12.21 ERA through 24 IP and now on the Triple-A IL with shoulder fatigue—won't be a factor any time soon. All of Josh James, Cionel Perez, Framber Valdez, Brady Rodgers, and Reymin Guduan have starting experience and MLB innings. And though none are pitching particularly well right now, successful bullpen games have been cobbled together with much less depth and skills that these arms have flashed since 2018.
But HOU has more interesting arms now working their way up into the high minors. Recently promoted to AAA-Round Rock, Jose Urquidy (RHP, HOU) owns an unimpressive 4.37 ERA to date through 47 AA/AAA IP—but a 67/6 K/BB (including 27 Ks through 14 IP at Round Rock) will get our attention every time. Now a couple of years past Tommy John surgery, Urquidy's velocity is suddenly touching 97 mph to go along with his plus change-up, prompting GM Jeff Luhnow to recently list him among the next potential MLB pitching promotions. Likewise, swing-and-miss skills (along with a spot on the 40-man roster) give recent AA promotion Bryan Abreu (RHP, HOU)—3.89 ERA, 54-20 K/BB through 37 IP—a shot to reach HOU in 2019 in some capacity. Both are names to remember in strikeout leagues.
The outfield is just a few weeks away from getting more crowded, with playing time ripples likely to be felt across the 25-man roster. Justin Upton (OF, LAA) took batting practice last week for the first time since being sidelined by surgery for a turf toe injury this past March. While a minor league rehab is likely in the offing, he projects to be back in Anaheim and his customary LF spot by mid-June. Upton's consistent middle-of-the-order production demands regular AB, leaving the remaining OF playing time something of an open question.
At least over the short-term, incumbent Kole Calhoun (OF, LAA) has seemingly earned more rope by arresting a ct% plunge that began in the 2018 2H. A 79% ct% in May (32% LD%, 123 HctX) has driven a .324 BA, with power metrics holding firm. Calhoun's ongoing woes vL (.158 BA through 57 AB) would imply that super-utility David Fletcher (2B/3B/OF, LAA) will continue to see semi-regular OF AB in his place. But despite Fletcher's surprisingly competent glove at a new part-time position, his defense (particularly his arm) are no match for Calhoun's from RF, suggesting that Upton will periodically move from his customary LF spot to make this happen.
The big playing time casualty here appears to be Brian Goodwin (OF, LAA), now fading in May (.244 BA, 2 HR through 78 AB) following a torrid start in Upton's absence. Goodwin's left-handed bat and ability to backup CF are enough to keep him around after Upton returns—but barring another OF injury, Goodwin's fantasy value may soon be in the rear-view. And longer-term elite prospect Jo Adell (OF, LAA) is back in action following a gruesome ankle-and-knee injury in Cactus League play that sidelined him in mid-March. Prior to that point, many observers felt Adell was fast-tracking toward his MLB debut. And while that now may not happen until September (or even early 2020), Adell's upside adds to an increasingly crowded OF outlook. To be continued.
The catching outlook has been turned on its head since we last checked in a week into the new season. At that point, Nick Hundley (C, OAK) looked like the primary in a shaky job-share between two backups, before a miserable 3-for-30 start helped change things. Ultimately his slow start may not have mattered all that much, since his running mate Josh Phegley (C, OAK) roared out of the gate in April with 3 HR and a .291 BA over 55 AB. Hundley has recently collected himself in May, going 7-for-23 with first two HR over the past month. But Hundley still owns a .226 BA over 62 AB for the season, while Phegley has yet to show signs of letting up.
The 31-year-old Phegley has long flashed at least average power when healthy—which he apparently is now after missing time in 2017-18 with multiple injuries (fractured hand, concussion, oblique strain). Helped by a FB spike (48%), his 7 HR (135/106 PX/xPX) through 127 AB to date aren't exactly astonishing. A .283 BA (50+ points above his career mark) and a 30% LD% are different stories. Now sitting on an .858 OPS that is almost 200 points about his career mark, Phegley is a good bet to cool down soon, though he still may have enough to retain his primary spot over the 35-year-old Hundley. If both catchers are performing at the plate, obviously their work behind the plate will matter.
In the meantime, Triple-A prospect Sean Murphy (C, OAK) has been shelved with a torn meniscus since early May—and given the demands of his position, is unlikely to return before sometime in July. Murphy is already considered to be the club's best defensive option, and he was showing some offensive lift-off (.862 OPS through 74 AB) before the injury. His MLB intro had been projected for sometime this summer, and he remains OAK's catching future. But obviously the injury will slow his ascent—and a track record of durability issues is worrisome. Still, if Murphy can get a successful month of minor league games under his belt before that season ends, it wouldn't surprise to see him debut in late August or September.
Now two months into the season, not much has changed in a catching situation that offers little fantasy appeal over the near-term. Despite a .155 BA with a single HR, 36-year-old Jeff Mathis (C, TEX) continues to get regular MLB AB as part of a job-share with Isiah Kiner-Falefa (C, TEX), obviously due to his skill in handling a struggling pitching staff that needs all the help it can get. New to the job, Kiner-Falefa is getting roughly the same opportunities, but has been unable to make the most of them. This is due partly to a ct% that has plunged from 83% in 2018 to 71% through 93 AB now—and an accompanying .226 BA. But also after swiping 7 bags in 12 tries last year, Kiner-Falefa apparently no longer has a green light, as suggested by just one SB attempt in 2019. The 24-year-old Kiner-Falefa's upticking power indices (90/99 PX/xPX, but just one HR) hint at do-no-harm upside in deep two-catcher formats, but some things need to change.
In the high minors, neither Jose Trevino nor Jett Bandy are offering much of anything to suggest they'll be re-claiming MLB AB any time soon. For deep dynasty owners, prospect Sam Huff has already blasted 17 HR between A and A+ while hitting .328 through 174 AB, seemingly offering a glimmer of hope in an otherwise barren system. But while Huff owns legit plus plus power, he's also walked just eight times all season, and at age 21, he's not exactly young for these levels. Along with questions as to his mobility behind the plate, he's too far away to help the club any time soon. Still not a great place to look for catching help.
For more information about the terms used in this article, see our Glossary Primer.
Shopping Cart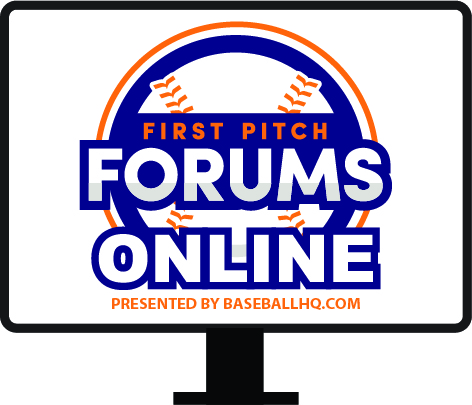 Our virtual First Pitch Forum returns!
Three online-only events: March 5, 11, 17
Join us live, or watch when you want
Just $19!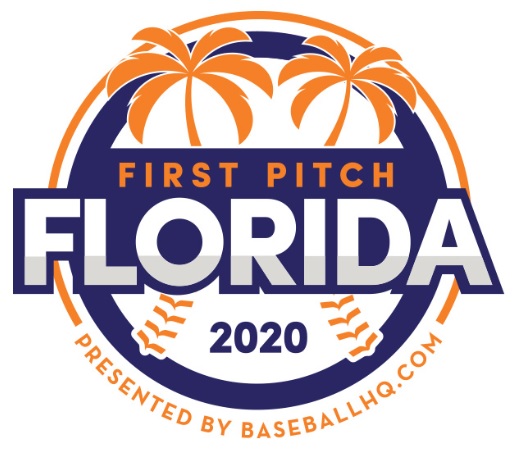 Inaugural Event!
February 28-March 1, 2020
St. Petersburg, FL
A few seats still left!