PT TOMORROW: AL Central—Salazar's setback is Bieber and Plutko's gain
By Brandon Kruse

@Bpkruse
June 6th, 2018 1:06am
For the second time in a month, Danny Salazar required a cortisone shot to alleviate pain in his throwing shoulder, and was forced to shut down his throwing program for a week. FanRag's Jon Heyman even suggested in a recent notes column that the Indians don't expect Salazar to return until September, if at all. The continued delays for the oft-injured right-hander will keep the door to the rotation open for Shane Bieber (RHP, CLE) and Adam Plutko (RHP, CLE)—Cleveland won't need a fifth starter again until June 12th, and the team hasn't yet committed to which of those two young arms will get the assignment.
Bieber made his major league debut on May 31st against the Twins, and while he allowed four runs over 5.2 IP, he also struck out six while only walking one, thanks to a 67% FpK. And his numbers in the minors in 2018 have been outstanding: 1.05 ERA, 0.56 WHIP, 0.5 Ctl, 8.2 Dom, 15.5 Cmd over five starts at AAA-Columbus, 1.16 ERA, 0.87 WHIP, 0.3 Ctl, 8.7 Dom, 30.0 Cmd over five starts at AA-Akron. He remains a pitching prospect whose stock is on the rise. Plutko has a solid 3.93 ERA over three major league starts, but his 5.11 xERA hints at his underlying skill issues—a paltry 5.9 Dom and 8% SwK, a 60% fly ball rate, and a 2.5 Ctl that's not supported by his 58% FpK. However, Plutko responded to his latest demotion to Triple-A by throwing a no-hitter in his first game back, including eight strikeouts to one walk. For the season, he too is thriving at AAA-Columbus, with a 1.87 ERA, 0.70 WHIP, 1.7 Ctl, 7.3 Dom, and 4.3 Cmd over eight starts.
With Greg Allen (OF, CLE) finally starting to hit (.313/.371/.469 over his last 64 AB) and both Lonnie Chisenhall and Brandon Guyer likely due back from the DL this week, it's time to wonder whether Melky Cabrera (OF, CLE) might become the odd man out. Cabrera was benched for two games over the weekend in Minnesota, and he's been struggling badly at the plate: .182 BA, .481 OPS, 15% line drive rate, .244 xBA. Rajai Davis (OF, CLE) hasn't been much better—.217 BA, .520 OPS, 26 PX, .228 xBA—but his ability to play center field likely gives him an edge on Cabrera.
---
In the hunt? BaseballHQ.com can help you snag the title. Unlock all of our insights like these for the rest of the season: Subscribe to BaseballHQ.com.
---
It's beginning to look very possible that Daniel Palka (RF, CHW) could stick in the White Sox lineup for the remainder of 2018. His .872 OPS is third-highest among Chicago regulars, and considering that the team ranks 26th in runs scored, they're in no position to shrug off that kind of production. There are still questions about how sustainable this is for Palka, especially with such terrible plate discipline (0.19 Eye), but his competitors for playing time in the White Sox outfield have all been terrible and/or injured. If Palka can pick up 400 AB this year, he's on a pace that could net him 20+ HR and 75+ RBI.
Jose Rondon (2B/SS, CHW) has been a big surprise during his brief time in Chicago, clubbing 3 HR with 2 SB in just 36 AB. His skills have been impressive, too—142 HctX, 204 PX, 175 xPX, .304 xBA—but there's nothing like this in his skill history. His single-season high for homers was five, and that came over 376 AB at Double-A in 2016. It's very likely that he's been taking advantage of pitchers' lack of familiarity with him, and the White Sox appear ready to move him back into a reserve role with the return of Matt Davidson from the DL.
Last week, we speculated that Dylan Covey (RHP, CHW) might be earning himself a longer stay in the rotation than expected, and sure enough, over the weekend, the Chicago Tribune ran a Phil Rogers notes column with the headline, "Dylan Covey could have staying power with the White Sox". Through four starts, his skills haven't been great (4.0 Ctl, 2.1 Cmd), and he's received a big assist from luck (78% strand rate, 0% hr/f), but his 2.82 ERA stands out on a staff that ranks 29th in starter ERA. And thanks to a 61% ground ball rate, his 3.80 xERA and 85 BPV don't look too bad either. Meanwhile, Lucas Giolito (RHP, CHW) has given up 14 ER over his last two starts, and regression has Reynaldo Lopez (RHP, CHW) posting a 5.67 ERA over his last five starts. And Carlos Rodon has completed four rehab starts and could be coming back any day now...
The Tigers gave one of their June 4th doubleheader starts to Drew VerHagen (RHP, DET), signaling that they too have noticed what he's been doing down in Triple-A since his demotion back on April 27th. In six starts at AAA-Toledo, he posted a 1.32 ERA, 0.77 WHIP, 2.7 Ctl, 13.6 Dom, and 5.1 Cmd. This column listed him as an under-the-radar name to tuck away back on May 23rd, and our BaseballHQ.com minor league analysts rated him a 7C prospect with #4 starter upside back in 2014, though his rating and upside were downgraded in subsequent scouting reports. But even though he struggled out the Detroit bullpen in April, his 9.9 Dom and 15% SwK—both career-bests by a wide margin—suggested something might be changing for him, and his Triple-A results seem to back that idea up. VerHagen's June 4th start didn't go well (7 ER, 3 HR in 3.2 IP, though in a tough matchup against the Yankees), but at 27, there's still a slim chance he could be putting something together. Deep leaguers should continue to keep an eye on him.
Joe Jimenez (RHP, DET) picked up his first career save on June 2nd, though it was simply because Shane Greene was unavailable after pitching in three straight games. Still, it was further confirmation that the 23-year-old has positioned himself as the back-up saves option in Detroit, thanks to a 2.54 ERA. His skills remain a bit of a mixed bag: his 8.9 Dom, 15% SwK, and 114 BPV are good, his 47% fly ball rate, 2.2 Ctl unsupported by a 53% FpK, and 4.06 xERA are not.
Back on May 16th, we speculated that Dixon Machado (2B, DET) might start losing playing time to Niko Goodrum, but now it appears the more immediate threat to Machado's job could be recent call-up Ronny Rodriguez (2B, DET). Rodriguez picked up three starts in four games after his call-up on May 30th, and is coming off of a .318/.341/.540 line at AAA-Toledo, with 14 doubles and 8 HR in 198 AB. But at 26, he's not a young prospect any more, and his star was never that bright (6B rating from our BaseballHQ.com minor league staff); it's far more likely he winds up as a utility player. Which means Goodrum might still be the better long-term bet to unseat Machado at second.
It was reported last week that Jorge Bonifacio (OF, KC) is expected to begin a rehab assignment on June 12th, as he will be eligible to return to the Royals 25-man roster on June 29th following the completion of his 80-game suspension for testing positive for a performance-enhancing drug. Given his age (25) and 2017 performance (.255 BA, 17 HR in 384 AB), Bonifacio will likely be given a starting job when he's ready, with either a Jon Jay trade or a Cheslor Cuthbert benching clearing a spot in the lineup for him. In the event of a Jay trade, Alex Gordon, who has already played 11 games in center in 2018, and 15 games in 2017, would likely slide over on defense; in the event of a Cuthbert benching, Bonifacio and Soler might alternate at DH and RF.
It's worth noting that Bonifacio's skills were shakier than his surface stats, including a 69% contact rate and 98 xPX. And in the second half of 2017, his xBA fell to .226. And his minor league track record for power was mixed as well, with PX marks of 59, 108, and 93—there were genuine concerns about whether last year's HR output was repeatable, even before the suspension.
Adalberto Mondesi (2B/SS, KC) continues to tear it up at AAA-Omaha, going 10-for-30 (.333) with 2 HR and 1 SB over his last seven games to raise his season line to .277/.299/.566. He has 13 extra-base hits in 83 AB, and is 6-for-6 on stolen bases. Meanwhile, Alcides Escobar (SS, KC) hit .223 with a .523 OPS in May, along with a 26 xPX and .245 xBA, and will be a free agent at the end of the season. Keep the faith, Mondesi owners...
In last week's column, we touched upon the fact that Ervin Santana's rehab was not going well, and shortly after that, the Twins shut him down, due to ongoing discomfort in his surgically-repaired finger. When he'll return remains an open question.
At the same time, another rehabbing Twins starter, Michael Pineda (RHP, MIN), has now thrown five bullpen sessions as he works his way back from Tommy John surgery that took place in July of 2017. He's still a long way off in his recovery, with an August return likely representing the best-case scenario, and he might work exclusively out of the bullpen at that point, but his career 9.1 Dom, 65% FpK, 13% SwK, 3.62 xERA, and 130 BPV are reason to keep him on your radar as a possible late-season addition.
With Jason Castro out for the year, Mitch Garver (C, MIN) struggling at the plate in his first prolonged shot at playing time (.219 BA, .626 OPS, 0.28 Eye, 63 xPX, .226 xBA), and glove-first Bobby Wilson (C, MIN) continuing to hit like, well, Bobby Wilson (.167 BA, .529 OPS, .199 xBA), it came as no surprise to see the Twins sign a minor league contract with Cameron Rupp (C, MIN), who had recently opted out of his minor league contract with the Rangers. The 29-year-old Rupp put up a .274/.346/.540 line at AAA-Round Rock before his release, and in 2017 with the Phillies, offered above-average power skills (145 PX, 111 xPX, 22% hr/f), but a .221 xBA. This situation presents a very good opportunity for him to get back to the majors in 2018.
For more information about the terms used in this article, see our Glossary Primer.
Free Weekly eNewsletter
The industry's #1 analytical weekly e-mail newsletter is ABSOLUTELY FREE!
More Information
Shopping Cart
Listen to Baseball HQ's weekly audio programs.
Subscribe today!
Learn More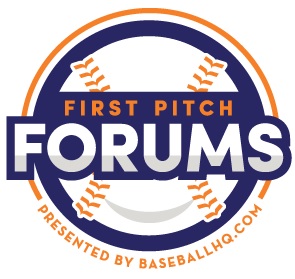 2019 Spring Tour:
Virtual Program
Videos, notes, surveys here