PT TOMORROW: AL Central—Greene tightens grip on closer role
By Matthew Mougalian
April 7th, 2019 11:06pm
It was assumed at some point last year that Shane Greene (RHP, DET) and his middling peripherals were just keeping the closer seat warm long enough for Joe Jimenez (RHP, DET) to figure out his control issues and force his way into the role. With the first week of the 2019 season over, that scenario might be delayed as Greene has been masterful on the bump in the ninth, going a perfect five for five in save chances, allowing two hits and zero walks in spite of registering only three strikeouts over five innings.
Jimenez has pitched reasonably well in his setup role, but shaky control (4.5 Ctl), a 2.3 hr/9 and a 50% strand rate have led to a 6.25 ERA though his underlying 2.82 xERA suggests a good portion of the poor results were externally sourced over his four IP. That said, he needs to limit the free passes as he was able to do last year in the first half (2.1 BB/9) before the Tigers install him as the closer. If Jimenez can step up and Greene continues to throw well, Greene could get dealt to a contender and converted to a setup role midseason, putting a damper on his save opportunities from that point.
Four of Detroit's five starting pitchers have gotten off to hot starts this season, with only Tyson Ross (RHP, DET) scuffling in his debut, posting a 3.60/4.87 ERA/xERA, a 4/4 K/BB ratio over five innings, and giving up four hits in that span including two home runs. As mentioned in this space previously, Daniel Norris (LHP, DET) and Blaine Hardy (LHP, DET) are early choices for spot starts, should the need arise.
Down at Triple-A are a number of largely untested starting candidates including lefties Ryan Carpenter (LHP, DET) and Matt Hall (LHP, DET) who may find themselves in the rotation should injuries strike, but neither is likely to force his way in on the strength of his minor league numbers.
With a little luck, the Tigers could challenge in the relatively open AL Central as the run differential is essentially flat among the five teams so far, ranging from +4 to -6.
Homer Bailey's (RHP, KC) final four seasons in Cincinnati were marked by failures to build on the successes of his excellent 2014, as well as plenty of shuttling back and forth to the minors as he became more hittable and gave up more hard contact overall. And though a single start does not mean he has returned to his pre-2015 form, Bailey's first as a Royal offers some glimmers of hope as he enters his age-33 season. He surrendered 3 ER and 5 hits (including 3 doubles) and 2 BB over 5 IP for a 5.40 ERA and 1.40 WHIP which, at first blush, isn't encouraging, but a poor 57% strand rate did him no favors. Bailey contributed 8 Ks in those 5 IP, good for a 14.4 K/9 as he was around the plate all night, getting 12 called strikes and 16 swinging strikes over the course of his 99-pitch outing, all leading to a strong xERA of 3.43. Establishing the zone and increasing his FpK (11/21 in his start) will go a long way to determining Bailey's fortunes this season.
If Bailey can repeat outings like this and keep his team in games, that will provide much-needed rotation stability with Danny Duffy (LHP, KC) still nursing a sore shoulder, slated to be out until the end of April, and former starter Ian Kennedy (RHP, KC) now in the bullpen and potentially in the mix for saves with newcomer Brad Boxberger (RHP, KC) and last year's closer Wily Peralta (RHP, KC), who have both not been able to close the door when called upon yet, taking losses on consecutive days. This committee is sure to hold a lot of meetings over the next few weeks in the hopes that a single closer comes to the fore.
What has gotten into Yoan Moncada (3B, CHW)? It's only the first week, of course, and all small sample caveats apply, but setting aside his prodigious early production, something seems to have clicked. His slash line so far is eye-popping .458/.519/.875 but the two numbers that should have fans most excited are the massive improvement in contact rate (83% versus 62% in 2018) and his current strikeout total of four over 27 plate appearances. After leading the league with 217 strikeouts in 2018, Moncada is on pace for 88 whiffs and while season-long projections are (almost) never simply linear, these two developments could both be game-changers for Moncada as a hitter if they are sustainable to any degree. He hit as high as fifth in the order recently and could move up a few more slots which would give him the opportunity to get more plate appearances as the season progresses.
Moncada committed 21 errors in 2018 playing 2B and has tallied one (on a throw) since moving to the left side of the infield, while Yolmer Sanchez (2B, CHW), who now plays 2B, has committed three errors of his own in the early going. If Sanchez's miscues prove too much, Jose Rondon (INF, CHW) or Ryan Cordell (OF/INF, CHW) could step in, but for now, the White Sox should roll with this defensive alignment. One consideration is the readiness of highly-touted 2B prospect Nick Madrigal (2B, CHW) who clocks in at No. 40 on the HQ100: 2019 Top Prospects list. His projected arrival is sometime in 2020, but he is the White Sox second baseman of the future and should he be deemed ready sooner than that, none of the three second basemen on the major league roster (Sanchez, Rondon or Cordell) will delay his debut.
The good news for the reigning AL Central champions is that, barring any additional setbacks, Francisco Lindor's (SS, CLE) return is on the horizon. The bad news is that timeline currently stretches all the way to the end of April and possibly into early May as he recovers from the ankle injury suffered during a minor league rehab game, as he was working his way back from his original calf strain. In his absence, both Max Moroff (2B/SS, CLE) and Erik Stamets (SS, CLE) have filled in at shortstop, with Stamets getting the majority of starts. Both have seen action in all seven games so far, either as starters, pinch hitters or defensive replacements, though both have struggled at the plate in this first week of action. Expect more of same until Lindor arrives.
The outfield situation has been largely stable through week one with Leonys Martin (OF, CLE) manning center field, flanked by Jake Bauers (OF, CLE) in left and Tyler Naquin (OF, CLE) in right. Greg Allen (OF, CLE) and Jordan Luplow (OF, CLE) have seen limited action as well, typically shifting a starter to the designated hitter slot for a game. None of Cleveland's outfielders have performed well at the plate and ultimately, playing time will be dictated by offensive production. Until hitters set themselves apart from the pack, the carousel will continue to go 'round.
This arrangement promises to become less clear as Cameron Maybin (OF, CLE) and Carlos Gonzalez (OF, CLE) get up to game speed at the Triple-A level and ready themselves for returns to the majors, though that may be a few weeks away.
On the heels of Taylor Rogers' (LHP, MIN) successful save conversion on Opening Day, Blake Parker (RHP, MIN) and not presumed closer Trevor May (RHP, MIN) has gotten the initial save opportunities this first week, which almost necessarily puts the "closer-by-committee" label on Manager Rocco Baldelli's bullpen. Parker's recent closing experience with the Los Angeles Angels in 2018 could put him in the driver's seat for ninth-inning duties initially, but in terms of skills, May's second half last season would suggest he's the most capable arm for the job. Additionally, as most modern managers shy away from lefty closers, preferring to use them in high-leverage match-up situations where feasible, Rogers is unlikely to be part of the closing committee for an extended period as the only other left-handed reliever (aside from Martin Perez (LHP, MIN) who will return to the rotation when the Twins need a fifth starter) in the bullpen is Adalberto Mejia (LHP, MIN). The closer situation remains fluid, but should sort itself out in the coming weeks.
Miguel Sano (3B, MIN) remains sidelined as he recovers from a debridement procedure on a stubborn wound near his right Achilles' that was not healing properly, and is hoping to be cleared for baseball activities later this month. He will return when he is up to game speed, which could be as late as May given that he missed the entirety of spring training. Marwin Gonzalez (INF, MIN) continues to start at 3B in Sano's absence, but fan-favorite and sometime catcher Willians Astudillo (C/INF, MIN) drew a start at the hot corner this first week. He probably won't get regular at-bats as the season progresses, but his 100% ct% through 10 plate appearances to go along with his .600/.583/.900 slash line is fun to dream on. The numbers will fall off from these early returns, of course, but if he continues in this vein, he may just hit his way into the lineup on a more consistent basis.
For more information about the terms used in this article, see our Glossary Primer.
Shopping Cart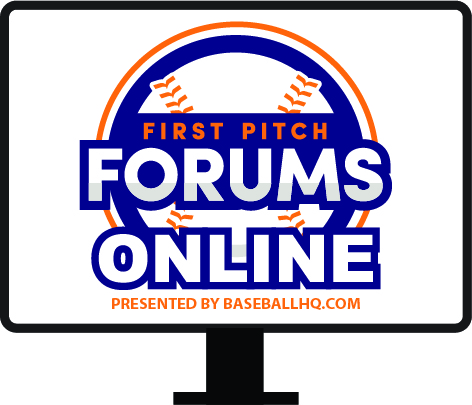 Our virtual First Pitch Forum returns!
Three online-only events: March 5, 11, 17
Join us live, or watch when you want
Just $19!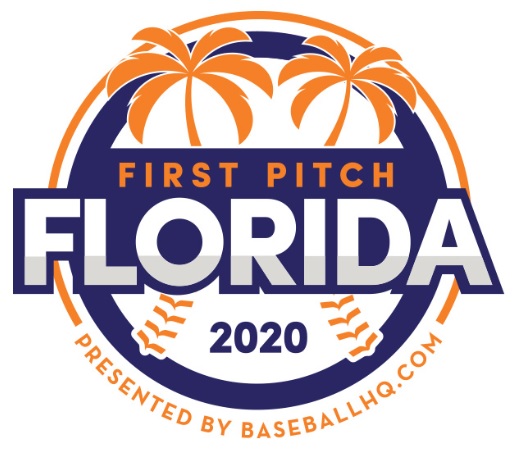 Inaugural Event!
February 28-March 1, 2020
St. Petersburg, FL
A few seats still left!