PT TODAY: Tigers turn to Reyes, Castro in OF
By BaseballHQ
August 22nd, 2019 11:07pm
Team-by-team playing time allocation charts can be found in our Teamview pages.
American League

| National League
Tigers | Christin Stewart reinstated, demoted
Detroit Tigers OF Christin Stewart was activated from the 10-day injured list and optioned to Class AAA Toledo on Thursday, Aug. 22. Source: MLive.com - Evan Woodbery
BHQ take: Multi-positional Harold Castro and OF Victor Reyes are the likely PT winners with Stewart's demotion. Reyes likely will continue to see LF PT while Castro seems to have taken over in CF. Rookie Stewart has not yet translated the power he showed throughout his minor league career at the MLB level. Reyes is showing improved plate skills after displaying an aggressive approach nearly completely lacking in patience as a 2018 rookie. He has not run as much in 2019, so he has not taken advantage of his best asset—speed—on the basepaths despite reaching base at a much higher clip than in 2018. Castro's plate approach is similar to the one Reyes displayed in 2018, marginal ct% with little patience. Speed is also Castro's main asset, though like Reyes, he has a single-digit SBO%. Lacking in power, Castro's value is minimal if he does not run. —Tom Kephart
Impact: Med
Castro, Harold

PT Gain:

20%
Reyes, Victor

PT Gain:

30%
Stewart, Christin

PT Loss:

-50%

---

Angels | Griffin Canning to miss rest of season
Los Angeles Angels RHP Griffin Canning (elbow) will miss the rest of the 2019 season because of mild elbow inflammation. Source: The Orange County Register - Jeff Fletcher
BHQ take: Another big hit for perhaps MLB's most beleaguered pitching staff, but limiting Canning's workload and protecting his future is the only move here over the next 5-plus weeks. Potentially more work for struggling Jose Suarez and Jaime Barria, but neither are recommended over the short-term. We're still looking for ideas as to who might eat LAA innings; we'll be doing another update over the next few days. —Jock Thompson
Impact: High
Canning, Griffin

PT Loss:

-7%

---

Rays | Brandon Lowe will not return
Tampa Bay Rays INF Brandon Lowe (leg, quadriceps) will not return to the team this season, according to manager Kevin Cash. Source: Tampa Bay Times - Marc Topkin
BHQ take: Lowe has been on the IL since early July with a right shin bruise, and suffered a left quad strain during his rehab assignment, so he is done for the year. He finishes 2019 with a .276/.339/.523 line across 279 AB, but his underwhelming plate skills (7% bb%, 63% ct%) and fortuitous 38% h% cast doubts on that BA coming back in 2020. Matt Duffy, who has started 21 of 25 games at 3B since returning from the IL is due a playing time correction, but his only fantasy contribution (a league-average OBA) relegates him to deep league consideration. —Matt Dodge
Impact: Med
Lowe, Brandon

PT Loss:

-30%
Duffy, Matt

PT Loss:

-10%
Aguilar, Jesus

PT Gain:

5%
Sogard, Eric

PT Loss:

-5%

---

Astros | Houston makes four moves
Houston Astros RP Joseph Biagini was recalled and 3B Abraham Toro had his contract selected from Class AAA Round Rock on Thursday, Aug. 22. The club also optioned 2B Jack Mayfield to Round Rock and placed RP Ryan Pressly (knee) on the 10-day injured list with a right knee contusion. Source: Houston Chronicle - Chandler Rome
BHQ take: Interesting. We'd speculated in our Aug. 22 Playing Time Tomorrow space about Alex Bregman moving to shortstop to replace injured Carlos Correa, but never suspected the promotion of Toro, who wasn't on 40-man roster. He's been HOU's hottest Triple-A hitter, going 28-for-66 with a 10/5 BB/K. And Toro's spot at 3B in the Aug. 22 lineup suggests that a slumping offense may be trying to catch lightning in a bottle. The 22-year-old Toro has had a fine season, posting .938 OPS with 17 HR over 442 AB between AA/AAA; he could earn more playing time then projected here if he produces. Details on his skill set can be found in our Call-ups space. Pressly has struggled since late July and his knee woes had already forced him to the DL earlier this month. Biagini and soon-to-be rehabbing Josh James are decent bets to pick up most of his innings. —Jock Thompson
Impact: High
Toro-Hernandez, Abraham

PT Gain:

10%
Mayfield, Jack

PT Loss:

-5%
James, Joshua

PT Gain:

2%
Biagini, Joe

PT Gain:

1%
Pressly, Ryan

PT Loss:

-4%

SV Loss:

-5%

---

Royals | Jake Newberry lands on the IL
Kansas City Royals RP Jake Newberry (shoulder) was placed on the 10-day injured list with right shoulder inflammation Thursday, Aug. 22. The Royals also recalled RP Kyle Zimmer from Class AAA Omaha. Source: MLB.com
BHQ take: Newberry has been one of the few bright spots in the KC pen, posting a 3.21 ERA and a 1.29 WHIP in his 28 innings, second-best in both of those marks behind closer Ian Kennedy for all of the KC relievers used in 2019. As a result, he was seeing more leverage (1.25 LI) and collected two holds over the past 30 days. Zimmer's first two trips to the majors included seven appearances: four scoreless (covering six innings), and three others (allowing seven runs in 1.3 innings), so he will likely see much less leverage until some consistency of (positive) results appears. —Matt Dodge
Impact: Low
Newberry, Jake

PT Loss:

-2%
Zimmer, Kyle

PT Gain:

1%

---

White Sox | Yoan Moncada to return Thursday
The Chicago White Sox will activate INF Yoan Moncada (hamstring) from the 10-day injured list on Thursday, Aug. 22. The team optioned OF Ryan Cordell to Triple-A Charlotte after the game Wednesday, Aug. 21. Source: Chicago Sun-Times - Daryl Van Schouwen
BHQ take: Moncada returns after about a three-week stay on the IL. He was in the middle of a breakout season before he injured his hammy. He was slashing .301/.358/.535 with 20 HR, 59 RBI and seven SB in 352 AB. Cordell will return to Triple-A, but expect a return in September. —Rick Green
Impact: Med
Cordell, Ryan

PT Loss:

-10%
Moncada, Yoan

PT Gain:

10%

---

National League

| American League
Cardinals | Dominic Leone back in the bigs
St. Louis Cardinals RP Dominic Leone was recalled from Class AAA Memphis on Thursday, Aug. 22. The team also optioned RP Junior Fernandez to Memphis. Source: Cardinals.com
BHQ take: Fernandez struggled with his Ctl (5.4) in his first taste of the majors, but his 3.61 xERA and 12.6 Dom make him someone that fantasy owners in keeper leagues will want to keep an eye on. Leone has been up and down a couple of times during 2019. He's not pitched as bad as his 7.14 ERA would indicate, but even a 4.61 xERA suggests he's someone fantasy owners on whom fantasy owners can take a pass. —Phil Hertz
Impact: Low
Fernandez, Junior

PT Loss:

-2%
Leone, Dominic

PT Gain:

2%

---

Mets | Ruben Tejada removed from the roster
New York Mets INF Ruben Tejada was designated for assignment Thursday, Aug. 22. The club also recalled RP Chris Flexen from Class AAA Syracuse. Source: Mets.com
BHQ take: Tejada's return to the Mets has not unexpectedly come to an end, not that that's likely to have impacted many fantasy teams. Flexen is up to provide pitching depth after the Mets went through most of their bullpen on Aug. 21 when Marcus Stroman had to leave his start early. So far in 2019, Flexen has an 8.46 xERA, an 0.9 Cmd and a -106 BPV over 13 innings. In other words, fantasy owners can safely ignore Flexen. —Phil Hertz
Impact: High
Flexen, Chris

PT Gain:

1%
Tejada, Ruben

PT Loss:

-5%

---

Rockies | Wes Parsons called up
Colorado Rockies RP Wes Parsons was recalled from Class AAA Albuquerque on Thursday, Aug. 22. The team also placed LHP Kyle Freeland (groin) on the 10-day injured list with a left groin strain, retroactive to Aug. 21. Source: Rockies PR
BHQ take: The Rockies can ill afford to lose another arm, but Freeland is the latest SP to succumb to injury. He had been forced out of his Aug. 20 start in the sixth inning against Arizona, citing groin discomfort in the same spot that caused him to miss 10 games in 2017. Many expected Freeland to regress some after his breakout 2018 (17 wins, 2.85 ERA), but the backswing of the pendulum has been shattering. His 2019 includes 2.3 hr/9, 6.98 ERA/5.21 xERA, shaky command and a month-and-a-half stop in Triple-A (where the results were even worse). Freeland doesn't expect to miss more than the 10 days, but COL may be forced to go the Antonio Senzatela/Jeff Hoffman route if they have to grab someone from AAA-Albuquerque. Call-up Parsons does have minor-league starts in his background (in 2018 in the ATL organization), but it's doubtful if he'll do so for the Rockies. But at least he's healthy. —Rob Carroll
Impact: High
Freeland, Kyle

PT Loss:

-1%
Parsons, Wes

PT Gain:

1%

---

Pirates | Pittsburgh parts with Francisco Cervelli
Pittsburgh Pirates C Francisco Cervelli was released Thursday, Aug. 22. Source: Pittsburgh Post-Gazette - Jason Mackey
BHQ take: Cervelli will reportedly sign with the Braves, who just lost Brian McCann to the IL. The Braves expect Cervelli to be able to catch, notwithstanding reports earlier in 2019 that he would no longer catch due to the number of concussions he had suffered. Cervelli struggled earlier in 2019 with the Pirates, compiling a .193 xBA and a 77 xPX over 109 at-bats. He's been hitting much better during his rehab stint, albeit over only 24 plate appearances. —Phil Hertz
Impact: Med
Cervelli, Francisco

PT Gain:

5%

---

Nationals | Max Scherzer, Brian Dozier ready for action
Washington Nationals RHP Max Scherzer was activated from the 10-day injured list and 2B Brian Dozier was reinstated from the paternity list Thursday, Aug. 22. The club also optioned RP Kyle McGowin and 2B Adrian Sanchez to Class AA Harrisburg. Source: washington.nationals.MLB.com
BHQ take: This is just a heads up for fantasy owners. No playing time changes accompany these moves, as they have all been anticipated for a couple of days. Scherzer and Dozier were not only activated, but they were also in the Nationals' lineup on Aug. 22. —Phil Hertz
Impact: High
Sanchez, Adrian
Dozier, Brian
Scherzer, Max
McGowin, Kyle
News feed provided by: Fantasy.USATODAY.com
Playing Time Key
The playing time percentage changes at the bottom of most news items correspond to BaseballHQ.com's Teamview pages. The percentages approximate changes in AB, IP and Saves in the following manner:
For batters, each 5% of PT% ~ 31 AB (100% total for each position = 618 AB)
For pitchers, each 3% of PT% ~ 44 IP (100% total for a team's entire pitching staff)
For relievers, each 5% of Svs ~ 2 saves (100% of a team's total = about 40 saves)
A complete explanation of BaseballHQ.com's playing time allocations can be found in the article "How the Projections are Created."
For more information about the terms used in this article, see our Glossary Primer.
Shopping Cart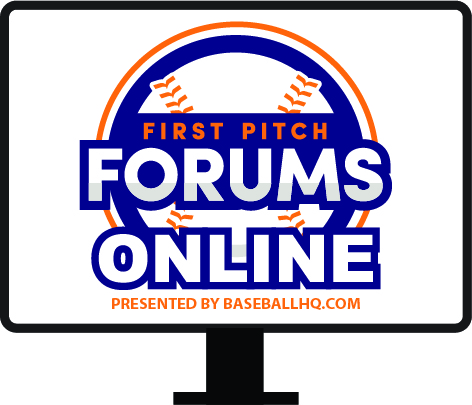 Our virtual First Pitch Forum returns!
Three online-only events: March 5, 11, 17
Join us live, or watch when you want
Just $19!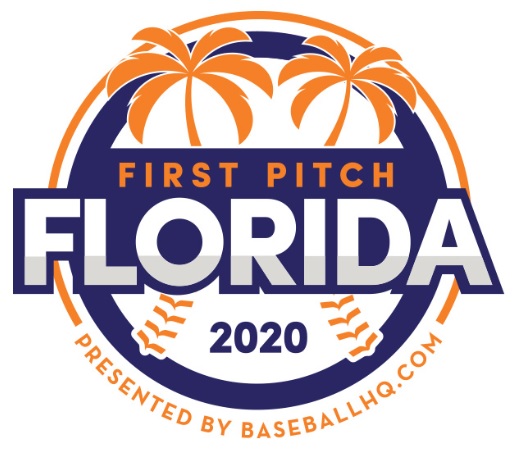 Inaugural Event!
February 28-March 1, 2020
St. Petersburg, FL
A few seats still left!