PT TODAY: Relievers primed to return for Cubs
By BaseballHQ
August 16th, 2019 12:07am
Team-by-team playing time allocation charts can be found in our Teamview pages.
National League

| American League
Cubs | Steve Cishek on track for Tuesday
Chicago Cubs RP Steve Cishek (hip) is back with the club after getting a cortisone shot on his ailing hip on Tuesday, Aug. 13. He said Wednesday, Aug. 14 that he felt good throwing and plans a bullpen session Thursday, Aug. 15. He is on track to return from the 10-day injured list when eligible on Tuesday, Aug. 20. Source: Chicago Sun-Times - Gordon Wittenmyer
BHQ take: CHC eagerly anticipates Cishek's return, as well as those of fellow RH relievers Craig Kimbrel and Brandon Kintzler from the IL. Pedro Strop and David Phelps have collected saves in their absence. Cishek is likely to return to setup duty when activated, though he could snag a spare save if Kimbrel remains sidelined for a lengthy period. Cishek has shown better Ctl than in 2018, though he has a sub-9.0 Dom, down considerably from his 10.0 Dom of 2018. With an 88 BPV when sidelined, Cishek is in danger of posting his first sub-100 BPV season since 2015. —Tom Kephart
Impact: High
Phelps, David

PT Gain:

1%

SV Gain:

5%
Cishek, Steve
Kintzler, Brandon

PT Loss:

-1%
Kimbrel, Craig

PT Loss:

-1%

SV Loss:

-10%
Strop, Pedro

PT Gain:

1%

SV Gain:

15%

---

Reds | Joey Votto injury update
Updating a previous report, Cincinnati Reds 1B Joey Votto (back) was scratched from the starting lineup Thursday, Aug. 15, because of low back tightness. Source: The Athletic - C. Trent Rosecrans
BHQ take: Votto has been troubled by back issues intermittently for a second straight season. He missed several games earlier in the season with back trouble. Those back issues might have contributed to his dips in power skills and production in 2018, and further across-the-board skills decline in 2019, with his PX falling well shy of his underlying xPX for a second straight season. Rookie LHB 2B/OF Josh VanMeter got the Aug. 15 start at 1B in Votto's absence. VanMeter seemed likely in line for considerable 2B PT, likely platooning with RHB middle infielder Jose Peraza before CIN recently acquired switch-hitting middle infielder Freddy Galvis from TOR with a waiver claim. Galvis now threatens to steal PT from both Peraza and VanMeter. VanMeter has shown above-average power and patience with considerable hard contact, while showing reasonable contact skill. —Tom Kephart
Impact: High
Galvis, Freddy

PT Gain:

20%
Votto, Joey
VanMeter, Josh

PT Loss:

-10%
Peraza, Jose

PT Loss:

-10%

---

Diamondbacks | Robbie Ray placed on IL
Arizona Diamondbacks P Robbie Ray (back) was placed on the 10-day injured list Thursday, Aug. 15, due to lower back spasms. Source: MLBRosterMoves
BHQ take: Pitching against COL on Aug. 14, Ray felt tightness while pitching in the second inning and again while warming up for the third, and he called for reinforcements. (Similar tightness also truncated his Aug. 3 outing after five innings.) Unofficially elevated to the front of the rotation after the Zack Greinke trade, Ray hasn't pitched particularly well in August (Dom is down, Ctl is up), but it is certainly reasonable to assume that back issues have impacted his performance. An MRI has been ordered and it's not yet known how long Ray will be sidelined, but RHP Jon Duplantier has been summoned from AAA-Reno and should get another shot at the ARI rotation. Duplantier has injury and durability issues of his own—between ARI and Triple-A this season, he's made 16 starts and has pitched 49 innings in those outings, an average of just over three innings per start. Reliever Stefan Crichton is also back in Phoenix for the fourth time in 2019. He's been effective in limited duty (13 games/17 IP), holding opponents to a .169 BA. Completing this round of ARI roster moves is the reassignment of outfielder Tim Locastro to AAA-Reno. His 11 stolen bases are second among the Diamondbacks, but his .704 OPS tops only the pitchers'. His departure helps clear the path for rookie OF Josh Rojas, who has responded well since being called up, going 4-for-9. —Rob Carroll
Impact: High
Rojas, Josh

PT Gain:

5%
Duplantier, Jon

PT Gain:

1%
Locastro, Tim

PT Loss:

-5%
Crichton, Stefan
Ray, Robbie

PT Loss:

-1%

---

Phillies | Jared Hughes claimed off waivers
The Philadelphia Phillies claimed P Jared Hughes off waivers from the Cincinnati Reds Thursday, Aug. 15. RHP Edubray Ramos was placed on the 60-day injured list in a corresponding move. Source: MLB.com - Todd Zolecki
BHQ take: Hughes' 2019 has been considerably worse than his two prior seasons, particularly his 2018 season. On the surface, the difference was significant. For example, his ERA in 2018 was 1.94 and this year, it's 4.10. Skill wise, the difference was less dramatic: 3.13 xERA in 2018; 4.21 in 2019. The main culprit appears to be his Ctl. This year, it's 3.5; in 2018, it was 2.6. Ramos was already on the IL, so the Phils will need to make another corresponding move. Stay tuned. —Phil Hertz
Impact: High
Ramos, Edubray
Hughes, Jared

PT Loss:

-1%

---

American League

| National League
Astros | Gerrit Cole could miss start
Houston Astros RHP Gerrit Cole (hamstring) underwent tests on his injured hamstring Wednesday, Aug. 14, and said after the game that the injury is 'not super serious.' He doesn't know if he'll be ready to make his next scheduled start Monday, Aug. 19, but he will travel with the team. Source: The Associated Press
BHQ take: At this point, Cole hasn't yet been placed on the IL, but that could happen by the weekend if it's determined that he's unable to make his next start. Thanks to a rain-out and resulting doubleheader earlier this past week, the Astros already need another starter for Saturday, Aug. 17, and now might for Monday as well. Jose Urquidy—5.87/4.14 ERA/xERA but also a 24/4 K/BB and a 47% GB% through 23 IP—and his chances for more 2019 action may get a reprieve. —Jock Thompson
Impact: High
Cole, Gerrit

PT Loss:

-2%
Urquidy, Jose

PT Gain:

2%

---

Twins | Michael Pineda reinstated, starting Thursday
Minnesota Twins SP Michael Pineda (triceps) was activated from the 10-day injured list Thursday, Aug. 15, and will start against the Texas Rangers. Source: The Athletic - Dan Hayes
BHQ take: Pineda, who had been out since Aug. 3, went five innings against TEX, giving up three runs while striking out six and walking one. After missing part of 2017 and all of 2018, Pineda has had a successful return, putting up a 4.15 ERA and a 1.19 WHIP in 117 IP to date, which are near his career numbers (4.07, 1.19). His Dom (7.9) and Vel (92.6) are off from his career averages of 8.9 and 93.6, so he's not all the way back. —Rick Green
Impact: Med
Pineda, Michael
News feed provided by: Fantasy.USATODAY.com
Playing Time Key
The playing time percentage changes at the bottom of most news items correspond to BaseballHQ.com's Teamview pages. The percentages approximate changes in AB, IP and Saves in the following manner:
For batters, each 5% of PT% ~ 31 AB (100% total for each position = 618 AB)
For pitchers, each 3% of PT% ~ 44 IP (100% total for a team's entire pitching staff)
For relievers, each 5% of Svs ~ 2 saves (100% of a team's total = about 40 saves)
A complete explanation of BaseballHQ.com's playing time allocations can be found in the article "How the Projections are Created."
For more information about the terms used in this article, see our Glossary Primer.
Shopping Cart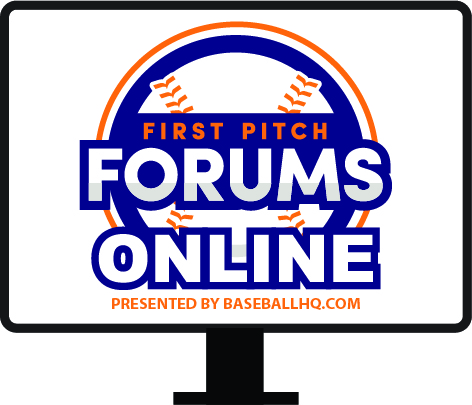 Our virtual First Pitch Forum returns!
Three online-only events: March 5, 11, 17
Join us live, or watch when you want
Just $19!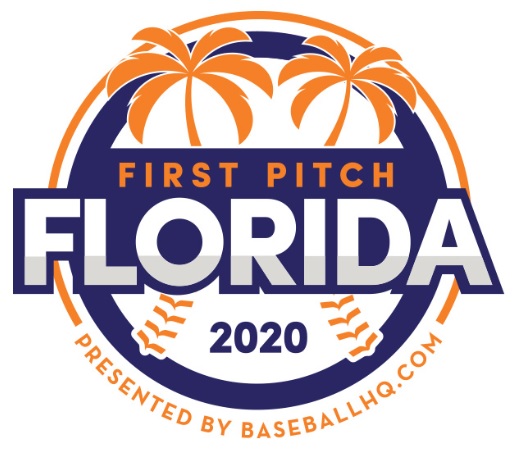 Inaugural Event!
February 28-March 1, 2020
St. Petersburg, FL
A few seats still left!