PT TODAY: Padres infield takes a hit from injury
By BaseballHQ
August 17th, 2019 12:08am
Team-by-team playing time allocation charts can be found in our Teamview pages.
National League

| American League
Padres | Fernando Tatis, Ian Kinsler to IL
San Diego Padres SS Fernando Tatis Jr. (back) was placed on the 10-day injured list Friday, Aug. 16, because of a stress fracture in his lower back. INF Ian Kinsler (neck) was also placed on the 10-day injured list because of a herniated cervical disc. The Padres recalled INF Ty France and OF Travis Jankowski from Class AAA El Paso. Source: MLBRosterMoves
BHQ take: A late update indicates that the Padres will shut down Tatis for the season; see the Big Hurt column for details. It's not exactly a critical loss for the Padres, who weren't likely going to the post-season despite their star rookie who has played with his hair on fire all season long. But obviously a big hit for those Tatis owners in close fantasy races. The plan is for Luis Urias to take over at SS -- and in his place at 2B, the Padres will reportedly try out Ty France, who has absolutely lit up El Paso and the PCL with a .399/.477/.770 line through 296 AB. Kinsler (.217 BA through 258 AB) looks like he's also adone for the year; there's certainly no incentive for the Padres to rush him back. With the Padres OF still crowded and Franchy Cordero expected to return when rosters expand, we can't see bumping Jankowski's playing time just yet. FWIW, he hasn't exactly been running wild on the base-paths in El Paso, posting a 6/2 SB/CS through 132 AB. We'll make further playing time adjustments as a smoke clears. —Jock Thompson
Impact: High
France, Ty

PT Gain:

65%
Tatis Jr., Fernando

PT Loss:

-75%
Jankowski, Travis

PT Loss:

-5%
Garcia, Greg
PT Gain:

25

%
Kinsler, Ian M

PT Loss:

-45%

---

Braves | Atlanta makes roster moves
Atlanta Braves RHP Bryse Wilson was recalled from Class AAA Gwinnett Friday, Aug. 16. The team also optioned OF Adam Duvall and INF Johan Camargo to Class AAA Gwinnett and designated RP Wes Parsons for assignment. Source: MLB.com
BHQ take: Camargo's season has gone from bad to worse. After a breakout 2018, in which he had a .257 xBA with 19 homers and a 113 PX, Camargo lost his job during the offseason when Atlanta signed Josh Donaldson. He's been limited to 222 at bats with a .249 xBA and a 64 PX. Camargo may return later in 2019, but his fantasy value, at least for redraft leagues seems limited. Adam Duvall's situation is somewhat similar to Camargo, except his decline started during 2018. As a result, he landed in Triple-A from the get go in 2019. He was recalled on July 27th, and it seemed that he had revived his career. Duvall had hits in eight of his first nine games with five homers. However, since then, he's gone 3 for 33. Like Camargo, we may see him again in 2019, but he's not likely to get enough playing time - or produce enough - to help fantasy teams. Wilson has been up and down a few times this year, but has only made five appearances in which he's compiled a 5.91 xERA and a 20 BPV. He's more likely to be of interest to owners in keeper leagues than those in redraft leagues. —Phil Hertz
Impact: Med
Wilson, Bryse
Parsons, Wes

PT Loss:

-1%
Camargo, Johan

PT Loss:

-35%
Duvall, Adam

PT Loss:

-25%

---

Marlins | Neil Walker activated
Miami Marlins INF Neil Walker (finger) was activated from the 10-day injured list Friday, Aug. 16. The team also designated INF Deven Marrero for assignment. Source: MLB.com
BHQ take: Although Walker is a switch hitter, he was being platooned - batting against righties - before his injury. His numbers in that role were uninspiring. Walkers's xBA was .254 and his PX was 75. Going forward, it's not clear whether he will continue to get semi-regular playing time. That means owners should see how the Marlins are going to use Walker before considering him for a roster spot. Marrero was up for 10 days before being DFA'd. He went hitless in five at bats. —Phil Hertz
Impact: Med
Marrero, Deven

PT Loss:

-25%
Walker, Neil

PT Gain:

5%

---

Braves | Atlanta adds Adeiny Hechavarria
Free-agent INF Adeiny Hechavarria (Mets) signed a one-year contract with the Atlanta Braves Friday, Aug. 16. Financial terms were not disclosed. Source: MLB.com
BHQ take: Hechavarria is essentially filling Johan Camargo's spot with Camargo sent to Gwinnett. As far as fantasy owners are concerned, Hechavarria is unlikely to help teams. He had just recently been released by the Mets, for whom he batted ,204 with an xBA of .242. Since July 1, the numbers have been even worse: .163 AVG over 49 at bats. —Phil Hertz
Impact: Low
Hechavarria, Adeiny

PT Gain:

20%

---

Mets | Paul Sewald added to active roster
New York Mets RP Paul Sewald's contract was selected by the Mets from Class AAA Syracuse Friday, Aug. 16. The team also optioned RP Drew Gagnon to Class AAA Syracuse and designated RP Tim Peterson for assignment. Source: MLBRosterMoves
BHQ take: Sewald made four appearances early in 2019, didn't fare well, was DFA'd, but then resigned by the Mets. He also made over 100 appearances between 2017 and 2018. Overall, he's thrown 128.2 innings with a 4.96 xERA, a 9.2 Dom, a 2.8 Cmd, and an 86 BPV. While he does have two career saves, Sewald's won-loss record is 0 and 13. For now, fantasy owners should not expect Sewald to pitch in high leverage situations, but a couple of good outings could change that. Gagnon was knocked around on August 15th, yielding five earned runs and four homers in 1.2 innings. That, along with the Mets' need for a fresh arm, was enough to earn him a ticket to Syracuse. Gagnon may be back, but he's not likely to be of interest to fantasy owners. —Phil Hertz
Impact: Low
Peterson, Tim
Gagnon, Drew
Sewald, Paul

PT Gain:

1%

---

Giants | San Francisco makes roster moves
San Francisco Giants RHP Dereck Rodriguez was recalled from Class AAA Sacramento Thursday, Aug. 15, and RP Fernando Abad's contract was selected from Class AAA Sacramento. The team also optioned RP Williams Jerez and C Aramis Garcia to Class AAA Sacramento and designated RP Kyle Barraclough for assignment. Source: MLB.com
BHQ take: Among the names coming and going, Rodriguez' is the most noteworthy because upon his call-up on August 15, he spun his best game of the season, blanking the Diamondbacks for seven innings on three hits. It was his second PQS-DOMinant start of his past three, although those three outings have come over the course of a month with some Triple-A time in between. Whether Rodriguez will have some staying power remains to be seen. Overall, his 2019 numbers mirror those he posted during his 2018 second-half fade: 5.37 xERA, 5.8 Dom, 1.8 Cmd—and his .766 oOPS, although not bad, is still .100 higher than last year. Abad also pitched a scoreless inning in the July 15 game, his first major-league appearance in over 22 months. For the Giants' Double-A and Triple-A teams, the lefty has been very effective in short relief; his 55/5 K/BB ratio speaks for itself, and he was a nightmare for LHB (.167 OBA against). Barraclough never made his way to San Francisco after being picked up on waivers a week ago, and Garcia and Jerez have both ridden the shuttle enough in 2019 to know that they could return to the big leagues before season's end. —Rob Carroll
Impact: Med
Garcia, Aramis
Rodriguez, Dereck
Jerez, Williams
Barraclough, Kyle
Abad, Fernando

---

American League

| National League
Royals | Billy Hamilton off 40-man roster
Kansas City Royals OF Billy Hamilton was designated for assignment Friday, Aug. 16. The team also recalled OF Brett Phillips from Class AAA Omaha. Source: MLBRosterMoves
BHQ take: The writing was on the wall about a month ago, when Bubba Starling was recalled from AAA-Omaha and pushed Hamilton to the bench. After 25 games and 94 AB, Starling's underwhelming .213/.253/.309 slash line has opened the door for Phillips to see what he can do in the Royals OF. Phillips' 2018 audition with KC did not go well (21 hits and 50 strikeouts in 112 AB), but even though contact is still an issue for himin 2019 (65% ct% at AAA-Omaha), he's collected 39 extra-base hits (eight doubles, 13 triples, and 18 HR in 333 AB) for a .505 Slg. If Phillips can show that speed/power combo that Starling has not yet, more playing time could swing Phillips' way. As for Hamilton, his poor plate skills and weak contact continue to drain his stolen base opportunities, making him a candidate for September pinch-running opportunities for a potential post-season contender. —Matt Dodge
Impact: Med
Starling, Bubba
Phillips, Brett

PT Gain:

25%
Hamilton, Billy

PT Loss:

-25%

---

Athletics | Josh Phegley activated
Oakland Athletics C Josh Phegley (thumb) was activated from the 10-day injured list Friday, Aug. 16. The team also designated C Dustin Garneau for assignment. Source: MLB.com
BHQ take: OAK also lost C Beau Taylor on waivers to TOR to balance out Phegley's PT increase. Phegley looked like he was ready to blossom into a reliable offensive backstop over the first couple of months of 2019, but regressed significantly before his injury. That regression was fueled by a big-time drop in power output (PX in Apr/May: 143/133; Jun/Jul: 75/30). With little change otherwise in his plate skills, that suggests Phegley may have been playing hurt. If so, perhaps this stint on the IL may have allowed Phegley to heal. It's all speculation, of course. But regardless, expect Phegley to at least split time with Chris Herrmann; if he does regain his power stroke, Phegley will be a contributor down the stretch. —Rod Truesdell
Impact: Med
Phegley, Joshua

PT Gain:

20%
Garneau, Dustin

PT Loss:

-15%

---

Rangers | Pedro Payano sent down
Texas Rangers RHP Pedro Payano was optioned to Class AAA Nashville on Thursday, Aug. 15. Source: The Associated Press
BHQ take: RHP Ian Gibault was called up to take Payano's spot on the roster, but that's likely not the long-term move. Instead, expect lefty prospect Joe Palumbo to be called when TEX needs another starter. In the 24-year-old Palumbo's most recent Triple-A start (on 8/15), he threw six no-hit innings vs. Omaha, fanning seven and lowering his minor-league ERA to 2.67. Palumbo has been profiled a couple of times on the site already; he's a solid prospect, and those who need a starter going down the stretch who might be a keeper could do worse than speculate here. —Rod Truesdell
Impact: Low
Payano, Pedro

PT Loss:

-2%
Palumbo, Joseph

PT Gain:

2%

---

Mariners | Brandon Brennan placed on IL
Seattle Mariners RP Brandon Brennan (shoulder) was placed on the injured list on Thursday, Aug. 15, due to shoulder fatigue; the move was made retroactive to Wednesday, Aug. 14. To fill Brennan's spot on the roster, RP Taylor Guilbeau was recalled from Triple-A Tacoma. Source: Mariners PR
BHQ take: HQ's Nick Richards profiles Guilbeau in our Call-ups section. In short, while he's unlikely to have a high-leverage role in the SEA bullpen in the short term, the hard-throwing Guilbeau -- recently converted to relief -- has the stuff to be an arm to watch going forward in the uncertain Mariners 'pen. —Rod Truesdell
Impact: Low
Guilbeau, Taylor

PT Gain:

1%
Brennan, Brandon

PT Loss:

-2%
Adams, Austin L

PT Gain:

1%

---

Yankees | CC Sabathia on track for weekend start
New York Yankees LHP CC Sabathia (knee) threw a bullpen session on Tuesday, Aug. 13, and is expected to make a start against the Cleveland Indians this coming weekend. Source: The Associated Press
BHQ take: Just a heads up that Sabathia is expected to come off the IL (currently projected to be Sunday August 18), and a reminder to consult the Daily Call-ups section for his return start. Fantasy owners should note that he is averaging just over five innings per start in 2019 and with September roster reinforcements on the horizon, his days of qualifying for a starting pitcher win are quickly drawing to a close. —Matt Dodge
Impact: Low
Sabathia, CC
News feed provided by: Fantasy.USATODAY.com
Playing Time Key
The playing time percentage changes at the bottom of most news items correspond to BaseballHQ.com's Teamview pages. The percentages approximate changes in AB, IP and Saves in the following manner:
For batters, each 5% of PT% ~ 31 AB (100% total for each position = 618 AB)
For pitchers, each 3% of PT% ~ 44 IP (100% total for a team's entire pitching staff)
For relievers, each 5% of Svs ~ 2 saves (100% of a team's total = about40 saves)
A complete explanation of BaseballHQ.com's playing time allocations can be found in the article "How the Projections are Created."
For more information about the terms used in this article, see our Glossary Primer.
Shopping Cart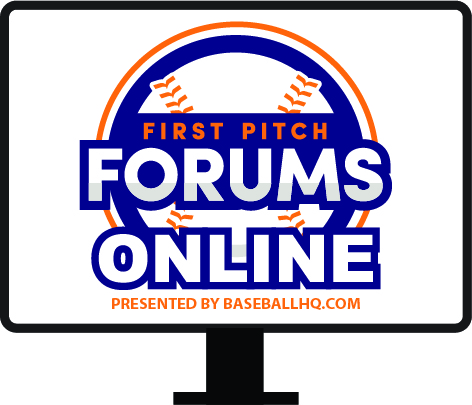 Our virtual First Pitch Forum returns!
Three online-only events: March 5, 11, 17
Join us live, or watch when you want
Just $19!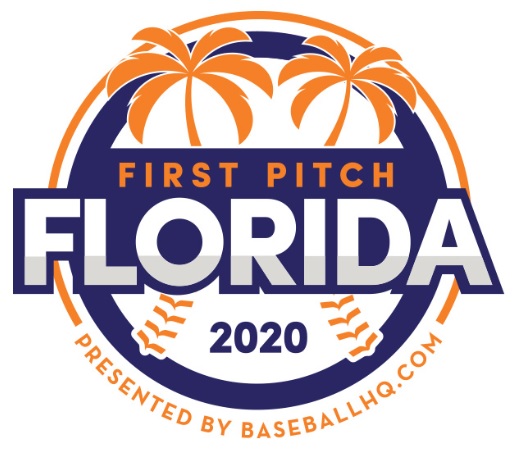 Inaugural Event!
February 28-March 1, 2020
St. Petersburg, FL
A few seats still left!