PT TODAY: Nunez takes speed, BA skills to BOS
By BaseballHQ
July 27th, 2017 12:07am
Team-by-team playing time allocation charts can be found in our Teamview pages.
American League

| National League
Red Sox | Eduardo Nunez trade details
Updating a previous report, the Boston Red Sox sent RHPs Shaun Anderson and Gregory Santos to the San Francisco Giants in exchange for 3B Eduardo Nunez. Source: ESPNBoston.com - Scott Lauber
BHQ take: The trade for Nunez was completed late on July 25, but he is not expected to report to BOS until Friday, July 28, so we are still a few days away from learning his exact role and early usage in the Red Sox lineup. All of the players listed below are at risk for further playing time rearrangements until Boston's direction is clearer. Early quotes from the BOS front office indicate that Nunez is expected to be a lineup regular, but note he is very well qualified on the left side of the diamond (3B, SS, LF). The RH-batting Nunez will see significant park effects improvement for BA, HR (less a part of his game) and runs (particularly depending on his placement in a more potent lineup). Does this move send the recently promoted Rafael Devers back to the minors? Are there other trades pending? Which one(s) of the utility infielders at risk? We won't know for sure until the announcements are made, but will provide updates as the information flows. —Matt Dodge
Impact: High
Rutledge, Josh

PT Loss:

-10%
Nunez, Eduardo

PT Loss:

-15%
Lin, Tzu-Wei

PT Loss:

-5%
Devers, Rafael

PT Loss:

-25%
Marrero, Deven

PT Loss:

-15%
Holt, Brock

PT Loss:

-10%
Young, Chris B

PT Loss:

-10%

---

Indians | Shawn Armstrong recalled
Cleveland Indians RHP Shawn Armstrong was recalled from Class AAA Columbus Wednesday, July 26. The team also optioned OF Abraham Almonte to Class AAA Columbus. Source: MLBRosterMoves
BHQ take: Updating a previous report, OF Austin Jackson's return from the DL made Almonte's roster spot vulnerable. Light-hitting Almonte has drawn walks at a career-high rate, though his sub-.250 xBA suggests modest value as a hitter. Jackson has played mainly in a RHB platoon role, though he has played regularly at times while other CLE outfielders have been sidelined on the DL. Jackson was displaying vintage skills in his 102 AB before his DL stint. His hitting skills actually are even better than during his 2012 career year, including the highest bb%, PX, xPX and HctX of his career. Armstrong's promotion expands CLE's pitching staff to 13 pitchers. Armstrong has shuttled between CLE and Triple-A, with 16 K/6 BB in 19 IP in 16 CLE relief appearances. —Tom Kephart
Impact: Med
Armstrong, Shawn

PT Gain:

1%
Almonte, Abraham

PT Loss:

-15%
Jackson, Austin

PT Gain:

15%

---

Rays | Jake Odorizzi to DL
Tampa Bay Rays RHP Jake Odorizzi (back) was placed on the 10-day disabled list with a lower-back strain Wednesday, July 26. RHP Andrew Kittredge was recalled from Class AAA Durham. Source: 620 WDAE Tampa - Steve Carney
BHQ take: After trying to pitch through the lower back pain, Odorizzi goes onto the DL and is only expected to miss two starts at this time. Those two starts (at NYY and at home versus HOU) are particularly unfavorable for Odorizzi anyway, with his 2.2 hr/9 (and 2.8 hr/9 over the past month). Kittredge continues to ride the Triple-A shuttle to provide bullpen reinforcement, and the early speculation is that Austin Pruitt will take Odorizzi's slot for the July 28 game at Yankee Stadium, as he was pulled from his July 25 start. Pruitt's usage as a swingman at Durham in 2017 shows a shiny 12.0 Dom (33 K in 24.2 IP), and his career (majors and minors) 0.7 hr/9 bodes well for those potential matchups. —Matt Dodge
Impact: Low
Odorizzi, Jake

PT Loss:

-2%
Hunter, Tommy

PT Gain:

1%
Kittredge, Andrew
Pruitt, Austin

PT Gain:

1%

---

Twins | Byron Buxton not ready to come off DL yet
Minnesota Twins OF Byron Buxton (groin) was not activated from the disabled list Tuesday, July 25, as expected because he dealt with a migraine headache Monday, July 24. Source: Minnesota.Twins.MLB.com
BHQ take: Updating a previous report, the Twins didn't activate Buxton because he was suffering from migraines on July 24-25. According to a report from mlb.com, Buxton felt better on Wednesday, July 26, and performed pre-game drills. He could return on Friday, July 28. —Rick Green
Impact: Low
Buxton, Byron

---

National League

| American League
Padres | Erick Aybar could miss rest of season
San Diego Padres SS Erick Aybar (foot) has a fracture in his foot and could end up missing the rest of the season. The shortstop job will go to a combination of SS Dusty Coleman and OF/SS Allen Cordoba for now. Source: MLB.com - AJ Cassavell
BHQ take: A note that slipped through the cracks earlier this week following the Padres' big trade. Well past his prime, Aybar and his .227 BA (through 260 AB) has only been owned in the deepest of leagues—but he had owned most of the Padre SS AB up until now. Rule 5 pickup Cordoba will take over for the time being, and while he has the skills for an MLB future, it's not at all clear whether that will come at shortstop. The 21-year-old Cordoba had never advanced beyond Rookie League ball prior to 2017, and his offensive inexperience is showing a .613 OPS (12/42 BB/K) through 176 AB to date. He'll be spelled by recent call-up Coleman, who was hitting .209 at AAA-El Paso prior to his promotion this week. Needless to say, the Padres are likely targeting SS help in their trade talks, and this arrangement might not last long. —Jock Thompson
Impact: Med
Aybar, Erick

PT Loss:

-40%
Cordoba, Allen Octavio

PT Gain:

25%
Coleman, Dusty

PT Gain:

15%

---

Giants | Eduardo Nunez trade details
Updating a previous report, the San Francisco Giants acquired RHPs Shaun Anderson and Gregory Santos from the Boston Red Sox in a trade for 3B Eduardo Nunez. Source: ESPNBoston.com - Scott Lauber
BHQ take: In what may be the first of several Giants' shoes to drop as the trading deadline approaches, one of their more productive hitters and nearly 40% of the team's SB total are now in Boston. Nunez was among SF's legion of left fielders as well as the team's primary 3B, and the menu of internal candidates to succeed him at the hot corner isn't that appetizing. Ironically, the person most likely to replace him for the remainder of 2017 is Pablo Sandoval, who was BOS' primary 3B prior to being released and then picked up by SF earlier in July. As submitted here at that time, the twice-injured Sandoval has been limited to 54 games between the minors and majors this year, and is 3-for-15 between Single-A and Triple-A since his arrival. With Nunez out of the picture, Sandoval may be fast-tracked to the Bay Area. Of more immediate 3B help are Conor Gillaspie and Kelby Tomlinson, with Ryder Jones and Jae-gyun Hwang a phone call away at AAA-Sacramento. Gillaspie's season has been derailed by back injuries (69 AB) and he hasn't gotten untracked even against RHP (.271 Slg), which have kept him employed for the past five seasons. Tomlinson's 170 Spd has produced a handful of SB but he is devoid of power (19 PX). Collectively, Jones and Hwang were 7-for-57 (.123 BA) with three RBI in their first taste of major league action, with two of those RBI coming on Hwang's HR in his debut game. Christian Arroyo could also be recalled from Triple-A, although he's been out for nearly a month with a hand injury. As stated earlier, there are lots of 3B options here, none optimal. Regarding the Giants' side of the Nunez trade, young RHPs Anderson and Santos are both several years away from contributing at the major-league level. Continue to watch this space for more dropping shoes. —Rob Carroll
Impact: High
Jones, Ryder

PT Gain:

5%
Hwang, Jae-gyun

PT Gain:

5%
Arroyo, Christian
Tomlinson, Kelby

PT Gain:

5%
Gillaspie, Conor

PT Gain:

20%
Sandoval, Pablo

PT Gain:

30%

---

Brewers | Lewis Brinson recalled
Milwaukee Brewers OF Lewis Brinson was recalled from Class AAA Colorado Springs Wednesday, July 26. The team also placed RHP Matt Garza (leg) on the 10-day disabled list because of a right lower leg strain. Source: MLBRosterMoves
BHQ take: Brinson's promotion further muddies MIL's fluid CF picture. He was immediately inserted into the starting lineup. It is unclear whether Brinson or recently promoted Brett Phillips will see the bulk of CF PT, though Brinson might have the edge, as he was swinging a hot stick in Triple-A before being promoted. With erstwhile CF Keon Broxton currently stuck in Triple-A and MIL's offense struggling recently, PT is available for a hot hitter. Brinson has been ranked as MIL's top prospect and was previewed in the Daily Call-Ups column during a previous promotion. It is unclear who might replace Garza in the starting rotation, as the replacement might be someone yet to be acquired in trade. —Tom Kephart
Impact: Med
Phillips, Brett

PT Loss:

-15%
Brinson, Lewis

PT Gain:

25%
Broxton, Keon

PT Loss:

-10%
Garza, Matt

PT Loss:

-2%

---

Phillies | Aaron Altherr activated
Philadelphia Phillies OF Aaron Altherr (hamstring) was activated from the 10-day disabled list Wednesday, July 26. The team also placed OF Daniel Nava (hamstring) on the 10-day disabled list because of a left hamstring injury. Source: MLBRosterMoves
BHQ take: Altherr is back after missing half a month with his hamstring injury. Before getting hurt, he was in the midst of a breakout season. So far in 2017, he has a .271 xBA, a 155 PX and a 95 Spd. Nava is hitting .300 so far this season, but his skills don't support that level of production. His xBA is .262 and his PX is 65 (although his xPX is a more robust 98). Preliminary reports are that Nava won't be out very long, but the timing of his injury could impede any plans that the Phils have to move him by the July 31 trading deadline. —Phil Hertz
Impact: Med
Altherr, Aaron

PT Gain:

10%
Nava, Daniel

PT Loss:

-10%

---

Reds | Zack Cozart sitting out
Cincinnati Reds SS Zack Cozart (quad) is out of the lineup Wednesday, July 26, against the New York Yankees. 2B/SS Jose Peraza will get the start at shortstop, while 2B/OF Scooter Gennett will take over at second base. Source: Baseball Press
BHQ take: Cozart's absence translates to a PT boost for middle infielder Jose Peraza, recently relegated to a reserve role when 2B Scooter Gennett was elevated to a starting role. Peraza has not shown the same line-drive stroke and xBA he displayed as a 2016 rookie, eventually costing him PT. He will play SS while Cozart is sidelined. Gennett is having a career year, as measured by both stats and skills, with career-high PX, xPX, xBA and BPV. He remains a liability vs. LHP, with a .587 OPS vs. LHP, compared to his 1.053 OPS vs. RHP. Peraza is therefore likely to see substantial 2B PT vs. LHP even when Cozart returns to the lineup. Cozart's injury likely has dampened trade interest, as he was widely considered likely to be dealt as a pending free agent. Like Gennett, Cozart is displaying career-best skills and production. Cozart's xBA, HctX, PX, bb% and BPV are career highs. —Tom Kephart
Impact: High
Peraza, Jose

PT Gain:

5%
Gennett, Scooter

PT Gain:

5%
Cozart, Zack

PT Loss:

-10%

---

Marlins | Kyle Barraclough on DL
Miami Marlins RHP Kyle Barraclough (shoulder) was placed on the 10-day disabled list Wednesday, July 26, because of right shoulder impingement. The team also recalled RHP Drew Steckenrider from Class AAA New Orleans. Source: MLBRosterMoves
BHQ take: Many thought Barraclough could be in line for saves if the Marlins were to trade A.J. Ramos. That is now somewhat unlikely, unless the shoulder injury proves very minor. Steckenrider has been up and down between Miami and New Orleans a couple of times in 2017. In 7.2 innings, he's yielded 11 hits and four walks, but he's also struck out nine. If he can improve his control and his 47% hit rate were to normalize, he could provide some help to teams in deep leagues. —Phil Hertz
Impact: High
Steckenrider, Drew

PT Gain:

1%
Barraclough, Kyle

PT Loss:

-1%

SV Loss:

-5%

---

Cubs | Brett Anderson off 40-man roster
Chicago Cubs LHP Brett Anderson (back) was activated from the 60-day disabled list Wednesday, July 26, and was designated for assignment. Source: MLBRosterMoves
BHQ take: Anderson's lengthy minor league rehab assignment had expired, necessitating a roster move. He struggled with Ctl/Cmd before his DL stint and is no longer in CHC's plans. —Tom Kephart
Impact: Low
Anderson, Brett

PT Loss:

-1%

---

Cardinals | Mike Mayers added to roster
St. Louis Cardinals RHP Mike Mayers was recalled from Class AAA Memphis Wednesday, July 26. Source: MLBRosterMoves
BHQ take: Mayers was up briefly earlier in 2017, throwing four innings and yielding four hits, three walks and two earned runs. His stay with St. Louis this time may be even shorter than his first trip to the majors, as the Cards are expected to recall a pitcher, likely Luke Weaver, to replace Adam Wainwright in the rotation. —Phil Hertz
Impact: Low
Mayers, Mike

PT Gain:

1%

---

Nationals | Stephen Strasburg likely to start Friday
Washington Nationals RHP Stephen Strasburg (arm) is expected to make his next scheduled start Friday, July 28, after being diagnosed with a nerve impingement that is no longer bothering him. Source: The Associated Press
BHQ take: Updating the news on Strasburg, the reports appear to be good for Strasburg, the Nationals and his fantasy owners. That said, while we are not making any further reductions in his projected innings, we are also not restoring the innings we took away earlier this week. After all, there's nothing in Strasburg's injury history to suggest this is the last we'll hear about his right arm this summer. —Phil Hertz
Impact: Med
Strasburg, Stephen
News feed provided by: Fantasy.USATODAY.com
Playing Time Key
The playing time percentage changes at the bottom of most news items correspond to BaseballHQ.com's Teamview pages. The percentages approximate changes in AB, IP and Saves in the following manner:
For batters, each 5% of PT% ~ 31 AB (100% total for each position = 618 AB)
For pitchers, each 3% of PT% ~ 44 IP (100% total for a team's entire pitching staff)
For relievers, each 5% of Svs ~ 2 saves (100% of a team's total = about 40 saves)
A complete explanation of BaseballHQ.com's playing time allocations can be found in the article "How the Projections are Created."
For more information about the terms used in this article, see our Glossary Primer.
Free Weekly eNewsletter
The industry's #1 analytical weekly e-mail newsletter is ABSOLUTELY FREE!
More Information
Shopping Cart
Listen to Baseball HQ's weekly audio programs.
Subscribe today!
Learn More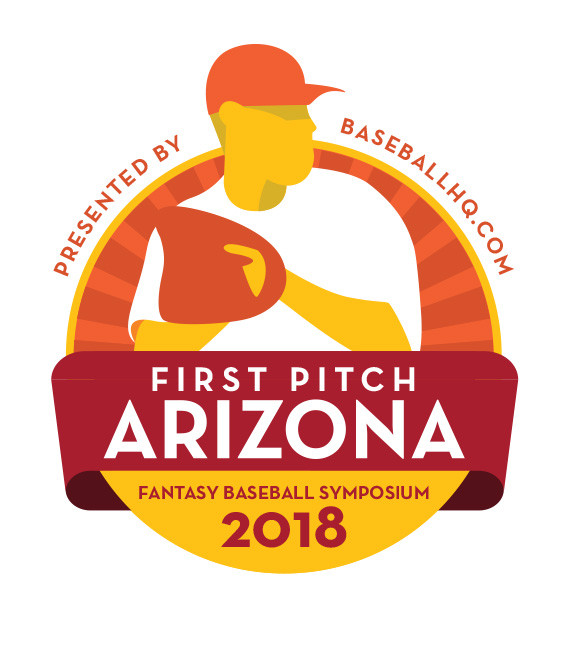 Nov 1-4, 2018
EARLY-BIRD REGISTRATION NOW OPEN!