PT TODAY (NL): Dodgers deal for Darvish
By BaseballHQ
August 1st, 2017 12:07am
Team-by-team playing time allocation charts can be found in our Teamview pages.
National League

Dodgers | Yu Darvish going to Dodgers
Texas Rangers RHP Yu Darvish was acquired by the Los Angeles Dodgers Monday, July 31, according to a source. It is not known what the Rangers will receive in the trade. Source: FOXSports.com - Ken Rosenthal
BHQ take: A big day for the Dodgers, who gave up no one for whom we'd projected 2017 playing time—and not just for Darvish, but also in return for the acquisitions of Tony Watson and Tony Cingrani. Darvish should benefit in the NL without the DH and on a better team, though both he and the two relievers will likely throw fewer innings, thanks to the Dodgers' depth and big NL West lead. His insertion into the rotation likely ends the short-term opportunity of Brock Stewart and provides some cushion for the returns of Clayton Kershaw and Brandon McCarthy, as LA points to getting (and keeping) everyone healthy for the post-season. The acquisition of two left-handed RPs was the obvious realization that DL'd relievers Grant Dayton and Adam Liberatore were uncertain for the stretch—and gives LA more playoff roster options. The bottom line is that a deep pitching staff just became deeper, and the Dodgers will continue to use the 10-day DL to their advantage in an effort to keep everyone rested. —Jock Thompson
Impact: High
Liberatore, Adam

PT Loss:

-1%
Ryu, Hyun-Jin

PT Loss:

-1%
Font, Wilmer

PT Loss:

-1%
Cingrani, Tony

PT Gain:

4%
Avilan, Luis

PT Loss:

-1%
Darvish, Yu

PT Gain:

12%
Watson, Tony

PT Gain:

4%

SV Gain:

5%
Hatcher, Chris

PT Loss:

-2%
Dayton, Grant

PT Loss:

-2%
Kershaw, Clayton

PT Loss:

-1%
Stewart, Brock

PT Loss:

-4%
Kazmir, Scott

PT Loss:

-3%
Maeda, Kenta

PT Loss:

-1%
McCarthy, Brandon P

PT Loss:

-3%

---

In the hunt? BaseballHQ.com can help you snag the title. Unlock all of our insights like these for the rest of the season: Subscribe to BaseballHQ.com.

---

Nationals | Washington acquires Brandon Kintzler
Minnesota Twins RHP Brandon Kintzler was acquired by the Washington Nationals Monday, July 31, according to a source. It is not known what the Twins received in the trade. Source: The Washington Post - Chelsea Janes
BHQ take: Kintzler's value takes a hit with the trade to Washington, at least in leagues that use saves, but not holds. While he was closing for the Twins, he was far from the classic closer with a Dom of only 5.4. The expectation is that he'll slot in behind Ryan Madson, who's been handling the eighth inning since coming to Washington, and Sean Doolittle, who's been closing. —Phil Hertz
Impact: High
Kintzler, Brandon

SV Loss:

-80%
Doolittle, Sean

SV Gain:

5%
Madson, Ryan

SV Loss:

-5%

---

Cubs | Justin Wilson, Alex Avila acquired
The Chicago Cubs acquired RP Justin Wilson and C Alex Avila from the Detroit Tigers early Monday, July 31, in exchange for 3B prospect Jeimer Candelario and 2B prospect Isaac Paredes. Source: Detroit Free Press - Anthony Fenech
BHQ take: Wilson goes from DET closer to CHC setup reliever, likely becoming the backup closer and primary eighth-inning reliever. He has a stellar 141 BPV and 15% SwK, clearly indicating swing-and-miss ability. His low FpK% is a concern, though his Ctl remains respectable. His addition gives CHC three LH relievers, suggesting the others could now be used more often in LHB matchups. Reliever Justin Grimm is likely the odd man out of a crowded bullpen, though Grimm is likely to return later in the season. Avila adds an experienced LHB as backup catcher/first baseman, with prospect Victor Caratini likely to return to Triple-A. Caratini also seems likely to return during September roster expansion. Avila is a line-drive hitter with prodigious power and excellent patience, though he is contact-challenged. He is currently sporting career high 186 xPX and 129 HctX. —Tom Kephart
Impact: High
Grimm, Justin
Avila, Alex

PT Gain:

25%
Caratini, Victor

PT Loss:

-25%
Wilson, Justin J

SV Loss:

-80%

---

Rockies | Colorado lands Jonathan Lucroy
The Colorado Rockies are acquiring C Jonathan Lucroy from the Texas Rangers Sunday, July 30, according to a source. Source: FOXSports.com - Ken Rosenthal
BHQ take: The Rockies hoped that by this time in 2017, Tom Murphy would be showing signs of being their long-term answer at catcher. But a 1-for-20 debut in June has removed Murphy from the equation for now, and the collective COL backstops' .617 OPS and 33 RBI are the second and third worst in MLB, respectively. Enter Lucroy, in his second end-of-July address change in two seasons. In the equivalent of a full season in Texas, Lucroy had a .254/.314/409 line, but the Rockies are expecting that a return to the National League, where he spent parts of seven seasons with MIL and hit .284/.342/.436, will be energizing. Lucroy makes elite 89% contact and has a solid 0.59 Eye, but has inexplicably lost his power in 2017. Even if his 24-HR 2016 is the outlier it appears to be, his career 22% line drive rate and 107 HctX have always provided a solid BA floor. But this season, despite Texas' Globe Life Park being an ally to offense, those figures have dropped to 80 and 17%, respectively. Lucroy will be a free agent when the campaign concludes, so he has a chance to make amends in THE hitters' park—for the home team or for other suitors. Regardless of what happens at season's end, having Lucroy behind the plate now is a clear win for the Rockies. —Rob Carroll
Impact: High
Wolters, Tony

PT Loss:

-40%
Murphy, Tom

PT Loss:

-15%
Garneau, Dustin

PT Loss:

-5%
Lucroy, Jonathan

PT Gain:

70%
Hanigan, Ryan

PT Loss:

-10%

---

Diamondbacks | Chris Owings to 60-day DL
Arizona Diamondbacks SS/OF Chris Owings (finger) was placed on the 60-day disabled list with a fractured right middle finger Monday, July 31. Source: MLB.com
BHQ take: There was a flurry of ARI trade-deadline maneuvering prompted by two developments: the transfer of Chris Owings to the 60-day DL followed by last-shortstop-standing Ketel Marte's placement on the bereavement list. The former pretty much puts a wrap on Owings' 2017 season, and the latter left the Diamondbacks in such an immediate shortstop bind that they made back-to-back acquisitions of versatile veterans. Emilio Bonifacio, released by the Braves at the beginning of June, was signed to a minor league contract and should ultimately return to ARI for his second tour—his MLB debut was with them in 2007. In between, he played for seven other teams and took advantage of his 158 Spd and 30% SBO to net 166 career SB. Only two of those SB have come since 2014, when playing time dried up (154 AB since then) as his BA dropped way below the Mendoza Line. Although Bonifacio has played more OF in the latter stages of his career, he has plenty of experience at both MI positions. The other new Diamondback, Adam Rosales, late of Oakland, employs a variety of gloves as well. Rosales hit a career-best 13 HR in 2016, but this season he has four in roughly the same number of at-bats (205), and identical career BA and xBA (.228) point to annual struggles with the wood. When Marte returns, expect him to be the everyday SS, with Daniel Descalso and now Rosales pitching in, although both Rosales and (eventually) Bonifacio can be plugged in anywhere. If/when Nick Ahmed returns—and last word had him still being held out of baseball activities—the MI deck will be reshuffled again. —Rob Carroll
Impact: Med
Ahmed, Nick
Owings, Christopher

PT Loss:

-45%
Marte, Ketel

PT Gain:

35%
Bonifacio, Emilio

PT Gain:

5%
Descalso, Daniel W
Rosales, Adam M

PT Gain:

5%

---

Mets | Josh Edgin off 40-man roster
New York Mets LHP Josh Edgin was designated for assignment Sunday, July 30. Source: MLBRosterMoves
BHQ take: Edgin's usage declined as the season progressed. His overall xERA is 5.13; over the past month, it was 6.84. Even if he land elsewhere, he's unlikely to be rosterable in even the deepest of leagues. —Phil Hertz
Impact: Low
Edgin, Josh

PT Loss:

-3%

---

Mets | Three prospects to Mets
Boston Red Sox RHP Jamie Callahan, RHP Gerson Bautista and RHP Stephen Nogosek were acquired by the New York Mets for RHP Addison Reed Monday, July 31. Source: The Boston Globe - Alex Speier
BHQ take: Updating the news on the Met bullpen, Reed's departure makes A.J. Ramos the Met closer—at least for now. You'll note that while we've restored most of the saves that we took away when he landed in New York, we've capped him at 80%. That's because 2015 and 2016 closer Jeurys Familia is expected to return before the season ends and will likely get some save chances or even displace Ramos as the closer. In the meantime, Ramos will get most if not all of the Met safe opportunities; however, owners need to be cognizant of Ramos' Ctl issues. For the season his Ctl is 5.1 and for the last 31 days, it's been 5.8. Any further erosion in that area could lead to his losing the job entirely. As far as the prospects acquired by the Mets, only Callahan is likely to see the majors in 2017. Callahan started the season at Double-A Portland where he excelled: 1.38 ERA with no walks and 20 strikeouts in 13 innings. That earned him a promotion to Triple-A Pawtucket where he's compiled a 4.03 ERA over 29 innings, but has struck out 36 against 13 walks. If and when he gets the call, he'll be covered in the Daily Call-Ups column. —Phil Hertz
Impact: High
Callahan, Jamie

PT Gain:

2%
Ramos, A.J.

PT Gain:

1%

SV Gain:

5%

---

Cardinals | Stephen Piscotty starts rehab stint
St. Louis Cardinals OF Stephen Piscotty (groin) began his rehab assignment with Class A Peoria Thursday, July 27. He's scheduled to play three more games there. Source: The Associated Press
BHQ take: Piscotty will be activated for the Cards' game on Aug. 1. So far, 2017 has not been kind to Piscotty. He has a .238 xBA and a PX of 85, although his xPX is a solid 124. To make room for Piscotty, St. Louis sent Harrison Bader back to Triple-A. Bader went 6-for-21 during his stay in the majors. He likely will be back when rosters expand if not before. —Phil Hertz
Impact: Med
Piscotty, Stephen

PT Gain:

10%
Bader, Harrison

PT Loss:

-5%

---

Reds | Cincy acquires Scott Van Slyke, Hendrik Clementina
Los Angeles Dodgers OF Scott Van Slyke and C Hendrik Clementina were acquired by the Cincinnati Reds Monday, July 31, in exchange for LHP Tony Cingrani. Source: New York Post - Joel Sherman
BHQ take: Cingrani's departure leaves the CIN bullpen with only one LHP, though it likely increases the temporary job security of RH relievers Asher Wojciechowski and Kevin Shackelford, who are likely to absorb some of Cingrani's innings. Relievers Ariel Hernandez and Austin Brice, who have shuttled between CIN and Triple-A, could be candidates for additional promotions. Both are currently in Triple-A. Wojciechowski struggled as an early season replacement starter, yet has been effective in a multiple-inning relief role. He has allowed only two ER in 16.2 IP in relief, with 20 K/5 BB. Shackleford has made two relief appearances after posting strong numbers in Triple-A. Van Slyke will likely transfer to CIN's Triple-A club and could get a late-season promotion to CIN. He has struggled both with LA and in Triple-A in 2017 in his return from 2016 wrist surgery. He showed power and an ability to mash LHP in a part-time role earlier in his MLB career. —Tom Kephart
Impact: Low
Shackelford, Kevin

PT Gain:

1%
Hernandez, Ariel
Brice, Austin
Wojciechowski, Asher

PT Gain:

1%
Van Slyke, Scott

---

Brewers | Jeremy Jeffress joins Brewers
Texas Rangers RHP Jeremy Jeffress was acquired by the Milwaukee Brewers Monday, July 31, for an undisclosed package. Source: ESPN.com - Jerry Crasnick
BHQ take: With MIL having starting pitching injuries, the Jeffress acquisition seems to recognize that more innings likely will be provided by MIL relievers. It is unclear who might be removed from the roster to make room for Jeffress. Jeffress is a groundballer who was effective previously with MIL, though he has struggled with Ctl and Cmd in 2017. He likely will initially work in lower-leverage situations, though he could move into higher leverage work in time, depending on performance. —Tom Kephart
Impact: Low
Jeffress, Jeremy

---

News feed provided by: Fantasy.USATODAY.com

Playing Time Key

The playing time percentage changes at the bottom of most news items correspond to BaseballHQ.com's Teamview pages. The percentages approximate changes in AB, IP and Saves in the following manner:

For batters, each 5% of PT% ~ 31 AB (100% total for each position = 618 AB)
For pitchers, each 3% of PT% ~ 44 IP (100% total for a team's entire pitching staff)
For relievers, each 5% of Svs ~ 2 saves (100% of a team's total = about 40 saves)

A complete explanation of BaseballHQ.com's playing time allocations can be found in the article "How the Projections are Created."
For more information about the terms used in this article, see our Glossary Primer.
Free Weekly eNewsletter
The industry's #1 analytical weekly e-mail newsletter is ABSOLUTELY FREE!
More Information
Shopping Cart
Listen to Baseball HQ's weekly audio programs.
Subscribe today!
Learn More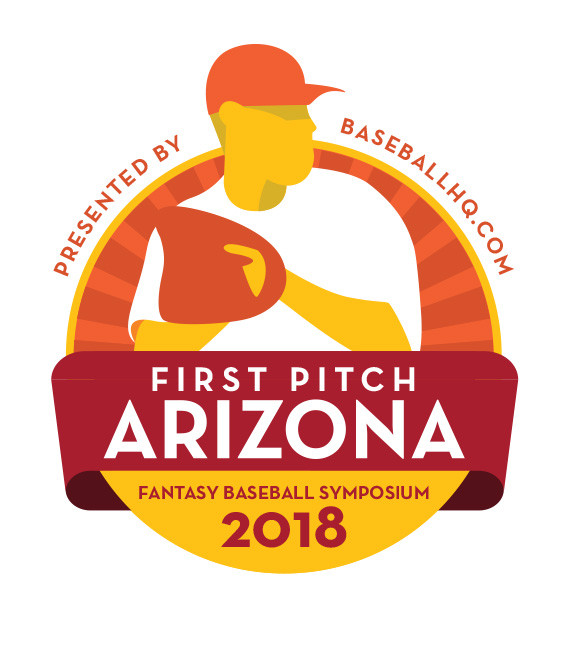 Nov 1-4, 2018
EARLY-BIRD REGISTRATION NOW OPEN!