PT TODAY: Martinez emerges as closer after Hicks injury
By BaseballHQ
June 26th, 2019 12:07am
Team-by-team playing time allocation charts can be found in our Teamview pages.
National League

| American League
Cardinals | St. Louis reshuffles pitching staff
St. Louis Cardinals RP Jordan Hicks (elbow) was placed on the 10-day injured list with a torn ulnar collateral ligament in his right elbow Tuesday, June 25. The team also optioned RP Genesis Cabrera to Class AAA Memphis. To fill the vacancies on the roster, the Cardinals recalled RHP Daniel Ponce de Leon and RP Dominic Leone from Memphis. Source: Cardinals.com
BHQ take: Hicks is currently scheduled to have Tommy John surgery June 26 and will miss the rest of 2019 and probably a good chunk of 2020. For now, we've given Martinez the bulk of the Cardinals' saves, but John Gant could figure into the equation, as could Andrew Miller. Martinez has been solid since returning from the IL—3.41 xERA and a 110 BPV—and also saved five games late in 2018. Gant has similar numbers so far in 2019—3.50 xERA and 99 BPV—but he's been knocked around this month. Miller actually has shown the best skills of the trio. So far in 2019, he has a 3.23 xERA and a 138 BPV, and over the 31 days entering play on June 25, he has a 2.19 xERA with a 15.1 Dom, 4.7 Cmd and a 196 BPV. Poncedeleon has been shuttling between Memphis and St. Louis. When he was last sent to the minors, we advised deep league owners to keep tabs on him. That advice remains current. Leone also has been up and down. With St. Louis, he had an 8.02 ERA, although his xERA was a much better 4.52 and his BPV was a decent 94. Finally, Cabrera was a surprise call-up late in May and has already been up and down a couple of times. He's struggled at the MLB level. While he may return to St. Louis in 2019, he's more interesting for the future in keeper and dynasty leagues. —Phil Hertz
Impact: High
Leone, Dominic

PT Gain:

2%
Martinez, Carlos

PT Loss:

-2%

SV Gain:

45%
Cabrera, Genesis

PT Loss:

-1%
Poncedeleon, Daniel
Hicks, Jordan

PT Loss:

-5%

SV Loss:

-70%
Gant, John

PT Loss:

-1%

SV Gain:

25%
Miller, Andrew M

PT Gain:

1%

SV Gain:

10%

---

Nationals | Washington brings in bullpen reinforcements
Washington Nationals RP Fernando Rodney had his contract selected from Class AAA Fresno and RP Jonny Venters had his contract purchased from Class AA Harrisburg on Tuesday, June 25. The team also optioned RP Kyle McGowin to Fresno and transferred RHP Jeremy Hellickson (shoulder) from the 10-day injured list to the 60-day injured list. Source: MLBRosterMoves
BHQ take: The Nationals continue to shuffle the chairs on the Titanic, otherwise known as their bullpen. This time, they're trying two veterans. Both were in the majors earlier in 2019, but to say they struggled is an understatement. Venters had a 10.21 xERA and a -146 BPV over nine appearances with Atlanta. Rodney was a bit better: 5.69 xERA and a -15 BPV over 17 appearances with Oakland. McGowin had only been up two days during his latest stint with Washington. He may return later this year, but has done little that would recommend him to fantasy owners. —Phil Hertz
Impact: Low
McGowin, Kyle

PT Loss:

-2%
Venters, Jonny

PT Gain:

2%
Hellickson, Jeremy
Rodney, Fernando

PT Gain:

1%

---

Phillies | Fernando Salas called up
Philadelphia Phillies RP Fernando Salas had his contract selected from Class AAA Lehigh Valley on Monday, June 24. The team also optioned RP Enyel De Los Santos to Lehigh Valley and transferred OF Andrew McCutchen (knee) from the 10-day injured list to the 60-day IL. Source: MLBRosterMoves
BHQ take: The veteran Salas had been pitching in the Mexican League until recently. He had spent parts of the past couple of seasons with a number of different MLB teams but with little success: xERAs were over 4.50. He was used by Philadelphia right away, pitching one inning against the Mets, yielding three hits, including a homer. Until and unless he starts to have a run of success, he's not a candidate for fantasy rosters. De Los Santos has become a regular feature of Playing Time Today, as he shuttles between the minors and majors. Most recently he started on June 23 and wound up with a PQS-0. He may have future value, but is unlikely to be an asset in 2019. —Phil Hertz
Impact: Low
De Los Santos, Enyel
Salas, Fernando

PT Gain:

2%

---

Braves | Sean Newcomb activated
Atlanta Braves LHP Sean Newcomb (concussion) was activated from the 7-day concussion list Tuesday, June 25. RHP Chad Sobotka was optioned to Triple-A Gwinnett. Source: MLB.com
BHQ take: Newcomb had returned to the rotation at the time he was struck by a line drive sending him to the concussion list. There was some expectation that Newcomb would return to the rotation with the news that Mike Foltynewicz was headed to the minors. Instead, Atlanta has opted to put him in the bullpen where he had thrived after being recalled from the minors. Over his last 17 appearances before June 25, he had only allowed two earned runs. Sobotka has been shuttling been Atlanta and Gwinnett. He was only up a couple of days this time around, although he did make one appearance in which he pitched two shutout innings. —Phil Hertz
Impact: Med
Sobotka, Chad

PT Loss:

-1%
Newcomb, Sean

---

Braves | Bryse Wilson likely to start
Atlanta Braves RHP Bryse Wilson is likely to come up to start Thursday, June 27, against the Chicago Cubs. Wilson is 1-1 with a 3.43 ERA, a 1.33 WHIP and 28 K's in 21 innings over four starts at Triple-A Gwinnett this month. Source: The Atlanta Journal-Constitution - Gabriel Burns
BHQ take: Wilson was Atlanta's No. 7 prospect coming into 2019. He made a start and a relief appearance earlier in 2019 and the start was a PQS-0. At Gwinnett, he has a 3.79 ERA with 79 strikeouts and 16 walks over 78.1 innings. He's obviously someone that fantasy owners should be considering. The question is whether he's ready to make a contribution now. —Phil Hertz
Impact: Med
Wilson, Bryse

PT Gain:

1%

---

Marlins | Neil Walker reinstated
Miami Marlins 1B Neil Walker was activated from the 10-day injured list on Tuesday, June 25. Source: MLB.com
BHQ take: Walker missed almost four weeks with his quad injury. Before getting hurt, he had been reasonably productive, playing mostly against right-hander pitchers. Entering play on June 25, he was hitting .295 (xBA of .262) with a 122 xPX. The expectation is that the Marlins will use him the same way going forward, but keep in mind, he's a likely trade candidate. If traded, his playing time could evaporate. —Phil Hertz
Impact: Med
Walker, Neil

PT Gain:

5%

---

American League

| National League
Red Sox | Steven Wright good to go
Boston Red Sox RP Steven Wright was reinstated from the restricted list Tuesday, June 25. The Red Sox also transferred RHP Nathan Eovaldi (elbow) from the 10-day injured list to the 60-day injured list and optioned RP Josh A. Smith to Class AAA Pawtucket. Source: The Boston Globe - Peter Abraham
BHQ take: Wright last pitched in September 2018 when he returned from knee inflammation, then was hit with a suspension for using a banned substance, so there is little recent track record to go on. He is currently expected to be used in relief, and some news outlets are projecting that he will quickly move to a high-leverage role in the bullpen. The knuckleballer's career 7.4 Dom and 2.1 Cmd are below the norms for effective relievers, but his slight groundball tilt allows his infielders to keep the bases clear (career .246 oOBA). —Matt Dodge
Impact: Low
Johnson, Brian

PT Loss:

-2%
Smith, Josh

PT Loss:

-1%
Wright, Steven

PT Gain:

3%
Eovaldi, Nathan

PT Loss:

-1%

---

Astros | George Springer activated
Houston Astros OF George Springer (hamstring) was activated from the 10-day injured list Tuesday, June 25. LHP Reymin Guduan was optioned to Triple-A Round Rock. Source: MLB.com - Brian McTaggart
BHQ take: Springer returns to his starting spot in CF, while Guduan continues to ride the HOU-to-Round Rock shuttle. Springer's return further buries both Myles Straw and Tony Kemp—who have seen just one start between them over the past seven days—on the MLB bench until further notice. They project to serve as both OF and infield backup depth until Carlos Correa and Aledmys Diaz return sometime after the All-Star break. —Jock Thompson
Impact: High
Springer, George

PT Gain:

15%
Straw, Myles

PT Loss:

-10%
Guduan, Reymin
Kemp, Anthony

PT Loss:

-5%

---

Rays | Tyler Glasnow being shut down
Tampa Bay Rays SP Tyler Glasnow (arm) underwent an MRI Sunday, June 23, which revealed right flexor inflammation, and he's being shut down for three weeks. Source: The Athletic - Josh Tolentino
BHQ take: Just an update for those owners still holding on to Glasnow: this latest MRI result means that he will not return to the mound again until mid-July, and puts his return to the Rays in the mid-August time frame. Owners in keeper and dynasty leagues will no doubt stash him for 2020 and take anything from 2019 as gravy, but redraft league owners might find more effective use of his roster slot for the second half of the season. —Matt Dodge
Impact: Low
Glasnow, Tyler

PT Loss:

-2%

---

White Sox | Jon Jay ready to roll
White Sox OF Jon Jay was activated from the 60-day injured list Monday, June 24. The team also designated RHP Odrisamer Despaigne for assignment. Source: WhiteSox.com
BHQ take: Jay made his season debut for the Sox on Monday, June 24, going 0-for-2 hitting from the sixth spot. His biggest asset in fantasy terms is OBP (career .352) and offers little power or speed. In 16 minor league rehab games he slashed .333/.354/.365 with no HR (no surprise there) and one SB. Jay crowds the White Sox OF, but we expect Eloy Jimenez and Leury Garcia to keep their current PT estimates and Charlie Tilson and Ryan Cordell to lose some of theirs. —Rick Green
Impact: Low
Jay, Jon

PT Gain:

10%
Cordell, Ryan

PT Loss:

-5%
Tilson, Charlie

PT Loss:

-5%
Despaigne, Odrisamer

---

Indians | Mike Clevinger cleared to start Friday
Cleveland Indians SP Mike Clevinger (ankle) will start Friday, June 28, against the Baltimore Orioles, according to manager Terry Francona. Source: MLB.com - Mandy Bell
BHQ take: Clevinger seemingly will miss only one start due to the ankle sprain. Aaron Civale, impressive in his spot start as Clevinger's replacement, returned to Triple-A a day after his victory in his MLB debut. Clevinger was sidelined in his return to action after missing more than two months with a back muscle strain. He struggled in that start, allowing five ER with 7 K/3 BB in 4.2 IP. Clevinger had a breakout 2018 season, as he showed career-best skills while posting a 3.02 ERA and 207 strikeouts. Civale now is likely first in line for a spot start, or as a rotation replacement if any more injuries beset the CLE rotation. —Tom Kephart
Impact: High
Civale, Aaron

PT Gain:

1%
Clevinger, Michael

PT Gain:

1%

---

Yankees | Stephen Tarpley recalled
New York Yankees LHP Stephen Tarpley was recalled from Triple-A Scranton/Wilkes Barre Tuesday, June 25. 1B Kendrys Morales (calf) was activated from the 10-day injured list and designated for assignment. Source: MLB.com
BHQ take: Tarpley rides back on the Triple-A shuttle to replace Jonathan Holder, who's June 24 appearance (5 hits, 5 runs, 0 outs) was the last straw in a 6.81 ERA compiled over 36 innings with a 1.07 Leverage Index. Tarpley's small 2019 sample shows 10 K/5 BB in 6 IP, which will have to improve for him to stay in the majors. Morales' designation was already anticipated with the recent acquisition of Edwin Incarnation and activation of Giancarlo Stanton and Aaron Judge. —Matt Dodge
Impact: Low
Tarpley, Stephen

PT Gain:

1%
Holder, Jonathan

PT Loss:

-1%
Morales, Kendrys

---

Astros | Collin McHugh activated
Houston Astros RHP Collin McHugh (elbow) was activated from the 10-day injured list Tuesday, June 25. RHP Rogelio Armenteros was optioned to Triple-A Round Rock. Source: MLB.com - Brian McTaggart
BHQ take: After making eight starts to begin the season, McHugh (6.04 ERA through 45 IP) will reportedly return to the bullpen and long relief, at least for now. The No. 5 rotation spot will continue to be manned by Framber Valdez, though this is always subject to change. To be continued. —Jock Thompson
Impact: Med
Armenteros, Rogelio

PT Loss:

-1%
McHugh, Collin

PT Gain:

1%

---

Rangers | Joey Gallo reinstated
Texas Rangers OF Joey Gallo was activated from the 10-day injured list Tuesday, June 25. Source: TexasRangers.com - John Blake
BHQ take: Contrary to previous noise from TEX about him moving to LF, Gallo was back in CF in his first game back, which may bode ill for Delino DeShields' potential PT. Gallo is a must-play in all formats—with 17 HR in just 170 AB, an absurd 20% walk rate, and an xBA of .264, the 1.074 OPS Gallo brings out of his DL stint is fully supported. Yes, he's still fanning at an incredible rate (55% ct%), but an equally staggering 267 PX has offset that. For sure, Gallo is a true anomaly, even among today's HR-centric crowd. But his skills profile—however unusual—suggests that Gallo may indeed be on the cusp of stardom. —Rod Truesdell
Impact: High
DeShields Jr., Delino

PT Loss:

-5%
Gallo, Joey

PT Gain:

5%

---

Yankees | Giancarlo Stanton leaves Tuesday's game
New York Yankees OF Giancarlo Stanton (undisclosed) left the game Tuesday, June 25, against the Toronto Blue Jays due to an apparent injury. He was replaced in left field by OF Brett Gardner. Source: MLB.com - Bryan Hoch
BHQ take: Early reports at the time of this writing indicate that Stanton's left hand was spiked while he was sliding headfirst into third base during the first inning of the game. Daily league owners may want to sit him on June 26, pending additional information as it becomes available. —Matt Dodge
Impact: Low
Stanton, Giancarlo
Gardner, Brett
News feed provided by: Fantasy.USATODAY.com
Playing Time Key
The playing time percentage changes at the bottom of most news items correspond to BaseballHQ.com's Teamview pages. The percentages approximate changes in AB, IP and Saves in the following manner:
For batters, each 5% of PT% ~ 31 AB (100% total for each position = 618 AB)
For pitchers, each 3% of PT% ~ 44 IP (100% total for a team's entire pitching staff)
For relievers, each 5% of Svs ~ 2 saves (100% of a team's total = about 40 saves)
A complete explanation of BaseballHQ.com's playing time allocations can be found in the article "How the Projections are Created."
For more information about the terms used in this article, see our Glossary Primer.
Shopping Cart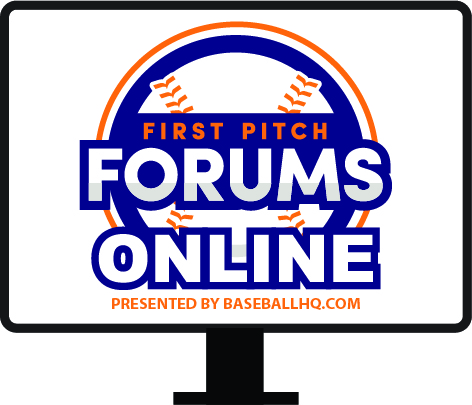 Our virtual First Pitch Forum returns!
Three online-only events: March 5, 11, 17
Join us live, or watch when you want
Just $19!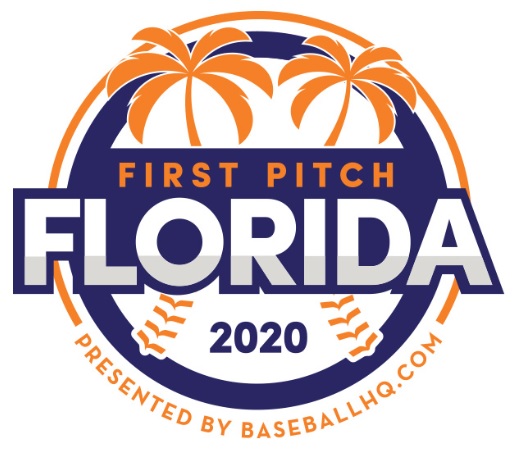 Inaugural Event!
February 28-March 1, 2020
St. Petersburg, FL
A few seats still left!