PT TODAY: Martin DFA opens up AB for Mercado and others
By BaseballHQ
June 23rd, 2019 12:07am
Team-by-team playing time allocation charts can be found in our Teamview pages.
American League

| National League
Indians | Leonys Martin off 40-man roster
Cleveland Indians OF Leonys Martin was designated for assignment Saturday, June 22. The team also selected the contract of RHP Aaron Civale from Class AAA Columbus. Source: MLB.com
BHQ take: Civale earned the win in his June 22 MLB debut by pitching six scoreless two-hit innings with 6 K/3 BB versus DET as injured RHP Mike Clevinger's replacement. Clevinger is sidelined with an ankle sprain. Civale's performance likely earned him an opportunity to remain in the rotation for now. He is previewed in our June-18-June-24 Call-ups. The timing of Martin's roster removal is somewhat surprising, as CF Bradley Zimmer likely will not be ready to return to action until July, perhaps not until after the All-Star break, after overcoming multiple setbacks in his recovery from the labrum surgery which ended his 2018 season. Martin's departure likely means increased PT for outfielders Oscar Mercado, Tyler Naquin, and Jordan Luplow. Jake Bauers, CLE's primary DH to date while seeing scattered LF PT, could see more LF PT, particularly until Zimmer has completed a minor league rehab assignment and returned to CLE. Expanded OF PT for Bauers could mean CLE's starting infielders see more DH time, creating an opening for infielder Mike Freeman, who has provided an unexpected offensive boost in a part-time role. The Indians are still likely searching for OF help, if they're serious about making a run at making the postseason, as the CLE OF has been one of the game's least productive. Mercado seems clearly to have cemented a regular role with his play since his May promotion from Triple-A, though his statistical production is not fully supported by his skills in his still-small sample. Mercado's .274 xBA and mediocre ct% suggest his current .300+ BA could slide, while his meager 5% bb% suggests he will also struggle to retain his current .350+ OBP. On the positive side, Mercado's xPX and HctX suggest more hard contact in his future. His wheels remain his best asset, and will likely be impactful so long as he sustains even a mediocre OBP. —Tom Kephart
Impact: High
Civale, Aaron

PT Gain:

2%
Mercado, Oscar

PT Gain:

25%
Luplow, Jordan

PT Gain:

15%
Bauers, Jake
Freeman, Michael

PT Gain:

5%
Naquin, Tyler

PT Gain:

15%
Clevinger, Michael

PT Loss:

-2%
Zimmer, Bradley

PT Gain:

20%
Martin, Leonys

PT Loss:

-80%

---

Yankees | Cameron Maybin injury update
Updating a previous report, New York Yankees OF Cameron Maybin (calf) has been diagnosed with a Grade 2 calf strain and will miss an extended period of time, according to manager Aaron Boone. Source: Newsday - Erik Boland
BHQ take: The Yankees' plan to keep five OFs on the roster lasted all of one day, due to Maybin's extended trip to the IL. The current plan is for NYY to play with a 24-man roster, as they plan to recall Nestor Cortes to follow opener Chad Green on June 25, and they can only bring Cortes back that quickly if his return is associated with the IL placement. That pitching tandem has delivered three straight wins (June 9, 15, and 20), so expect the Yankees to continue that pairing as long as it is effective. —Matt Dodge
Impact: Low
Gardner, Brett

PT Gain:

10%
Maybin, Cameron

PT Loss:

-10%
Cortes, Nestor
Green, Chad

---

Rays | Daniel Robertson placed on IL
Tampa Bay Rays INF Daniel R. Robertson (knee) was placed on the 10-day injured list Saturday, June 22, because of right knee inflammation. The team also selected the contract of INF Michael Brosseau to Class AAA Durham. Source: MLBRosterMoves
BHQ take: Robertson was just recalled on June 19 to provide utility infield coverage, and at this writing, there is no timeline for his return. Brosseau was showing strong plate skills at AAA-Durham (12% bb%, 79% ct%), and was in the Top 5 of several International League offensive categories (RBI, Total Bases, OBP, and Slg). He, too, will be used in a utility role, and further details of his minor league performance can be found in the Daily Call-ups section. —Matt Dodge
Impact: Low
Brosseau, Michael

PT Gain:

5%
Robertson, Daniel

PT Loss:

-5%

---

National League

| American League
Pirates | Gregory Polanco on injured list
Pittsburgh Pirates OF Gregory Polanco (shoulder) was placed on the 10-day injured list Saturday, June 22, because of left shoulder inflammation. The team also recalled OF Jason Martin from Class AAA Indianapolis. Source: MLB.com
BHQ take: This is the same shoulder that Polanco had offseason surgery on. The injury likely explains his slump in June (eight hits). As the Pirates were splitting OF duties between Polanco, Corey Dickerson, Starling Marte and Bryan Reynolds, we won't allocate any extra AB to the recently promoted Jason Martin. Expect Dickerson and Reynolds to pick up the extra AB (even Melky Cabrera) while Polanco is out. —Rick Green
Impact: Med
Martin, Jason
Reynolds, Bryan

PT Gain:

5%
Polanco, Gregory

PT Loss:

-10%
Dickerson, Corey

PT Gain:

5%
News feed provided by: Fantasy.USATODAY.com
Playing Time Key
The playing time percentage changes at the bottom of most news items correspond to BaseballHQ.com's Teamview pages. The percentages approximate changes in AB, IP and Saves in the following manner:
For batters, each 5% of PT% ~ 31 AB (100% total for each position = 618 AB)
For pitchers, each 3% of PT% ~ 44 IP (100% total for a team's entire pitching staff)
For relievers, each 5% of Svs ~ 2 saves (100% of a team's total = about40 saves)
A complete explanation of BaseballHQ.com's playing time allocations can be found in the article "How the Projections are Created."
For more information about the terms used in this article, see our Glossary Primer.
Shopping Cart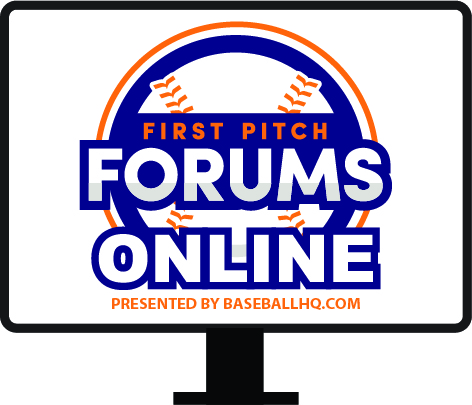 Our virtual First Pitch Forum returns!
Three online-only events: March 5, 11, 17
Join us live, or watch when you want
Just $19!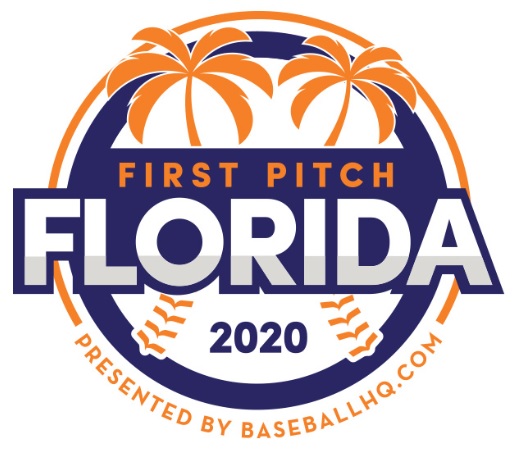 Inaugural Event!
February 28-March 1, 2020
St. Petersburg, FL
A few seats still left!