PT TODAY: LA turns to Taylor while Seager's out
By BaseballHQ
June 14th, 2019 12:07am
Team-by-team playing time allocation charts can be found in our Teamview pages.
National League

| American League
Dodgers | Corey Seager hits IL, likely out a month
Los Angeles Dodgers SS Corey Seager (hamstring) was placed on the 10-day injured list with a hamstring strain Thursday, June 13. According to ESPN's Alden Gonzalez, Seager could 'theoretically' return to action in four to six weeks. Source: ESPN.com - Alden Gonzalez
BHQ take: Seager will be out until sometime after the All-Star break, perhaps until the end of July. For now, we'll give all of his playing time to Chris Taylor, who had lost AB early this season due to a decline in his offensive production. Taylor now owns a .218 BA with five HR through 174 AB suggesting that his new PT% at SS isn't etched in stone. Enrique Hernandez can also man the position, and LA has plenty of resource/prospect resources at their disposal to find an upgrade. We'll stay on it. Utility Matt Beaty takes Seager's place on the 25-man roster for now. —Jock Thompson
Impact: High
Seager, Corey

PT Loss:

-25%
Taylor, Chris

PT Gain:

25%

---

Marlins | Martin Prado will miss time
Updating a previous report, Miami Marlins INF Martin Prado (hamstring) will be placed on the injured list after hurting his hamstring on Wednesday, June 12, according to manager Don Mattingly. Source: The Associated Press
BHQ take: Prado had seen an uptick in at-bats with Neil Walker on the IL with his own leg injury, but the extra at-bats did not help him turn around things. Over his last 57 at-bats, he had only 10 hits and no homers. By the time he's ready to return, Miami will likely have Walker back, so Prado's likely to see his playing time cut considerably. —Phil Hertz
Impact: Low
Prado, Martin M

PT Loss:

-20%

---

Cardinals | Genesis Cabrera promoted
St. Louis Cardinals RP Genesis Cabrera was recalled from Class AAA Memphis on Thursday, June 13. The club also placed RP Ryan Helsley (shoulder) on the 10-day injured list with a right shoulder impingement. Source: MLBRosterMoves
BHQ take: As we noted in a June 6 Playing Time Today note, Cabrera was up for two starts that did not go particularly well. That performance led the Cardinals to send him back to Triple-A for more seasoning. It's not clear how St. Louis will use Cabrera this time around. He received an 8D rating from BaseballHQ.com when he was recalled in late May, so he's definitely worth monitoring in deep keeper leagues. For 2019, rostering him may be very risky. As for Helsley, he had been a regular feature in Playing Time Today notes as he shuttled between St. Louis and Memphis. It's not clear how long the shoulder injury will keep him on the sidelines, but like Cabrera, he's more of a future play than someone who will help teams in 2019. —Phil Hertz
Impact: Med
Cabrera, Genesis

PT Gain:

2%
Helsley, Ryan

PT Loss:

-2%

---

Phillies | Yankees ship Brad Miller to Philly
The Philadelphia Phillies acquired INF Brad Miller from the New York Yankees in exchange for cash considerations Thursday, June 13. Miller is expected to join his new team this weekend. Source: MLB.com - Todd Zolecki
BHQ take: Miller is joining his fifth organization in two years. He is expected to fill the role Jay Bruce was originally acquired for. Bruce had been expected to be a part-time player and a left-handed bat off the bench. With Andrew McCutchen out for the season, Bruce is now playing regularly, so the Phils went out and got another left-handed bat. Miller had been very productive in 2015 and 2016, but since then he's struggled to provide positive value. He went 9-for-36 for the Indians earlier this year, but of late Miller has been playing at Triple-A. He has thrived there: 10 homers and a .994 OPS over 136 at-bats. If he gets some at-bats, he might be worthy of consideration for a roster spot in deep leagues. —Phil Hertz
Impact: Med
Miller, Bradley

PT Gain:

10%

---

Mets | Jed Lowrie's return not imminent
New York Mets 2B Jed Lowrie (knee, hamstring) has been doing baseball activities in Florida but is 'not close' to game action, according to manager Mickey Callaway. Source: MLB.com - Anthony DiComo
BHQ take: Just a note that Lowrie is still a ways away from making contributions to the Mets and fantasy teams. With that news, we've reduced Lowrie's projected at-bats yet again. And, further reductions may be necessary as additional news is forthcoming. —Phil Hertz
Impact: Med
Lowrie, Jed

PT Loss:

-10%

---

Padres | Robert Stock optioned
San Diego Padres RP Robert Stock was optioned to Class AAA El Paso Thursday, June 13, to make room for the activation of SP Matt Strahm. Source: MLB.com - AJ Cassavell
BHQ take: Strahm was activated from the 10-day injured list to start Thursday, June 13, against the Colorado Rockies at Coors Field. After tossing just 76 IP as a reliever between SD and the minors last year, Strahm has already made 11 starts (60 IP, 4.03/4.17 ERA/xERA) in 2019. He's been pretty steady, allowing more than three runs just twice all year, in his very first and last start before landing on the IL. As suggested by his recent hiatus, Strahm's workload will now be managed going forward. Stock continues his ongoing shuttle between San Diego and the minors. —Jock Thompson
Impact: High
Stock, Robert
Strahm, Matt

PT Gain:

1%

---

Giants | Buster Posey ready to play
San Francisco Giants C Buster Posey (hamstring) was activated from the 10-day injured list Wednesday, June 12. The team also optioned C Aramis Garcia to Class AAA Sacramento. Source: MLBRosterMoves
BHQ take: Posey missed the minimum time and returned to a .257/.321/.408 slash line in 168 plate appearances. He then went 1-for-4 in his return game and will again assume the bulk of the backstop duties for the Giants. Age, recent durability issues and the rigors of the position are conspiring against him—most noticeably in the power department—but he retains fantasy relevancy with his solid bat-on-ball and plate skills. Garcia was 2-for-10 with a homer in this recent turn with SF, and Stephen Vogt resumes his role as Posey's backup. —Rob Carroll
Impact: High
Garcia, Aramis

PT Loss:

-5%
Vogt, Stephen

PT Gain:

5%
Posey, Buster

---

Rockies | Mike Dunn activated
Colorado Rockies LHP Mike Dunn (shoulder) was activated from the 10-day injured list Thursday, June 13. In a corresponding move, LHP Phillip Diehl was optioned to Class AAA Albuquerque. Source: MLB.com - Thomas Harding
BHQ take: One up, one down. It's a Dunn Diehl; no PT impact. —Rob Carroll
Impact: Low
Diehl, Phillip
Dunn, Mike G

---

Diamondbacks | Jon Duplantier on injured list
Arizona Diamondbacks RHP Jon Duplantier (shoulder) was placed on the 10-day injured list Wednesday, June 12, because of right shoulder inflammation. The team also recalled RP Stefan Crichton from Class AAA Reno. Source: MLB.com
BHQ take: Duplantier struggled to get through three innings of his June 11 start against PHI, giving up four earned runs on seven hits. Manager Torey Lovullo sensed something was awry, and after the game Duplantier acknowledged that his shoulder was bothering him. An MRI has been scheduled to assess the degree of injury. Unsettling is the fact that Duplantier missed a season of college ball to a similar injury, and he lost a chunk of 2018 to biceps tendinitis. His absence strains a staff already dealing with the long-term losses of Luke Weaver and Taijuan Walker, not to mention the struggles of Zack Godley and his lost rotation spot. Call-up Crichton is a reliever, so the in-house options may be limited to reinstating Godley or giving a shot to Matt Andriese, who logged one start for ARI 13 months ago. The results of Duplantier's MRI will drive ARI's course of action, so stay tuned. —Rob Carroll
Impact: High
Duplantier, Jon
Crichton, Stefan

---

American League

| National League
Yankees | Kendrys Morales lands on injured list
New York Yankees 1B/DH Kendrys Morales (calf) was placed on the 10-day injured list with a left calf strain Thursday, June 13. The team also recalled RP Nestor Cortes and OF Mike Tauchman from Class AAA Scranton/Wilkes-Barre. Source: MLBRosterMoves
BHQ take: Since joining the Yankees, Morales has two three-hit games (including his most recent game on June 11), but has otherwise gone 5-for-53 for the rest of the past month. Tauchman's OF skills give NYY the opportunity to give Clint Frazier some more DH time in Morales' stead, and Tauchman's LH bat has delivered 11 extra-base hits (seven doubles and four HR), good for a league average-ish .411 Slg in 95 AB. —Matt Dodge
Impact: Low
Cortes, Nestor
Tauchman, Mike

PT Gain:

10%
Frazier, Clint
Morales, Kendrys

PT Loss:

-10%

---

Royals | Lucas Duda reinstated from IL
Kansas City Royals 1B Lucas Duda (back) on Thursday, June 13, was reinstated from the injured list. In a corresponding move, 3B Kelvin Gutierrez was optioned to Triple-A Omaha. Source: MLBRosterMoves
BHQ take: Duda has been out since late-April, and returns as a 1B/DH option for the Royals. He had only picked up 46 AB before the back strain, with that small sample showing a surprising 16% bb% and an unlucky 19% h%. Both of those should normalize, but they are far less important than his career 137 xPx. In his 2018, age-32 season, he produced 14 HR in 328 AB with a 135 xPx, just two ticks behind his career number. If/when he finds a path to playing time, there is still some power in his bat. —Matt Dodge
Impact: Low
Gutierrez, Kelvin

PT Loss:

-10%
Duda, Lucas

PT Gain:

10%

---

Astros | Rogelio Armenteros earns promotion
Houston Astros RHP Rogelio Armenteros was recalled from Class AAA Round Rock on Thursday, June 13. The team also optioned OF Derek Fisher to Round Rock. Source: Houston Chronicle - Chandler Rome
BHQ take: Fisher's plate skills were markedly better during his short MLB stint (12% bb%, 74% ct% through 53 AB), and the four SBs were nice. But a .226 BA and just one HR wasn't cutting it—and with minor league options remaining, his days were numbered with the arrival of Yordan Alvarez. The HOU PT% projections had been reconfigured then. Armenteros will be making his MLB debut after 10 starts at AAA-Round Rock, where he posted a 5.00 ERA (49/18 K/BB) and 45 IP. He'll likely be used in long relief in HOU. His skill set details can be found in our Call-ups space. —Jock Thompson
Impact: Med
Fisher, Derek
Armenteros, Rogelio

PT Gain:

1%
News feed provided by: Fantasy.USATODAY.com
Playing Time Key
The playing time percentage changes at the bottom of most news items correspond to BaseballHQ.com's Teamview pages. The percentages approximate changes in AB, IP and Saves in the following manner:
For batters, each 5% of PT% ~ 31 AB (100% total for each position = 618 AB)
For pitchers, each 3% of PT% ~ 44 IP (100% total for a team's entire pitching staff)
For relievers, each 5% of Svs ~ 2 saves (100% of a team's total = about 40 saves)
A complete explanation of BaseballHQ.com's playing time allocations can be found in the article "How the Projections are Created."
For more information about the terms used in this article, see our Glossary Primer.
Shopping Cart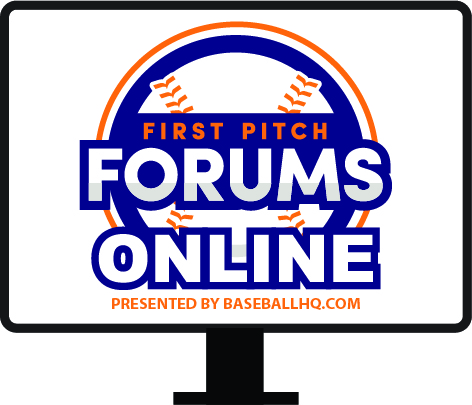 Our virtual First Pitch Forum returns!
Three online-only events: March 5, 11, 17
Join us live, or watch when you want
Just $19!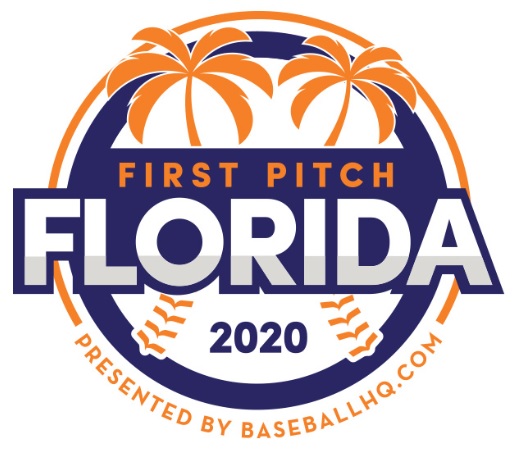 Inaugural Event!
February 28-March 1, 2020
St. Petersburg, FL
A few seats still left!