PT TODAY: Injury to Anderson opens door for Dean in MIA
By BaseballHQ
August 25th, 2019 12:07am
Team-by-team playing time allocation charts can be found in our Teamview pages.
National League

| American League
Marlins | Austin Dean likely to be promoted
The Miami Marlins are likely to recall OF Austin Dean from Class AAA New Orleans Saturday, Aug. 24, with 3B Brian Anderson (finger) expected to be placed on the injured list. Source: MLB.com - Joe Frisaro
BHQ take: Anderson will reportedly miss the rest of 2019. He had been in the midst of a solid sophomore season: .265 xBA and 117 PX. Dean was likely to be recalled when rosters expand next month, but he gets the call early. He struggled mightily with the Marlins earlier in 2019, going 18-for-86 with a couple of homers. Dean has, however, thrived with New Orleans. Over 282 plate appearances there, he's batting .337 with 18 homers and a 1.036 OPS. —Phil Hertz
Impact: High
Dean, Austin

PT Gain:

25%
Anderson, Brian

PT Loss:

-95%

---

Phillies | Bryce Harper lands on paternity list
Philadelphia Phillies OF Bryce Harper was placed on the paternity leave list Friday, Aug. 23. The team also recalled INF Maikel Franco from Class AAA Lehigh Valley. Source: Phillies.com
BHQ take: Franco returns after nearly three weeks at Triple-A. For now, we're not making any playing time changes until we see whether he's still on the MLB roster when Harper returns in a couple of days. Note that he has done little on the surface at Lehigh Valley to justify an extended stay with the Phillies. He's 4-for-22 with two doubles and a triple. —Phil Hertz
Impact: High
Franco, Maikel
Harper, Bryce

---

Phillies | Philly makes roster moves
Philadelphia Phillies RP Juan Nicasio (shoulder) was placed on the 10-day injured list Saturday, Aug. 24, because of right rotator cuff tendinitis. The team also optioned RP Nick Pivetta to Class AAA Lehigh Valley and recalled RPs Edgar Garcia and Austin Davis from Class AAA Lehigh Valley. Source: MLB.com
BHQ take: The Phils once again are making changes to their bullpen, which has been perhaps the biggest problem facing the NL East contenders. Coming up are Edgar Garcia and Austin Davis, both of whom have been up multiple times already in 2019. Neither has done well in their prior stays with the Phils. Garcia has a 5.73 xERA and a 22 BPV. While his Dom is 9.9, it's undermined by a Ctl of 6.2. Davis has a 6.57 xERA and a -27. He has a 10.5 Dom, but like Garcia his chances of success are being sabotaged by an 8.3 Ctl. It's not clear how much time Nicasio will miss, so we've left him with some projected innings, but stay tuned for further reductions. Pivetta had given up earned runs in four of his last five relief appearances, so his demotion shouldn't be much of a surprise. That said, even over the last month, Pivetta has shown better skills than either of the relievers being recalled. Over that 31-day period, Pivetta had a 4.15 xERA and a 108 BPV. Like the relievers coming up, Pivetta has shown good Dom over the last 31 days (12.2), but poor Ctl (5.1). —Phil Hertz
Impact: Med
Pivetta, Nick

PT Loss:

-3%

SV Loss:

-10%
Nicasio, Juan

PT Loss:

-3%
Garcia, Edgar

PT Gain:

1%
Davis, Austin

PT Gain:

2%

---

Mets | Tomas Nido out with concussion
New York Mets C Tomas Nido (concussion) was placed on the seven-day concussion list Saturday, Aug. 24. The team also selected the contract of C Rene Rivera from Class AAA Syracuse. Source: MLBRosterMoves
BHQ take: Rivera is expected to spell Wilson Ramos while Nido is out, and with rosters about to expand, he may hang on when Nido is ready to return. Rivera should be relatively comfortable with the Mets, for whom he played in over 100 games in 2016 and 2017. He's spent most of 2019 with Syracuse where he's batting .254, a number that comports with his career minor league average of .256. What does jump off the page when examining his stats is 25 homers from a batter, who's never had more than 11 in a season before. Nido already had been losing playing time thanks to a batting surge experienced by Ramos, and Nido's own 1-for-28 streak that finally ended with two doubles on Aug. 18. —Phil Hertz
Impact: Low
Nido, Tomas

PT Loss:

-5%
Rivera, Rene

PT Gain:

10%

---

Mets | Jeff McNeil back on roster
New York Mets OF Jeff McNeil (hamstring) was activated from the 10-day injured list Saturday, Aug. 24. The team also designated OF Aaron Altherr for assignment. Source: MLB.com
BHQ take: McNeil returns after spending the minimum time required for IL stays. As of the time of activation, McNeil leads the NL in batting with a .332 average, and given he batted .329 over 225 at-bats in 2018, it's clear his batting prowess is not a fluke. What may make McNeil even more attractive to fantasy owners is a recent power surge. He has 15 homers in 2019, but 13 of them have come since June 11. McNeil did not start on Aug. 24, but is expected to return to the starting lineup Aug. 25. Altherr has been DFA'd by multiple teams in 2019. He may latch on somewhere, especially with rosters about to expand, but an .082 average (.173 xBA) is a strong indication that fantasy owners will have better options. —Phil Hertz
Impact: Med
McNeil, Jeff
Altherr, Aaron

PT Loss:

-10%

---

Braves | Francisco Cervelli signs with ATL
Free-agent C Francisco Cervelli (Pirates) signed with the Atlanta Braves Saturday, Aug. 24. Terms of the contract were not disclosed. The team also optioned C Alex Jackson to Class AAA Gwinnett and transferred RP Grant Dayton (toe) to the 60-day injured list. Source: MLBRosterMoves
BHQ take: Updating the Aug. 23 Playing Time Today note on Cervelli, he has, indeed, signed with Atlanta. As a result, Jackson's stay in Atlanta was again brief. This time he appeared in one game, going 0-for-3. —Phil Hertz
Impact: Low
Jackson, Alex

PT Loss:

-10%
Cervelli, Francisco

PT Gain:

10%

---

Diamondbacks | David Peralta on injured list
Arizona Diamondbacks OF David Peralta (shoulder) was placed on the 10-day injured list Saturday, Aug. 24, because of AC joint inflammation. The team also recalled OF Tim Locastro from Class AAA Reno. Source: MLBRosterMoves
BHQ take: August is the third consecutive month that Peralta will lose time to his right AC joint, which has likewise cut into his 2019 production. He simply hasn't been able to generate power to the extent of his 30-HR season last year, and in the 88 AB he's had since returning from his previous trip to the IL, Peralta is batting .227 and slugging .420. His seasonal line now reads 12-57-.275 in 382 AB and he's yet to attempt a stolen base. This is Locastro's fourth call to Phoenix in 2019, and he brings with him some interesting numbers: 16 (hit-by pitches), 15 (runs batted in), and 11 (stolen bases in as many attempts). There is no timetable for Peralta's return, but with the Diamondbacks currently 5.5 games back in the NL Wild Card standings in late August, there is the possibility of his resting the shoulder for the duration of the 2019 season. More will be known toward the end of his 10-day IL stay. —Rob Carroll
Impact: High
Locastro, Tim

PT Gain:

5%
Peralta, David

PT Loss:

-5%

---

Giants | Shaun Anderson off injured list
San Francisco Giants RP Shaun Anderson (finger) was activated from the 10-day injured list Saturday, Aug. 24. The team also optioned RP Andrew Suarez to Class AAA Sacramento. Source: MLB.com
BHQ take: Anderson last pitched on Aug. 7 and returns to a 3-4 record and 5.33 ERA in his 16 starts. With only average (3.4) control and subpar Dom (6.0), he's constantly dealing with baserunners—and typically with unfavorable results (0% DOM/44% DIS). Suarez is cut from the same cloth, and after a pair of losing starts in May, the Giants have used him solely in relief. The results haven't been encouraging: 13 IP, 19 H, 9 ER and 4 HR allowed. When at AAA-Sacramento, Suarez has continued to start, so his ultimate role is still unclear. What is clear is the fact that hurlers with a 19 BPV usually don't have long shelf lives. —Rob Carroll
Impact: Med
Anderson, Shaun
Suarez, Andrew

---

Giants | Johnny Cueto headed to Sacramento
San Francisco Giants RHP Johnny Cueto (elbow) is moving his rehab from Class A San Jose to Triple-A Sacramento, according to manager Bruce Bochy, who said Cueto would pitch for Sacramento on Monday, Aug. 26. Source: The Associated Press
BHQ take: Cueto began pitching in live games on Aug. 4, almost one year to the day after having Tommy John surgery. To date, in four outings evenly split between the Rookie-Arizona League and the A-California League, Cueto has allowed five earned runs in 11 innings pitched with a 12/1 K/BB ratio. He's scheduled to make at least two starts for AAA-Sacramento, and at this point Cueto would be on target for an early September return to San Francisco. No PT adjustments here yet, just a heads-up for those who may be looking for a year-end boost—offered with the caveats of a lengthy downtime, advancing age and recent injury history. —Rob Carroll
Impact: Med
Cueto, Johnny

---

American League

| National League
Mariners | Wade LeBlanc moving to bullpen
Seattle Mariners LHP Wade LeBlanc will be moved from the starting rotation into a long relief role as a result of RHP Felix Hernandez (shoulder) being activated from the injured list. Source: MLB.com - Greg Johns
BHQ take: The real PT winner here is Tommy Milone, who gets the nod as the "fifth starter" (typically a bulk reliever) over LeBlanc. Look for Milone to cede some time in September for prospect Justin Dunn, but for now he'll continue to get plenty of IP. The soft-tossing lefty hasn't been bad—he's a strike-throwing machine (1.7 Ctl, 72% FpK) and even has been getting a few swings-and-misses (8.1 Dom, 11% SwK). But Milone gives up a lot of flyballs, and thus a LOT of homers (2.0 HR/9). So despite his fine Cmd, both his ERA and xERA remain well over four. To minimize your risk, if you must use Milone, do so when he's slated to pitch against teams that hit fewer HR—which means he's probably safe to avoid vs. NYY in his next scheduled outing. —Rod Truesdell
Impact: Low
Dunn, Justin

PT Gain:

1%
LeBlanc, Wade

PT Loss:

-6%
Hernandez, Felix A

PT Gain:

1%
Milone, Tommy

PT Gain:

4%

---

Royals | Jorge Lopez to be used in relief
Kansas City Royals RHP Jorge Lopez will move to the bullpen, as a result of LHP Eric Skoglund moving into the starting rotation. Source: The Kansas City Star - Lynn Worthy
BHQ take: As a starter, Lopez has one PQS-DOMinant and four PQS-DISasters in his 12 starts during 2019, thanks to a .916 oOPS built on 31 HR allowed in 56 innings. He's been more effective as a reliever (3.0 Cmd, .759 oOPS), so he makes room for Skoglund in the rotation. Skoglund's 2019 work in the minors looks just about the same as his 2018 work in the majors with KC (6.3 Dom, 2.6 Cmd, 1.5 hr/9), so he is only of interest in situations where innings and starts are more important than the decimals (career 6.03 ERA, 1.44 WHIP). —Matt Dodge
Impact: Med
Skoglund, Eric

PT Gain:

4%
Lopez, Jorge

PT Loss:

-4%

---

Red Sox | Two BOS players unlikely to return
Boston Red Sox 1B Steve Pearce (knee, back) and RP Steven Wright (toe, elbow) have not made much progress in their rehab and both appear unlikely to play again this season. Source: MassLive.com - Chris Cotillo
BHQ take: Pearce, the reigning World Series MVP was done in by his F Health Grade in 2019, only appearing in 29 games over the first two months of the season before succumbing to lower back strain, then injuring his posterior cruciate ligament (PCL) during his rehab. He finishes 2019 with only 89 AB, after averaging 243 AB between 2012-2018, and 2019 also represents the low-water mark for each of the skills metrics on his PlayerLink page. The playing time benefactors are listed below; it is notable that Christian Vazquez's offensive breakout in 2019 (.282/.322/.484 in 386 AB) has earned him 10 games at DH and 13 games across the infield, boosting his (and as a result, Sandy Leon's) paying time as a result. Wright got a late start based on his season-starting suspension, but then elbow inflammation and a bruised toe has limited him to only six mid-season appearances, which did not go well (11 hits and four BB in 6.1 IP). Both Pearce (a free agent after the season) and Wright (entering his final year of arbitration), will hope to be ready for spring training. —Matt Dodge
Impact: Low
Travis, Sam

PT Gain:

5%
Vazquez, Christian
Wright, Steven

PT Loss:

-1%
Bradley, Jackie

PT Gain:

5%
Leon, Sandy

PT Gain:

5%
Pearce, Steve W

PT Loss:

-15%

---

Mariners | Justus Sheffield promoted
Updating a previous report, Seattle Mariners LHP Justus Sheffield was recalled from Class AA Arkansas on Friday, Aug. 23. Source: MLB.com
BHQ take: We let you know of Sheffield's impending call-up earlier this week, so this is just a note to adjust for his PT boost. SEA let reliever Cory Gearrin go (who was promptly claimed on waivers by NYY) to make room for Sheffield. Lately, a couple of Matts—Magill and Wisler—have gained somewhat higher leverage roles in the SEA pen. Magill, in fact, has picked up two saves this week (as of Aug. 23). Should you take a chance with Magill? Well, as we noted when SEA acquired the righty from MIN last month, anybody that generates as many swings-and-misses as Magill (15% in 2019 after 14% last season) is worth following. Magill's kryptonite has been wildness, and that's still in play: He's walking nearly a batter every other inning, and his FpK with SEA has barely been 50%. So as we noted last month, coupled with a slight flyball lean, there's substantial blow-up risk with Magill. But man, those K's are nice. —Rod Truesdell
Impact: Low
Sheffield, Justus

PT Gain:

2%
Wisler, Matthew

PT Gain:

1%
Magill, Matthew

PT Gain:

1%

SV Gain:

10%

---

Angels | Andrelton Simmons activated from injured list
The Los Angeles Angels activated SS Andrelton Simmons (ankle) from the injured list Friday, Aug. 23. In a corresponding move, INF Wilfredo Tovar was designated for assignment. Source: Los Angeles Times - Maria Torres
BHQ take: Simmons returns as the primary SS, Tovar will return to a bench role in September if he clears waivers, and David Fletcher will begin to get a break from his longest season. Simmons' power numbers have dropped off in 2019; 5 HR and a 55 PX through 292 AB say he won't be of any late-season HR/production help. A 90% ct% and 111 HctX are his strengths, and he can still steal a base. —Jock Thompson
Impact: Med
Fletcher, David

PT Loss:

-5%
Tovar, Wilfredo

PT Loss:

-5%
Simmons, Andrelton

PT Gain:

10%

---

Yankees | Jonathan Loaisiga sent down
New York Yankees RP Jonathan Loaisiga was optioned to Class AAA Scranton/Wilkes-Barre Saturday, Aug. 24. The team also added RP Cory Gearrin to the 25-man roster. Source: MLBRosterMoves
BHQ take: Loaisiga recently returned from from a three-month IL stint for right shoulder inflammation, making two long relief appearances. He goes down to Triple-A to continue building up stamina, and is expected to return after rosters expand in September. Gearrin was recently claimed off waivers from SEA, where he was pitching well (1.29 ERA, 0.86 WHIP) over the past month (seven appearances and innings). He is expected to work in middle relief. —Matt Dodge
Impact: Low
Loaisiga, Jonathan
Gearrin, Cory
News feed provided by: Fantasy.USATODAY.com
Playing Time Key
The playing time percentage changes at the bottom of most news items correspond to BaseballHQ.com's Teamview pages. The percentages approximate changes in AB, IP and Saves in the following manner:
For batters, each 5% of PT% ~ 31 AB (100% total for each position = 618 AB)
For pitchers, each 3% of PT% ~ 44 IP (100% total for a team's entire pitching staff)
For relievers, each 5% of Svs ~ 2 saves (100% of a team's total = about 40 saves)
A complete explanation of BaseballHQ.com's playing time allocations can be found in the article "How the Projections are Created."
For more information about the terms used in this article, see our Glossary Primer.
Shopping Cart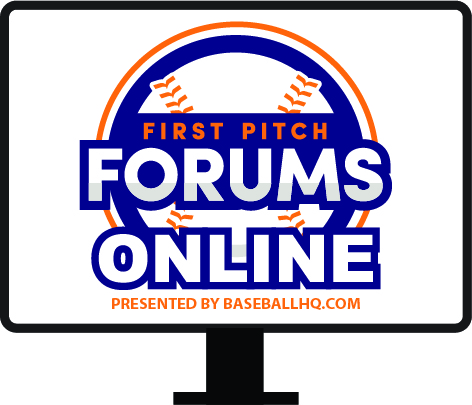 Our virtual First Pitch Forum returns!
Three online-only events: March 5, 11, 17
Join us live, or watch when you want
Just $19!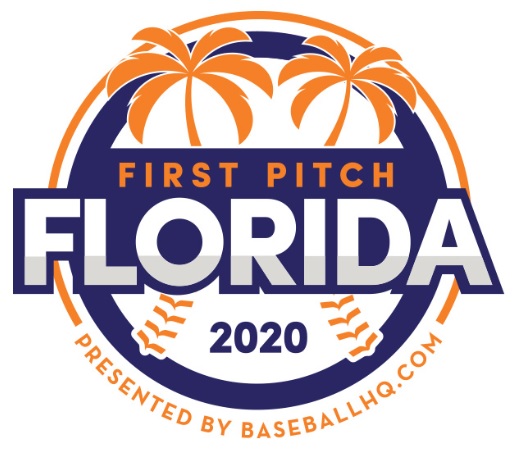 Inaugural Event!
February 28-March 1, 2020
St. Petersburg, FL
A few seats still left!