PT TODAY: Indians make switch from Martin to Bradley
By BaseballHQ
June 24th, 2019 12:07am
Team-by-team playing time allocation charts can be found in our Teamview pages.
American League

| National League
Indians | Bobby Bradley called up for debut
Cleveland Indians 1B Bobby Bradley was recalled Sunday, June 23, from Triple-A Columbus and is scheduled to bat seventh Sunday in his big-league debut. In a corresponding move, RP Josh Smith was optioned to Triple-A. Source: 92.3 The Fan - James Rapien
BHQ take: Bradley's promotion comes one day after veteran OF Leonys Martin was designated for assignment, seemingly as Martin's lineup replacement. Despite being a LHB, Bradley started in his first game vs. an opposing LH starting pitcher, going 1-for-3 with a RBI double in his MLB debut. While Bradley's debut came at 1B with regular 1B Carlos Santana at DH, Santana remains CLE's top 1B defensive option, so the bulk of Bradley's PT is likely to come in the DH role. With Bradley assuming the primary DH role, DH/OF/1B Jake Bauers will be freed for more LF PT as rookie OF Oscar Mercado shifts from LF to CF. Bauers has been CLE's primary DH while also seeing scattered LF PT. Bradley will add power to the CLE lineup, as noted in his Daily Call-ups preview. Though he has played regularly to date, LHB Bauers could lose time vs. LHP as he figures into the OF mix to a greater extent than the DH mix with Bradley's arrival. With OF Bradley Zimmer nearly ready to begin a minor league rehab assignment which could result in him returning to CLE by the All-Star break, Bauers' PT could be threatened if he does not increase his production. Bauers' sub-.225 BA and sub-.700 OPS are surely not what CLE envisioned when acquiring him in an off-season trade which cost them infielder Yandy Diaz, out-producing Bauers by a wide margin while playing regularly for Tampa Bay. Bauers' current .228 xBA suggests little BA upside, while his power is below average and his contact rate currently subpar. —Tom Kephart
Impact: High
Santana, Carlos
Mercado, Oscar

PT Gain:

20%
Bauers, Jake

PT Loss:

-10%
Bradley, Bobby

PT Gain:

70%
Martin, Leonys

PT Loss:

-80%

---

Rays | Diego Castillo lands on IL
Tampa Bay Rays RP Diego Castillo (shoulder) on Sunday, June 23, was placed on the 10-day injured list with right-shoulder inflammation. Source: MLB.com - Juan Toribio
BHQ take: Castillo's trip to the IL, combined with Jose Alvarado still working his way back from a personal absence, creates a window of opportunity for Emilio Pagan to take a turn in the closer role. On the surface, Pagan's 11.0 Dom and 4.5 Cmd certainly look closer-worthy, but an xERA that is two full runs higher than his 1.23 ERA raises some concerns. For those looking for possible successors in the TAM pen, RHP Chaz Roe (13 holds) and and LHP Adam Kolarek (11 holds) have seen most of the remaining late-inning opportunities, but their ERAs (4.70 for Roe and 4.61 Kolarek) are a bit troublesome. A speculative dark horse could be Colin Poche, who is pitching in the highest-leverage situations (1.68 LI) since his June 9 call-up, collecting 10 K/ 1 BB in eight IP. —Matt Dodge
Impact: Med
Castillo, Diego

PT Loss:

-2%

SV Loss:

-20%
Kolarek, Adam
Alvarado, Jose

SV Loss:

-10%
Pagan, Emilio

SV Gain:

30%
Roe, Chaz
Poche, Colin

PT Gain:

2%

---

Athletics | Blake Treinen to the IL
Oakland Athletics RP Blake Treinen (shoulder) was placed on the 10-day injured list with a strained rotator cuff Saturday, June 22. Source: San Francisco Chronicle - Susan Slusser
BHQ take: Treinen, who has struggled most of the season, called the injury a "mild" sprain. In his absence, Liam Hendriks will get a shot to close; Hendriks picked up the save on Saturday, June 22, in his first opportunity. The perfect inning lowered Hendriks' ERA to 1.49, but he hasn't posted the skills to support that, as shown by a 4.10 xERA. Instead, he's been buoyed by an 86% strand rate and has somehow allowed only one HR in 42 IP despite a 54% flyball rate. Hendriks is missing plenty of bats though, as shown by a 10.6 Dom and 14% SwK%. He's a decent option to fill in for Treinen, but expect a few blowups when that HR rate normalizes. —Rod Truesdell
Impact: Med
Treinen, Blake

PT Loss:

-2%

SV Loss:

-20%
Buchter, Ryan

PT Gain:

1%
Hendriks, Liam

PT Gain:

1%

SV Gain:

20%

---

Mariners | Jesse Biddle designated for assignment
Seattle Mariners LHP Jesse Biddle on Sunday, June 23, was designated for assignment. Source: MLB.com - Greg Johns
BHQ take: The Mariners, known for shuffling the bottom of their bullpen, have done just that in recent days, although the DFA for Biddle is something of a surprise. Mike Wright, Matt Carasiti and Dan Altavilla have all been recalled recently. Wright's 2019 ERA is over 9; Carasiti's career MLB ERA is also over 9. While neither guy is THAT bad, neither is going to make or break your bullpen this year. Altavilla remains an enigmatic figure. He strikes out a ton of batters—41 K in just 24 IP at Triple-A this year (15.2 Dom)—but he's also been wild at times and has surrendered a large share of gopher balls. Still, anybody who has that kind of swing-and-miss stuff is worth watching, especially with the SEA closer situation far from locked down going forward. —Rod Truesdell
Impact: Low
Altavilla, Dan

PT Gain:

1%
Carasiti, Matt

PT Gain:

1%
Wright, Mike

PT Gain:

1%
Biddle, Jesse

PT Loss:

-2%

SV Loss:

-5%

---

National League

| American League
Braves | Chad Sobotka called up
Atlanta Braves RP Chad Sobotka was recalled Sunday, June 23, from Triple-A Gwinnett. In a corresponding move, RHP Mike Foltynewicz was optioned to Triple-A. Source: MLBDepthCharts.com - Jason Martinez
BHQ take: From the All-Star Game to the minors in 11 months sums up Foltynewicz's situation. His xERA in 2019 is 5.02 (his real ERA is more than a run worse) and his Dom of 7.6 is well off career norms. Also hurting Foltynewicz this year is a HR/9 of 2.4. Coming into the season, we warned readers that his 2018 2.85 ERA was not supported by his skills, but we didn't see the collapse that has been his 2019 season. It's worth noting that Foltynewicz's season start was delayed by arm issues; his performance suggests he may not be fully recovered. As for Sobotka, he started the season with Atlanta, but landed on the IL at the end of April with an abdominal strain. He has a career xERA of 4.06 and a career Dom of 13 over 26 innings, but Sobotka also has a career Ctl of 6.2, a number that should temper any inclination to roster him, at least until that number drops considerably. —Phil Hertz
Impact: High
Sobotka, Chad

PT Gain:

1%
Foltynewicz, Mike

PT Loss:

-6%

---

Nationals | Trevor Rosenthal released
The Washington Nationals released RP Trevor Rosenthal Sunday, June 23. In a corresponding move, RP Austin Voth was recalled from Class AA Harrisburg. Source: MLB.com
BHQ take: We've well documented how bad Rosenthal's attempt to return from 2017 Tommy John surgery has gone. A -435 BPV over 6.3 innings says it all. Given the state of MLB bullpens, it won't be a shock to see him surface somewhere later in 2019, but until he's able to show a modicum of control and success, fantasy owners need to stay away. Voth was Washington's No. 12 prospect entering the 2018 season, but was knocked around over four appearances that year. Until yesterday, Voth's 2019 pitching had been confined to Triple-A Fresno where he had a 4.40 ERA. Remember Fresno is in the hitter-friendly Pacific Coast League, and he did have 68 strikeouts versus 15 walks over 61.1 innings. Voth got the start for Washington on June 23 and did quite well: six innings, four hits, two runs, no walks and seven strikeouts. If he can sustain that level of performance—AND Washington keeps him in the rotation —he certainly would be of interest to fantasy owners in deep leagues. —Phil Hertz
Impact: Med
Voth, Austin

PT Gain:

4%
Rosenthal, Trevor

PT Loss:

-4%

---

Nationals | Kyle McGowin gets call-up
Washington Nationals RHP Kyle McGowin on Sunday, June 23, was recalled from Triple-A Fresno. In a corresponding moves, RHP Joe Ross was optioned to Triple-A. Source: MLBRosterMoves
BHQ take: Ross was up for only a couple of days, but that was enough time to get bombed by the Braves—four earned runs in an inning of work. Ross may return, but he's becoming totally uninteresting for the remainder of 2019 and less and less interesting in keeper leagues. McGowin was up earlier this season and made three appearances in which he threw 10 innings and yielded 11 earned runs. If you're looking for that glimmer of hope, he did strike out 11 and only walked two. —Phil Hertz
Impact: Low
McGowin, Kyle

PT Gain:

1%
Ross, Joe

PT Loss:

-2%

---

Phillies | Enyel De Los Santos recalled
The Philadelphia Phillies have recalled RHP Enyel De Los Santos from Class AAA Lehigh Valley to start against the Miami Marlins Sunday, June 23. In a corresponding move, RP Edubray Ramos was optioned to Lehigh Valley. Source: The Philadelphia Inquirer - Scott Lauber
BHQ take: We discussed the Phils' decision to start De Los Santos a couple of days ago. (The start did not go particularly well—10 hits and walks and four earned runs in four innings.) We now know that Ramos was the roster victim. 2019 has not been kind to the righthander. He has a 5.73 xERA and a 44 BPV. He probably will return at some point this season but can no longer be recommended even to teams in deep leagues. —Phil Hertz
Impact: Low
Ramos, Edubray

PT Loss:

-2%

---

Rockies | Colorado calls up Garrett Hampson
Colorado Rockies INF Garrett Hampson on Sunday, June 23, was recalled up from Triple-A Albuquerque. In a corresponding move, RHP Jeff Hoffman was optioned to Triple-A. Source: MLBRosterMoves
BHQ take: Hoffman struck out almost 10 per game through 33 IP. But he struggled to keep the ball in the park, coughing up seven HR while posting a 6.75 ERA—and he was ineffective away from Coors Field. He'll head back to Triple-A to await his next opportunity. The Rockies will fill his rotation spot by Tuesday, June 25, with Kyle Freeland a likely candidate—but we'll pause before we update our IP projections. Hampson was in the starting lineup in CF on Sunday, June 23, though given his MLB struggles (.186 BA through 97 AB) and the fact that COL had five bench players up on Sunday, it remains to be seen how long he stays with the club. —Jock Thompson
Impact: High
Hampson, Garrett

PT Gain:

5%
Cuevas, Noel

PT Loss:

-5%
Hoffman, Jeff

---

Dodgers | Will Smith joins big-league club
Los Angeles Dodgers C Will Smith was recalled Sunday, June 23, from Triple-A Oklahoma City. Source: MLBRosterMoves
BHQ take: Smith replaces David Freese, who lands on the IL with a strained hamstring. Joc Pederson has been playing some 1B recently, and was in the lineup vs. COL on Sunday, June 23, at that spot. Matt Beaty was in Pederson's regular LF position—and he's been impressive to date from the OF and 1B position, posting an .820 OPS with a couple of HR and plenty of good contact through 65 AB. The Smith move is interesting in that LA now has three catchers on the 25-man roster—but the athletic Smith has played some 3B both this year and last. He wasn't in the starting lineup Sunday, June 23, but he's impressed everyone with his play and power all season long, including during a 21 AB stint with the Dodgers earlier this season (6 hits, 2 BB, 2 HR). LA has shuffled different players up and down and through different positions all season long. It remains to be seen how much additional time Smith or Beaty get here now if any—but we'll keep an eye on it. —Jock Thompson
Impact: Med
Beaty, Matt

PT Gain:

5%
Smith, Will
Pederson, Joc
Freese, David

PT Loss:

-5%

---

Cardinals | Alex Reyes removed from start
St. Louis Cardinals RHP Alex Reyes (undisclosed) was removed from his rehab start for Class AAA Memphis with an apparent injury Sunday, June 23. Source: The Cardinal Nation - Brian Walton
BHQ take: Reyes reportedly was tossing the ball in the air when the trainer went out to see him and was visibly frustrated. For now, we wait for more news about the injury, but it sounds like Reyes will be out for awhile once again. —Phil Hertz
Impact: Med
Reyes, Alex

---

Padres | Cal Quantrill temporarily moved to bullpen
San Diego Padres RHP Cal Quantrill is being used out of the bullpen for now, although the organization still views him as a starter in the long run. Source: The San Diego Union-Tribune - Kevin Acee
BHQ take: Quantrill had shown promise in his six SD starts, posting a 3.4 Cmd, 48% GB%, 13% SwK and 4.15 xERA through 31 IP. However, the bullpen is a mess, so Quantrill will apparently from work there at least for a while. The next rotation arm that could join SD in his place is Dinelson Lamet, who is close to finishing a Tommy John surgery rehab stint—and is coming off a five IP, one run 8/1 K/BB Triple-A performance on June 22. —Jock Thompson
Impact: High
Quantrill, Cal
Lamet, Dinelson

---

Cardinals | Jordan Hicks to be examined Sunday
St. Louis Cardinals RP Jordan Hicks (triceps) is expected to undergo additional tests on his injured right triceps Sunday, June 23. Source: St. Louis Post-Dispatch - Derrick Goold
BHQ take: For now, we're avoiding making any dramatic changes in Hicks' projected innings until the results of the additional tests are forthcoming. The Cards have indicated, however, that John Gant may be used as the closer if Hicks needs to go on the IL. —Phil Hertz
Impact: Med
Hicks, Jordan
Gant, John

---

Diamondbacks | Domingo Leyba called up
Arizona Diamondbacks INF Domingo Leyba was recalled from Class AAA Reno Saturday, June 22. The team also optioned INF Kevin Cron to Class AAA Reno. Source: MLBRosterMoves
BHQ take: Leyba was called up Saturday, June 22, and singled in his first MLB AB that night. But he has yet to start a game, and could be up only for as long as Ketel Marte is day-to-day with a leg injury. Leyba profiles as a utility bench infielder; details on his skill set can be found in our Call-ups space. —Jock Thompson
Impact: Low
Leyba, Domingo
Cron, Kevin
News feed provided by: Fantasy.USATODAY.com
Playing Time Key
The playing time percentage changes at the bottom of most news items correspond to BaseballHQ.com's Teamview pages. The percentages approximate changes in AB, IP and Saves in the following manner:
For batters, each 5% of PT% ~ 31 AB (100% total for each position = 618 AB)
For pitchers, each 3% of PT% ~ 44 IP (100% total for a team's entire pitching staff)
For relievers, each 5% of Svs ~ 2 saves (100% of a team's total = about 40 saves)
A complete explanation of BaseballHQ.com's playing time allocations can be found in the article "How the Projections are Created."
For more information about the terms used in this article, see our Glossary Primer.
Shopping Cart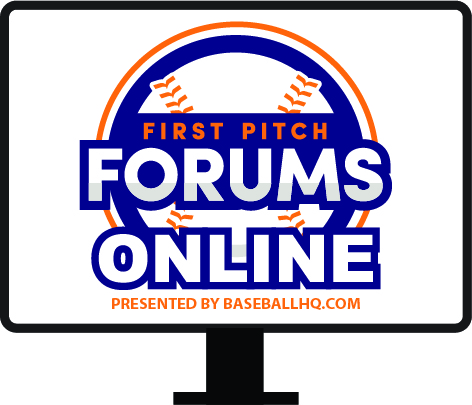 Our virtual First Pitch Forum returns!
Three online-only events: March 5, 11, 17
Join us live, or watch when you want
Just $19!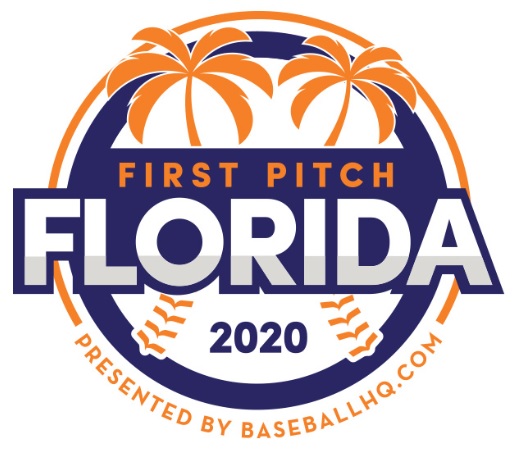 Inaugural Event!
February 28-March 1, 2020
St. Petersburg, FL
A few seats still left!