PT TODAY: Hendricks sidelined; Chatwood likely next up
By BaseballHQ
June 16th, 2019 12:06am
Team-by-team playing time allocation charts can be found in our Teamview pages.
National League

| American League
Cubs | Kyle Hendricks placed on IL
Chicago Cubs RHP Kyle Hendricks (shoulder) was placed on the 10-day injured list Saturday, June 15, because of right shoulder inflammation. The team also recalled RP Rowan Wick from Class AAA Iowa. Source: MLBRosterMoves
BHQ take: Tyler Chatwood is likely to replace Hendricks in the rotation while he is sidelined. Chatwood has made one spot start among his 16 relief appearances. As has been the case throughout his career, Chatwood's Ctl and Cmd have been subpar. He has 29 K/21 BB in 35 IP. Hendricks, conversely, has shown excellent Ctl/Cmd, with 75 K/16 BB in 88 IP. —Tom Kephart
Impact: High
Wick, Rowan
Hendricks, Kyle

PT Loss:

-2%
Chatwood, Tyler

PT Gain:

2%

---

Braves | Huascar Ynoa added to roster
Atlanta Braves RP Huascar Ynoa was recalled from Class AAA Gwinnett Saturday, June 15. The team also optioned RP Daniel Winkler to Class AAA Gwinnett. Source: MLBRosterMoves
BHQ take: Ynoa is a 21-year old righthander out of the Dominican Republic. When he toes the rubber for the Braves, he will be competing at his fourth different level this season. At the three minor league levels, he made 14 appearances including six starts. Overall he has a 4.87 ERA, but he does have 50 strikeouts over 40.2 innings. More information on Ynoa can be found in today's Daily Call-ups column. As for Winkler, it wasn't that long ago that some thought he might get a shot at closing for the Braves. Instead, he has a 4.77 xERA for the season and a 6.20 xERA over the last 31 days. He may return later this year, but he's not likely to help fantasy teams any time soon. —Phil Hertz
Impact: High
Ynoa, Huascar

PT Gain:

2%
Winkler, Daniel

PT Loss:

-2%

---

Mets | Chris Flexen expected to receive promotion
The New York Mets are expected to promote RP Chris Flexen from Class AAA Syracuse Saturday, June 15, and he is likely to pitch out of the bullpen. Source: New York Post - Mike Puma
BHQ take: The Mets not only called up Flexen to help their bullpen, but traded for Brooks Pounders and added him to the active roster. Flexen has been a starter for most of his career, but has been pitching in relief lately for Triple-A Syracuse. Flexen was up earlier in 2019 and also saw MLB action in 2017 and 2018. Overall he has accumulated 60 innings with a 7.40 xERA. The 28-year old Pounders was acquired from Cleveland where he had been pitching for Triple-A Columbus. There he had a 2.31 ERA with 46 strikeouts and 19 walks over 35 innings. To make room for Pounders and Flexen, the Mets DFA'd Hector Santiago and sent Tim Peterson to the minors. Santiago may surface somewhere else and Peterson may return at some point, but neither is fantasy relevant at this point of their careers. —Phil Hertz
Impact: Med
Peterson, Tim

PT Loss:

-1%
Flexen, Chris

PT Gain:

1%
Pounders, Brooks

PT Gain:

1%
Santiago, Hector

PT Loss:

-2%

---

Rockies | Jesus Tinoco called up
Colorado Rockies RP Jesus Tinoco was recalled from Class AAA Albuquerque Saturday, June 15. The team also optioned INF Brendan Rodgers to Class AAA Albuquerque. Source: MLB.com
BHQ take: It's the Rodgers half of this transaction pair that is of the most interest. In his first exposure to major-league pitching, the Rockies' top prospect played in 21 games, mostly at 2B, and compiled a 0-7-.246 line in 65 AB. His two extra-base hits were both doubles, and strong first impressions in May (.324 BA) soured in June (.373 OPS) as contact issues (66%) and ground balls (53%) stifled production. Now Rodgers knows what he's up against, and he'll return to the Pacific Coast League where he was mashing (.356/.421/.644) and wait for his next opportunity. Rodgers' departure should result in a bump in 2B playing time for Ryan McMahon, who has had an up-and-down 2019 but whose power (108 HctX, 124 xPX) is starting to blossom. Tinoco pitched one inning of relief for COL in May and isn't expected to pitch in high-leverage situations. —Rob Carroll
Impact: High
Rodgers, Brendan

PT Loss:

-10%
McMahon, Ryan

PT Gain:

10%
Tinoco, Jesus

---

Pirates | Dario Agrazal to start Saturday
Pittsburgh Pirates RHP Dario Agrazal has been announced as the starter for the team's game against the Miami Marlins on Saturday, June 15. Agrazal is set to be recalled from Triple-A Indianapolis to make his major league debut. Source: Pittsburgh Post-Gazette - Nubyjas Wilborn
BHQ take: Up next to try to fill a spot in the Pirates' rotation: Agrazal. In 12 minor league starts in 2019, including eight at Triple-A, he has given up 27 ER and 67 hits in 74.1 IP while striking out 58 and walking 10. When Agrazal makes his major league debut, he'll become the 12th different starter for PIT this season. A good start by Agrazal will earn him more time in the majors, but acquiring him at this point is not for the risk-adverse. More can be found on Agrazal in Daily Call-ups. —Rick Green
Impact: Low
Agrazal, Dario

PT Gain:

1%

---

Diamondbacks | Jon Duplantier has MRI
Arizona Diamondbacks RHP Jon Duplantier (shoulder) underwent an MRI that came back 'very positive,' according to manager Torey Lovullo. Duplantier will take anti-inflammatory medication and won't throw for about a week before being re-examined. Source: The Associated Press
BHQ take: Following up on a recent item, Duplantier's injury is less serious than initially feared, but between complete rest and gearing back up, he's still likely to miss at least two starts. The Diamondbacks haven't decided who will inherit those starts, but it likely hinges on who is fresh when those rotation turns come up—which means playing time allocations may not be known until the eleventh hour. —Rob Carroll
Impact: Med
Duplantier, Jon

PT Loss:

-1%

---

American League

| National League
Tigers | Detroit makes several moves
Detroit Tigers RHP Ryan Carpenter was optioned to Triple-A Toledo after the team's game Friday, June 14. The team also placed C Grayson Greiner (back) on the 10-day IL due to a back strain. To fill those spots, the team announced RP Gregory Soto would be recalled from Class AAA Toledo and C Bobby Wilson would have his contract purchased. To make room on the 40-man roster, RHP Tyson Ross (elbow) was transferred to the 60-day IL. Source: The Associated Press
BHQ take: DET also demoted Opening Day 3B Jeimer Candelario after activating him from the Injured List. DET has had no virtually no hitting production at 3B as both Candelario and primary replacement Dawel Lugo have struggled at the plate. Lugo is an overly aggressive hitter with acceptable contact skill who lacks power and has yet to show any plate patience, while Candelario has mixed ample patience with subpar contact ability while failing to show the moderate pop he displayed as a 2018 rookie. Light-hitting Wilson is likely to serve in a backup capacity while Greiner is sidelined. Both Soto and Carpenter have shuttled between DET and Triple-A while struggling with Ctl and Cmd at the MLB level as back-end rotation injury replacements. DET continues to avoid promoting its better pitching prospects, seemingly refusing to rush them before they are ready to pitch effectively. —Tom Kephart
Impact: High
Soto, Gregory

PT Gain:

1%
Greiner, Grayson

PT Loss:

-10%
Carpenter, Ryan

PT Loss:

-1%
Candelario, Jeimer

PT Loss:

-80%
Lugo, Dawel

PT Gain:

50%
Ross, Tyson
Wilson, Bobby L

PT Gain:

10%

---

Angels | Taylor Cole called up
The Los Angeles Angels recalled RP Taylor Cole from Class AAA Salt Lake Saturday, June 15. In a corresponding move, RP Cody Allen was designated for assignment. Source: The Orange County Register - Jeff Fletcher
BHQ take: Another off-season pitching sign gone horribly awry. Allen lost his closer role long ago, and wasn't coming close to earning any part of his 1yr / 8.5m salary. A 6.26 ERA through 23 IP was being fueled by 20 BB and 9 HR -- and the Angels finally decided that they'd seen enough. LAA has at least a few pitching decisions to make over the near-term, but for now we've spread Allen's projected innings over anyone in the pen who has a pulse. Hanser Robles continues to own most of the ninth inning situations (3.34 ERA, 3.9 Cmd, 9 saves through 32 IP) and has avoided the HR ball to date. Setup man Ty Buttry still looks like the better long term play, and Cam Bedrosian is looking better in stretches. The LAA pen continues to be a work-in-progress. —Jock Thompson
Impact: High
Buttrey, Ty

SV Loss:

-5%
Cole, Taylor
Robles, Hansel

SV Gain:

25%
Allen, Cody

PT Loss:

-4%

SV Loss:

-30%

---

Angels | Trevor Cahill throws Saturday
Los Angeles Angels RHP Trevor Cahill (elbow) threw from 180 feet Saturday, June 15. Source: The Associated Press
BHQ take: If all goes well, Cahill is eligible to come off the IL on Tuesday, June 18. If he remains in the rotation, his scheduled start would be the following Thursday. But Cahill owns a thoroughly ineffective 7.18 ERA through 58 IP and 11 starts, and it wouldn't shock us to see the Angels move him to a long-relief role sooner than later. Rookie Jose Suarez -- now with a 4.50 ERA and two wins through three starts and 16 IP -- has been holding his own in Cahill's spot. And he's the likely beneficiary if / when the Angels make this move. No additional IP projection changes yet, but stay tuned. —Jock Thompson
Impact: Med
Suarez, Jose
Cahill, Trevor
News feed provided by: Fantasy.USATODAY.com
Playing Time Key
The playing time percentage changes at the bottom of most news items correspond to BaseballHQ.com's Teamview pages. The percentages approximate changes in AB, IP and Saves in the following manner:
For batters, each 5% of PT% ~ 31 AB (100% total for each position = 618 AB)
For pitchers, each 3% of PT% ~ 44 IP (100% total for a team's entire pitching staff)
For relievers, each 5% of Svs ~ 2 saves (100% of a team's total = about40 saves)
A complete explanation of BaseballHQ.com's playing time allocations can be found in the article "How the Projections are Created."
For more information about the terms used in this article, see our Glossary Primer.
Shopping Cart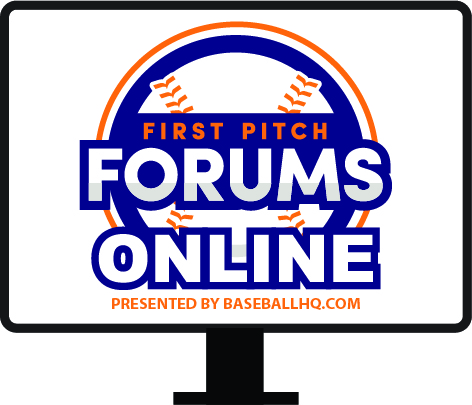 Our virtual First Pitch Forum returns!
Three online-only events: March 5, 11, 17
Join us live, or watch when you want
Just $19!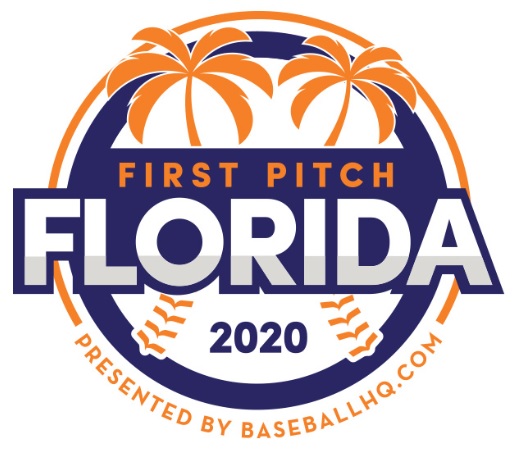 Inaugural Event!
February 28-March 1, 2020
St. Petersburg, FL
A few seats still left!