PT TODAY: Boston looks to fill void with Sale out for season
By BaseballHQ
August 21st, 2019 12:07am
Team-by-team playing time allocation charts can be found in our Teamview pages.
American League

| National League
Red Sox | Chris Sale to be reevaluated in six weeks
Boston Red Sox LHP Chris Sale (elbow) received a platelet-rich plasma injection in his elbow Monday, Aug. 19, and will be reevaluated by Dr. James Andrews in six weeks. Source: MLB.com
BHQ take: Note that there are not six weeks left in the regular season, so Sale's 2019 playing time now goes to zero. Those in keeper leagues will be pleased to know that Dr. Andrews did not find any ulnar collateral ligament (UCL) damage, only inflammation, suggesting that Sale will avoid Tommy John surgery and be ready to go for spring training 2020. He finishes the 2019 (abbreviated) season with his lowest innings count since becoming a full-time starter in 2011, but also notched his third straight 200+ BPV season. On the replacement front, David Price (wrist cyst) has thrown successfully in the bullpen and is a candidate to return to the rotation on Sunday, Aug. 25. —Matt Dodge
Impact: High
Smith, Josh

PT Gain:

1%
Ramirez, Erasmo

PT Gain:

1%
Eovaldi, Nathan

PT Gain:

3%
Sale, Chris

PT Loss:

-8%
Price, David

PT Gain:

3%

---

Mariners | Domingo Santana headed to IL
Seattle Mariners OF Domingo Santana (elbow) was placed on the 10-day injured list with right elbow inflammation Tuesday, Aug. 20. The team also selected the contract of OF Jake Fraley from Class AAA Tacoma. Source: MLB.com
BHQ take: Earlier in the year, it was a race between Fraley and fellow prospect Kyle Lewis as to whom would make it to SEA first, but the multi-talented Fraley made it to Triple-A first and has put together a better season overall (.298/.365/.545 with 19 HR and 22 SB at two levels). He should get plenty of playing time in the corner OF. Read more about Fraley in our Call-ups report. —Rod Truesdell
Impact: Med
Fraley, Jake

PT Gain:

35%
Lopes, Tim

PT Loss:

-5%
Moore, Dylan

PT Loss:

-5%
Santana, Domingo

PT Loss:

-25%

---

Indians | Corey Kluber suffers oblique strain
Updating a previous report, Cleveland Indians RHP Corey Kluber (oblique) was removed from his rehab start with Class AAA Columbus over the weekend due to an oblique strain. Kluber has since been shut down until he is scheduled to be re-examined in two weeks. Source: Baseball America - Kyle Glaser
BHQ take: Kluber's setback means extended rotation stays for RHPs Aaron Civale, Zach Plesac and Adam Plutko. One of the trio would have been replaced by Kluber had he been able to return following his rehab assignment. Civale clearly has shown the best skills of the group, though his sample size is smallest. None of the group has a sub-4.00 xERA, and each has an xERA at least a half-run higher than his ERA. Those ERA/xERA gaps suggest each could be headed for a downturn as the innings mount. —Tom Kephart
Impact: High
Kluber, Corey

PT Loss:

-5%
Civale, Aaron

PT Gain:

2%
Plesac, Zach

PT Gain:

1%
Plutko, Adam

PT Gain:

2%

---

Rangers | Nomar Mazara lands on IL
Texas Rangers OF Nomar Mazara (oblique) on Tuesday, Aug. 20, was placed on the 10-day injured list with a left oblique strain. Source: MLBRosterMoves
BHQ take: 24-year-old UT Nick Solak, recently acquired from TAM, will make his MLB debut. Solak has posted a solid season at Triple-A, with a .289/.362/.532 slash including 27 HR. He's been playing both OF corners, but his arm is a stretch in RF. Expect him to rotate between LF, his usual 2B home and perhaps some DH time. Regardless of position, Solak's bat will make or break him as a major leaguer. Read more about him in our Call-ups section. —Rod Truesdell
Impact: Med
Solak, Nick

PT Gain:

20%
Mazara, Nomar

PT Loss:

-20%

---

Astros | Carlos Correa unlikely to avoid IL?
Houston Astros SS Carlos Correa (back) is unlikely to avoid the 10-day injured list, according to manager A.J. Hinch. Hinch said he's not optimistic but the determination would be made later Tuesday, Aug. 20. Source: The Athletic - Jake Kaplan
BHQ take: Correa left his Monday, Aug. 19, game due to back discomfort, now this. Jack Mayfield had only been called up the day before to replace IL'd Aledmys Diaz (dizziness and lightheadedness), and he was in the starting lineup at SS on Tuesday, Aug. 20. It remains to be seen how long Correa remains on the shelf; he missed 43 days with back issues in 2018, and now with the post-season coming on fast, this obviously isn't good. Mayfield had never been considered much of a prospect before 2019, and he was just 6-for-43 in his MLB debut earlier this year. But at AAA-Round Rock in The Year Of The Live Ball, he's had a fine season, posting a .962 OPS through 339 AB, with 25 HR and a 34/66 BB/K. That said, Diaz could eventually be the PT winner here if he returns quickly (as expected) and Correa is forced to miss extended time. To be continued. —Jock Thompson
Impact: High
Bregman, Alex

PT Gain:

5%
Correa, Carlos

PT Loss:

-15%
Mayfield, Jack

PT Gain:

10%

---

Angels | Jaime Barria brought up from minors
Los Angeles Angels RHP Jaime Barria on Tuesday, Aug. 20, was recalled from Triple-A Salt Lake. In a corresponding move, LHP Adalberto Mejia was designated for assignment. Source: MLBRosterMoves
BHQ take: Barria made a start vs. TEX on Tuesday, Aug. 20. We're still short innings on this beleaguered pitching staff and flailing around as to guessing who might get them. But, in fact, we'd noted in our PT Tomorrow space that Barria might get more opportunities despite being demoted earlier this month after posting a 6.62 ERA (5.01 xERA) in 52 IP. The 22-year-old has longer-term upside and certainly opportunity-but the immediate numbers say he's a high-risk flyer at best. This is the second time Mejia has been DFA'd by the club over the past month; they'll try to sneak him through waivers again. —Jock Thompson
Impact: Low
Barria, Jaime

PT Gain:

2%
Mejia, Adalberto

PT Loss:

-1%

---

Twins | Nelson Cruz activated
Minnesota Twins DH Nelson Cruz (wrist) was activated from the 10-day injured list and will play Monday, Aug. 19. P Zack Littell was optioned to Class AAA Rochester in a corresponding move. Source: MLB.com - Do-Hyoung Park
BHQ take: It's safe to return Cruz to your lineup. He returned Aug. 19 in his usual No. 3 spot in the MIN lineup, going went 2-for-5 with an RBI. He'll look to pick up where he left off (.297 BA, 32 HR, 77 RBI) before being injured earlier this month. —Rick Green
Impact: Med
Littell, Zack

PT Loss:

-1%
Cruz, Nelson R

PT Gain:

10%

---

Athletics | A.J. Puk gets the call
Oakland Athletics LHP A.J. Puk was recalled to the majors Monday, Aug. 19. The organization's No. 2 prospect is expected to pitch Tuesday, Aug. 20, against the New York Yankees. Source: MLB.com - Martin Gallegos
BHQ take: Wei-Chung Wang was sent down to make room for the 24-year-old Puk, who will work in the OAK bullpen for the rest of 2019 in his recovery from Tommy John surgery. He's still in their plans as a potential top-line starter down the road. But despite Mgr Bob Melvin saying he's "not afraid to use him in a big spot," it seems likely that Puk's impact this year will be little more than a vultured win or two and a few holds. Read more about Puk in our Call-ups section. —Rod Truesdell
Impact: Low
Puk, A.J.

PT Gain:

1%
Wang, Wei-Chung

PT Loss:

-1%

---

National League

| American League
Mets | NY Mets make three moves
New York Mets OF Rajai Davis had his contract selected from Class AAA Syracuse on Tuesday, Aug. 20. The team also optioned RHP Walker Lockett to Syracuse and designated RP Brooks Pounders for assignment. Source: Mets.com
BHQ take: On Aug. 18, the Mets found themselves short a fielder when J.D. Davis came up lame. Davis was back in the lineup Aug. 20, but the Mets apparently have decided they could use one more batter for awhile; hence the call-up of Rajai Davis. The veteran has spent all but a few days of the 2019 season at Syracuse. There he's compiled a .744 OPS with eight homers and 20 steals. The expectation is that he will primarily be a pinch-hitter and/or a pinch-runner. Also his tenure with the Mets is a bit tenuous, since Jeff McNeil, Brandon Nimmo or Jed Lowrie could return and push him off the roster. Of course, rosters expand on Sept. 1, so that could keep in the majors the rest of the year. Lockettt had just been called up to provide an extra arm, but did not make an appearance this time around. He'll likely be back in September, but should be of little interest to fantasy owners. Pounders was DFA'd to create a spot on the 40-man roster for Davis. Like Lockett, he's not a 2019 fantasy consideration. Finally, in addition to the moves noted in the lead-in, the Mets announced Robert Gsellman will miss the rest of the season. He finishes 2019 with a 4.49 xERA, which is only slightly better than his career xERA of 4.64. Given those numbers, he's not likely to be a consideration for owners in keeper leagues. —Phil Hertz
Impact: Med
Lockett, Walker

PT Loss:

-1%
Pounders, Brooks
Gsellman, Robert

PT Loss:

-3%
Davis, Rajai

PT Gain:

10%

---

Cardinals | Harrison Bader called up
St. Louis Cardinals OF Harrison Bader on Tuesday, Aug. 20, was recalled from Triple-A Memphis. In a corresponding move, OF Randy Arozarena was optioned to Triple-A. Source: MLBRosterMoves
BHQ take: Bauer spent about three weeks with Memphis. There he compile a 1.275 OPS over 75 plate appearances. Assuming he's going to get regular playing time, he's probably worth a shot for most fantasy teams down the stretch. Arozarena was only up for a week, during which he went 2-for-8. He'll likely be back next month, but he's more of a consideration for owners in keeper leagues than re-draft leagues. —Phil Hertz
Impact: Med
Arozarena, Randy

PT Loss:

-15%
Bader, Harrison

PT Gain:

20%

---

Braves | Billy Hamilton claimed off waivers
The Atlanta Braves claimed OF Billy Hamilton off waivers from the Kansas City Royals Monday, Aug. 19. The team optioned RHP Bryse Wilson to Class AAA Gwinnett. RHP Jacob Webb (elbow) was recalled from Gwinnett and placed on the 60-day injured list. Source: Braves.com
BHQ take: The word out of Atlanta is that Hamilton's role will be to provide late-inning defense and pinch-running. If the Braves stick to that scenario, Hamilton will probably be of use only to teams in a close stolen base race. Even in steals, there are some warning signs. After four straight seasons of 50-plus steals, Hamilton declined to 34 in 2018 and to 18 so far in 2019. Notably his SPD, which regularly approached 200, is down to 146. All that said, if you can take the hit in the other offensive categories and you need steals, he's probably worth a roll of the dice. Wilson has been up and down several times this year. This time his stay lasted three days and he did not see the mound. He'll probably be back in September, but he's of more interest in keeper leagues than in redraft leagues. —Phil Hertz
Impact: Med
Webb, Jacob

PT Loss:

-1%
Wilson, Bryse

PT Loss:

-2%
Hamilton, Billy

PT Loss:

-20%

---

Brewers | Zach Davies reinstated
Milwaukee Brewers RHP Zach Davies was reinstated from the 10-day injured list Monday, Aug. 19. RHP Aaron Wilkerson was optioned to Class AAA San Antonio in a corresponding move. Source: MLBRosterMoves
BHQ take: Davies poses risk for any fantasy team, as his xERA is more than a run higher than his ERA, suggesting his ERA is likely to continue climbing in 2019. His pedestrian Dom and marginal Cmd have produced a subpar BPV. Wilkerson and reliever Freddy Peralta have recently been demoted, continuing to ride the Triple-A shuttle. MIL's injury-riddled rotation was stabilized to some extent when RHP Adrian Houser joined the rotation while Davies was sidelined. Houser has limited opponents to one earned run in each of his past two starts, with 14 K/3 BB in 13 IP. —Tom Kephart
Impact: High
Houser, Adrian

PT Gain:

2%
Davies, Zachary

PT Gain:

2%
Peralta, Freddy

PT Loss:

-3%
Wilkerson, Aaron

PT Loss:

-1%

---

Nationals | Max Scherzer on track to return Thursday
Washington Nationals RHP Max Scherzer (back) threw a four-inning, 64-pitch simulated game Saturday, Aug. 17. He is expected to return to the starting rotation against the Pittsburgh Pirates Thursday, Aug. 22, assuming that there are no setbacks. Source: MASNSports.com - Mark Zuckerman
BHQ take: The latest update on the Nationals' ace seems promising. At the risk of stating the obvious: If Scherzer is healthy, you want him in your fantasy lineup. —Phil Hertz
Impact: High
Scherzer, Max

PT Gain:

1%

---

Dodgers | LA Dodgers make bevy of moves
Los Angeles Dodgers INF/OF Chris Taylor and 2B Enrique Hernandez were activated from the 10-day injured list Tuesday, Aug. 20. The club also recalled RP Dylan Floro, placed INF Kristopher Negron (neck) on the 10-day IL with neck stiffness and optioned OF Kyle Garlick as well as RP Casey Sadler to Class AAA Oklahoma City. Source: MLB.com - Ken Gurnick
BHQ take: Seemingly just another typical Tuesday and bulk roster shuttle for the Dodgers. Most of this was baked into the projections, so no PT% changes for now. Both Hernandez and Taylor were in the lineup at 2B and LF, respectively, on Tuesday, Aug. 20, vs. TOR. But both will have to fight for part-time AB off the bench. And now among others, they have newcomer Jedd Gyorko and red-hot rookie Mat Beaty (.855 OPS through 175 AB) with which to contend. Performances will dictate down-the-stretch playing time; to be continued. —Jock Thompson
Impact: High
Sadler, Casey
Negron, Kristopher
Garlick, Kyle
Floro, Dylan
Taylor, Chris
Hernandez, Enrique

---

Diamondbacks | Ildemaro Vargas called up
Arizona Diamondbacks INF Ildemaro Vargas was recalled from Class AAA Reno on Tuesday, Aug. 20. The team also optioned RP Bo Takahashi to Class AA Jackson. Source: MLBRosterMoves
BHQ take: Vargas may be a cut above the average backup infielder by virtue of his hard-hit ball (107 HctX) and plate skills (88% ct%, .296 xBA). Once on base he rarely runs, and it's unlikely that he'll see appreciable playing time, but if you have to grab someone to fill a short-term roster spot, there are worse options. (Vargas does have a .405 BA in the minors over 124 AB this season, and you can always justify picking up a .400 hitter even if it is Triple-A and the Pacific Coast League.) Takahashi didn't make it into a game during his brief stay in Phoenix, but he's likely to get an opportunity when rosters are expanded in September. —Rob Carroll
Impact: Low
Takahashi, Rodrigo
Vargas, Ildemaro

---

Rockies | Wes Parsons headed to mountains
The Colorado Rockies claimed RHP Wes Parsons off waivers from the Atlanta Braves Monday, Aug. 19. RHP Scott Oberg (arm) was transferred to the 60-day injured list. Source: MLBRosterMoves
BHQ take: Parsons pitched in 17 games for the Braves in 2019, posting a 3.52 ERA and 1.57 WHIP. Those numbers could have been uglier—he walked 13 in his 15 innings pitched. Previously used as both a starter and reliever, Parsons has pitched solely in relief in 2019, and his profile is more of the multi-inning type than it is an endgamer. (He might be neither if his control doesn't improve.) Underscoring an earlier item, Oberg's move to the 60-day IL confirms that he's done for the year. —Rob Carroll
Impact: Med
Parsons, Wes
Oberg, Scott
News feed provided by: Fantasy.USATODAY.com
Playing Time Key
The playing time percentage changes at the bottom of most news items correspond to BaseballHQ.com's Teamview pages. The percentages approximate changes in AB, IP and Saves in the following manner:
For batters, each 5% of PT% ~ 31 AB (100% total for each position = 618 AB)
For pitchers, each 3% of PT% ~ 44 IP (100% total for a team's entire pitching staff)
For relievers, each 5% of Svs ~ 2 saves (100% of a team's total = about 40 saves)
A complete explanation of BaseballHQ.com's playing time allocations can be found in the article "How the Projections are Created."
For more information about the terms used in this article, see our Glossary Primer.
Shopping Cart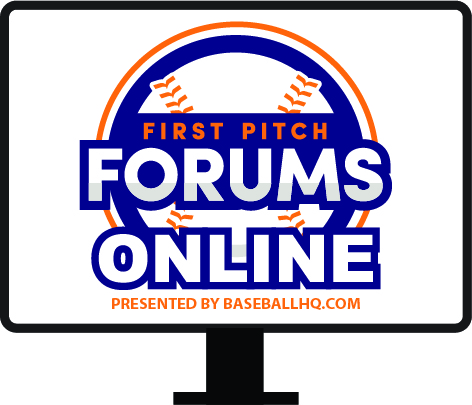 Our virtual First Pitch Forum returns!
Three online-only events: March 5, 11, 17
Join us live, or watch when you want
Just $19!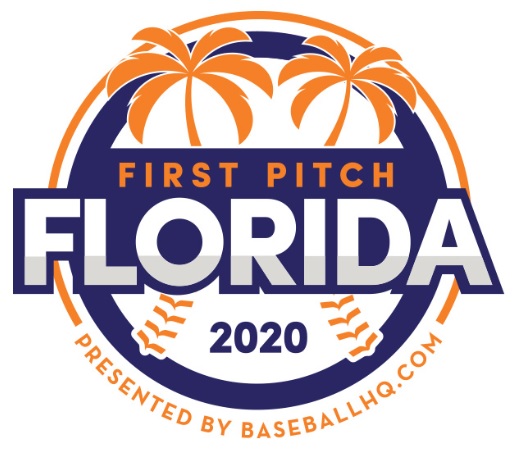 Inaugural Event!
February 28-March 1, 2020
St. Petersburg, FL
A few seats still left!