PROSPECTS: Scouting the 2023 College World Series
By Robert Gordon
June 29th, 2023 12:04am
The 2023 college baseball season was one of the most exciting in recent memory with lots of home runs and high-scoring games. In the past, that excitement hasn't always translated into a great College World Series or one laden with first-round talent. Last year, for example, Ole Miss (literally the last team in the field) defeated Oklahoma and only one player from the finals (Oklahoma's Cade Horton) was taken in the first round of the MLB draft.
The 2023 College World Series more than made up for that and featured some of the best teams in the country and possibly the deepest pool of MLB talent ever assembled. I was able to spend five days in Omaha last week and got to see all eight teams in action (many of them twice). Below are scouting reports for some of the highest-profile players from this year's CWS. Most of these players will hear their names called in the first round of the MLB draft in Seattle on July 9-11 and fantasy managers should scoop these guys up as soon as they can.
Paul Skenes (RHP, LSU) is arguably the best pitcher to ever play college baseball and is certainly the best college pitching prospect I've seen in person. Skenes, who was a standout two-way player at Air Force, transferred to LSU last fall and came into the spring in better shape and with improved mechanics. The results have simply been jaw-dropping. His average fastball velocity this year was 98 mph and as the season reached its climax, Skenes was routinely at 100+ mph. In his first start at the CWS, Skenes threw 123 pitches, 46 of which registered at 100 mph or above with plus movement and late life up in the zone. As if that isn't enough to get your attention, Skenes also owns a plus-plus upper-80s slider that he can paint for strikes or get swings and misses out of the zone. He also showed a much-improved change-up that he used with great effect to neutralize Wake Forest and out-duel fellow 1st-round talent Rhett Lowder. On the year, Skenes was 12-2 with a 1.69 ERA to go along with 20 BB and 209 strikeouts in 122.2 IP. That's good for 15.3 K/9 and a 10.5 K/BB ratio. With his three-pitch mix, elite velocity, and ability to locate, Skenes could get major league hitters out right now and his time in the minors could be limited.
---
In-depth details that give you an edge, every day from spring training through season's final pitch. Subscribe to BaseballHQ.com. Winning. Fantasy Baseball. Insight.
---
Dylan Crews (OF, LSU) is one of the most well-rounded and dynamic prospects to come out of the college ranks in the past decade and, along with teammate Skenes, led the LSU Tigers to their 7th College World Series Championship. A potential late first-round candidate out of high school, Crews bet on himself and removed his name from the draft in order to attend LSU. Three years later, that's looking like a pretty smart decision. Crews is a 5-tool talent who will stick in CF, and has the best bat-to-ball skills and strike zone judgment of any player in the draft. His slash line this year was an impressive 426/.567/.713 and before a mini-slump in May, he was hitting over .500. While there are some concerns about his elevated ground ball rate, his ability to make hard contact and command of the strike zone (71 walks vs 46 K in 258 AB) should enable him to get more balls into the air as a professional. If he does that, the sky's the limit and Crews will likely go 1st or 2nd in the MLB draft in July.
In most other years Wyatt Langford (OF, Florida) would be the presumptive 1st overall pick in the draft. The junior OF led the Gators to the CWS and within a game of winning the title. At 6'1", 225, Langford is built like a linebacker - or Mike Trout - and has elite tools, with 60/65 grades for his bat and power. Langford played infrequently as a freshman, but had a breakout campaign as a sophomore, blasting 26 home runs while hitting .356. He was even better this year, slashing .373/.498/.784 with 28 doubles and 21 home runs - good for a 1.282 OPS. Langford's compact RH stroke is suited to the professional game with excellent bat-to-ball skills and elite ability to hit the ball in the air. Defensively Langford has good speed underway, but lacks the fluidity and instincts of Crews. Most likely he ends up moving to a corner OF slot once he reaches the majors. Having said that, most fantasy managers aren't going to be concerned about where he plays and Langford has a middle-of-the-order bat that could move through the minors quickly.
Jac Caglianone (1B/LHP, Florida) was the best two-way player in the collegiate ranks this year and should be a top 5 draft pick in 2024. The 6'5" LHP/LHH has the raw tools to continue to be a two-way player at the MLB level - but there is work yet to be done. At the dish, he has easy plus power and led the country with 33 home runs in just 282 AB. He does have some swing-and-miss issues (17 BB/58 K) but the bat speed is a plus and the Florida coaching staff has had excellent results in helping players refine their approach at the plate. On the mound, Caglianone has a potentially plus fastball that for most of the year was in the 94-96 range but routinely sat at 96-97 with a few 99s in Omaha. He also has an upper-80s slider with two-plane break but struggles with command raise concerns about his ability to remain a starter in the big leagues. On the year, Caglianone was 7-4 with a 4.34 ERA and 55 BB/87 K in 74.2 IP.
While Skenes was the toast of the town, Rhett Lowder (RHP, Wake Forest) is also a likely top-10 draft pick. Not only did Lowder have some of the best lettuce in Omaha, but his plus three-pitch mix and ability to locate to all quadrants of the strike zone make him one of the more polished arms in this draft class. While Lowder doesn't blow hitters away in the way that Skenes does, his fastball is plenty good and sat at 94-96 with good late sinking action, resulting in lots of weak contact. His change-up might be the best in the college ranks and he uses it often and effectively against both righties and lefties. How far the two-time ACC Pitcher of the Year goes as a professional hinges on the continued development of his slider, which at times features depth and late break and is now an above-average offering with plus potential if it becomes more consistent.
The epic showdown between LSU and Florida and the head-to-head matchup between Skenes and Lowder sucked all of the oxygen out of the room in Omaha. As a result, ACC Player of the Year Kyle Teel (C, Virginia) got little press coverage. Fantasy owners would be remiss if they make the same mistake, as Teel is the top backstop in the draft and has a chance to impact the game on both sides of the ball. Teel has a quick left-handed stroke that is geared more towards contact and average, but there is at least average to above power in his frame. After a sub-par sophomore season, Teel raked in 2023 to the tune of .407/.475/.655 with 25 doubles, 13 home runs, and 32 BB/36 K in 258 AB. Teel doesn't have the same kind of speed as J.T. Realmuto, but he has that kind of athleticism. Behind the plate, Teel is a plus defender who frames well with a strong arm and quick release. There is an outside chance that Teel cracks the top 5 on draft day, but most likely he comes off the board somewhere between picks 5-10.
If you've never been to Omaha to watch the College World Series, seeing 24,000+ fans watch the best players and teams in the country go head-to-head is an amazing experience and one that should be on every avid fan's bucket list.
PS: LSU fans won the Jell-O Shot Challenge in a landslide, tallying 68,888 "votes" well ahead of Wake Forest who came in second with 7,622.
For more information about the terms used in this article, see our Glossary Primer.
Free Weekly eNewsletter
The industry's #1 analytical weekly e-mail newsletter is ABSOLUTELY FREE!
More Information
Shopping Cart
SAVE THE DATE!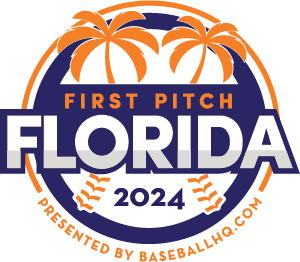 March 1-3, 2024

Clearwater, FL