PLAYING TIME: Robertson to DL, Soriano to close
By Brian Rudd

@RuddHQ
May 15th, 2012 11:05pm
AMERICAN LEAGUE
Robertson to DL, Soriano to close
Rafael Soriano (RHP, NYY) successfully converted a save opportunity May 10, when David Robertson (RHP, NYY) was unavailable after pitching the previous two days. Robertson was still expected to get the next opportunity, but Soriano got the call in the ninth on May 14, and again got the job done. As it turns out, Robertson was unavailable then as well, due to a strained oblique that is expected to sideline him for about three weeks. Those who have stashed Soriano away could be rewarded, as he is in line for saves now, and there's no guarantee Robertson reclaims the job when healthy.
Soriano continues to strike out close to a batter an inning, as this year's 8.4 Dom is in line with his 8.2 mark from the previous two seasons. His control problems from last season carried over into the early part of this year, as he walked six in his first four innings of work. However, he has since gotten back on track, walking just two batters in his last 10 innings. The main concern in Soriano's skill set is his inability to keep the ball down, as just one-third of the balls in play against him are typically on the ground. Home runs haven't been a major problem for him in recent years, though, as his last season with a hr/9 above 0.9 was back in 2007. Soriano did allow three home runs in 21.1 innings at Yankee Stadium last season, his first with the team, and with the short right field porch, that is a concern. He has little competition in the role for now, though, and short-term success could lead to him holding onto the job.
Valverde exits with back injury
Jose Valverde (RHP, DET) was forced to leave the May 15 game with two outs in the ninth inning due to a back injury, and was replaced by Octavio Dotel (RHP,DET), who converted the save. It is currently being reported as back tightness, but it is certainly a situation to monitor in the coming days. Should he be forced to miss time, Joaquin Benoit (RHP, DET) would likely be called upon to close.
Benoit's skills have been elite the past two seasons, as during that time he has compiled a 2.15 ERA, 0.87 WHIP, 10.2 Dom, and 2.1 Ctl. He got off to kind of a shaky start this year, with nine walks in 9.1 innings in April. He has walked just two batters in 5.1 innings in May, though, and his Dom currently sits at 14.7. Benoit has just 11 career saves, but was reportedly Manager Jim Leyland's choice on May 9 had there been a save situation, a day in which Valverde was unavailable. It appears for now that Valverde is going to be ok, but Benoit could get a chance if Valverde misses a couple of days, and would have significant value if the injury is more serious than expected.
Dotel would also be a candidate to close, though he is probably behind Benoit at this point. He does have 108 saves in his career, including 22 in 2010, but blew a save in place of a resting Valverde May 7. Last year's second half Ctl improvements have carried over into this season for Dotel, who currently sports a 12.5 Dom and 2.8 Ctl. At 38 years of age, it is extremely unlikely that he maintains his current 4.5 Cmd, which would represent a career best. However, he is capable of posting a triple-digit BPV the rest of the way, and would have a decent chance to succeed as closer if given the opportunity
Morneau activated from DL
Following multiple successful batting practice sessions, Justin Morneau (1B, MIN) has been activated, and is fully expected to return to the starting lineup May 16. A big question mark heading into the season, Morneau has hit pretty well, with a .280 xBA, 159 PX, and four home runs in 74 at-bats. It remains to be seen if the wrist injury he is recovering from will affect his power in any way, but the fact that he spent the minimum amount of time on the disabled list appears to be a positive sign. However, with ongoing concerns about both his wrist and his past concussions, Morneau remains a major health risk going forward.
NATIONAL LEAGUE
Rodriguez struggles in back-to-back outings
Manager Davey Johnson announced that he was sticking with Henry Rodriguez (RHP, WAS) as the team's closer following his May 13 blown save, during which he walked two batters and allowed a walk-off grand slam to Joey Votto. He again ran into trouble the following night, though, when he walked the bases loaded while retiring just one batter. Johnson summoned Sean Burnett (LHP, WAS) in from the bullpen, who induced a game-ending double play while recording his first save of the season. Rodriguez has posted an excellent 12.1 Dom to this point, but it has been accompanied by an alarming 6.9 Ctl. He appears to still be the short-term favorite for saves, while Brad Lidge and Drew Storen are still on the shelf due to injuries. However, even if that is the case, he probably has a shakier hold on the role than was the case just a few days ago.
Should Rodriguez continue to struggle, either Burnett or Tyler Clippard (RHP, WAS) could be called upon in a save situation. So far this year, Burnett has resembled the 2010 version of himself, with a 10.8 Dom and 6.0 Cmd in 10 innings of work. The result has been a 0.90 ERA to date, but both his Dom and his 90% strand rate are due for significant regression. As for Clippard, he's nowhere near as good as last season's 1.83 ERA and 0.84 WHIP would suggest. However, so far, this is his fourth straight season with a double digit Dom, which helps make up for his extremely high fly ball rate.
Injuries abound in St. Louis outfield
The Cardinals outfield has some injury issues, as Carlos Beltran (OF, STL) has been out of the starting lineup for the past two games, and Jon Jay (OF, STL) has landed on the disabled list with a shoulder strain. Beltran, who is dealing with knee soreness, pinch hit May 15, which is a good sign that a return likely isn't far off. To replace Jay on the roster, Shane Robinson (OF, STL), who was just sent down to Triple-A Memphis a few days ago, was recalled. Robinson has hit .311 in 45 at-bats with the Cardinals this season, though that is mainly due to a 39% hit rate. He won't maintain that batting average, but his performance in the minors last year (9 SB, 1.28 Eye in 220 at-bats) suggests he could make a serviceable fourth outfielder. He may see some time in center field while Jay is out, but with Beltran nearing a return and Skip Schumaker (2B, STL) capable of manning center field as well, Robinson isn't likely to garner regular playing time.
Schumaker, who has been in a timeshare at second base and totaled just 40 at-bats on the year, got the first start in center in place of Jay. While he doesn't bring much power or speed to the table, his excellent contact rate means he is likely to maintain a high batting average. With regular playing time, that can provide value, particularly when hitting near the top of the order in a high-powered offense.
When Schumaker does play center field, that will open up playing time at second base for Tyler Greene (2B, STL), who went 3 for 3 on May 15. Greene had entered the game hitting just .194, due to a combination of a 66% contact rate and 24% hit rate. His 71% career contact rate in 378 major league at-bats indicates he will continue to be a batting average liability. However, the improvements Greene made in the power department last season, when he hit .323/.422/.579 in 254 at-bats with Triple-A Memphis, have carried over into his performance this season. He won't be playing every day anytime soon, but could see a slight uptick in playing time with Jay sidelined. With above average speed and emerging power, he could be worth a flyer, but don't expect him to help your team's batting average.
NL short takes
Vance Worley (RHP, PHI) has been scratched from his May 16 start due to arm soreness, and it won't be known if he will miss any more time until he undergoes further examination. Kyle Kendrick (RHP, PHI), who has a 7.32 ERA and 1.3 Cmd in eight appearances (three starts) this season, will be called upon to make the upcoming start against the Cubs. His 3.22 ERA from a year ago was a fluke, as his 4.16 xERA, a career best, was more indicative of his skills. Having never topped a 2.0 Cmd, there is little in Kendrick's skill set that makes him an intriguing option. Pass...
Now recovered from an April bicycle accident, Jeremy Guthrie (RHP, COL) came off the disabled list to start against the Giants. He struggled mightily during the second half of last season, when he posted a 4.71 ERA and 1.5 Cmd in 17 appearances. It has been even worse this year, as Guthrie walked more batters than he struck out in each of his first four starts, while putting up an ugly 5.92 ERA. It will likely get somewhat better, but as a soft-tosser at Coors Field, Guthrie remains a very risky proposition...
For more information about the terms used in this article, see our Glossary Primer.
Shopping Cart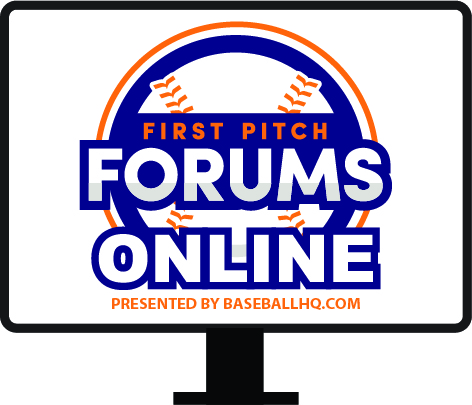 Our virtual First Pitch Forum returns!
Three online-only events: March 5, 11, 17
Join us live, or watch when you want
Just $19!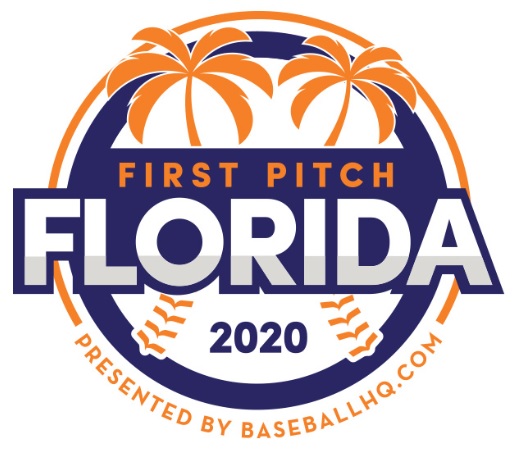 Inaugural Event!
February 28-March 1, 2020
St. Petersburg, FL
A few seats still left!