PLAYING TIME: Devine hits DL as OAK closer decision nears
By Jock Thompson

@JOCKatHQ
March 19th, 2012 12:05am
AMERICAN LEAGUE
Devine to DL, OAK close to naming closer
Just two days after OAK manager Bob Melvin said that he's "getting closer" on making an announcement pertaining to the team's closing situation, OAK announced Sunday that Joey Devine (RHP, OAK) has been placed on the DL with right biceps soreness. Devine had been sidelined since a March 8 outing vs. LA in which he gave up 4 runs and 3 BB in less than an inning. He's eligible to come off the DL on April 8, the best-case scenario being that he only misses four regular season games.
Devine has given new meaning to the term "fragile"—as indicated by his F Health grade, a two-year absence (2009-10) due to Tommy John surgery and recovery, and a series of elbow/forearm/back issues that have sandwiched that downtime. The absence of a clear-cut closer option in OAK says he still eventually has a shot in 2012. But Devine's track record suggests that there's no guarantee he'll return within the minimum, let alone remain healthy or be able to pitch on successive days effectively for any length of time. He still retains good dominance at age 28, but injuries have swallowed a once-elite GB%—and more of the same will soon cut into Devine's remaining skills as well.
Melvin's Friday pre-announcement suggests that Grant Balfour (RHP, OAK), now with three consecutive scoreless appearances after a rough March start, has the edge for the job. As noted in Doug Dennis' March 13 Bullpen Buyers Guide, Balfour has the best skills of a sketchy group. Brian Fuentes (LHP, OAK) has more experience, but an inferior skill set -- and while his spring numbers mirror Balfour's, he hasn't been as consistent recently. It's not out of the realm of possibility that Melvin could decide on a job-share based on matchups and handedness.
Inexperienced Fautino de los Santos (RHP, OAK) remains an interesting dark horse both now and down the road, but he's still exhibiting Ctl issues this spring in spite of having the best March ERA of the group. Simply put, even after Melvin's pending announcement, the OAK save situation should continue to be monitored by fantasy owners seeking closer help.
NATIONAL LEAGUE
Quentin injury, March performances cloud SD OF picture
SD announced Saturday that Carlos Quentin (OF, SD) will undergo arthroscopic surgery Monday to repair a meniscus tear in his right knee, and to remove loose particles. The operation is expected to shelve Quentin for 4-6 weeks, which suggests a lost April for the newly-acquired slugger. While Quentin's numbers were already projected to take a hit coming over from HR-friendly U.S. Cellular field, this new development makes him even less attractive on draft day.
The initial projections of Quentin's early return and the offense-crushing nature of PETCO leaves an open question as to how valuable his replacements and their numbers might be. But SD was already looking for ways to find AB off the bench for Jesus Guzman (1B/OF, SD), who showed in a small 2011 sample size that he won't embarrass himself. A lifetime .305 minor league hitter, the 28-year-old Guzman put up a .312/.369/.477 line in 247 AB – numbers overstated by a 36% h%, but at least partially supported by an 89% ct% and a 125 PX. Of particular note are a .346/.412/.551 line at PETCO and his use of the entire field in 2011, which together keep him mildly interesting.
Another decent option is high-power / low-contact Kyle Blanks (OF/1B, SD) —134 PX, 70% ct% in 170 AB—whose age (25), remaining options and upside previously had him projected as a demotion or trade candidate. More extensive spring profiling on Blanks can be found in his PlayerLink entry. There's also Chris Denorfia (OF, SD), the 31-year-old bench OF who parlayed an 84% ct% and slightly above average speed into a .277 BA / 11 SB performance over 307 AB in 2011. Mark Kotsay (OF, SD) could also steal some AB due to his handedness, but he's the least rosterable of these names. At age 36, Kotsay's skills and bottom line portray a LH version of Denorfia without the speed, leaving us wondering why rebuilding SD inked him to an MLB contract in the first place.
The Padres' perennial offensive issues suggest that a short-term fix may depend on who is hot, but none of the aforementioned names are having notable springs to date. In fact Denorifa just had his first spring AB on March 17, and remains a candidate for the DL come Opening Day due to ongoing lower back issues. Further clouding the issue is a loaded minor league system—and good springs by near-ready offensive OF options such as Jaff Decker, James Darnell, and Blake Tekotte. For now, the only certainty in the April version of the Padres OF are 1) Cameron Maybin in CF; and 2) Will Venable's corner OF AB vs. RHPs. The crowd here further hints that SD is a prime candidate for a pre-Opening Day trade.
WAS signs Nady as 1B/OF issues mount
Confronted with ongoing injury problems less than three weeks before Opening Day, the Nats have signed stopgap Xavier Nady (1B/OF, WAS) to a minor league contract. Until now, Nady had become a 2012 afterthought to most organizations thanks to injuries and sub-par performances over the previous three seasons. His mediocre 2011 effort—.248/.241 BA/xBA, 4 HR, 89 PX in 206 AB—was aborted early by a fractured left hand, but Nady hasn't shown healthy plus skills since 2008. His hitting abilities appear to have atrophied despite working in two offense-oriented venues—Wrigley Field in CHC and Chase Field in ARI—during the 2010-11 seasons.
Nady's availability and ability to play both OF and 1B were key to his signing, but obviously not the only factors. While a new MRI Saturday showed no further damage to Mike Morse's (1B/OF, WAS) lat strain, his continuing discomfort has prompted WAS to hold him out of games for the next seven days. This injury wasn't considered significant several weeks ago, but with Morse now having accumulated just 7 spring AB, he's becoming a DL risk for Opening Day.
Morse joins Adam LaRoche (1B, WAS), who will also reportedly not see game action for at least the next week. Still recovering from labrum surgery that was already raising questions about his 2012 production, LaRoche has yet to fully recover from what was thought to be a mild ankle sprain in late February. LaRoche needed a strong healthy spring to cement his 1B spot, but is now looking like at least an even bet to open the season on the DL. His continuing injury issues should push him down your 1B draft list, but six consecutive seasons of 20+ HR and plus PX make him an intriguing late flyer.
Barring a late March hot streak, Nady appears ticketed to begin 2012 in the minors, with 37-year-old Mark DeRosa's (OF/1B, WAS) MLB contract and outstanding spring—6-for-14, 8/0 BB/K—maintaining his projection as the early 1B option, should both LaRoche and Morse be unavailable. With phenom Bryce Harper (OF, WAS) being optioned to AAA-Syracuse on Sunday, utility OFs Rick Ankiel (OF, WAS) and Roger Bernadina (OF, WAS) project to see an April PT increase if the worst-case here pans out. But ongoing rumors suggest that a flush WAS front office is still hunting for a legit CF option, adding to the fluidity of the 1B/OF PT situation.
For more information about the terms used in this article, see our Glossary Primer.
Shopping Cart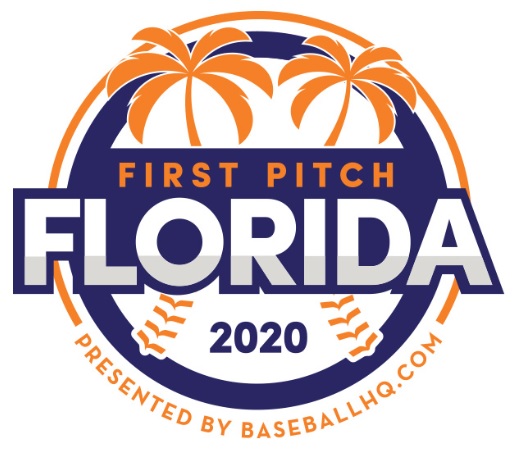 Inaugural Event!
February 28-March 1, 2020
St. Petersburg, FL
A few seats still left!