PLAYING TIME: AAA-bound and down?
By Jock Thompson

@JOCKatHQ
March 26th, 2012 11:05pm
NATIONAL LEAGUE
Alvarez struggling again
This past Sunday, PIT GM Neal Huntington surprised anyone who has been watching Pedro Alvarez (3B, PIT) this March when he suggested that the Pirates aren't yet leaning toward an Triple-A demotion for their 3B, who he described as going through "a tough stretch." Alvarez is 4-for-32 this spring, with 2 HR and 15 Ks—a 53% ct% for those of you counting—and is hitless in 8 AB vs. LHP. This may be a timing issue, but right now Alvarez is showing few signs of conquering his demons amid more health problems (reportedly left knee inflammation this go-around). With less than two weeks to pull out of this nosedive, Alvarez should still be viewed as a big risk to begin realizing his now-modest high-power / low BA upside come Opening Day.
Alvarez has been out-hit by his anticipated platoon partner Casey McGehee (3B, PIT), who is 10-for-35 but with zero HR and a .400 Slg—an ominous if small sample in light of his 2011 power outage (84 PX, .346 Slg). Both Alvarez and McGehee are being lapped by upstarts Yamaico Navarro (15-for-41), utility Josh Harrison (14-for-28) and 25-year-old camp sensation Matt Hague (15-for-36, 4 HR), a 1B by trade whose March power outburst isn't supported by his minor league track record. None of these names look like long-term upside performers at 3B, but there are enough stopgap options here to make more minor league time for Alvarez a real possibility, if the light doesn't flick on soon.
NL short take
With Chien-Ming Wang (hamstring) out for the entire month of April, WAS manager Davey Johnson formally announced that John Lannan (LHP, WAS) would be the Nats' #5 starter. Lannan's one plus skill is a 50% GB% that has allowed him to consistently out-pitch his xERA and maintain a sub-4.00 ERA in four of the past five seasons. But sub-par Dom, a typical 1.5 Cmd and that 4.89 ERA from 2010 tells you that his skills are paper-thin and risky—and that he may not be able to hang on as an SP for too much longer ...
AMERICAN LEAGUE
CLE 3B still undecided
Following a 2011 that saw their offense struggle, the Indians were hoping that Lonnie Chisenhall (3B, CLE) would pick up where he left off last September, when hit .279 and slugged .465 with 4 HR. Chisenhall is a scout's favorite, and clearly CLE's 3B of the future, even though his age (23) and recent numbers hint that he's been rushed a bit. An MLE-based .246 xBA, 6% bb% and a 105 PX suggests that Chisenhall still has work to do, while his current spring training performance—.205 BA, zero HR, 16/1 K/BB in 39 AB—says that this could happen at AAA-Columbus.
But CLE hasn't shown much offensive punch this March as a unit, forcing manager Manny Acta to wait until the final day(s) to make this and other job decisions. The good news for Chisenhall is that his primary competition is Jack Hannahan (3B, CLE), a hitter with barely average power whose .250 BA / .241 xBA in 2011 (320 AB) were career MLB highs. But while Hannahan had been struggling with a bad back that held him out of action for the past two weeks, he resurfaced Monday to pick up a couple of hits and raise his March line to 6-for-18. Moreover, Hannahan is an outstanding glove man, which separates him from Chisenhall and makes him an asset behind a GB-tilting CLE rotation. Regardless of Acta's eventual call, the Indians may not offer up much fantasy value at 3B until Chisenhall gets more consistent. This doesn't look like a good bet for Opening Day.
Thames wins LF job
With their option of Travis Snider (OF, TOR) to AAA-Las Vegas Sunday, the Blue Jays officially named Eric Thames (OF, TOR) their Opening Day LF. Thames' power—as noted by a 141 PX and 12 HR in 362 AB—along with a playable .266/.271 BA/.xBA in his rookie season helped him end 2011 as the starter. Thames hung onto his edge with a 15-for-45 mark in March, suggesting that he'll remain a decent fantasy regular in 2012.
Not only does the bottom line—.271/.340/.625 in 48 AB—suggest that Snider had a decent spring, he also out-homered Thames this March by a 4-to-1 count, an encouraging sign given the disappearance of his power in 2011 (101 PX). But the contact issues that have plagued him in recent MLB auditions showed up again—17 Ks for a 65% ct%—and may have been the final decision-maker. At age 24, he remains worth eyeballing to see if his power can rebound. Remember, from 2008 through 2010, Snider maintained an MLE-adjusted 150+ PX.
LAA storylines gain traction
Two PT storylines in a busy LAA camp picked up significant momentum this past weekend, the first of which was touched on by playing time analyst Rob Carroll on Sunday. After going 3-for-4 vs. COL on Monday, Kendry Morales (DH, LAA) has now played four games in five days, including a day-after-night game on Saturday. He has hit in all five contests (8-for-13 with a HR), mostly as a RHB vs. LHP (historically his weakest side) while showing no signs of any physical issues or stamina problems. With his swing / timing returning faster than anyone has anticipated, Morales' excellent contact for a power hitter is showing no sign of rust, making an Opening Day lineup spot now a very real possibility.
The story being eclipsed by Morales' return is Mark Trumbo's (DH/1B/3B, LAA) increasing comfort level at 3B after a rough start. GM Jerry DiPoto still doesn't view Trumbo as an everyday 3B option, but observers watched Trumbo make a sparkling play vs. TEX on Sunday, just a day after he patrolled RF vs. TEX. The Angels sound increasingly confident that they can find him 300+ AB at four spots—3B, OF, DH, 1B—which would fall well short of his 539 AB in 2011 but still keep Trumbo's plus power relevant in deeper fantasy formats. His ability to make 30-40 starts at 3B would have PT ramifications for both Alberto Callaspo and Macier Izturis, making an end-of-spring-training trade possible. LAA playing time remains a very fluid and interdependent situation that is well worth watching.
AL short take
With Daric Barton still in U.S. rehabbing from shoulder and biceps issues, OAK manager Bob Melvin told writers that he was leaning toward starting Brandon Allen (1B/DH, OAK) at 1B on Opening Night vs. SEA Wednesday in Tokyo. Allen has had a decent spring though hardly special by Arizona standards—.303/.359/.576 with two HR in 33 AB—but it comes with just five strikeouts, an 85% ct%. Sure, it's a stupidly small sample size, but to put this in perspective, Allen had 62% ct% last March, followed up with a 68% ct% in 519 combined AAA and major league AB during the regular season. Simply put, this is at least a whiff of progress -- and combined with his power vs. Barton's anemic track record, it's enough to make us watch Allen again ...
For more information about the terms used in this article, see our Glossary Primer.
Shopping Cart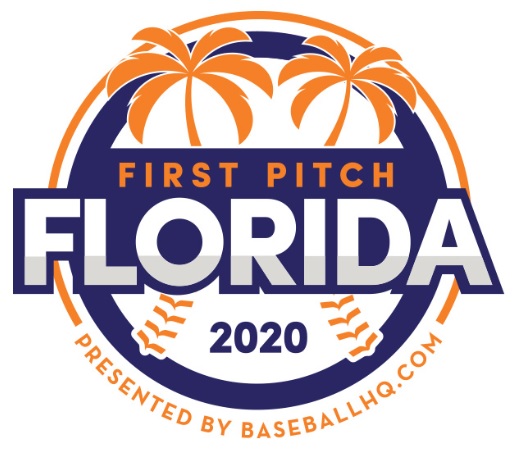 Inaugural Event!
February 28-March 1, 2020
St. Petersburg, FL
A few seats still left!