MINORS: Top SS Prospects, 2023
By Jeremy Deloney
January 30th, 2023 9:05am
Photo: Gunnar Henderson (SS, BAL)
This week continues our annual review of the top prospects by position. From last week through mid-March, we'll examine one position a week by looking at both those rookies ready to contribute in the big leagues now, as well as the top 15 long-term prospects at each position. To give you a complete look at the position, our topic schedule mirrors the position covered in our Market Pulse series, which was also published this week. Today, we look at the top shortstop prospects.
It isn't much of a surprise to see so many excellent shortstops in the minor leagues or in the HQ100. After all, shortstops tend to be among the most athletically-gifted players on the diamond. To put it in perspective, a total of 22 shortstops were listed in the HQ100. Compare that with 23 in 2021. There are 4 in the top 10, 8 in the top 15 and 15 in the top 50.
Other shortstops who appear in the HQ100, but didn't make the top 15 in the list below include: Oswald Peraza (NYY), Edwin Arroyo (CIN), Brayan Rocchio (CLE), Zach Neto (LAA), Brady House (WAS), Jordan Westburg (BAL) and Luisangel Acuña (TEX).
To further expand the point, there were 9 other shortstops who received votes, but fell short of the exclusive list. Those prospects include the likes of: Jett Williams (NYM), Orelvis Martinez (TOR), Liover Peguero (PIT), Angel Martinez (CLE), Yiddi Cappe (MIA), Aeverson Arteaga (SF), Brice Turang (MIL), Carson Williams (TAM), and Ronny Mauricio (NYM).
The 2022 draft also featured several top shortstops, including top pick Jackson Holliday (BAL). There were 8 shortstops selected in that first round, including Termarr Johnson who is listed as a 2B going forward. Brooks Lee (MIN) and Neto are both in the HQ100. Other shortstops selected in the first round include Williams, Cole Young (SEA), Mikey Romero (BOS) and Eric Brown (MIL).
Of course, it is entirely possible that several of these prospects will move to other positions. Given the depth of quality shortstops in the big leagues today, many of these players may move across the bag to 2B or even to 3B or the outfield.
The dollar ranges listed below represent projected values for 2023. See a more detailed scouting report on each player by following the link to his team's organization report or PlayerLink page.
$16-$20
Gunnar Henderson (BAL)
The #2-ranked prospect in the HQ100, Henderson has already achieved success in the majors, hitting .259/.348/.440 with 7 doubles and 4 HR in 116 AB with the Orioles. It is almost a sure-thing that the 21-year-old will be on the Opening Day roster. The question is what position he'll play. He could play all of 2B, SS and 3B, particularly with an infield in flux. Though he only stole one base in the majors in 2022, Henderson has 20+ SB capability to go along with his 25+ HR projection. Given his ability to get on base consistently, this could be a dynamite pick in any fantasy format, particularly if he is eligible at multiple positions.
---
There's more where this came from to help you win your fantasy league in 2023. Take the title home with a subscription to BaseballHQ.com.
---
$11-$15
Ezequiel Tovar (COL)
The 21-year-old had a breakout campaign in 2022 when he hit .319/.387/.540 with 14 HR and 17 SB in the minors (mostly Double-A). He then earned 33 AB with the Rockies and hit .212/.257/.333. He likely will be the Opening Day shortstop in Colorado and offer value in most fantasy categories, though he may not be above average in any one of them. His future is incredibly bright and he could grow into 20+ HR power. Tovar doesn't have much competition for the job.
$6-$10
Royce Lewis (MIN)
There are a few things working against the 23-year-old uber athlete. For one, he's still working his way back from a torn ACL in his right knee that required surgery. He is expected to return in late June or early July. Equally notable is the presence of Carlos Correa at shortstop for the near and long-term. There is no reason to lose hope in his future, however. When healthy, Lewis is one of the best athletes in baseball with incredible speed and burgeoning pop. He had an excellent trial run in the majors in 2022, hitting .300/.317/.550 with 2 HR in 40 AB. He can play all over the diamond, giving him needed versatility, particularly important due to the presence of Correa.
Oswald Peraza (NYY)
Peraza's value could move in a number of directions, but $6-10 seems right at this point in the offseason. The Yankees have a number of candidates at the shortstop position and the 22-year-old may have the best shot to claim the job. He'll tangle with Isiah Kiner-Falefa and stud prospect Anthony Volpe for the starting role. Peraza may not have the upside of Volpe, but he produces very well. He hit .306/.404/.429 in the big leagues in 49 AB after a solid season in Triple-A. He has both power and speed in his profile.
$1-$5
Elly De La Cruz (CIN)
There doesn't appear to be any major obstacle standing in the 21-year-old's way at the big league level. That doesn't necessarily imply that De La Cruz will make the Reds Opening Roster. In fact, it is highly unlikely. The Reds are blessed with an abundance of high-quality, upper-echelon infield prospects and De La Cruz is the best of the bunch, coming in at #8 on the HQ100. He dominated on two levels - High-A and Double-A - and has as much upside as any prospect in all of baseball. He'll need some time to work on his contact ability and pitch recognition. At 6'5" 200 pounds, he has the athleticism, wiry strength and plus speed to provide value in any fantasy category. He should emerge in the big leagues potentially near mid-season.
Brice Turang (MIL)
The 23-year-old is on the 40-man roster and will be given an opportunity to win a roster spot during spring training. With Willy Adames ensconced at shortstop, Turang may need to hone his 2B skills to win a job. He doesn't have a very high ceiling, but there is a strong chance he can contribute in a number of ways with both bat and glove. He is a prospect who stands out mostly for his athleticism and speed. At his peak, he could steal 30+ bases while contributing moderately with both BA and HR. The Brewers appear willing to give him a shot and he could pay dividends fairly early in the season even if he returns to Triple-A to begin 2023.
Long Term Top 15 Shortstop Prospects
1. Gunnar Henderson (BAL)
2. Jordan Lawlar (ARI)
3. Anthony Volpe (NYY)
4. Elly De La Cruz (CIN)
5. Ezequiel Tovar (COL)
6. Jackson Holliday (BAL)
7. Marcelo Mayer (BOS)
8. Royce Lewis (MIN)
9. Noelvi Marte (CIN)
10. Marco Luciano (SF)
11. Colson Montgomery (CHW)
12. Masyn Winn (STL)
13. Brooks Lee (MIN)
14. Jackson Merrill (SD)
15. Adael Amador (COL)
Jordan Lawlar (ARI)
The #3-ranked prospect in the HQ 100, the 20-year-old amazingly isn't considered the best prospect in his own organization (thanks to OF Corbin Carroll). The 20-year-old hurt his shoulder in the Arizona Fall League and seems poised to return to Double-A for 2023. Name a skill and Lawlar has it. He has 30+ HR projection, 20+ SB potential and a shot to hit for a high BA. He is mature beyond his years and has an outside chance at reaching the majors in 2023. There is no need to rush him and Arizona likely will be very patient.
Anthony Volpe (NYY)
As mentioned with Peraza above, Volpe will be given every chance to win the starting job in spring training. The more likelihood scenario would see the 21-year-old return to Triple-A where he had 89 AB in 2022. The right-handed hitter got off to a slow start in 2022, but progressed and has continually to show improvement in all aspects of the game. He smashed a career-high 21 HR thanks to his plus bat speed and added loft to his stroke. Given his ability to hit for BA and potentially hit 25-30 HR, a shortstop with power-hitting production stands out. Almost assuredly, he will debut at some point in 2023.
Noelvi Marte (CIN)
Acquired from the Mariners at mid-season, the 21-year-old saw a lot of action at 3B in the Arizona Fall League. As mentioned previously with De La Cruz, the Reds have a lot of shortstop options at every affiliate in the minors. He spent the entirety of 2022 in High-A and will head to Double-A for 2023. There is a lot of work he needs to do to realize his potential, but he has continued to show advanced skills with the potential to be a middle-of-the-order producer at either 3B or SS. Marte has added bulk to his frame which has cost him his foot speed. However, the offensive output should make him an attractive option going forward.
Jackson Merrill (SD)
Drafted in the 1st round in 2021 out of high school, the 19-year-old has vaulted his way to becoming the top prospect in the Padres organization. He missed a lot of time due to a wrist injury, but showcased his talent in High-A, particularly late in the season. His steady progression and growth have led evaluators to continue to adjust his potential offensive production upward. Many now see him getting to 25+ HR with impressive BA/OBP. He also has the talent to stick at shortstop, though the Padres have a number of options already at the big league level. Regardless, Merrill's bat is good enough to potentially switch to any other position.
For more information about the terms used in this article, see our Glossary Primer.
Free Weekly eNewsletter
The industry's #1 analytical weekly e-mail newsletter is ABSOLUTELY FREE!
More Information
Shopping Cart
SAVE THE DATE!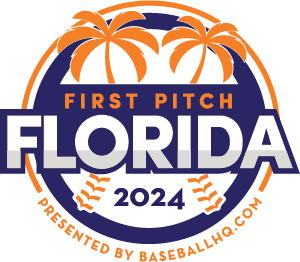 March 1-3, 2024

Clearwater, FL