MINORS: Top 3B Prospects 2020
By Robert Gordon
February 10th, 2020 1:05am
Photo: Ke'Bryan Hayes (3B, PIT)
This week continues our annual review of the top prospects by position. Between now and Opening Day, we'll examine one position a week by looking at both those rookies ready to contribute in the big leagues now, as well as the top 15 long-term prospects at each position. Again this year, our topic schedule will mirror the position covered in Market Pulse that same day, to give you a complete look at the position.
Here's our Previously Covered Positions:
Catcher | Shortstop | Second base
This week, we take a look at the top 3B prospects in baseball. Historically 3B has been relatively fertile ground for fantasy owners looking for an impact bat. In the past five years we've seen 3B prospects such as Austin Riley, Vladimir Guerrero Jr, Alex Bregman, Rafael Devers, Yulieski Gurriel, Matt Chapman, Joey Gallo, Yoan Moncada, Kris Bryant, and Miguel Sano establish themselves as fantasy mainstays, though sometimes they come through the minors at a different position. The 2020 crop of 3B prospects lacks that kind of depth and doesn't have the type of slam-dunk Rookie of the Year candidate that Vlad Guerrero Jr was in 2019 when he sat atop the HQ100.The 2019 HQ100 saw an unprecedented 10 3B prospects make the list compared to just six who made the cut this year.
Despite lack of major league ready talent, savvy fantasy owners can still some intriguing prospect who could make surprising contributions in 2020. At the top of that list is Alec Bohm (PHI) who was the 3rd pick in the 2018 draft. With the addition of Bryce Harper last year and Didi Gregoruis and Zack Wheeler this off-season, the club is clearly in win now mode. The Phillies let under-achieving Maikel Franco go and for now have the equally inconsistent Scott Kingery slated as the opening day 3B. If Bohm gets off to a hot start at Triple-A, he could be in the majors by mid-season. Other potential contributors in 2020 include Ke'Bryan Hayes (PIT), Isaac Paredes (DET), and Sheldon Neuse (OAK). Hays and Paredes are both in organizations in full-blown rebuilding mode and already have more upside than the players penciled in opening day starters. Their playing time in 2020 will depend as much on how the Tigers and Pirates see their rebuild unfolding as on their major league readiness. Paredes already has over 600 AB at Double-A and Hayes spent all of 2019 at Triple-A Indianapolis.
Regardless of what happens in 2020, the position should continue to yield impact big leaguers and fantasy studs. In 2019 four 3B prospects were taken in round one of the draft - Josh Jung (#8), Brett Batty (#12), Kody Hoese (#25), and Davis Wendzel (#41) - and this June Vanderbilt 3B Austin Martin has an excellent chance to be the first player off the board. Jung is the only player from that group currently in the HQ100, but the rest of the group could ascend there by 2021.
The dollar ranges listed below represent projected values for 2020. (See a more detailed scouting report on each player by following the link to his team's organization report.)
$1-$5
Alec Bohm (PHI)
Bohm impressed in his full-season debut, slashing .305/.378/.518 with 30 doubles and 21 home runs across three different levels and then raked in the AFL (.361/.397/.528). The 23-year-old has an advanced hit tool and at 6'5" 225 has plus raw power. He has a discerning eye at the plate (0.74 Eye) and makes consistent, hard contact. Defensively Bohm will need to work hard to stick at 3B. His range is limited, but he showed improved footwork and has enough arm strength for the position. With the Phillies in full-blown win now mode it will be interesting to see how they handle Bohm in 2020 and beyond. The Phillies signed Scott Kingery to a 6-year contract extension in 2018 and he will begin the year as the club's starting 3B. To date Kingery has been maddeningly inconsistent and last year dealt with blurred vision that may have contributed to his second half collapse (.948 OPS in the 1st half, .689 in the 2nd).
Ke'Bryan Hayes (PIT)
Unlike Bohm, the Pirates Ke'Bryan Hayes has been on the slow and steady path to the big leagues. Drafted in the 1st round in 2015 Hayes has worked his way up one level at a time. Hayes has plus raw tools, but has yet to have a true breakout season and his career high OPS was an .819 back in 2018. At 6'1", 210 he has the size and strength to develop at least average power and set a career high in HR in 2019, but that career best was just 10 long-balls. Hayes is a potential Gold Glove defender, which will ensure that he sees regular playing time once he reaches the majors. With the defensively-challenged Collin Moran set to hit free agency at the end of the year, the rebuilding Pirates should make room for Hayes by mid-season if not sooner. If they do, Hayes could easily surpass our modest projection and makes a great end-game NL-only target.
Isaac Paredes (DET)
Paredes came over from the Cubs as part of the Justin Wilson and Alex Avila deal in 2017. Since then he has established himself as a fringe Top 100 prospect, though none of his tools project to be plus. Paredes has good pop for his size and walked almost as many times as he struck out in 2019 (57 BB/61 K). He's a solid defender with good hands and a strong arm and early in his pro career was primarily a SS before moving over to 3B. The Tigers starting 3B job could be a time-share between Dawel Lugo and Jeimer Candelario, neither of whom have ever posted an OPS north of .750. The Tigers are unlikely to contend for anything other than the 1st overall pick in the 2021 draft and since Paredes doesn't turn 21 until later in the month (February), he will most likely spend a good chunk of the season at Triple-A Toledo.
Sheldon Neuse (OAK)
Neuse, who came over to the A's along with Jesus Luzardo and Blake Treinen for Sean Doolittle and Ryan Madson, had a breakout season in 2019. The 25-year-old dominated Triple-A pitching, slashing .317/.389/.550 with a career-high 27 home runs. Neuse is a solid defender with a plus arm, and actually played more games at 2B than 3B in a cup of coffee last year, though he's better defensively at third. The uptick in power needs to be duplicated (his previous career high was 16 in 2017), but the cost-conscious A's have an enviable record of getting surprising production from non-Top 100 prospects. Neuse heads into spring training with a shot of winning the opening day start at 2B.
Long-term Top 15 3B Prospects
1. Alex Bohm (PHI)
2. Nolan Gorman (STL)
3. Nolan Jones (CLE)
4. Ke'Bryan Hayes (PIT)
5. Josh Jung (TEX)
6. Sherten Apostel (TEX)
7. Jonathan India (CIN)
8. Abraham Toro (HOU)
9. Brett Batty (NYM)
10. Isaac Paredes (DET)
11. Bobby Dalbec (BOS)
12. Mark Viento (NYM)
13. Kody Hoese (LA)
14. Sheldon Neuse (OAK)
15. Colton Welker (COL)
Nolan Gorman (STL)
Gorman has as much raw power as any player in the minors and had an impressive pro debut in 2018 (.291/.380/.570 with 17 HR in just 237 AB). The results in his full-season debut were more pedestrian (.248/.326/.439 with 15 HR) and his ultra-aggressive approach at the plate revealed some significant flaws (67% contact rate and a 0.30 Eye). Nevertheless, Gorman has huge raw power, has already played in a Futures Games, received an invite to big league camp this spring, and doesn't turn 20 until after the season starts. Gorman will have to work hard to stick at 3B, but with Matt Carpenter nearing free agency and in the declining phase of his career, the Cardinals view Gorman as their 3B of the future.
Nolan Jones (CLE)
The Indians gave Jones a $2.25 million bonus to forgo his commitment to ACC powerhouse Virginia and he's rewarded them by establishing himself as one of the top 3B prospects in baseball. At 6'3", 195 Jones has the size and bat speed to develop above-average to plus power. He showed a balanced, patient approach at the plate in his pro debut, but was more aggressive in 2019, hunting to pitches he could do damage with. The Indians are confident Jones will find a happy medium and he did walk 96 times in 2019. He has the tools to be at least an average defender at 3B and has worked hard to learn the position (he played SS almost exclusively in high school). With Jose Ramirez still in the prime of his career and at least two years away from free agency, Jones will have to bide his time and will start the year at Triple-A Columbus.
Josh Jung (TEX)
Jung was the 8th overall pick in the 2019 draft after a standout career at Texas Tech. At 6'2", 215 Jung is already physically mature and has an advanced approach at the plate. He has a discerning eye and is willing to work count, hunting for pitches he can drive into the gaps. That approach results in plenty of hard contact and a career slash line of .348/.455/.576 in college. He also moves well defensively and played SS during Texas Tech's CWS run. The only question about Jung's long-term potential is his power tool, with some evaluators projecting below-average home run totals, while others are more optimistic that his contact skills and raw strength will eventually push him into the 20-30 HR range annually.
Brett Baty (NYM)
The LHH 3B was considered one of the best high school position players in the 2019 draft and the Mets jumped when he was still available at #12. Baty has plus raw power and slugged .452 in his pro debut, despite hitting just .234. The ball jumps off his bat and he shows power to all fields, but an overly aggressive approach results in plenty of swing-and-miss (65 K in just 188 AB) and will need to be addressed as he moves up. He has a plus arm but needs to improve defensively in order to stick at the hot corner over the long-term.
For more information about the terms used in this article, see our Glossary Primer.
Shopping Cart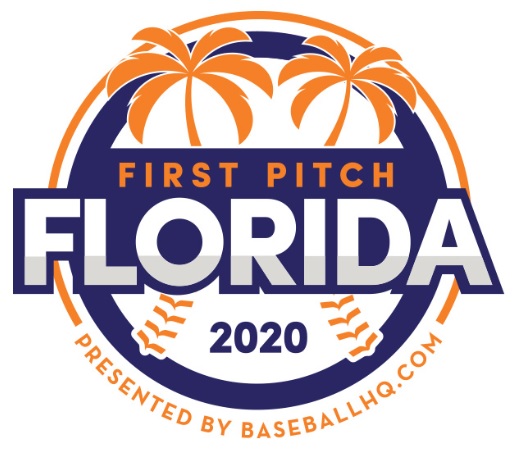 Inaugural Event!
February 28-March 1, 2020
St. Petersburg, FL
A few seats still left!