MINORS: News and Notes
By Robert Gordon
May 11th, 2012 11:03pm
This week we take another tour around the minors to look at who's hot, who's not, who's on the DL, and who is on the brink of having a true breakout. The early promotion of top prospect Bryce Harper (OF, WAS) continues to be the story of the year at the minor league level. With teams increasingly willing to sign young players to long-term contracts prior to free-agency—effectively buying out their arbitration eligible years—it will be interesting to see if other teams follow the Nationals lead and promote their top prospects ahead of the Super Two arbitration deadline.
Triple-A Update:
The Chicago Cubs Anthony Rizzo (1B) looks ready for another shot at the majors. After 30 games at Triple-A Iowa, the 22-year-old is hitting .347/.419/.645 with 6 doubles, 10 home runs, and a 13 BB/27 K in 121 AB. With Bryan LaHair putting up even better numbers in the majors, the Cubs could try and shift one of the two to the OF. One thing is clear: the club's anemic offense could use all the help it can get.
The oft-injured Fernando Martinez (OF, HOU) is in the midst of one of his infrequent runs of health and productivity. The 23-year-old Martinez has played in 33 of his clubs 35 contests and is hitting .310/.371/.524 with 9 doubles, 6 home runs, and 11 BB/25 K in 126 AB. He is also moving well in the fields and was named the Triple-A defensive player of the month for April. All of the normal caveats about durability and consistency still apply, but Martinez does have talent.
The St. Louis Cardinals Matt Adams (1B) looks ready to make his big league debut; unfortunately there isn't a place for him to play. The Cardinals moved the hot-hitting Allen Craig to 1B when Lance Berkman hit the DL, making it likely that Adams won't see significant playing time until late 2012 or even early 2013. To his credit, Adams has not let this discourage him and on the year is hitting .310/.358/.504 with 7 doubles, 5 home runs, and 9 BB/21 K in 113 AB.
The Chicago White Sox Jordan Danks (OF) is having his best professional season since 2009. The 25-year-old OF is in his 3rd season with Triple-A Charlotte and for the year is hitting .295/.411/.514 with 6 doubles, 5 home runs, 4 SB, and 22 BB/30 K in 105 AB. Danks looks more like a 4th OF now, but he does still have a decent combination of speed and power.
Double-A Update:
The Kansas City Royals Wil Myers (OF) continues his ridiculously hot start. Myers homered in 4 straight games this week and for the year is now hitting .342/.405/.718 with 9 doubles and 11 home runs in 117 AB. The only negative is that he continues to strike out frequently (37 whiffs already). It would not be surprising to see Myers moved up to Triple-A or even the majors by mid-season.
The Kansas City Royals Chris Dwyer (LHP) hasn't had much to write home about in 2012, at least not until he contributed to a combined no-hitter on 5/10 vs. Double-A Springfield. Dwyer tossed 6.2 innings of no-hit ball, walking 2 while striking out 5. On the year, Dwyer is now 2-4 with a 5.91 ERA, 19 BB/27 K, and a .234 BAA in 32 IP.
The Minnesota Twins Joe Benson (OF) was demoted to Double-A New Britain after struggling at Triple-A. Prior to being sent down, Benson was hitting just .179/.268/.316 in 95 AB. Benson remains a decent power/speed prospect, but will need to prove he can hit at higher levels before he gets another shot at the majors.
The Milwaukee Brewers Tyler Thornburg (RHP) has yet to hit a significant road bump in 2012. After 7 starts for Double-A Huntsville, the 23-year-old righty is 4-0 with a 1.98 ERA, 11 BB/47 K, and a .183 BAA in 41 IP. While Wily Peralta is likely still ahead of him on the Brewers depth chart, Thornburg has shown better control and more consistency.
Oscar Taveras (OF, STL) has been one of the most impressive prospects in baseball for the past year-and-a-half. Taveras combines the ability to hit for average with plus power and solid defense. Taveras was skipped over High-A after hitting .386 in the MWL in '11. So far the jump has not presented a problem and Taveras is hitting .331/.378/.678 with 10 doubles, 9 home runs, and 30 RBI in 38 games.
The Cleveland Indians Nick Weglarz (OF) hasn't looked the same since injuring his knee last spring. The 24-year-old Weglarz was limited to 134 AB in '11 and hit just .179. This year has not been any better and after 23 games Weglarz is hitting .213/.308/.350 for Double-A Akron. The clock is certainly ticking here and Weglarz will need to show more soon.
The Dodgers Allen Webster (RHP) has run into a buzz saw at Double-A Chattanooga. After 7 starts, the 22-year Webster is 1-5 with an ugly 7.49 ERA. Poor control and an inability to miss bats have been the main culprits as Webster has walked 14 in 33.2 and has a .359 BAA. This is his 2nd stint at Double-A and his continued lack of production is definitely cause for concern.
The Padres Casey Kelly (RHP) has been sidelined since 4/11 with a sore elbow. Kellys had two MRIs, but nothing conclusive has been announced. The 22-year-old Kelly was off to a nice start with a 2.25 ERA and 0 BB/14 K in 12 IP. Hopefully he can avoid surgery as the Padres starting rotation is in a state of flux and a healthy Casey Kelly could provide some much needed stability.
The Mets Zack Wheeler (RHP) was back in action on 5/10 after missing one start with a finger injury. The 6'4" righty gave up 2 ER in 5 innings while striking out 7. On the year, Wheeler is 1-2 with a 1.75 ERA, 14 BB/30 K, and a .198 BAA in 25.2 IP and continues to make steady progress.
The Dodgers Ethan Martin (RHP) is doing much better since he escaped the CAL last spring. Martin was 4-4 with a 7.36 ERA in 16 outings in the CAL. The Dodgers moved him up to Double-A just to get him out of the CAL and that seems have done the trick. In 7 starts in 2012, the 22-year-old Martin is 4-0 with a 2.81 ERA, 22 BB/ 39 K in 41.2 IP. Lack of control continues to be a problem, but hitters have a hard time making consistent contact against Martin (.169 BAA) so there is still a lot to like here.
Single-A Update:
Miguel Sano (3B, MIN) might have the best power upside of any player in the low minors. After smashing 20 home runs in 267 AB in '11, the 18-year-old Sano is hitting .298/.409/.645 with 9 doubles, 10 home runs, and 20 BB/40 K in 115 AB for Low-A Beloit. Sano still has lots of work to do, but long-term has the potential to hit 30+ home runs in the majors.
The Colorado Rockies Tyler Matzek (LHP) is struggling again with his control. The 11th overall pick in the 2009 draft walked 96 in 97 IP last year and so far this year has walked 31 in 31.2 IP. Matzek remains tough to hit (.212 BAA) and has a respectable 3.98 ERA, but eventually the walks will come home to roost. A move to the pen could be in the future if Matzek can't make progress quickly.
Jacob Turner (RHP, DET) seems to have righted the ship after a slow start. The 21-year-old Turner was shut down earlier this spring with a sore shoulder, but in his 4 starts since returning to action he is 1-2 with a 1.66 ERA, 7 BB/17 K, and a .218 BAA in 21.2 IP. Turner likely isn't ready to contribute in the majors, but a bump up to Double-A seems likely.
The Detroit Tigers Dan Fields (OF) is on the shelf with an abdominal muscle tear that will require surgery. The 21-year-old Fields has yet to live up to expectations. The 2009 6th round pick now has a career minor league line of .231/.323/.351 and is in his 3rd season at High-A Lakeland.
The Chicago Cubs Hayden Simpson (RHP) has been moved to relief for High-A Daytona. The 16th overall pick in the 2010 draft has been a complete bust so far and his career minor league stat line now reads 2-13, 6.37 ERA and 53 BB/68 K in 102 IP.
Toronto's Marcus Knecht (OF) has struggled to get on track this spring after having a breakout season '11. Knecht had a 4-5 night on 5/8, but for the year is hitting just .193/.254/.395 with 41 strikeouts in 114 AB. It is too soon to write Knecht off, but the 2010 3rd rounder will need to make some adjustments soon.
The Boston Red Sox Brandon Workman (RHP) continues to develop into a solid prospect. After a nice debut in '11, the 6'4" righty is holding his own at High-A Salem where he is 2-0 with a 3.00 ERA, 5 BB/22K in 21 IP. Workman has a solid 91-94 mph fastball, a cutter, and an inconsistent change-up. Double-A will provide Workman with a better test, but so far the results have been very good for this 2010 2nd round pick.
The San Diego Padres Adys Portillo (RHP) is bouncing back in a big way in '12. Portillo had a disastrous campaign in in the MWL last year, going 3-11 with a 7.11 ERA, 55 BB/97 K in 82.1 IP. After 7 starts back in the MWL, Portillo is 2-1 with a 1.41 ERA. He is still walking too many batters (17 in 38.1 IP), but has been very difficult to hit.
For more information about the terms used in this article, see our Glossary Primer.
Free Weekly eNewsletter
The industry's #1 analytical weekly e-mail newsletter is ABSOLUTELY FREE!
More Information
Shopping Cart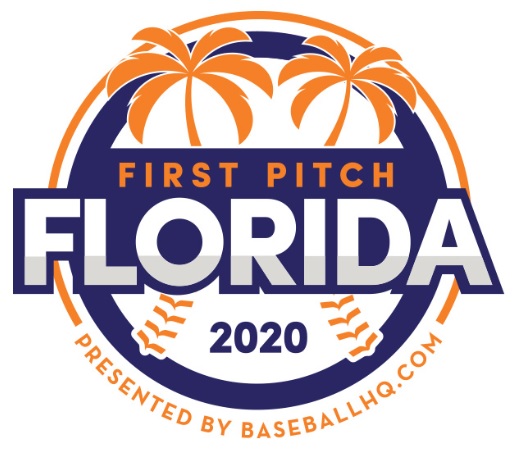 Inaugural Event!
February 28-March 1, 2020
St. Petersburg, FL
Early-bird registration now open!