MINORS: The Eyes Have It—Sixto Sanchez & Luis Gil
By Chris Blessing

@C_Blessing
June 18th, 2019 12:04am
We have made it to the Minor League All-Star break for most leagues, including the Southern League and the South Atlantic League. The true test—mostly for the South Atlantic League players experiencing full-season professional baseball for the first time—will come in the second half as players begin to tire in the heat and humidity. My coverage hasn't let up at all in the first half. I've seen HQ100 prospects, a bunch of future MLBers, and potential MLB All-Stars. Not many of the prospects I've covered have been duds, especially the two pitchers I cover today, Marlins RHP prospect Sixto Sanchez and Yankees RHP Luis Gil.
Sixto Sanchez (RHP, MIA)
#19 HQ100
#1 Phillies Prospect (Double-A)
Date Seen: 6/16/19
Previous Grade: 9C
Current Grade: 9C
Projected Role: #1 Starter
Sixto Sanchez is as advertised. The 20-year-old recently made his Marlins organization debut after being sidelined last season with right elbow inflammation and a sore collarbone in the Arizona Fall League. The Marlins, who acquired Sanchez in the J.T. Realmuto trade with Philadelphia, took it slow with their hard-throwing RHP this spring. He debuted on May 3rd in High-A, made two starts there, and has made six starts in Double-A coming into yesterday's game. The results haven't been there yet. However, his stuff has been able to escape most jams he has found himself in this season. Let's take a look at Sanchez's latest start.
Sanchez has buffed up considerably since our own Brent Hershey saw him with Single-A Lakewood. A short pitcher, Sanchez has put on good upper body and lower body strength. His calves are developed and his upper body is no longer slight. It is a good look for a pitcher who needed to add strength to maintain his high-octane delivery deep into starts, especially as the summer wears on. Mechanically, the athletic, 3/4s crossfire delivery holds up well despite some whippiness and effort. His lower half creates solid extension, which makes up for his limited height. Still, hitters see the ball quicker, as Sanchez mostly stays aligned in his delivery unless he is reaching back for more velocity.
The pitches are electric, especially the FB. Sanchez throws two variations of the FB. Mostly, it's the two-seam FB over the four-seam FB. Sitting 96-99, touching 100, his FBs have late-action, especially the two-seam FB, which bores to the arm side. Here is a 99 mph two-seam FB Sanchez threw to White Sox prospect Nick Madrigal.
#Marlins Sixto Sanchez vs #Whitesoz Nick Madrigal round 1. 99 MPH FB on the hands. Sanchez sitting 97-99 w/ FB in 1st. pic.twitter.com/VKVAROj8NQ

— Chris Blessing (@C_Blessing) June 16, 2019
Notice how the pitch explodes suddenly in on Madrigal's hands. Madrigal's near-elite hand/eye allows him to get bat on ball. However, he taps the ball right to Sanchez. Later, against White Sox prospect Ti'Quan Forbes, Sanchez did the same thing, resulting in one of the ugliest swings I've ever scouted, which left Forbes shaking his head. Obviously, RHHs struggle with the two-seam FB, especially with Sanchez's arm-side command of the pitch. However, the two-seamer gets too much plate to the glove side, which allows LHHs to get their bat head around on the pitch more often. Because of the downward movement, it is difficult for hitters to elevate the pitch.
The four-seam FB mostly lives up in the zone, and registered more swings and misses than the two-seam FB, which Sanchez threw more. The 2nd inning strikeout of Trey Michalczewski was on a riding four-seam FB. Sanchez's is around the plate with both FBs. However, the four-seam FB isn't as pinpoint as the two-seam FB is, which could result in some long ball risk at the MLB level.
Sanchez struggled with the feel for both his 88-92 mph CU and his 86-90 mph SL. The CU is more developed than his SL. It has two-seam, arm-side movement with good separation and a deceptive profile. The late-fading action was present, just sporadic. It projects to be a plus pitch at projection. Here is another Nick Madrigal AB where Sanchez was able to jam Madrigal with a hard CU.
Another jam shot for Madrigal, this time on the hardest CH from Sixto Sanchez so far. Like the Rh-on-Rh changeup. Still sitting 97-99. #Marlins pic.twitter.com/PzYW7OhRo9

— Chris Blessing (@C_Blessing) June 16, 2019
The SL was a two-plane breaker on his best offerings. On Sanchez's worst offerings, it would hang up there with a big "hit me" sign on it. Fortunately, the SL comes out of the same slot of his other two pitches, which created just enough deception to keep the SL off the sweet spot of the bat, like on this single by Nick Madrigal.
#Whitesox Nick Madrigal isn't jammed for a 3rd AB in a row. Goes with the movement of Sixto's SL and hits a single the other way. pic.twitter.com/REAw0nZ4Cv

— Chris Blessing (@C_Blessing) June 16, 2019
Sanchez must tighten up SL before we can talk about potential MLB debuts. It has plus potential.
The hype matches the prospect. However, the thought Sanchez would be ready sometime this year is flawed. While he's around the plate and can dominate Double-A hitters, his command of his arsenal is sporadic and the SL is still not firing on all cylinders.
I believe in the arm, even if his size and effort in delivery may scare some owners off. The upside is immense. He is the first Marlins prospect with definite #1 upside since the late Jose Fernandez was in the minor leagues. While the swings and misses are still not at a premium (7.5 Dom this season, 7.7 Dom career), the stuff is too good to be a 7 Dom pitcher. A converted catcher, Sanchez is still learning to pitch. He's also considerably younger than the competition in every league he's pitched in. As he logs more innings and his secondary pitches become crisper, expect high Dom rates, coupled with low Ctl rates. There is #1A SP potential. Healthy, the floor is #3 starter. Sanchez is a solid investment, assuming he's still floating around your league's waiver wire.
Luis Gil (RHP, NYY)
#11 Yankees Prospect (Single-A)
Date Seen: 6/10/19
Previous Grade: 8E
Current Grade: 8C
Projected Role: #3 Starter/Late-inning RP
Luis Gil is older and two levels below Sixto Sanchez. However, like Sanchez did in the South Atlantic League in 2017, Gil is opening eyes and putting himself on the prospect map. During the offseason, I was fairly aggressive with my organizational ranking of Luis Gil. After talking to sources who had seen him in extended spring training and in the Appalachian League, like Tanner Smith (Scouting Report), I elevated Gil over some bigger names like Luis Medina, Domingo Acevedo, and Matt Sauer. After what I saw last week, I believe Gil now resembles a Top 10 Yankees prospect.
#Yankees RHP prospect Luis Gil 95-97 with FB. CB 82-84. Struck out side swinging in scoreless first. Acquired in Jake Cave trade with #mntwins pic.twitter.com/uqoXOLSYSR

— Chris Blessing (@C_Blessing) June 10, 2019
Gil is listed 6-3, 176 Ibs, appearing long and lanky, even though he may be heavier than the listed weight. He's added strength from scouted looks last season, which helped him maintain consistent velocity late in the game. Gil has easy 3/4s arm action and great extension, which plays up the velocity of his pitches. He struggles maintaining alignment, which causes his arm to drag behind his lower half as it explodes toward the plate. Gil is around the plate, but the sharpness of his delivery causes many pitches to miss location. He will need to tighten up his mechanics to avoid getting hit around in the upper levels.
Because of extension and 93-97 mph velocity, hitters struggle picking up his four-seam FB. The pitch has a solid movement profile, with some late movement. The issue with his FB is the overall command. Gil's tools get swings and misses in Single-A. However, missing location by a lot causes the pitch to find too much plate, which will likely lead to some issues later on. For now, his 12.2 Dom is supported by the extension, velocity, and late movement of the offering.
Gil's primary secondary offering is a power CB. It has 11-5 shape and solid depth. The break is inconsistent, with most CBs either missing badly or getting too much plate. When it is breaking properly, it profiles as an above-average offering. Gil also features a CU, which he didn't throw outside of warmups between innings. It is firm and will need refinement for Gil to remain in the rotation.
Luis Gil went head-to-head with Braves pitcher Dallas Keuchel in the scouted start and held his own, feeding off of Keuchel's momentum on the mound. Gil struck out 10 in 7 scoreless innings, only allowing 4 base runners. In other words, when the lights have been the brightest this year, Gil has maintained his crispness and didn't yield to pressure.
Gil profiles to be a MLB pitcher, especially with his FB being so far ahead of others at the same age/level. The plus extension in his delivery plays up his stuff. However, the development of his secondary pitches, especially his CU, will determine MLB role. If you buy into the athleticism in his delivery, he's a SP3 type arm, developing a workable CU to go with his FB and CB. If you worry about the alignment within his delivery, he's a late-inning RP. In deeper formats, Gil is a definite add because of the upside. In shallower formats, the RP risk likely outweighs current ownership.
For more information about the terms used in this article, see our Glossary Primer.
Shopping Cart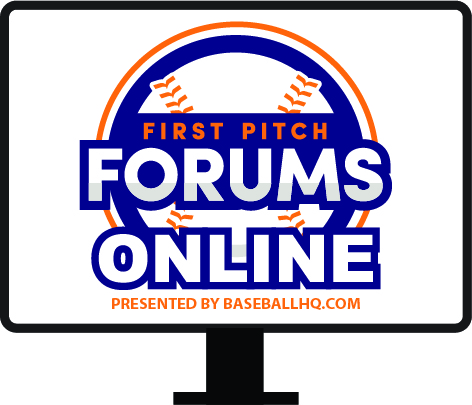 Our virtual First Pitch Forum returns!
Three online-only events: March 5, 11, 17
Join us live, or watch when you want
Just $19!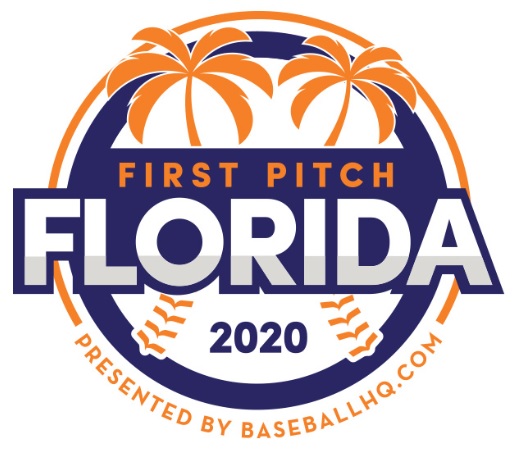 Inaugural Event!
February 28-March 1, 2020
St. Petersburg, FL
A few seats still left!