MINORS: The Eyes Have It—Mitch Keller
By Brent Hershey

@BrentHQ
May 30th, 2018 1:03am
Mitch Keller (RHP, PIT)
6-2, 205
Date seen: 5/26/18
#1 Pirates prospect (preseason); #21 2018 HQ100
Mitch Keller popped into the fantasy radar with a fantastic low-A season in 2016 (124 IP, 2.47 ERA, 0.92 WHIP, 131/18 K/BB), two years after being drafted in the second round out of Xavier High School in Cedar Rapids, Iowa. He battled some injuries in 2017 but spent most of his time at High-A Bradenton and Double-A Altoona with more excellent results for the season (116 IP, 3.03 ERA, 1.00 WHIP; 116/32 K/BB). Doing this as a 21-year-old raised expectations even higher, and he sat atop our Pirates Organization Report and was one of the Top 10 pitching prospects in the game heading into 2018.
As expected, he returned to Double-A, where his star has dimmed just a bit in the season's first two months. Through nine starts (including the one detailed below), Keller has certainly been a solid pitcher, but several aspects of his statline have backed up just a bit—53.2 IP, 3.69 ERA, 1.286 WHIP, 49/22 K/BB. Keller on the docket on May 26 in Harrisburg, PA provided a good time to go check out the right-hander in person.
---
Take charge of your league in 2018 with a BaseballHQ.com subscription that unlocks articles like these all season long. Winning. Fantasy baseball. Insight.
---
Keller certainly has a major-league starter's body and there's little to be faulted about his mechanical package. Simplicity rules: from a partial windup, he has a moderate leg lift, minimal hip turn, very good arm speed, a three-quarters release point, and a finish that is direct to the plate. He repeats it every time, and the absence of a lot of moving parts bodes very well for both this present and future command. It's a delivery in which the ball comes out "easy"—meaning it looks effortless.
If there was any mechanical criticism, it would likely surround his long, sweeping arm circle in the back. The fact that the hitter sees the ball early, as well as being able to predict when and where he releases it due to his windup's repeatability, could give hitters a "comfort zone" to take advantage of. At times the quest for repeatable mechanics comes with the risk of hitters being able to track the ball well out of the pitcher's hand.
That seemed to be what happened in this game. The raw characteristics of Keller's "stuff" look good on paper: his fastball was an easy 93-94 and topped out at 97 mph. He had two offspeed pitches: a 78-80 mph curveball that had a 12-to-6 downer action, and a 80-82 mph change-up that also had a dropping action similar to the curve. The change-up did get some swings and misses; three of his five Ks on the night were from batters swinging over it. Again, his repeatable mechanics were especially fruitful in messing with hitters' timing.
But the results—how the hitters fared against Keller—belied the individual pitch characteristics. His fastball was straight and didn't move much, so even though the velocity was strong (there were some 95s and 96s thrown in there, too), there was much more hard contact, and many fewer swings-and-misses (just three all night on the FB) than one would expect with that velocity. His curveball was inconsistent—sometimes diving sharply both into (for called strikes) and out of (for weak contact) the strike zone, but other times flattening out or hanging, just waiting to be hit hard.
Still, Keller pitched with some moxie and battled through a tough sequence in managing the game. Perfect first and third innings sandwiched around a one-run second. But things went awry quickly in the fourth: Harrisburg roped off five straight hits, including two long home runs, most of which were on well-timed fastballs. The score was 6-0 after just 48 pitches, and things were not trending well for an extended outing. Yet, that's what happened—Keller gathered himself and set down the next three in row to escape the fourth. He pitched two additional innings—two hits and a walk, but no more runs—and finished with a 6 9 6 6 1 5 line score on 92 pitches. His worst outing of the year as far as earned runs, but by regrouping and getting through six innings, he showed a certain resiliency.
On the whole, there are strengths/weaknesses in many parts of Keller's current game. His velocity separation between his fastball and offspeed pitches is a definite plus, enough to keep hitters off balance. And while the offspeed could be better/more consistent, there were enough flashes here to make it work. But Keller could develop better sequencing, and use his three pitches to attack hitters better. For instance, during that stretch where five straight hitters reached on base hits in the fourth inning, 12 of his 13 pitches were fastballs; the one curveball was lined into CF for a single. In retrospect, it sure seemed like Keller was just trying to throw his way out of trouble, a fact that became more difficult because of the lack of FB movement. Mixing in more offspeed pitches during that stretch may have done enough to stop the bleeding.
As mentioned above, Keller's clean mechanics lent themselves well to throwing strikes—both with the fastball and offspeed. Some of them got hit, and some got hit hard, but the fact remains that Keller's future command will be plus, even though he's walked batters at a career-high rate this season. But on the other hand, there's no monster pitch in Keller's arsenal. The fastball has very good velocity, but doesn't move, and neither the curveball nor the change-up is ready to be a go-to swing-and-miss offering. It's pure speculation, but one wonders if adding a two-seam fastball to his repertoire might give him another option to miss bats and induce weak contact. There were what looked like a couple of fastballs in a lower velo band—89-91 mph—that made me wonder if he's tinkering with that already.
In sum, this outing might be enough to convince me to downgrade expectations for Keller's future just a bit—especially in terms of fantasy outcomes. We had a #2 starter upside on Keller over the winter in the organization report and the Minor League Baseball Analyst, a level that seems generous for a pitcher without a swing-and-miss fastball or a monster secondary pitch. There's no doubt in my mind that Keller will be a big-league rotation piece—he has enough stuff in pitches, and more than enough intangibles and command to carve out a significant career. And he could continue to improve and find those extra elements to vault his expectations towards the front of a rotation. But right now, Keller looks like a middle of the rotation starter who throws strikes and doesn't walk guys. Sometimes he'll cruise; sometimes he'll need to battle. Such is the life of a third starter.
For more information about the terms used in this article, see our Glossary Primer.
Free Weekly eNewsletter
The industry's #1 analytical weekly e-mail newsletter is ABSOLUTELY FREE!
More Information
Shopping Cart
Listen to Baseball HQ's weekly audio programs.
Subscribe today!
Learn More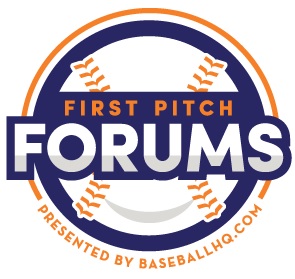 2019 Spring Tour:
Virtual Program
Videos, notes, surveys here