MINORS: The Eyes Have It—Jonathan India, plus prospect notebook
By Chris Blessing

@C_Blessing
August 22nd, 2019 12:04am
With the end of the minor league season less than two weeks away, I've begun to clear out my notebook. Two weeks ago, I published a piece on Cubs prospect Nico Hoerner, which included brief write-ups of five prospects, including Rockies 1B prospect Grant Lavigne. Today's article is similar in structure, profile one big name, in this case Reds 3B prospect Jonathan India, and then empty out some more guys out of my notebook. Enjoy!
Jonathan India (3B, CIN)
#3 Reds Prospect (Double-A)
#44 on HQ50 (Mid-season)
Dates Seen: 5 Times
Preseason Grade: 9C
Age: 22
Projected Role: Starting 2B/3B
ETA: 2020
All season, I've wrestled with giving away my current grades on guys until the end of my reports. For whatever reason, I haven't had the guts to change my habit until now. This report is as good as any to start something new with. I mean, If I picked any prospect to keep you in suspense about, Jonathan India isn't the one I'd pick. Wait, what?
SOMEBODY IS HEATING UP! Jonathan India with two consecutive barreled hits. #Reds pic.twitter.com/CWD7JU3O4U

— Chris Blessing (@C_Blessing) August 8, 2019
#Reds prospect Jonathan India under this pitch for a long flyout to LCF. pic.twitter.com/iZF2kUiBzk

— Chris Blessing (@C_Blessing) August 11, 2019
Truthfully, people were more excited about those swings I posted than I am. After 3 ½ games, I wasn't seeing it like the rest of prospect media. I'm probably not seeing it even now. Yes, Jonathan India has a quick, compact swing. Yes, there are reasons he was a top 5 pick in the 2018 draft. However, I see solid regular written all over his game. Nothing more, nothing less.
The RHH India has performed alright this season. The second-year pro is slashing .258/.364/.403 with 10 HR in two pitching dominant leagues, the Florida State League and the Southern League. Our expectations are such where we expect college-drafted first rounders to dominate the lower levels and transition smoothly to Double-A, with the real test coming as they enter Triple-A or the majors. It's been a real grind for India, something I suspected as early as my March look at the Reds High-A team in Arizona.
India has lightning quick hands and wrists. From a slightly open stance with his hands below his ear flap, India glides his hands back slightly to the hitter's position. At this point, he's lifted his leg and is ready to transfer energy from his back hip to his lead leg. The swing is short, compact with a slight uppercut and generates plus-plus bat speed. Unfortunately, the speed of India's bat and flatter swing trajectory causes most liners to have heavy topspin rotation, which depresses some of his current over-the-fence power. When he incorporates a more upper-cut swing trajectory, India will extend his arms too quickly, elongating the bat, which depresses bat speed and allows pitchers to beat him in his kitchen. In the few occasions India faced velocity, he'd often get beat. India doesn't hit off a firm front-side, which is another factor for depressed over-the-fence power numbers despite possessing above-average raw power in BP.
India's approach is solid. Power is mostly to the pull-side. The 22-year-old contact approach is to spray the ball from the LF line to the RCF gap. The opposition will shade him to the pull side with two strikes since he tends to cutoff the plate, which causes him to flail at pitches outside. He's a patient hitter with a solid understanding of the zone. He will put together long at-bats, fouling off pitch after pitch. Unfortunately, he hasn't reaped any of the fruits of that labor in my 5-game look.
On the 20-80 scouting scale, I give India 50s across the board. He's average-or-slightly-above-average in every measurable scouting tool. Despite the bat speed and approach, I see a hitter who should be a top ten 3B, produce between 23-28 HR, steal double digit bases while hitting above .265. While in High-A, the Reds had India work out some at 2B, even appearing in 5 games. Slotting those stats over to 2B could make him a top 5 producer, given the lack of upside bats at the position. You never know where Reds prospects will end up on the diamond—Nick Senzel, for instance. Speaking of Senzel, as a comparable to India at the same stage and age at development, I take Senzel all day over India given Senzel overall upside, which I don't see with India. India's a solid regular. His current grade is an 8B.
Prospect Notebook
With Jarred Kelenic stealing all the Mariners prospect headlines with his awesome full-season debut and 3-level assent to Double-A, another Mariners prospect is quickly asserting himself as a potential top prospect. 18-year-old Julio Rodriguez, who was promoted to High-A last week when Kelenic moved up to Double-A, has put up terrific number split between two aggressive full-season assignments. While he lost time due to a hand injury, the future MLB RF was healthy when I saw him last month in an abbreviated look.
Listed 6-3, 225 lbs, Rodriguez is a big boy. He's muscular with terrific power potential. The RHH utilizes an open stance with a very wide base. Rodriguez's swing is a bit mechanical despite plus bat speed. His hands hitch as he cocks his bat to the hit position, causing his upper half to get going a tad later than his lower half. Despite this, he was able to find barrel against better Single-A pitching. It's easy to project plus power in his frame and swing. Improving his swing mechanics will likely bring more of his power to game action and should solidify his above-average hit tool. He's a below average runner with a plus arm. RF will suit him long term. Rodriguez grade: 9C
As for Kelenic, who I saw at the Futures Game, the 20-year-old big season has been aided by a hands adjustment he made sometime during the off-season, possibly Spring Training. Last year, his hands started much higher than they do right now. Moving his hands to slightly above the letters in his stance has led to a more direct path to the hitting position, which has led to a .294/.369/.529 line this season. The LHH prospect looks like a future elite fantasy stud and could sneak in the top 10 of our HQ100 this off-season. Kelenic Grade: 9B
I saw several starts this season from newly acquired Indians prospect LHP Scott Moss with the Reds Double-A affiliate in Chattanooga. He progressively improved his FB command and the development of his CU throughout the seasoning, which has improved his overall outlook. He's been up to 94 MPH. However, Moss works best in the 89-92 MPH range. He's a big kid, 6-6, creating a lot of angles with a cross-fire delivery. Early, he walked a lot of batters. As the season grew on, his control improved, mostly attributed to the command of his FB to the glove side. His breaking ball, a SL, is an above average offering. The improvement of his CU has been a needed weapon in the 24-year-old's arsenal. Changing grips has allowed for the pitch to go from a poor offering to an average one, giving Moss a chance at becoming a back-of-the-rotation starter. Moss Grade: 7D
Dodgers OF D.J. Peters is a fun scout. No one hits the ball farther in the Dodgers minor league system than Peters. Here's an example from the game I scouted.
Boom! Prospect D.J Peters getting in on the act. HR left the stadium. Dillard's 5th HR given up tonight. Definitely, the furthest. We're in the 4th. #Dodgers #LABleedsBlue pic.twitter.com/aCMkYiecXC

— Chris Blessing (@C_Blessing) July 1, 2019
The power is eye popping. Unfortunately, the hit tool needs some work. Peters has a lot of swing and miss in his bat, evident by his 64% ct%, which is a slight improvement from his 61% ct% last season. The high strike out rate is a combination of the bat wrap causing his bat to get moving from the hit position reacting to pitches, his extreme upper cut swing and his pitch recognition skills. In my March look, he was reacting much better to pitches than my June look. Overall, Peters is likely a platoon bat against lefties or a bench piece due to his defensive versatility in the OF. Peters Grade: 7D
For more information about the terms used in this article, see our Glossary Primer.
Shopping Cart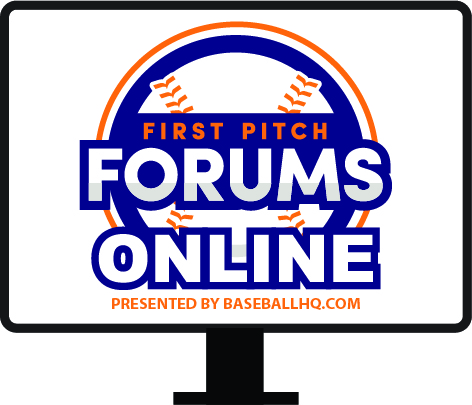 Our virtual First Pitch Forum returns!
Three online-only events: March 5, 11, 17
Join us live, or watch when you want
Just $19!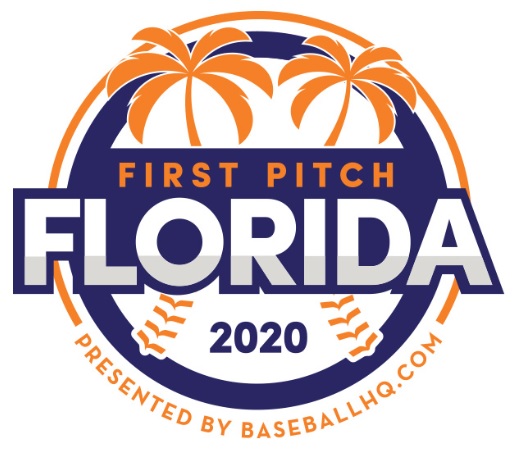 Inaugural Event!
February 28-March 1, 2020
St. Petersburg, FL
A few seats still left!