MINORS: The Eyes Have It—CJ Abrams & Alek Manoah
By Chris Blessing

@C_Blessing
June 13th, 2019 12:04am
It's been a week since the MLB Draft was completed. Some draftees are already headed to team complexes in Arizona and Florida to prepare for the short-season leagues throughout the country. If you read my "AL scouting and player development report cards" article last week, you know I wasn't able to speak on amateur prospects prior to the draft because I was helping out the Cleveland Indians as an Associate Scout, assisting the area scout with North Georgia coverage.
Before you think I have any big inside information on how the Indians draft worked or how they viewed certain players, I don't. I primarily helped the area scout cross names off his big master list. My area scout drafted five guys, including 1st round pick RHP Daniel Espino of Georgia Premier Academy. Of the five guys the Indians drafted from Georgia, I only covered one guy for the Indians, 30th round pick Jonathan French, a catcher from Parkview HS (Jeff Francouer and Matt Olson's HS), who will most likely honor his commitment to Clemson and go to school. His other four draftees (Espino, Georgia State RHP Hunter Gaddis, Georgia Tech RHP Xzavion Curry, and Mercer RHP Kevin Coulter) are likely signable.
Let's take a look at two Top 15 picks I covered during the lead up to the draft:
C.J. Abrams (SS, SD)
Round 1, 6th Pick
Blessed Trinity HS (GA)
Current Grade: 9D
Projected Role: Starting CF
The most athletic player I came across during the 2019 draft cycle was Blessed Trinity HS's C.J. Abrams. I had some looks at Abrams in previous seasons, specifically during the 2017 & 2018 Perfect Game High School Showdown, where he was the best underclass player in the tournament. This year, with Perfect Game moving their showdown tournament from their former complex in Emerson, GA to Hoover, AL, I had to rely on non-tournament looks to gauge the future of Abrams.
Defensive home is a question mark, with some scouts preferring the potential of plus defense in CF over potentially average defense at SS. I've only seen him in the IF, where his actions are solid, with solid glove skills. Abrams has borderline-plus range for a SS. However, the arm is about average for the position, which could lead the Padres to eventually move Abrams off the position.
Abrams has been a plus runner every time I see him, getting down the line in less than 4 seconds in every timed sprint over three seasons. He's a good baserunner who simply outruns the ball on SB attempts. There's 30-50 SB potential depending on how Abrams develops his baserunning instincts in professional ball.
At the plate, the 18-year-old LHH has a potentially plus hit tool. Adams's quick wrists and hand/eye coordination carry his hit tool. In my best look this season, against Cartersville HS and Auburn signee RHP Mason Barnett, Abrams was unafraid to let the ball travel into the zone and still got to low 90s velocity late in the pitch progression, driving the ball to the LCF gap for a fly out. Abrams starts with an average even base. His hands travel a bit to the hitting position as he strides wide towards the pitcher. Abrams does a great job adjusting his swing to the pitch, even though his aggressiveness and spin recognition issues cause him to swing (and connect with) a lot of pitches out of the zone. His swing path varies depending on the pitch location, with Abrams more likely to stay compact on pitches up and extend early on pitches down. Regardless of swing trajectory, Abrams finds and controls his barrel well. Pro coaching and maturation should limit the longer swings on balls down. However, the aggressiveness and approach at the plate will be much harder to corral.
Listed at 6'2'', Abrams is a skinny, athletic body type. The raw power in his frame is below average. However, given his ability to find barrel and create backspin off the bat, together with his hand/eye coordination, he could find more power than his body type would indicate. It isn't out of the realm for Abrams to develop average power at projection. My own projection indicates an 8-to-12 HR total at maturity.
Abrams has three plus-or-better tools, if you count his defensive potential as an eventual CF. Going to the Padres should help bring the hit tool along. Also, the Padres are a team that likes to run a lot too. Both ingredients should help Abrams reach his eventually upside of a .280 hitter with 10 HR and 35-to-60 SBs. He's about four seasons away from his debut.
Alek Manoah (RHP, TOR)
Round 1, 11th pick
West Virginia
Current Grade: 8D
Projected Role: #3 starter/Late-inning RP
I scouted Manoah in his first start of 2019 against Kennesaw State on a chilly day. Seeing an arm in February is always dicey since velocity usually increases as the season wears on. With Manoah, this was not the case. Manoah started the season where he ended it with his FB, mid-to-high 90s throughout the scouted start. His SL was crisp. Unfortunately, he didn't show his CU in the Kennesaw start and didn't really need it as a college starter.
Manoah is a big boy. Listed 6'6'' and 260 Ibs, the 21-year-old is at physical projection. He's a big, husky kid who will have to watch his fitness as he gets older. Manoah is a below-average athlete, which shows in his delivery. He works exclusively out of the stretch with a jerky leg lift. He curls his wrist before progressing his arm forward, causing stress to the arm throughout the progression of his 3/4s, slightly cross-fire delivery. He achieves solid extension with his lower half and hides the ball well in his body during the delivery, which causes deception.
I had Manoah's FB up to 98, sitting 94-97. The FB doesn't feature much vertical movement. However, any movement is late in the progression of the pitch. Because of the deception in his delivery, the FB plays up despite the lack of movement because it gets on hitters so fast. The pitch should be a plus-plus offering at projection.
Manoah's SL also projects as plus. It's tight with a two-plane movement profile. He throws it from the same slot as his FB, which makes it difficult for hitters to read. The movement is sometimes telegraphed early in the pitch progression. However, it is by design, altering the look and the break of the pitch by applying or taking away pressure with his grip. Manoah sits in the high 87-91 range with the pitch.
Not seeing the CU means I can't speak on it. I've talked to a few evaluators to gauge the validity of the pitch. Unfortunately, everyone seems split on the future effectiveness of the pitch. Scouting his delivery and athleticism, it will be harder for Manoah to discover a solid CU. Repetition and feel is needed for a good CU. Pitchers with athleticism tend to find the CU much better than guys who don't. In Manoah's case, I can't project a good CU based on those factors.
Manoah has been labeled a high-reliever risk profile due to his size, delivery, athleticism, and command/control. This season, out of the stretch, Manoah improved his control tremendously. Around the plate, Manoah's stuff was able to play. Unfortunately, I scouted below-average command. Contacts also observed the same command issues too. While there is a chance at starting, I believe Manoah is a long-term reliever, regardless of the strides he made this year. In fact, I didn't have a 1st-round grade on him in my report, preferring to target a quick-moving RP like Manoah in the 2nd through 4th rounds. I knew he'd go high because of the depth up top in this draft class. Also, someone was going to bite hard on the power profile and like him much more than I did. The Jays like him as a starter and will give him some time to develop. I believe much more in Manoah eventually becoming an MLB closer than becoming a long-term MLB starter. In first-year player drafts, go in expecting other owners valuing Manoah, especially considering his standing in the draft and the lack of pitching available in the 1st round. There may be better college SPs later in the draft.
For more information about the terms used in this article, see our Glossary Primer.
Shopping Cart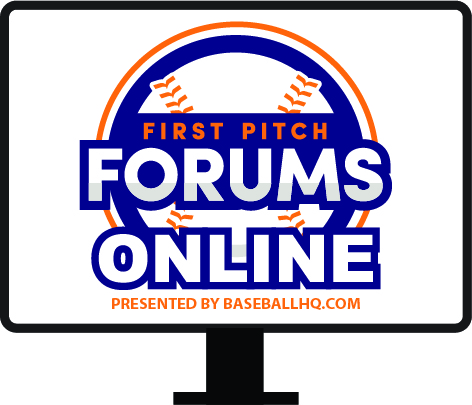 Our virtual First Pitch Forum returns!
Three online-only events: March 5, 11, 17
Join us live, or watch when you want
Just $19!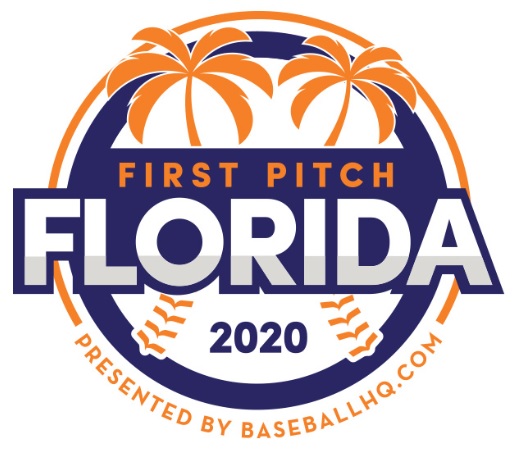 Inaugural Event!
February 28-March 1, 2020
St. Petersburg, FL
A few seats still left!