MINORS: The Eyes have it—Barnes, Bonifacio, Watson
By Brent Hershey

@BrentHQ
May 24th, 2013 11:04pm
In the wooly world of prospects, part of player evaluation starts with stats, something we feel we do relatively well here at BaseballHQ.com. But the other primary component is observation. In this new occasional series, "The Eyes Have It," members of the BaseballHQ.com minor league staff will give first-hand reports on prospects we've seen at various minor-league stadiums across the country.
A caveat before we start. In most cases, these reports are simply one-game sample sizes. A true scouting report (as a MLB team would compile) consists of many looks to get a full read on a player's ability. Theoretically, this will include both the ups and the downs of a player's performance over a span of time. The reality, though, is still that baseball players across all levels are never a standing target, and are always adjusting and being adjusted to when on the baseball field.
We hope you find these reports helpful as you do your own evaluations of minor league players and their potential fantasy impact. They will come from many different levels of competition, and this first installment covers some of the games we have seen during April and May. We welcome questions or your own observations in the comments field below or in our minor leagues section of our subscriber forums.
Frederick (BAL) at Wilmington (KC)
Hi-A Carolina League
April 14, 2013
Zach Davies (RHP, BAL) started for Frederick. Davies is a smallish (6-0, 155) pitcher with clean mechanics and quick arm action. Primarily a control/command guy, Davies' fastball was not overpowering, but he moved it around the strike zone and induced a bunch of weak contact. Change-up showed some good depth and fade; got a couple strikeouts on hitters chasing it out of the zone. Not afraid to bust guys inside, and he showed a decent curveball that he was able to throw for strikes for the most part. He'll need to prove himself at every level, and without plus stuff, will need to be extra fine against hitters at upper levels. His line for the day: 5 IP, 3 H, 1 ER, 1 BB, 4 K.
Glynn Davis (CF, BAL) was on base four times (2 walks, single, error) but didn't attempt a steal despite reports of plus speed. As a leadoff hitter, he showed decent plate approach via his two walks—something that should serve him well. Whether he'll hit enough seems to be an open question; he strikeout came against a breaking ball; and his single was only a well-placed medium grounder up the middle. He has a good reputation with the glove, but there were no chances of consequence on defense in this game.
Kyle Smith (RHP, KC), like Davies, is not physically imposing (5-11, 172), though has some pitchability. He too, did not have overpowering stuff, but must have had some deception as he struck out 7 in 4 IP (1H, 0 ER, 2 BB). When he was on, he located his pitches on outside corner to left-handed hitters, and induced weak contact throughout. He fought though some control issues in final inning.
Jorge Bonifacio (RF, KC) looks the athlete part, for sure: his upper body sports broad shoulders and a barrel chest. He has a quick RH bat, stinging several balls just foul down the third base line, and he did work a walk in his final plate appearance. Bonifacio, though, repeatedly chased low and away change-ups to finish off two strikeouts. Approach seems a bit raw, but if could be cleaned up some, one can see where the body and quick hands provide plenty of power. Showcased a big arm in the outfield, too. Still only 19 years old, Bonifacio has a chance to be a classic right fielder, but has a ways to got to get there. [Bonifacio has since been diagnosed with a broken hand and will be out of action until at least July.]
Portland (BOS) at Trenton (NYY)
Double-A Eastern League
4/26/13
Matt Barnes (RHP, BOS) was number 31 on our HQ100, and his scheduled start made up for the disappointment of missing out on top-20 prospect Xander Boegarts (SS, BOS), who missed the game with a minor injury. Barnes stands at a lanky 6-4, 205 lbs. He has long arms, which allow him to get great extension out front of a clean delivery. His fastball was impressive, sitting at 92-94 mph and touching 96 once. He also showed a tight curveball that kept hitters off his heater. He lost command in a couple places, which ran up his pitch count, but other times he overpowered Double-A hitters. Several early hits came on late swings in which batters made contact and plunked balls into the opposite field. The start was a good reminder on how box scores do not always tell the whole story. Barnes took the loss, and his stuff pitched better than his final line of 4.2 IP, 11 H, 6 ER, 2 BB, 6 K. Barnes has top organizational prospect potential, but still needs to refine his approach be more efficient and make it through game better.
Christian Vazquez (C, BOS) didn't show much with the bat, but his defense stood out, and might propel him to the majors. Vazquez threw out two runners trying to steal with a big arm and quick release. And he almost got a third out on back-pick at 3B. His fantasy potential is likely minimal if the bat doesn't play, but he was fun to watch.
Jose Ramirez (RHP, NYY) came on in relief for Trenton and was a big story. He pitched 4 scoreless innings, 2H, 1 BB and 6 K. Hard thrower, 93-94 FB with life; 87 slider, occasional change-up. Struck out four in a row and five of six batters at one point; not much squared up on him. This was his first Double-A appearance coming off injury; he's likely to get some looks as a starter as season progresses. Or he could get by as reliever, too—but definitely a big-league arm.
Tyler Austin (RF, NYY) ended up 1-3 with a walk. Righty bat, quick wrists as a he turned on a Barnes fastball down third base line for a double. One of the few Trenton hitters to pull a ball against Barnes. Had a great start last season, but overall has struggled in Double-A and some now see as just a fourth outfielder.
Delmarva (BAL) at Lakewood (PHI)
Low-A South Atlantic League
May 15, 2013
Shane Watson (RHP, PHI) was the Phillies first pick in 2012, a 6-4, 200 pound high schooler from California. He uses his size well, running his fastball in the 92-93 range. His delivery includes a high three-quarters arm slot and a hint of deception. In this outing his command of the fastball came and went; two of his five innings were perfect, 11-pitch frames, but he also had a couple innings where he battled his command. His primary breaking pitch is a 77 mph curve ball with a tight rotation and sharp break. It, too, was inconsistent, but there were times when he was able to either freeze hitters or get them to swing and miss. With development, it could be a very good pitch. He also used an 80-82 mph change-up that was effective against lefthanded hitters. Watson is a plus athlete, fielding his position well. Just 19 years old in his first full professional season, Watson could be worth tracking.
For more information about the terms used in this article, see our Glossary Primer.
Free Weekly eNewsletter
The industry's #1 analytical weekly e-mail newsletter is ABSOLUTELY FREE!
More Information
Shopping Cart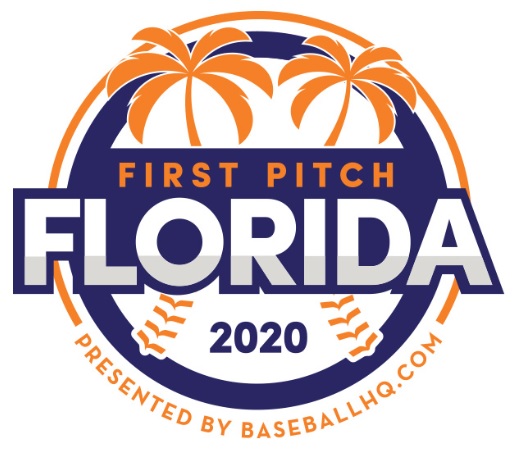 Inaugural Event!
February 28-March 1, 2020
St. Petersburg, FL
Early-bird registration now open!