MINORS: 2020 HQ100 Roundtable, Part 4
By BaseballHQ Minors Team
January 17th, 2020 1:05am
A yearly tradition here at BaseballHQ.com around the time of the release of our HQ100 is the writers' roundtable. In recent seasons, we've expanded this discussion into several parts to encompass not only the names on the main list and individual writer lists, but things like ranking philosophy, looking ahead for players to keep an eye out for on next year's list, and more.
Participants are Chris Blessing, Alec Dopp, Jeremy Deloney, Brent Hershey, Rob Gordon, Matthew St-Germain and Nick Richards. Here are the previous installments:
We close down #HQ100Week with Part 4: Looking to the future. Who are the guys who could step up and who we'll be talking about NEXT season? Read on for some ideas ...
Q10. Who are the 2020 HQ100 rebound targets—prospects whose status has slipped or stagnated—maybe they even fell off this list—but shouldn't be given up on?
Richards: Jonathan India (3B, CIN) was #44 last year, but didn't make the list this year, and for good reason. He struggled in 2019 and our expectations were lowered. But he should still make the majors and stick, even if only as a regular player instead of the above-average bat we used to think. So he still has value.
Deloney: I'll offer two pitchers: Brent Honeywell (RHP, TAM) and Franklin Perez (RHP, DET). Honeywell hasn't pitched in two years, but when he was healthy, he was on the verge of the majors with a standout season in Triple-A in 2017. He ranks #93 on the list. Though I personally didn't rank him, he was under strong consideration. Maybe I'm just rooting for the guy, but the talent is still there. Perez is still only 22 and has #2-3 starter upside when healthy. He has an elite arm and should be flying under a ton of radars.
Dopp: I would have to agree with Jeremy on Honeywell for sure. Missing two years worth of playing time is certainly cause for some concern, but man, was he firing on all cylinders the last time we saw him pitch. At his best, I still think there's #2 SP upside for a first-division team with good ratios and solid-average Dom potential. There will always be questions about how his injury will affect his future performance, but the upside here is still there and if you're an owner who has the ability to take on some risk in a new dynasty format, this is a big-time sleeper SP to target for sure. I wouldn't sleep on Taylor Trammell (OF, SD), either. Had a down year in AA but he'll return good SB value and be a quality play in OBP formats.
Gordon: I too like Jeremy's selection of Honeywell and Perez. Both had health issues and have a lot to prove, but at one point were considered Top 30 prospects. But the guy I'm going with is Travis Swaggerty (OF, PIT). Swaggerty, the 10th overall pick in 2018, cracked the HQ100 in 2019 (at #91), but fell off the list this year, not because he had a terrible year (.265/.347/.381 with 9 HR and 23 SB at High-A), but because other players were just more impressive. At 5'11" 180, Swaggerty is never going to have plus power, but he does have a discerning eye at the plate, is a true CF, has above-average to plus speed, and the FSL is a notoriously tough environment for hitters. Swaggerty is unlikely to ever be an elite player, but he's a solid keeper in deep NL-only formats and should get on base enough to utilize his speed effectively.
Blessing: Can I disagree with everyone? I'm mostly kidding here. Nick's pick Jonathan India makes sense. I'm just not on the player. The pitchers, I can't remember the last time Franklin Perez was healthy. As for Honeywell, he's had two major arm injuries in short order. Of the names mentioned, I like Honeywell regaining his value over the others. He was already at a high level with a great track record.
Hershey: I'm not quite sure what to make of Bubba Thompson (OF, TEX). First-rounder in 2017 draft, high-school two-sport guy, athlete to the gills. That background carried him to #96 in 2019 HQ100 off a decent-but-not-stellar year in Low-A, but then injuries wiped out a bunch of his 2019 season. When I saw him in August, he was having tons of trouble with pitch recognition and expanded the zone repeatedly, and wasn't making hard contact. He had improved some by his stint in the Arizona Fall League, and though I don't see power here as being part of his game, he's still an athlete and one can see where he could develop some defensive/SB value. With a healthy season, he could be one that steps back into HQ100 conversation in 2021.
St-Germain: I'm with Chris on Perez. I get the stuff is great and he's got an athletic frame, but multiple shelvings for shoulder woes, alongside the inability to surpass 90 IP yet in his career and being on the 40-man makes me think he's almost certainly a reliever unless he just explodes this season. I feel like on a past list I may have dinged this guy, so it should only make sense that I feel he's fallen too far now. Andres Gimenez is never going to be a power threat, the lack of walks is still concerning, and he hasn't been able to hit LHP since he reached Double-A, but the hit tool could still be above average at peak, alongside speed that was pushing plus in the AFL, and the ability to play either SS or 2B. He showed more sock last year and then went and led the AFL in BA, putting up an impressive .371/.413/.586 slash line. For a guy that was rushed and struggled, it looks like he may have righted the ship and could offer sneaky future value when the opportunity presents itself.
Q11. Shift to 2020 value only. Which player or players ranked in the 51-100 range do you feel will return the most fantasy value in 2020, and why?
Richards: Tarik Skubal (LHP, DET) already reached Double-A in 2019, and for a rebuilding Tigers could get a late season callup in 2020, and should be grabbed as soon as possible. Dominates batters with lots of Ks, doesn't walk enough to hurt a WHIP.
Deloney: I'll go with Ke'Bryan Hayes (3B, PIT). While I don't believe he'll open the season as the Pirates starting 3B, I strongly believe he'll seize the job at some point at put up solid numbers across the board. He could hit for BA while hitting 10+ HR and stealing 10-15 bags. If given another choice, I think Ryan Mountcastle (1B, BAL) could be very interesting.
Dopp: Evan White (1B, SEA) would probably be the guy for me. The Mariners just inked him to that extension and it looks like he'll break camp as the full-time starter at first base on opening day, so he already has the playing time necessary to compile some good numbers from a fantasy perspective. I think he hits 20-25 HR this year with a .275-ish AVG as a middle of the order bat. His ADP in NFBC right now is right around 400 and when you take a look at some of the other names in that area, hardly any of them are going to be guaranteed a lot of PT so this is going to be a name I'll target in my drafts for sure.
Hershey: I second this one on White, and going to expand a bit. As we approach spring training, I wonder if we (or maybe it's just me) haven't undersold the importance of White's swing changes that unlocked his pop in 2019. Remember that he played at AA-Arkansas, so it's not due to the baseball. What intrigues me is that before last year, he was profiled as a solid-BA, hit-tool guy with superior 1B defense, but not enough power for one to get overly excited about. If he's added even 25-HR power to his profile, plus the fact that he's likely to have a long playing-time leash due to his surprising contract, I think we might be looking back next year at this list and think we had him ranked too low at #74.
Gordon: I really like all of the players already mentioned, especially Skubal. Outside of Matthew Boyd, the Tigers starting rotation currently features Spencer Turnbull, Ivan Nova, Jordan Zimmerman, and Daniel Norris - Yikes! The Tigers have to give their fan base something to get excited about in 2021 and Mize, Manning, Skubal, Joey Wentz, and Franklin Perez (if healthy) should all see action in Detroit at some point. The guy I'm going with is Ryan Mountcastle (1B, BAL). I know the Orioles are stuck paying Chris Davis $23 million a year, but at some point they just have to cut their losses. Mountcastle crushed the ball last year at Triple-A, slashing .312/.344/.527 with 35 doubles and 25 home runs. He needs to draw more walks, but the power should translate at the major league level, especially in Baltimore.
Blessing: I'll go with a wildcard, a catcher, Sean Murphy (C, OAK). With his advanced hitting skill and new found power swing, he has a chance at posting $10+ value.
St-Germain: Getting late to this question doesn't leave a lot of unmentioned options. Everyone has hit pretty well on all the dudes with the best 2020 opportunity. I'd probably spend a bunch of time weighing it between Mountcastle and White, maybe giving the tiniest edge to Mountcastle right now unless we see the changes quickly hold for White to start the season. With all that said, I'll take a dark horse for fantasy value with the caveat I'm not saying he's likely to have the most: Deivi Garcia. It's sort of crazy to think that the 5'9, 163 pound Garcia was in the Appalachian League two years ago and has rocketed through the Yankees system in short order. If his past is any indication, Garcia starts off hot, and if he does that again this year on repeat of Triple-A, he could force the Yankees hand.
Q12. Identify a player not on the 2020 HQ100 who you think has the best chance of hopping onto the 2021 list. Tell us why you think they'll make the jump.
Richards: Gilberto Jimenez (OF, BOS) only reached Low-A last year as a 19-year-old. But he showed some speed, a little pop, and only struck out 15% of the time, while getting on base at almost a .400 clip. That kind of bat control for a teen is a good sign. As he moves into the higher levels, and if his power develops, he will increasingly get noticed as a solid prospect.
Deloney: Count me as one in the Jeremiah Jackson (SS, LAA) camp. Power. Athleticism. Youth. I love the upside. Of course, he brings high risk to the table and is far from a polished hitter. But if it all clicks for him, wow. The sky is the limit. He smashed 23 HR in short-season ball, though it came at the expense of 97 strikeouts in 260 AB.
Dopp: One of the top prep arms in the 2019 amateur draft, Brennan Malone (RHP, ARI) signed as the 33rd overall pick for at-slot value and made his pro debut in the AZL last summer, striking out seven in as many innings before ending his abbreviated campaign in the NWL. Malone is tall and physically advanced for his age and can touch 99 mph with his fastball and sit 94-96 fairly comfortably, and he shows aptitude for spinning a plus slider. His curve and slider are back burners to the slider among his secondaries, but they project to be solid offerings. Malone could peak with elite velocity and four pitches that are above-average as a #2/3 SP.
Hershey: The reports on Maximo Acosta (SS, TEX) have been outstanding since the Venezuelan signed as part of the 2019 international class. He's only 17, but the tools are so advanced—bat speed with a short, powerful swing; advanced pitch recognition for a teenager, enough current strength that points to projectable power—that there are hints he'll come stateside this season. So far he's shown the agility and athleticism to stay in the middle infield defensively, and reports have raved about his intangibles and high baseball IQ. If you're looking for a player to possibly take the Marco Luciano path in 2020, Acosta is a worthy choice.
Gordon: The guy I'm excited about is Edward Cabrera (RHP, MIA). At 6'4", 175 Cabrera has an athletic, projectable frame and already has a sinking fastball that sits in the mid-90s topping out at 100 mph. His secondary stuff needs refinement, but he showed steady improvement in 2019 and for the year was 9-4 with a 2.23 ERA, 31 BB/116 K, and an impressive .190 OppBA. He's been slowed by injuries in the past (forearm strain), but was healthy in 2019. Worst case scenario is that he becomes a high-octane reliever. In his Marlins Org Report Chris wrote, "If he develops, outside shot at becoming the next Luis Castillo."
Blessing: The reports on Aaron Bracho (2B, Cle) out of the Indians Arizona complex were incredibly encouraging. A scout told me he went from a hit over power guy to a power-driven hit tool. What does that mean exactly? Well, Bracho's ability to find the barrel of the bat took a leap forward. Instead of relying on contact and his approach, he's now added the ability to drive the ball and there's a chance it could be to all fields since he has shown a spray approach even as he added loft to his swing. Bracho has a chance at a .290 average and 25-30 HR at maturity.
St- Germain: Going back to someone we talked about on the second day of this exercise, I would say George Kirby makes sense as someone who could really jump if these velocity gains are real because the control is insane. I'm really interested to see what Jordyn Adams does, as a broken jaw obscured surprising growth for the uber-athletic and tooled-up Angel. His hit tool was in serious question at draft, but ended up solid enough to move him up from Rookie to high Single-A Inland Empire by the time his season ended, with some evaluators hanging an average future grade on the tool. The 50 walks in 372 Single-A AB for Burlington really stood out for me, alongside already usable pop and speed. If he hits the ground running in 2020, the buy low opportunity on him will evaporate quickly. Honorable mention: Miguel Vargas and Orelvis Martinez. Super dark horse: Tahnaj Thomas.
For more information about the terms used in this article, see our Glossary Primer.
Shopping Cart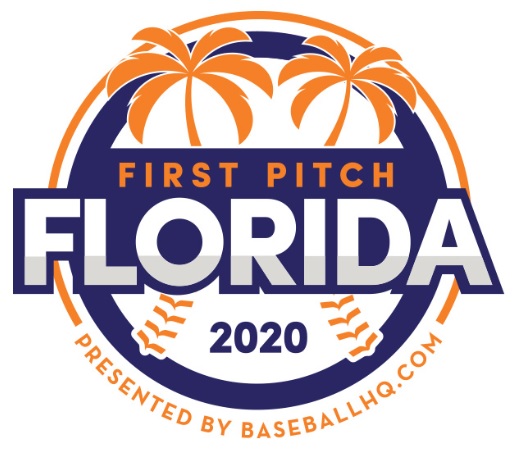 Inaugural Event!
February 28-March 1, 2020
St. Petersburg, FL
A few seats still left!