MINORS: 2020 HQ100 Roundtable, Part 2
By BaseballHQ Minors Team
January 15th, 2020 1:05am
A yearly tradition here at BaseballHQ.com around the time of the release of our HQ100 is the writers' roundtable. In recent seasons, we've expanded this discussion into several parts to encompass not only the names on the main list and individual writer lists, but things like ranking philosophy, looking ahead for players to keep an eye out for on next year's list, and more.
Participants are Chris Blessing, Alec Dopp, Jeremy Deloney, Brent Hershey, Rob Gordon, Matthew St-Germain and Nick Richards. Here is the previous installment:
For Part 2, we delve into the groups of players on the overall HQ100.
Q5: There are 10 pitchers in the Top 30. Give some additional perspective on this group beyond their ranking, perhaps compare/contrast of these high-level pitchers. You might include factors like: Whose ranking is driven by pure ceiling vs. high floor, are there things they all have in common, or are there team contexts that give you pause?
Deloney: Of the 10 pitchers, the biggest similarity in all of them (in my opinion) is they all have both a high ceiling and a high floor. All of these pitchers also have an elite offering in their repertoire, which I suppose is somewhat obvious given they are ranked so highly. Mize may be the most interesting of the bunch as he has more pitchability (slightly more than McKay) at present, yet his ceiling is still very high. Pearson, Kopech and Whitley may register the highest ticks on the gun and all have at least been mentioned as possible dynamic late relief options at some point. I do believe team context matters. Take Sanchez, for example. Put his numbers and his pitch mix against all of the others and he could just as easily be a top 10 prospect. If he was in a bigger market, he could be getting more pub.
Dopp: The common denominator with each of these 10 pitchers, in my opinion, is that they have a very high floor. And I think that's the best way to rank pitchers for fantasy purposes with the rate of injury and how volatile a lot of former high-profile prep arms have turned out in recent years (Riley Pint, Tyler Kolek, others of that ilk). You need that extra security. As far as a comp with these guys, in a general sense, I tend to rank guys higher with age in mind. If two pitchers have similar profiles and similar production at similar levels (maybe A.J. Puk and Jesus Luzardo, for example), I'm generally going to give the younger guy the nod in the rankings.
Richards: These should be the pitchers who have the greatest likelihood of reaching a high fantasy ceiling, while also having the highest floors. These ten pitchers are the ones we are most confident in putting our chips on. That said, of this group, there are still risks (there are always risks with pitchers…). Pearson has a health risk, and has yet to throw more than 101 IP in his career, so short-term expectations should be kept in check, but he is on the right track with his improving command. I agree with Alec that age is a good factor to look at with pitchers. If a pitcher is succeeding while being younger than all those around him, that's a key factor for future success. Having command of multiple pitches is also key for these youngsters; this is why Forrest Whitley remains so high on the list despite his struggles. If you can already throw multiple quality pitches, your floor is very high.
St-Germain: I think unlike hitters, level of competition is fairly critical for pitchers and making lists. Just-signed international free agent (IFA) pitching prospects almost never make the HQ100, and only one or two from a draft class make the list in their draft year, whereas we tend to get at least one or two IFA hitters and multiple draft picks making the list in their first year. Pure ceiling is much more attenuated by level of competition when ranking pitchers, so the Top 10 listed all present a combination of high ceiling and floor, most having made it to at least full-season ball.
Hershey: The ceiling/floor perspective is a good one. I feel like two with the highest ceilings, Pearson and Kopech, get rightfully dinged a bit because injury/workload concerns. Both can address some of that skepticism with a healthy 2020 campaign. On the other hand May, McKay and Manning are three who probably don't have that elite ace-level upside, but a good bets to figure out how they will be solid #2s or #3s. And who knows … maybe that floor gives them the place to make and adjustment a couple seasons in to make than next step.
Blessing: This is one of the better pitching classes I've seen. I had 15 pitchers in my top 50 and believe each guy has a chance at becoming a Top 30 arm. I pushed Astros Forrest Whitley and Padres MacKenzie Gore to the top of my pitcher ranking because I believe they, out of the arms I considered, have the best chance at becoming stud starters. However, I can make a case for Orioles DL Hall, who I had ranked inside my Top 50, achieving SP1/SP2 status. Having a potential SP1 at #46 is crazy.
Gordon: For me the thing differentiates the pitching prospects who cracked the top 30 from those lower on the list are that they all have premium velocity, an advanced mix of pitches, or in some cases both. If you are looking for the next Justin Verlander, Max Scherzer, or Clayton Kershaw, these are the leading contenders. Having said that, I'm not sure if there is such a thing as a high floor for pitching prospects. Casey Mize and MacKenzie Gore might be the safest bets in the group, but they are still riskier picks than Wander Franco, Jo Adell, or Gavin Lux.
Q6: Also, there are seven catchers in the HQ100. There were eight in 2019, but in the years prior the numbers were much slimmer (five in 2018; three in 2017; three in 2016). Is this just the cycle of things, or something else? What's the state of the prospect catcher currently?
Deloney: While putting together the cumulative list, I was struck by this point as well. Granted, of the seven on the HQ100, only two (Rutschman and Bart) are in the top 68. Murphy shows up at #69, but that may be more because of success at the big league level, albeit in a small sample. Only three of the seven catchers (Rutschman, Bart, Varsho) appeared on all seven of our ballots. I realize that the HQ100 is mostly constructed on fantasy potential and rightfully so. However, I do believe, at least for me, there is some modicum of thought when it comes to defensive attributes in these rankings. For example, if a few of these catchers don't receive or block well — or at least improve on their skills — they may not be trusted to catch at the big league level. That, obviously, diminishes their fantasy value. Guys like Rutschman and Bart could be perfectly fine with a position change, but others may not have that benefit.
Dopp: This is the position that is most difficult to project for fantasy purposes, in my opinion. I think as a whole, the state of the prospect catcher if fairly strong, but owners need to realize that backstops take more time than any other position to develop before teams feel comfortable giving them consistent PT at the big-league level. It will be very interesting to see how we start to evaluate catchers in the next few years, presumably when we could see an electronic strike zone, which could ultimately devalue guys with framing ability and could take away from their PT. More than anything, owners should just be cognizant of the fact that young backstops take a while to develop.
Richards: I've been down on catchers on fantasy lists for years; I was the guy dissing Francisco Mejia's short-term fantasy chances in the past, and unless you are exceptionally skilled, I will push you down on this year's list as well as future lists. I had Rutschman and Bart as my top catchers too, and I threw in a couple more late on my list who also appear late on the HQ100 (Varsho and Alvarez). The state of the catcher market is actually quite good at the moment with many skilled guys (such as Ruiz and Campusano on the HQ100) who will someday achieve fantasy relevance. But "someday" is the key phrase in that sentence. In a dynasty league where you keep guys forever, yes, grab these skilled catchers and be patient. But in redraft leagues, push catchers down your list for these guys rarely achieve immediate fantasy success.
St-Germain: I claim I'm more down on catchers than Nick, no backstopsies. Nick is dead-on about the problem with catchers: be prepared to W-A-I-T. Buster Posey is an anomaly, pretty much all other catchers take a tremendous amount of time to stew, and even when they're scorching the minors, nearly all of them seem to then struggle for more than a season once they reach the bigs. As for why so many made the list, it just feels like the cycle is such that there's a few more closer to ready guys with good offensive profiles.
Blessing: It's about projection. I disagree with my compadres. We're in the age of the catching prospect. Bask in it. Love it. Hate it even. I ranked 9 catchers in my top 100, 3 in my top 50. Outside of the 2 top catchers, I pushed 3 other guys pretty hard, including Sean Murphy, Francisco Alvarez and one catcher, Bo Naylor, who didn't make our top 100. Murphy, who spent most of last season injured, has a patient approach with average-or-better offensive tools across the board. To me, at the catcher position, that's a Top 50 guy (I ranked him 49). Francisco Alvarez (I had him at 66) was an aggressive ranking for a 17-year-old in rookie ball. However, I had vets of the Appy telling me this kid is the best catching prospect they've seen in the league. As for Naylor, my own look last July wasn't awe-inspiring. However, he popped, both at the plate and behind the plate, analytically. Dude doesn't swing at pitches out of the zone, saw his hard hit rate increase throughout the season and answered question marks regarding his long term defensive home, posting a Top 3 frame rate (according to a source) among all Single-A catchers. I guess my ranking is just getting out in front of a potential breakout next season.
St-Germain: For me, the inherent risk in the profile, especially for younger catchers, forces them down the list rather than pushes up.
Hershey: I feel it's just the cycle of things. There are a few more good possibilities here than in years past, but yes beyond Rutschman/Bart, they are in the back one-third of the list—where there's much more year-to-year fluctation. The "waiting" point is a good one; it's almost always a part of the equation and in fantasy, you're likely tying up a roster spot better suited for type of players with better track records.
Gordon: Finding a stud fantasy backstop who hits .270 with above-average power, is a consistent contributor, and actually sticks behind the plate is like winning the lottery. The top three active WAR leaders at the position (Buster Posey 42.1, Salvador Perez 22.3, and Kurt Suzuki 20.3) highlight how thin the position is. For that reason, scouts, talent evaluators, and fantasy owners are constantly on the lookout for the next big thing behind the dish. That dearth of talent and the demands of the position can occasionally push a player into the Top 100 who wouldn't make the cut at a different position. For me only Rutchman and Bart have the potential to be that generational catcher and if they hit like they've shown in college there will be pressure to move them from behind the plate to prolong their careers.
For more information about the terms used in this article, see our Glossary Primer.
Shopping Cart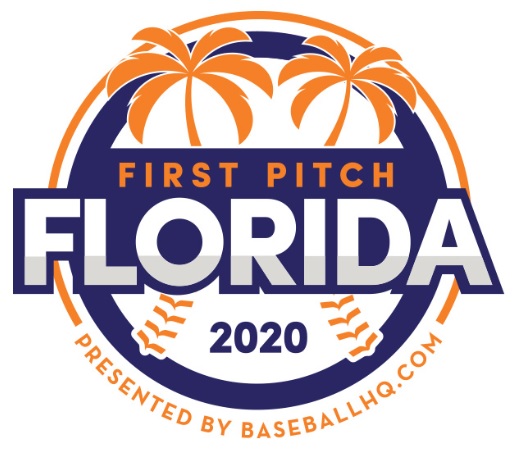 Inaugural Event!
February 28-March 1, 2020
St. Petersburg, FL
A few seats still left!