MINORS: 2019 College World Series preview
By Chris Lee
June 15th, 2019 12:04am
Photo: Dominic Fletcher (OF, Arkansas; Diamondbacks 2019 draft pick)
The 2019 College World Series is loaded with prospects. This year's eight-team CWS field features three 2019 first-rounders, and 11 others picked in the top five rounds. However, a phenomenal group of freshman and sophomores are more reason to watch the event, aired on ESPN. Vanderbilt RHP Kumar Rocker, who had a 19-strikeout, complete-game no-hitter on June 8, leads that group. He's the favorite to go first overall in 2021 draft.
We'll present each CWS team, all of which have multiple players with a chance to reach the majors. So consider this your viewing cheat-sheet for building out your farm system. Players picked in June are noted by round and team in parenthesis, while future prospects are noted by draft class. At the end we rank the top dozen players to know, regardless of class, for fantasy purposes.
The CWS starts June 15 and ends either the 25th or 26th.
ARKANSAS (45-18)
Likely future first-round SS Casey Martin ('20), a major power source with base-stealing potential, leads the 2018 runners-up, though his defense is raw. RHP Isaiah Campbell (CBB-Mariners) has potential as a back-end stater with moderate strikeout upside. CF Dominic Fletcher (CBB-Diamondbacks) could hit double-digit MLB homers and 2B Jack Kenley (8-Tigers), who flashed skills (13 HR, 1.2 Eye) out of nowhere this year, should be watched.
Other 2019 draftees: RHP Matt Cronin (4-Nationals), RHP Jacob Kostyshock (8, Rockies), RHP Cody Scoggins (9, Red Sox)
AUBURN (38-26)
RHP Tanner Burns ('20) shows mid-90s heat and good secondary offerings. He's a potential top-10 overall pick next year, but persistent right shoulder tightness has limited him to 9 IP in the last month. SS Will Holland (5-Twins) fell due to contact issues, but is rebounding and offers potential 20/20 upside. Canadian-bred 3B Edouard Julien (18-Twins) and RF Steven Williams ('20) have raw power, but need a lot of work.
Other 2019 draftees: RHP Jack Owen (21-Cardinals), LHP Elliott Anderson (23-Royals)
FLORIDA STATE (41-21)
RHP C.J. Van Eyk ('20) shows mid-90s heat and a pair of secondary pitches, making him a potential first-round starter. 3B Drew Mendoza (3-Nationals) combines power (16 HR) and Eye (1.0). 3B Elijah Cabell ('20) had a 466-foot homer earlier in the year but a 46% ct% cost the freshman his job.
Other 2019 draftees: RHP/C J.C. Flowers (4-Pirates), SS Mike Salvatore (9-Mariners), LHP Drew Parrish (9-Royals)
LOUISVILLE (49-16)
Potential first-round LHP Reid Detmers ('20) used a low-90s fastball and moving secondary pitches to fan 39 percent of hitters. 3B Alex Bineleas's ('21) 14 HR has him poised as a first-rounder the following year, as does RHP Jack Perkins's high-90s, high-spin fastball. 1B Logan Wyatt (2-Giants) has the tools (9 HR, 1.5 Eye) to stick and RHP Michael McAvene's (3-Cubs) 100-MPH fastball give him closing potential.
Other 2019 draftees: SS Tyler Fitzgerald (4-Giants), Nick Bennett (6-Brewers), Bryan Hoeing (7-Marlins), CF Jake Snider (20-Pirates), CF Drew Campbell (23-Braves), RHP Shay Smiddy (36-Rays)
MICHIGAN (46-20)
The Wolverines have been the surprise of the tournament, but have talent. LHP Tommy Henry (CBB-Diamondbacks) and RHP Karl Kauffman (CBB-Rockies) are durable and potential MLB starters. Kauffman is not dominant but mixes three pitches to limit hard contact while Henry pitched through the flu to knock off top seed UCLA on 104 pitches last weekend. CF Jordan Brewer (3-Astros) has an exciting speed-power combo (12 HR/24 SB); fellow outfield mates Jesse Franklin and Jordan Nwogu, each also with 12 HR, are are top prospects for 2020.
Other 2019 draftees: RHP Jack Weisenburger (20-A's), 3B Jimmy Kerr (33-Tigers)
MISSISSIPPI STATE (51-13)
LHP Ethan Small (1-Brewers) was college baseball's best pitcher in '19, using a low-90s, high-spin fastball almost 75 percent of the time and a change-up most of the rest. Small has good control and command and a breaking ball with potential. RHP J.T. Ginn ('20), the Dodgers first-rounder last year who didn't sign, hasn't thrown in two weeks due to injury but pitched well in '19. Gritty CF Jake Mangum (4-Mets), the Southeastern Conference's all-time hit leader, could have value due to bat-to-ball skills (92 ct%) and speed (22 SB), but has no HR pop. SS Jordan Westburg ('20) is a power-hitting prospect to watch.
Other 2019 draftees: RHP Colby White (6-Rays), LHP Trysten Barlow (16-Rockies), C Dustin Skelton (18-Brewers), RHP Jared Liebelt (20-Diamondbacks), RHP Keegan James (25-Rockies), RHP Peyton Plumlee (31-Astros), LHP Cole Gordon (32-Mets), 1B Tanner Allen (34-Rockies)
TEXAS TECH (44-18)
3B Josh Jung (1-Rangers) is one of his class's best all-around hitters, combing power (14 HR), Eye (1.3) and the ability to hit to all fields to go eighth overall. OF Gabe Holt (7-Brewers) has no pop and needs work on defense, but sees the ball well (1.3 Eye) and could be an elite base stealer if he makes it.
Other 2019 draftees: RHP Caleb Killian (8-Giants), RHP Taylor Floyd (10-Brewers), LHP John McMillon (11-Tigers), RHP Caleb Freeman (15-White Sox), 1B Warren Cameron (22-Reds)
VANDERBILT (54-11)
Few rosters in recent college baseball history have this depth and talent. RHP Kumar Rocker ('21), built like a better-conditioned C.C. Sabathia, has a mid-90s fastball and an unhittable slider. Rocker works at lightning speed and has rare poise, command and polish, and isn't afraid to pitch to contact. All 19 strikeouts against Duke came swinging. RF J.J. Bleday's (1-Marlins) 26 homers led college baseball; he's a patient hitter who walks and uses all fields, and should be quick to the majors. 3B Austin Martin ('20) has elite barrel ability. He could contend for MLB batting titles and steal over 20 bags and is developing HR pop (8). LHP Hugh Fisher ('20) has an elite slider and is getting early-to-mid-first-round mention, but his control and command must make major strides. LHP Jake Eder, RHP Mason Hickman and RHP Tyler Brown (7.3 Cmd) are all potential top-five-round picks for 2020. C Philip Clarke (9-Blue Jays) has the offensive and defensive gifts to stick, and RHP Ethan Smith's ('21)poise and high-90s fastball makes him a prospect.
Other 2019 draftees: RHP Drake Fellows (6-Padres), SS Ethan Paul (9-Pirates), LHP Zach King (13-Marlins), LF/C Stephen Scott (10-Red Sox), LHP Jackson Gillis (13-Brewers), LHP A.J. Franklin (17-Royals), RHP Patrick Raby (17-Reds), CF Pat DeMarco (17-Yankees), C Ty Duvall (25-A's), 1B Julian Infante (36-Marlins)
Top fantasy prospects, in order:
1. Kumar Rocker, RHP, Vanderbilt
2. J.J. Bleday, OF, Vanderbilt
3. Josh Jung, 3B, Texas Tech
4. Austin Martin, 3B, Vanderbilt
5. Alex Binelas, 3B, Louisville
6. Tanner Burns, RHP, Auburn
7. Ethan Small, RHP, Mississippi State
8. Casey Martin, SS, Arkansas
9. J.T. Ginn, RHP, Mississippi State
10. Reid Detmers, LHP, Louisville
11. C.J. Van Eyk, RHP, Florida State
12. Isaiah Campbell, RHP, Arkansas
For more information about the terms used in this article, see our Glossary Primer.
Shopping Cart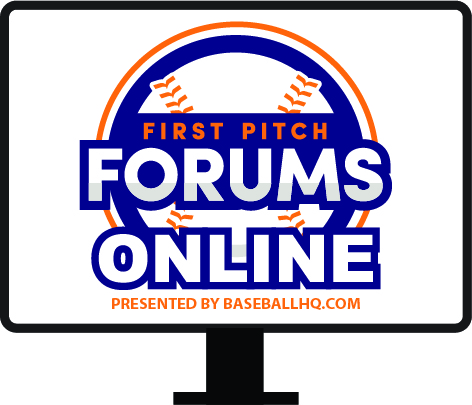 Our virtual First Pitch Forum returns!
Three online-only events: March 5, 11, 17
Join us live, or watch when you want
Just $19!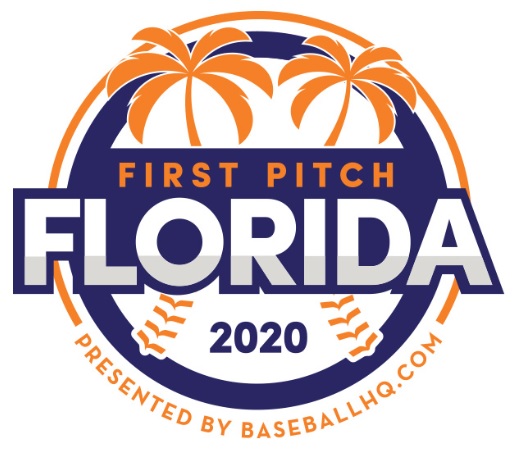 Inaugural Event!
February 28-March 1, 2020
St. Petersburg, FL
A few seats still left!