MASTER NOTES: Riding the DuffyCoaster
By Patrick Davitt

@Patrickdavitt
May 27th, 2017 12:04am
Anybody who has played fantasy baseball for any length of time knows that it's pitchers who will give you the most thrills. Whether you want them or not. Even the best usually take their fantasy owners for a roller-coaster ride.
This year, my personal American Scream Machine has been Danny Duffy. And I don't know if I want to get off the ride.
First, a little background. At my auction this year, I had budgeted $35 for my top two starters, targeting two of Jose Quintana, Sean Manaea, Rick Porcello and Duffy. I got Porcello and Duffy for $17 each and thought that was a good foundation. (I also ended up with Manaea, for $11.)
I liked Duffy for a few reasons. He had been a top prospect—#68 in Baseball America's 2011 list. His career got off to a slow start in 2011, with an ERA over 5.50 and WHIP over 1.60 and pedestrian skills in 20 starts. Then he blew out his elbow and missed most of the next two seasons after Tommy John surgery. He returned full-time in 2014, going 2.53/1.11 in 31 games, 25 as a starter.
He stayed in that mixed starting-relieving role through 2015-16, with 50 starts in 76 games and a combined 3.76/1.25 line. It was in that 2016 season, when he was back in the rotation, that he caught my eye, and the eyes of other analysts, with 26 straight starts, ringing up a 3.56 ERA and 1.13 WHIP, fanning more than a batter per inning, cutting his walks to barely over 2.0/9 and generally looking like an ace in the making.
The 2017 Forecaster noted Duffy's accomplishments, praising his "new focus on pounding the strike zone," saying he was full value for his Ks, and giving him a 2017 upside of a 3.00 ERA.
Sold!
It's an "E" Ticket or 24 Coupons
So... fast forward to 2017, and Duffy has been somewhere between inconsistent and maddening:
• April 3: Duffy starts his year in Minneapolis, giving up three hits and three walks in six innings, allowing one earned run and getting eight Ks. No decision. PQS-2.
• April 8: The DuffyCoaster plummets into HOU, where he's touched for two earnies in seven innings, which is OK, and getting a welcome "W," but also surrendering 10 baserunners, which is, y'know, a lot, and getting three whiffs, which, y'know, isn't. PQS-1.
• April 14: Home to KC and the hapless Angels. Duffy dominates the start, going seven innings with one ER, and giving up just three hits and two walks. Six Ks rounds out this climb up to the peak, a PQS-5.
• April 20: The coaster stays up near the top in Texas. Duffy goes 7.1 gives up seven baserunners and no earned runs. Only five Ks, so a PQS-4.
• April 25: A big, exciting free-fall into "Psst, Need a Loan?" Park, and a stinker against the White Sox. Duffy struggles into the fifth, leaving after giving up six earned runs and 11 baserunners. Does this thing come with an airsick bag? I started wondering why they gave the Rolaids award to a reliever, because I was using more antacid from watching Duffy than from a street-vendor burrito. PQS-1.
• May 2: The back end of the home-and-home lets Duffy get his revenge against the Sox, and he gets all the way through the fifth this time—progress!—but allows another six earned runs and another 12 baserunners, with only two strikeouts. Better supersize that airsick bag, will ya? PQS-1.
• May 7: Baseball is funny. After the not-so-good White Sox torch him for 12 earned in two starts, Duffy faces the defending champs from CLE, who have augmented their squad with slugger Edwin Encarnacion. But Duffy pitches into the seventh, gives up eight baserunners and only one earned run. Baseball being hilarious, however, he takes the loss, in a loop-de-loop PQS-3.
• May 9: Home for the Orioles, and the coaster starts climbing again. Seven innings, two earned runs and nine baserunners (only one walk). Six Ks and give Duffy a PQS-4.
• May 18: After skipping a start, Duffy draws a home start against the fearsome Yankees, who are scoring like crazy. Baseball is funny, though—Duffy goes seven, allows just five baserunners, two walks, and no runs, and walks out of Kauffman Stadium with a richly deserved Win, 10 Ks and a PQS-5.
• May 23: Off to the Big Apple, and a return bout against the Bombers. Duffy goes another seven strong innings, giving up nine baserunners and just two earned runs, getting the Win. Both of the runs are on homers, though, sending him downhill to a PQS-3. The roller-coaster ends up right in the middle.
What to Do?
Perhaps dizzied by the roller-coaster ride, I'm not sure how to handle Duffy. On the strength of this little hot streak, some guys in my league have sniffed around, asking if Duffy might be available for trade but being non-committal about what they might offer. Translated: Not much. But what do I do if someone makes a legit offer?
On the one hand, Duffy's record is pretty good, especially for a struggling club like the Royals. By HQ's valuation, he's produced around $13 or so of value, a little under what I paid. After that May 23rd start, his line was 2.92/1.27, with 52 strikeouts. His PQS average is 2.9. He has eight Quality Starts out of 10 (all but those CHW games) and seven out of 10 Ryan QS.
As a fantasy starter, he could end up being solid—or better.
As well, those two PQS-DISasters against Chicago really tilted Duffy's numbers. Without them, Duffy looks a lot more like an ace: 1.47/1.07, 10.3 Dom, 2.6 Cmd. In all his other starts, he hasn't given up more than two runs.
But on the other hand, there's a lot here not to like, even beyond the roller-coaster ride of inconsistency.
His BPIs are only average, and they're not headed in the right direction: His Dom of 7.2 K/9 is down more than 2 K/9 from last year; his Ctl of 3.1 bb/9 is up more than a walk per nine; His Cmd of 2.4 K/bb is down by almost half.
The strikeouts are a particular worry. Last season, Duffy had 188 Ks in 180 IP, although he did benefit from 18 relief innings. This year, he has flashed strikeout chops with that 10-K game and a couple of 7- and 8-K efforts. But he's also had two 2-Ks and two 3-Ks, including those stinkers against the White Sox, where he got five strikeouts total in 9.2 innings.
Walks are also a concern. As noted, one of the 2016 breakthroughs that put Duffy onto a lot of radars was his improved control, which now looks like it is getting worse. And you know what they say about control and elbow problems, always in mind when you're talking about a TJS guy.
And as for the claim about "if not for the Chicago starts..." It's like saying, "If I hadn't fallen out of the car, the roller coaster ride would have been great!" Those starts happened, and they're part of the record for scoring (and for trading).
So that's where it stands, for now. The easiest path would be to try trading Duffy, but considering the tepid offers thus far, to get value, I have to wait for a few more good starts to pump up his numbers—especially Ks. But riding the roller-coaster means I could just as easily wait while Duffy fires two more DISasters that destroy his trade value. I have a potential ace who could be a bust, a trade target who might be unsellable in two weeks. For now, I guess, I'll just get back into line for another spin around the track.
For more information about the terms used in this article, see our Glossary Primer.
Free Weekly eNewsletter
The industry's #1 analytical weekly e-mail newsletter is ABSOLUTELY FREE!
More Information
Shopping Cart
Listen to Baseball HQ's weekly audio programs.
Subscribe today!
Learn More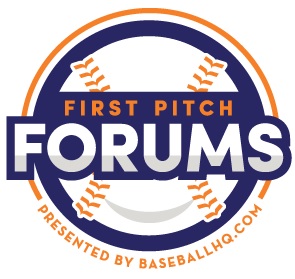 2019 Spring Tour:
Virtual Program
Videos, notes, surveys here