MASTER NOTES: HQ-WONK Draft
By Patrick Davitt

@Patrickdavitt
February 23rd, 2019 1:03am
Brace yourself for a lot of commentary arising out of the new HQ-WONK fantasy league. It's a 5x5 auction keeper, with some departures from standard scoring. You will have an opportunity to read about the HQ-WONKs' strategies, tactics, and observations in a Roto Gaming column soon to arrive. You can already read about the league, its rules, and its strategies at BaseballHQ.com here, here, and here. If that's not enough for you, consider getting professional help.
By which I mean, of course, another column about the HQ-WONK league, professionally prepared by me!
In the run-up to the draft, our league members were actually bandying about an idea that the last-place finisher would have to be roundly mocked at First Pitch Arizona. Suggestions for the mocking included a dunk tank and a sandwich board. Not at the same time, as far as I remember. Ray and Brent have plenty do at the event, so the last thing they need is explaining that crime scene to Phoenix CSI.
Anyway, the auction was interesting, as auctions usually are, mostly to the people in them. Again, you'll be reading plenty about it at the site. So I'll just mention some highlights and lowlights.
The inaugural HQ-WONK draft started with 13 rounds on Tuesday and the remaining 10 on Wednesday. I went into it with my usual optimistic mix of fear, dread, nervousness and fatalism.
I had a loose strategy: see how the early pricing was going, and then respond. The early pricing was, to use an analytical term, berserk. Mike Trout and Mookie Betts went for $60-plus each. I reacted, or over-reacted, by dropping 50 scoons on Jose Ramirez, based on the analysis that Ramirez was a clear #3 in snake drafts, and so he should be worth a premium of $10 or so over his true value (from the BaseballHQ Custom Draft Guide), a premium that would be less than the two superstars'. I thought it was a sharp analysis of the situation.
So I started questioning that analysis just seconds after the hammer dropped. I had a spasm of buyer's remorse like the one that "Del" Delacroix had in The Green Mile. But buyers boldly bandying big bucks made me feel a little better, and a lot more alliterative. Trea Turner went for $56, Alex Bregman for the same $50 I spent on J-Ram, Nolan Arenado and Christian Yelich for $49 each, JD Martinez for $45, Cody Bellinger for $44 (!), Manny Machado for $43, Francisco Lindor and Bryce Harper for $42, Anthony Rendon, Paul Goldschmidt and Ronald Acuna for $41, and Charlie Blackmon and Jose Altuve for $40. A $50 Ramirez looks OK.
I hope I don't curse myself with that.
Emboldened, I also grabbed Trevor Story for $44, which seemed fair. Plus there are all those plays on his name, which can be helpful to a baseball writer looking for a Trevor angle.
Another aspect of my approach was also based on emulating the current craze in straight drafts. All kinds of experts and NFBC players are taking starting pitchers early, so I planned to invest in a couple of aces to anchor my staff, on the theory that getting a lot of innings from low-ERA and –WHIP guys would let me be more cavalier in grabbing $1 and $2 endgamer starters and speculative plays, given that their lesser innings would be offset by my aces and the endgamer relievers I planned to grab.
I was hoping to get Justin Verlander and Gerrit Cole, because I rightly suspected Scherzer (49) and deGrom ($44) would go over my self-imposed $39 limit. I also liked these two guys because the league uses K-BB in place of straight Ks, and both Verlander and Cole were top-five in that measure last season. I got Verlander for just $33, leading me to believe that he had been hit by an asteroid and nobody told me, but Cole went for $37, which would have put me over my self-imposed $69 limit for two starters. My consolation prize was Corey Kluber for $36, giving me my two-ace foundation for that $69 total.
If you're not keeping score at home, I had spent $163 on four players at this point, or about $41 each! I competed on every player near value for the rest of the first session, landing Brian Dozier, Jean Segura and A.J. Pollock because I felt like I didn't have enough speed or injury potential.
And of course, it wouldn't have been a Davitt draft without a colossal blunder. In this draft, I paid $5 for Yonder Alonso, which was dumb but not disastrous, but compounded the felony by stupidly going to $15 on … Buster Posey. I literally had a list of more than 10 catchers to target for less than $10, and all of them went for less than $10, including Danny Jansen, my #1 target. Excuse me…
OFFSTAGE LEFT: (Sound of sneaker rhythmically hitting forehead) Dumb! Dumb! Dumb! And disastrous!
Where was I?
Oh, yeah heading for night two, and a bargain rush like Black Friday at Walmart, but without the stately decorum.
A few owners had mostly stayed out of the big bidding, and they had a really nice run swinging their big wallets to grab up a ton of mid-value players at terrific prices.
I ended up with Brad Hand for $9, Andrew McCutchen at $8, Corey Knebel for $3, Jose Quintana and Jake Arrieta for $2 each, and nine $1 guys: Brandon Belt, Kole Calhoun, Shin-Soo Choo, Josh Reddick, Odubel Herrera, Andrew Heaney, Steven Matz, Pedro Strop and Kurt Suzuki.
How I got Suzuki is a funny story, and by "funny" I mean. Excuse me…
OFFSTAGE RIGHT: (Sound of sneaker rhythmically hitting forehead) Dumb! Dumb! Dumb! And disastrous!
I had put Suzuki into my nomination queue quite a bit earlier, and when my turn came, I thought I clicked on the guy above him on the queue, but inadvertently clicked on Suzuki. Whom I obviously didn't need, since I already had a $15 Posey.
Not surprisingly, crickets ensued.
Mind you, having a $1 player was hardly an outlier. More than 80 players in all went for $1 apiece, and there were still plenty of decent speculative guys on the board when the auction ended.
In the aftermath of the draft, I thought I had done OK, but my RotoLab software disagreed. It said I came out of the auction with the top team by HQ projections. Some of the owners played for the future (did I mention it's a keeper league?) by rostering guys like Vladito for $36, Fernandito (Tatis) for $22, Nickito (Senzel) for $19, Peter "Call Me Pete" Alonso for $14 and Keston Hiura for $10. I didn't come out with any notable prospects, but there's the 17 (!) reserve rounds for that sort of thing.
Next up: The Great Fantasy Baseball Invitational, on Feb. 24. I drew the 14 slot, which Todd Zola e-mailed to me is the one slot that didn't win any championships in the NFBC last year. Wish me luck.
If you're drafting this weekend, have a great time. If not, have a great time anyway.
For more information about the terms used in this article, see our Glossary Primer.
Shopping Cart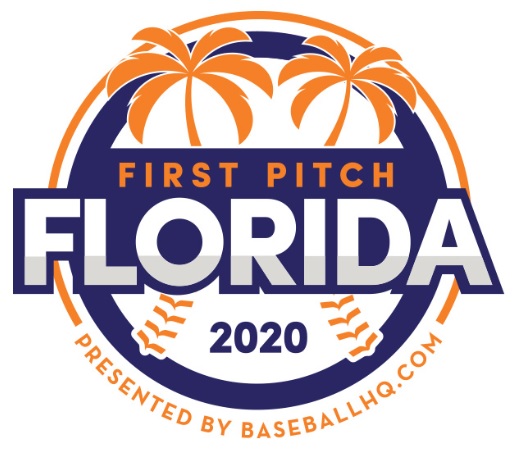 Inaugural Event!
February 28-March 1, 2020
St. Petersburg, FL
A few seats still left!