MASTER NOTES: Clint Frazier, target (or "target Clint Frazier")
By Patrick Davitt

@Patrickdavitt
June 22nd, 2019 12:02am
This might be an excellent time to try to trade for Clint Frazier.
Frazier is the 24-year-old who helped rescue the Yankees' season when the club was absolutely hammered with injuries. As you might recall, especially if you owned any of these players, between the end of spring training and April 21, the team lost to the IL:
C Gary Sanchez
1B Greg Bird
SS Didi Gregorius and Troy Tulowitzki (surprising, right?)
3B Miguel Andujar
and, more importantly for this story, OFs Giancarlo Stanton, Aaron Hicks, and Aaron Judge.
Things were so desperate that the team actually signed DH Kendrys Morales and 1B Logan Morrison. Morrison was a minor-league deal, but still.
During camp, Frazier had already been sent down to Triple-A, to work on his awful fielding and to work his way out of a spring slump. He was recalled on April 1 after Stanton and Andujar went to the IL, and boy, did he go to work.
From April 1-25, he played in 18 straight games, five as the DH and the rest in left and right field. In 73 PA, he hit 6 HR, drove in 17 (pro-rating to 49-140 in 600 PA) and slashed .324/.342/.632, with a .975 OPS. That, friends, is scalding the ball.
Then, on April 25, Frazier himself went to the IL with an ankle injury. He came back on May 6, rejoined the team and resumed mashing, albeit at a slightly less torrid pace: 35 GP, 136 PA, 5-17 (22-75 pace), slashing .260/.324/.447, with a .771 OPS.
Overall, for the season, Frazier is at 11-34 (32-97), .283/.330/.513, .843 OPS.
More importantly, with Frazier in the lineup, the Yankees had gone 32-21 (.604) and passed TAM for the top spot in the AL East.
But now Clint Frazier is being sent to a different IL—back to the International League, and the Yankees' Triple-A affiliate in Scranton/Wilkes-Barre, where he had already rocked a .963 OPS as a 23-year-old in 2018.
"Guess I'm facing reality right now," a glum Frazier told New York media. "It's a tough pill to swallow. It's never fun, especially with how much I've felt like I've contributed to this team." BHQ's Matt Dodge wrote in Playing Time Today coverage that "Frazier will play every day in Triple-A and await his next opportunity."
But Frazier doesn't seem to have any next opportunities coming in New York. Stanton and Hicks are back (not that Frazier was going to get any reps in Hicks' CF bailiwick), and Judge is days away. As well, the team plugged the DH slot by somewhat surprisingly trading for DH Edwin Encarnacion.
Nor will there be any PT for Frazier's spare OF-DH type. Manager Aaron Boone says Brett Gardner will "play a lot," presumably in some kind of rotation to give Stanton half-days off, and veteran OF Cameron Maybin will stay on the roster because he has a .273/.357/.394 line in his 99 AB this year and he can play all three OF positions. That's an issue for Frazier, who, defensively, at least, can't really play any. He's last in all of baseball in some defensive metrics, including Outs Above Average and Catch % Added (subtracted, in his case), and put his leatherly limitations on display June 2 in front of a national TV audience.
Given all of this, why should a fantasy owner be at all interested in Clint Frazier?
Pitching.
No, Frazier isn't going to toe the rubber any time soon. But the Yankees' playoff aspirations seem to depend in large part on how much mileage they can squeeze out of their rotation.
As it now stands, the Yankees' top five includes two reliable starters in James Paxton (3.93 ERA/3.85 xERA) and Masahiro Tanaka (3.23/3.75). And "reliable" excludes injury risk. The 3-4-5 slots currently belong to J.A. Happ (4.59/4.54), C.C. Sabathia (4.14/4.78) and Domingo German (3.86/3.86). And Luis Severino is lurking in the background.
That might be enough, but the reporting (mostly rumor-mongering, actually) out of Yankeeville is that the team is in the market for a starter. Bill Merrill of the Hartford Courant, among others, said the early short list includes Madison Bumgarner of SF, Marcus Stroman of TOR, Mathew Boyd of DET and probably/eventually Trevor Bauer of CLE.
Other Yankee watchers say the team needs to shore up its bullpen, and again the targets include pitchers on TOR (Ken Giles), CLE (Brad Hand) and DET (Shane Greene).
Notice anything about the three AL teams? They're all huddled at the distant bottom of team offenses, largely because they all have had negligible production from their DH slots:
TOR: .661 OPS (14th in the AL)
DET: .713 (12th)
CLE: .770 (10th)
Now ... If one of these teams were to get into trade talks with New York, don't you think that they would be interested in a natural DH with proven potential power production? They might not be so alliterative about it, but Frazier would be a perfect fit—he's young, he's cost-controlled (not eligible for arbitration until 2021), and he can rake.
As well, it is very likely that were any of these teams to trade for Frazier, they would put him on the 25-man roster right away, so he could give their fans something to stare at while they try to forget the trade of a quality pitcher and the white flag such a trade seems to imply).
Is it speculation? Sure. The Yankees might stand pat, DET, TOR, and CLE might not like the offer or might not like Frazier as much as I do. CLE actually drafted him (he was traded to NYY in the deal that sent Andrew Miller to CLE, back when they were trying), so they might be more interested than most.
But depending on your team's setup and situation, grabbing Clint Frazier now, when he's at the bottom of his value and not even in the league, could pay off with an .850-ish OPS from the DH slot for the rest of this season and in future years as well. It seems like a chance worth taking.
For more information about the terms used in this article, see our Glossary Primer.
Shopping Cart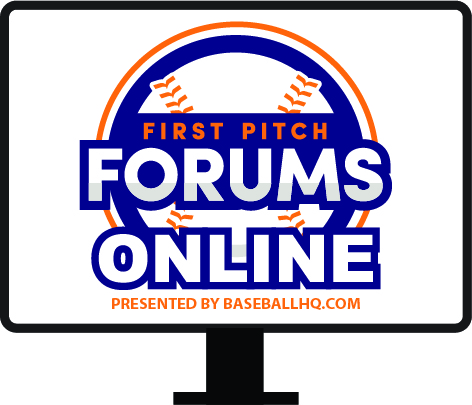 Our virtual First Pitch Forum returns!
Three online-only events: March 5, 11, 17
Join us live, or watch when you want
Just $19!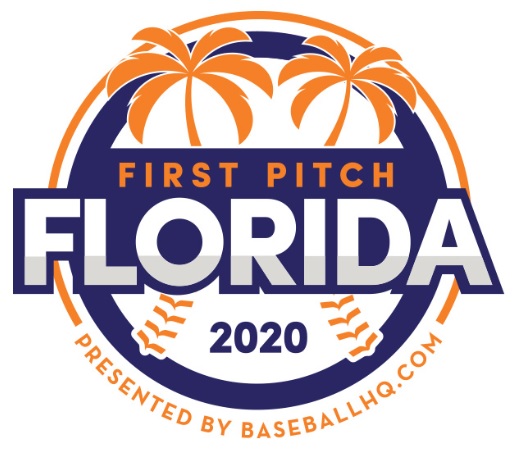 Inaugural Event!
February 28-March 1, 2020
St. Petersburg, FL
A few seats still left!