MASTER NOTES Aug. 24: LIMA Scarcity
By Patrick Davitt

@Patrickdavitt
August 24th, 2019 1:04am
Where have all the LIMAs gone?
I'm just asking...
Where have all the LIMAs gone,
I wanna know...
Where have all the LIMAs gone?
Pool is empty, not a one
Where can an owner turn?
Where can an o-o-o-owner turn?
Apologies to Pete Seeger, and to the 99.8 percent of you who never heard of Pete Seeger; nor of Peter, Paul and Mary or the Kingston Trio, both of whom had hits with "Where Have All The Flowers Gone." And not an auto-tune among the bunch. You kids today... you don't know what good music is!
I digress.
In my Tout-AL league last week, I traded to acquire Vladimir Guerrero Jr., a very useful 3B, who should be a substantial help replacing D.J. Stewart; Mychal Givens, a closer of sorts; and Danny Jansen, a catcher of sorts who will be a modest upgrade on Kevin Plawecki as a second catcher.
To get this relatively modest haul, I gave back the aforementioned Plawecki for roster-balance reasons, and my last two starting pitchers: Trevor Bauer and Jose Berrios.
I did not trade these two guys because I've lost faith in them. It was purely a category play: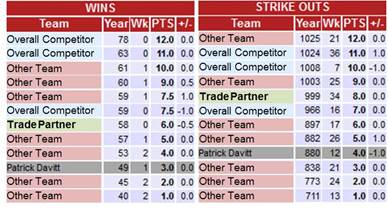 As you see in the tables, my team (in grey shading) is pretty much stuck in Wins and Ks (I also projected the stats to the end of the season, and it's more apparent there), especially with only two starters to the nearby teams' six or seven each.
But, also as the table shows, my trade partner's team (green) adding these two starters should help him climb to second place in wins and to first in strikeouts. More importantly for me, as he scrambles up those category ladders, his size-12 brogans will helpfully step heavily on the fingers of two teams I'm chasing (blue) in the overall race, causing them to lose their grip on their current rungs and slide down. That helps me—probably not enough to win, but ya gotta keep tryin', am I right?
Protecting Decimals
Another aspect of this deal is that I am leading the league in both ERA and WHIP, or as my friend Gene McCaffrey likes to call them, the decimals. And as we all know, starting pitchers are dangerous to decimals. And LIMA-type middle relievers are safe. So replacing my SPs with some LIMA guys was part of the overall plan.
I downloaded the HQ YTD and projections for pitchers, and inserted them into an Excel book with all the league free-agent pitchers this week and the pitchers on my own roster. Using the LIMA reliever guidelines used by BaseballHQ.com's bullpens columnist Doug Dennis earlier this year—Dominance of 9.0 K/9 or higher, Command of 3.0 K/bb or higher, and HR/9 of 1.0 or lower—my current 10-reliever pitching staff includes:
one who is LIMA-worthy YTD and projected, Ian Kennedy
one who has been LIMA-worthy YTD but not projected, Ty Buttrey (his pCmd is too low at 2.6)
five who are LIMA-projected but not YTD, Mychal Givens, Shane Greene, Will Harris, Oliver Perez, and Hector Rondon
and three who are not LIMA-worthy either YTD or projected, Adam Cimber, Emilio Pagan, and Nick Wittgren
The way I figure it, I must hold Kennedy, Greene, Givens, and Pagan for the potential saves, a tight category in the league (Givens and Greene are also pLIMA). I want to hold Harris, Perez, and Rondon, who are pLIMA-worthy and on good teams, so have some vulture-wins potential.
That leaves Buttrey, Cimber, and Wittgren. Even though I usually like pitchers with oddball deliveries like Cimber's sidearm/submarine, he pretty much has to go to the top of my drop list. His YTD Dom is under 6.0 K/9 and he's been pretty ghastly of late. Wittgren is next, with a 7.7 Dom and 1.5 HR/9. Buttrey is the bubble guy, his pLIMA-worthiness held back by that pCmd of 2.6 K/bb, but a sub-1.0 HR/9 guy both YTD and projected. In today's game, you have to give at least a wink towards low-HR guys.
But the trouble is that there almost no LIMA relievers in the Tout-AL-only free-agent pool:
One reliever is both LIMA-qualified for the YTD and for projections: Rafael Montero of TEX.
Three are YTD LIMA but not projected: Marcus Walden of BOS, Buck Farmer of DET and Sam Tuivailala of SEA.
Five more are projected LIMA-worthy but not YTD: Luis Cessa (NYY), Trevor May (MIN), Phil "Auto" Maton (CLE), Reggie McClain (SEA) and Emmanuel Clase (TEX), who reportedly throws fastballs of 160 MPH, although I live in Canada and we use kilometers, so it might be confused. But still.
Maton was part of the three-way Trevor Bauer trade, coming to CLE from SD. He has thrown five innings over three appearances for CLE in two blowouts and one close game, allowing 2 ER and 4 BR, with 1 HR. I'll probably pass, although our league allows zero bids in FAAB and I might try that.
McClain is at the very bottom of the BHQ depth chart for SEA. A story about him in the Seattle Times says he added some weight and some velo in climbing the minor-league ladder this year from High-A all the way to the majors. He struggled in his first outing, giving up three runs in one inning, including two homers. He's settled down since, giving up 1 ER, 5 hits, 3 walks in 8.2 innings over four appearances. Maybe another zero bid.
I should say that in mixed leagues and other shallower formats, there will be a bigger selection of LIMA relievers in the pool. And for that matter, many teams will have such good starters that they have no need of LIMA protection. But even if you're in a mixed-12 or 15, and your decimals look tight, don't forget to at least scan through the pool for that protection.
For more information about the terms used in this article, see our Glossary Primer.
Shopping Cart