KEEPERS: Plus power but positionless
By Jock Thompson

@JOCKatHQ
February 3rd, 2012 12:00am
Two plus power sources are facing potential short-term marginalization thanks to offseason acquisitions by their teams, but what of their longer-term outlooks? And the Mets have named Jose Reyes' replacement at SS, but is he a viable keeper?
Trumbo seeking position, playing time … Mark Trumbo (1B, LAA) surprised observers with his 29 HR / 81 RBI rookie season for LAA—after which his team rewarded him by signing first-baseman Albert Pujols to 10-year contract. With Kendrys Morales also reportedly making leaps and bounds in his effort to return as the Angels' primary DH, Trumbo is potentially a man without a position. But his numbers suggest why LAA plans to work Trumbo out at 3B and in the OF in an effort to keep him on the team and in the lineup.

Year     AB  BA   xBA  bb%  ct%  FB%  HR  PX   xPX  hr/f 
====    ===  ===  ===  ===  ===  ===  ==  ===  ===  ====
2010*   547 .237 .275   7%  72%  29%  24  130   NA    NA
2011    539 .254 .276   4%  78%  38%  29  150  135   18%
*Includes MLEs
Angels hitting coach Mickey Hatcher told observers last March that "Trumbo has as much power as anyone we've ever had in Tempe," and the unheralded rookie made Hatcher look prophetic. On the downside, the 26-year-old Trumbo was unable to bring the patience gains he'd shown at AAA-Salt Lake in 2011, when he recorded a 10% bb% (12% after the All-Star break). But in spite of his dreadful pitch selection, Trumbo's surprisingly good contact remained stable, and in line with a 79% career ct% -- which should keep a floor under his BA. Just a slight uptick in patience could help him realize his xBA upside, and unlock even more power.
Trumbo's skills, work ethic and being under club control for five more seasons are all behind LAA's intent to try him at 3B and the OF this spring. With hard work, Trumbo turned himself into a competent 1B last year, fueling hope that he can do it again at another position. But Trumbo is heading into March facing uncertainty and ticketed for less AB than he received in 2011. Additionally, a slow recovery from a stress fracture in his right foot sustained late last season lurks. He is expected to be on the field by the beginning of March, but Trumbo has been unable to take defensive reps at his new positions all winter.
Regardless of what happens in 2012 and where Trumbo ends up—be it a new position, team, or both—the call here is about skill over short-term opportunity. Trumbo's next three years are certainly worth owning, particularly looking past this season. If you need power and can pry him loose from a weak-handed owner worried about the present day uncertainty, consider this a buying opportunity.
Blanks a short-timer in PETCO? ... Kyle Blanks (OF/1B, SD) has seemingly been up against a two-strike count for awhile. Hitting in PETCO Park was bad enough, but then Blanks had to deal with an elbow ligament tear in the spring of 2010 that ultimately led to Tommy John surgery that August and hurt his growth prospects in 2011. Now that the Pads have brought in Carlos Quentin this off-season to man a corner OF spot and seem committed to Yonder Alonso at 1B, is Blanks looking at a career strike three? Not so fast:

Year     AB  BA   xBA  bb%  ct%  FB%  HR  PX   xPX  hr/f
====    ===  ===  ===  ===  ===  ===  ==  ===  ===  ====
2009*   381 .242 .231  12%  71%  51%  19  135  169   21%
2010    102 .157 .203  13%  55%  45%   3  167   93   12%
2011*   481 .230 .261   7%  79%  45%  16  122  115   13%
*Includes MLEs  
Blanks thrilled his fantasy owners when he burst onto the scene in 2009, blasting 10 HR, including six at home, and a 207 PX in his first 125 MLB AB. He started slowly in 2010, and was clearly hurting long before he finally succumbed to surgery later that year. After finally making it back to SD in July, Blanks batted .273 with 7 HR, a .566 Slg and 202 PX, but was limited to 47 AB in Sept after slow start that month. Obviously his calling card is power that will play anywhere, perhaps even improve if his patience can rebound near previous highs. Blanks will never be a BA asset, but his 2011 ct% gains indicate that he's making an effort – and his xBA suggests some upside.
Inattentive fantasy owners assume that because of his size, Blanks is a defensive liability but nothing could be further from the truth. He's a fine athlete who has worked hard to become a solid corner OF and an above average 1B, both of which add to his playability. With Quentin in tow and Will Venable penciled into the other corner OF spot, SD is hinting that the 25-year-old Blanks doesn't fit into its plans, but he has nothing left to prove at AAA-Tucson. A departure from PETCO would improve Blanks' value, suggesting that if you need power and have an open roster spot, you could do far worse in filling it with this flyer, at least for 2012.
Tejada hints at a keeper future … Clearly the biggest beneficiary of Jose Reyes' departure from the Mets is Ruben Tejada (SS/2B, NYM), who was immediately named the Mets starting SS heading into 2012. The now 22-year-old Tejada clearly has opportunity – but do his skills suggest a keeper candidate longer-term?

Year     AB  BA   xBA  bb%  ct%  Eye   Spd SBO    GLF     PX 
====    ===  ===  ===  ===  ===  ====  === ===  ========  ==
2010*   434 .228 .239   7%  82%  0.42   86  7%  41/23/36  52
2011*   535 .258 .256   9%  84%  0.61  111  7%  45/26/30  49
------------------------------------------------------------
2011-1H 122 .279 .279  10%  80%  0.54  91   0%  45/22/34  24
2011-2H 206 .286 .209  10%  87%  0.85  94   9%  45/28/27  57
*Includes MLEs
As the numbers indicate, Tejada actually fared better with NYM than he did at AAA-Buffalo, where he put up 150 of his 207 minor league AB in April and May. The PX and zero HR in 328 MLB AB speak to nearly non-existent power, but his age advises that we not etch his Juan Pierre status in stone just yet. Tejada's speed is just average, but a 9/3 SB/CS—5/1 with NYM—and a 72% career SB% says that he may be capable of stealing 15-20 bases a year with more opportunity, particularly while he's young and healthy.
The numbers collectively don't scream "upper echelon SS." Still, this combination of patience, contact and GLF at age 21 with limited MLB exposure is encouraging in terms of growth potential. Tejada was rushed through the minors, held his own with a .270 BA, but without this underlying skill combination since the low minors. Accordingly, we're projecting some regression / consolidation in 2012. But if you don't currently have a SS solid alternative, you might want to stash him for a little while to see how the next few seasons turn out.
For more information about the terms used in this article, see our Glossary Primer.
Shopping Cart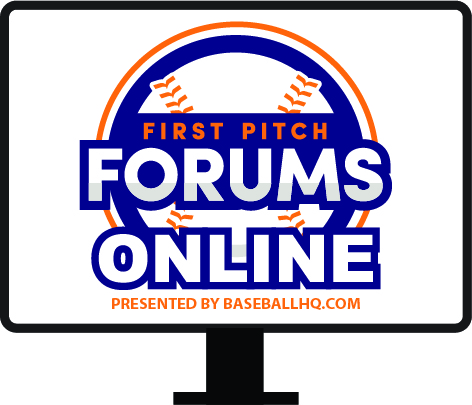 Our virtual First Pitch Forum returns!
Three online-only events: March 5, 11, 17
Join us live, or watch when you want
Just $19!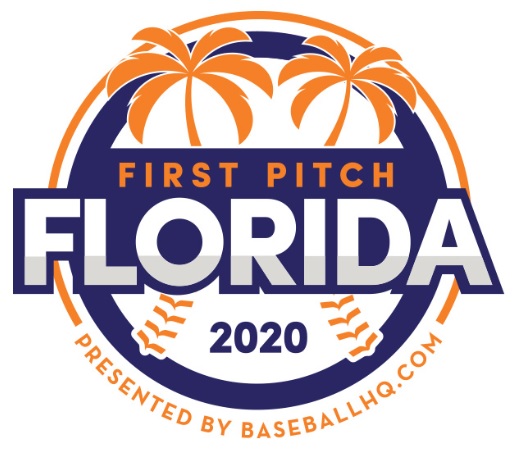 Inaugural Event!
February 28-March 1, 2020
St. Petersburg, FL
A few seats still left!